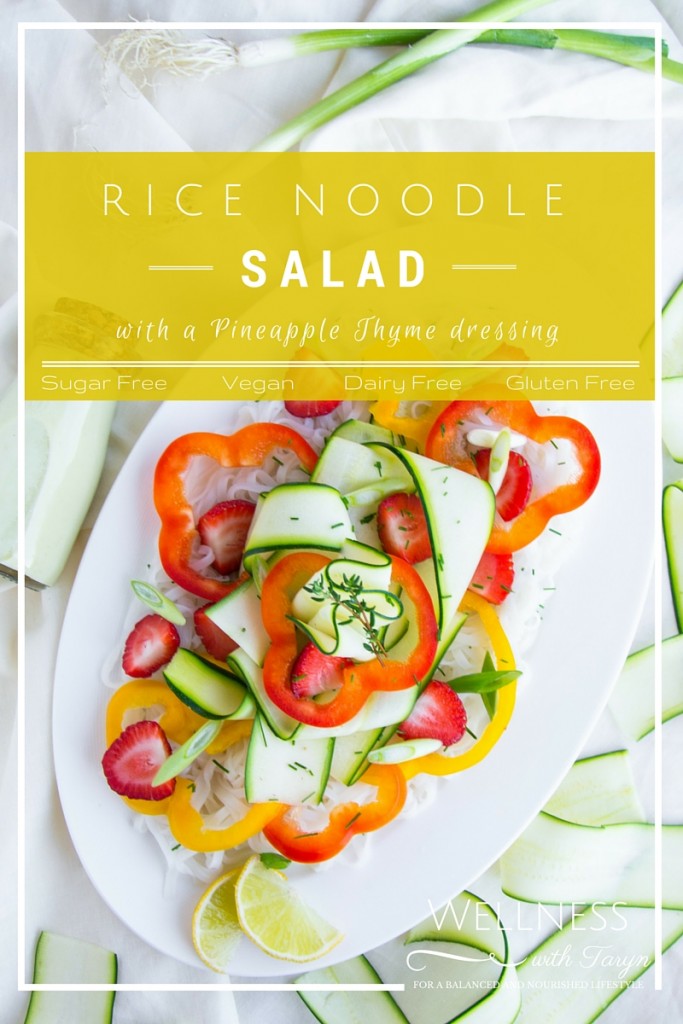 Although Winter is inevitably on it's way, and actually should be here already, I thought it a good idea to squeeze out one last salad recipe. A 'farewell to Summer' recipe as you may, and this one is yummy and experiments with different taste combinations.
The subtle, dry aroma and a slightly minty flavor of the Thyme, blends quite beautifully with the attractive sweet flavour of the pineapple. It's an odd combination, but it works! and this Rice Noodle Salad with Pineapple Thyme dressing proves that!
This salad can be whipped up in a matter of minutes. The rice noodles seriously take 2-3 minutes to cook, the rest is chopping and blending of the dressing. Tossed together and viola! A delicious and flavorful salad, that is bright and vibrant. Aesthetically appealing as well as deliciously enticing, this recipe has it all. The sweetness of the fresh strawberries, the crunchy fresh capsicums, the satisfaction of carbohydrates from the rice noodles, the zesty zing from the squeeze of lime, the pleasant texture of the zucchini ribbons, the sharpness of the spring onion, the element of chives and the drizzle of encapsulating thyme and pineapple dressing. This salad seriously climbs the top of my favorites list. I love the addition of raw fruit and vegetables to the cooked noodles. The contrast is wonderful. I really enjoyed this salad, from making it to eating it, it was such fun! I hope you enjoy it as much as I did.
I love the addition of culinary herbs in recipes. They really heighten any recipe, and add a superior taste. Herbs have such intense flavors, and really can make a dish shine! From the subtle addition of fresh basil leaves to a freshly cooked crispy pizza, to a sprig of thyme on a roasted portabello mushroom, herbs have the ability to transform and add that extra bit of oomph to any dish!
In this recipe, the thyme and pineapple flavors amalgamate so perfectly together. They add that extra flavor kick to the salad, that boost's it's yumminess beyond measures! It's pretty epic and surprisingly tasty the following day for a quick and easy left over lunch.
Herbs have quite extraordinary healing and nutritional properties that I have outlined below in this informative Infogram. I do hope it comes in useful, and shows just how powerful these nutritional powerhouses can be. Source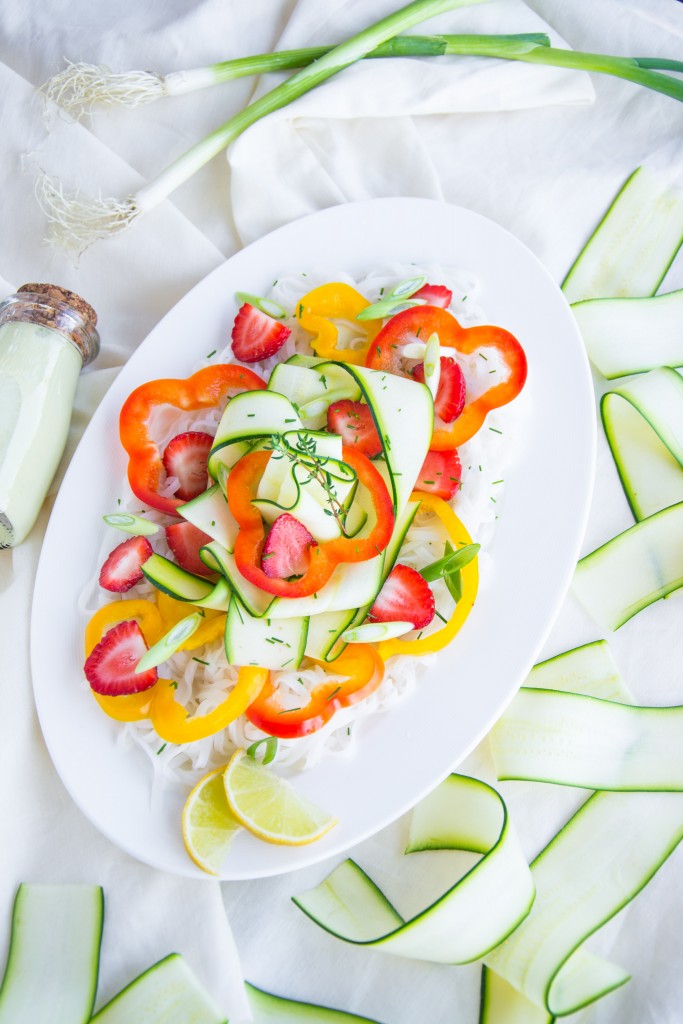 Rice Noodle Salad with Pineapple Thyme Dressing
2016-05-19 11:31:44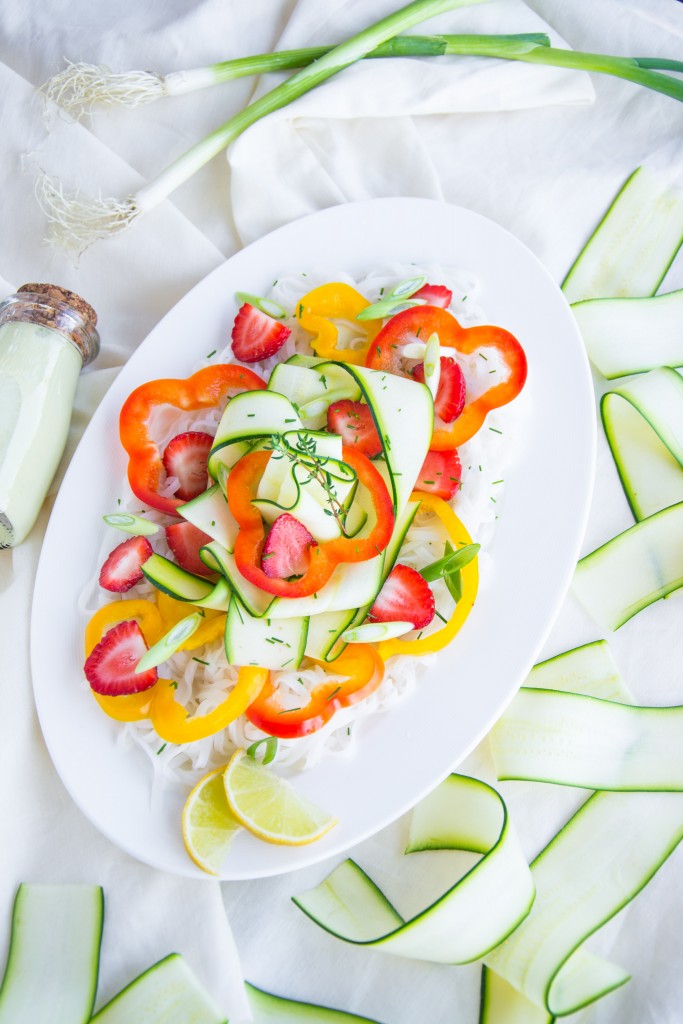 Serves 2
This recipe is loaded with beneficial nutrients, vibrant flavors and textures. It is simple yet sophisticated and sure to impress!
Ingredients
SALAD
1/4 Packet Rice Noodles (+-60g)
1/2 Red Bell Pepper - Cleaned and Sliced widthways
1/2 Yellow Bell Pepper - Cleaned and Sliced widthways
1 Corgette - Peeled lengthways into ribbons
5 Fresh Strawberries - Sliced
1 Spring Onion - Diced
1/2 Fresh Lime
Chives
Sprig of fresh Thyme
Pinch of Salt
DRESSING
5-6 Chunks Pineapple (About 2cm wide)
1 Tsp Tahini
1/2 Tsp Apple Cider Vinegar
4 Stalks Fresh Thyme (Stalk removed)
Water (to reach consistency)
Instructions
Bring a pot of water to the boil. Once boiling, add a pinch of salt and the rice noodles.
Cook for approx 3 minutes (as indicated on packet). Remove from heat, drain and rinse with cold water. Set aside.
Clean, chop, dice, peel and slice all the vegetables.
In a blender, add the dressing ingredients and blend, adding water to reach desired consistency.
Rinse the noodles once more before serving, to separate them and prevent from clumping together. Set onto a serving plate.
Add the vegetables, squeeze the fresh lime all over.
Pour over the dressing and finish with a sprig or two of fresh thyme.
Notes
Use organic where possible
Rinse the noodles with cold water if they begin to stick and clump together once cooked.
Wellness with Taryn http://wellnesswithtaryn.com/