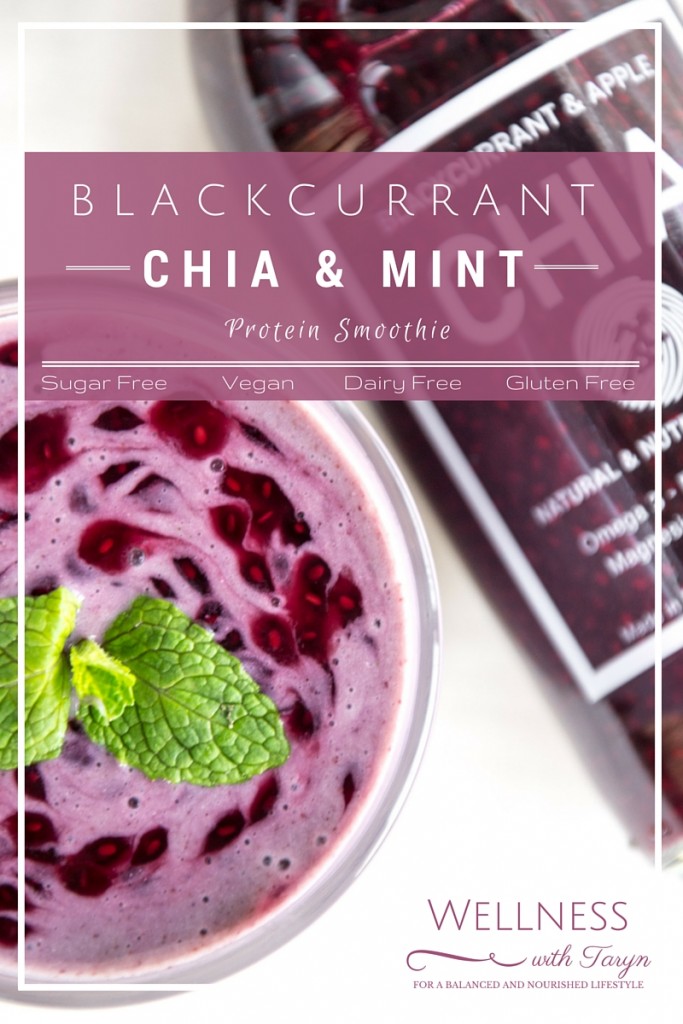 Rolling on from my post last week, where I shared a neat Infographic explaining some of the nutritional health benefits of popular culinary herbs, this week I decided to add a little bit of mint to my diet. I don't often use mint to be perfectly honest, mainly because I seem to forget about it. Does that ever happen to you with certain foods? You'll forget about them for ages and then one day realize 'Oh yeah! I forgot about that! I haven't had that in ages!'
Anyway, I spotted some fresh mint in store and it quickly found it's way into my shopping basket.
Needless to say it was most definitely put to great use, and became the joint star in this Blackcurrant CHIA & Mint Protein Smoothie recipe. The other shining star was the delicious CHIA Blackcurrant and Apple drink, which elevated this smoothie's flavor and added the most beautiful purple hue!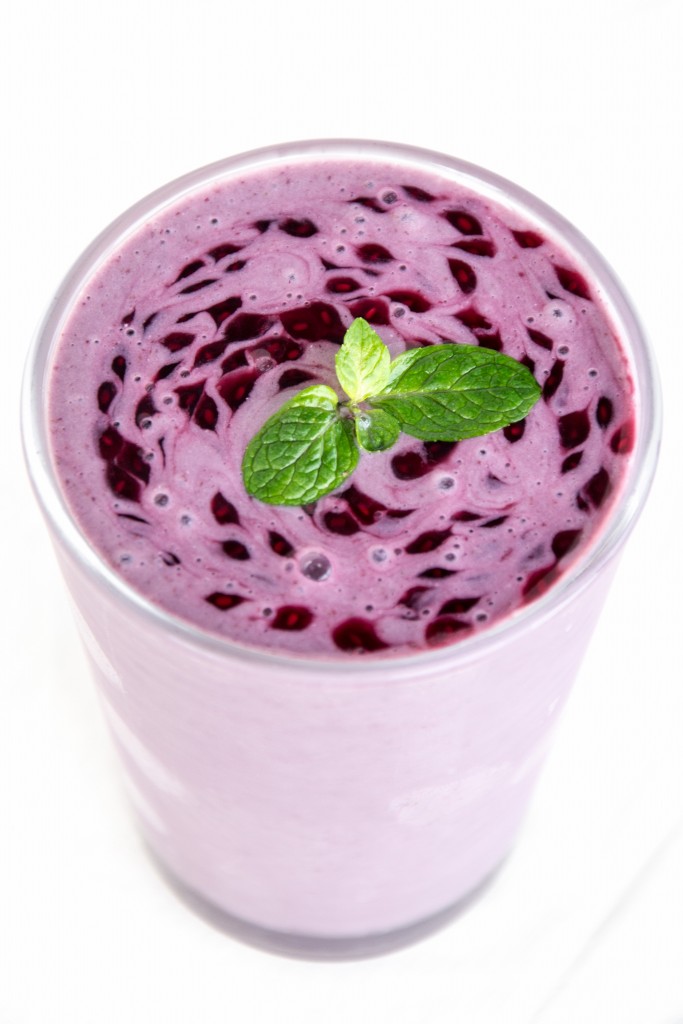 When I first moved to Nelson, and spotted the CHIA drinks in store, I was instantly amazed and thought to myself "What an absolutely brilliant idea!" I'd never seen anything like this before and was instantly intrigued. Granted the texture is one to get used to if you've never had the pleasure of having chia seeds before, but it does grow on you if your a textural kinda person! And once you learn the benefits of these amazing little seeds, you'll be eager to add as much as you can to your diet.
After experimenting with the CHIA White Chia Seeds along with the Blackcurrant and Apple CHIA drink in my breakfast below (Chia Pudding):
P.S Follow me on Instagram for more yummy meal photos and other life snaps 🙂
CHIA ever so generously sent me an array of these delicious drinks, in all three flavors:
Blackcurrant and Apple
Blueberry and Apple
Orange, Passionfruit and Apple
I was instantly inspired to get recipe testing and see what other ways I could add this awesome drink into my diet. Why you ask? Well I'll tell you!
Each bottle of CHIA contains:
Omega 3 2200mg
Omega 6 858mg
Omega 9 286mg
Dietary Fibre 5.7g
Protein 3.3g
Calcium 118mg

Magnesium 81mg
Potassium 330mg
Sodium 8mg
Iron 1.5mg
Zinc 0.8mg
They are 100% Natural, Gluten Free. Dairy Free. Vegan. Contain No added sugar, preservatives or artificial flavours. Source
Nutritional Benefits of Chia Seeds
Chia seeds are a quick and easy-to-use source of protein, healthy fats, dietary fiber, minerals, vitamins, and antioxidants, all rolled into one neat package. Although they have similar health benefits to flax seeds, chia seeds may soon edge these out because they don't have to be ground prior to consumption, and they don't go rancid as quickly either.
In fact, chia seeds are said to last up to two years with no refrigeration, courtesy of the high levels of antioxidants they contain. Their high concentration of the plant-based omega-3 fat alpha-linolenic acid (ALA) is one of their major claims to fame. Chia seeds contain up to 40 percent oil, with 60 percent comprised of omega-3. ALA is considered essential because your body can't make it, so you need it in your diet—or its long-chain animal-based derivatives (like the omega-3 found in seafood and krill oil).
Protection against arthritis, autoimmune disease and cancer
Anti-diabetic action
Liver-protective properties
Anti-inflammatory activity
Lowering blood pressure and heart disease
Lowering triglycerides and supporting healthy cholesterol levels
It's thought that the combination of fiber and protein in chia seeds, along with the gel-like texture it takes on when combined with liquid, contributes to feelings of fullness and satiety.
In a recent study ,among people with type 2 diabetes, supplementing with chia seeds for 12 weeks resulted in reduced systolic blood pressure and significant decreases in A1C, a measure of a person's average levels of blood glucose.
Chia seeds contain about 10 grams of fiber in just two tablespoons. Most people need upwards of 50 grams of fiber per 1,000 calories consumed, but most people get nowhere near this amount. Just two tablespoons of chia seeds provide 18 percent of the daily recommended value for calcium, 35 percent for phosphorus, 24 percent of magnesium, and about 50 percent for manganese. These minerals are important for bone health and as reported by SF Gate:
"These nutrients help you prevent hypertension and maintain a healthy weight, and are important for energy metabolism and a part of DNA synthesis."
I also must note that these drinks seriously do give you energy! After introducing a friend to the range, she could not believe how amazingly energized she felt after having one! They are great pre-sporting event/excercise/workout, so throw away that artificial crappy 'Powerade drink' like junk, and introduce this snazzy lil' number in it's place! You won't regret it!
Now, this smoothie is pretty damn amazing! With so much goodness coming from the Chia seeds alone, the remaining ingredients just complete it's nutritional kick! The mint leaves such a refreshing taste on the palette and the lemon heightens all the flavors!
I've added this protein powder to increase the protein content, which is great for us Vegans and perfect for sustaining satiety. This particular brand is super alkalizing, which is awesome! My philosophy with regards to wellness is increasing alkalinity in the body, reducing acidity leaving little room for dis-ease to thrive.
When it comes to protein powders, I stick to plant-based ones such as sprouted gluten-free grains, pea and hemp hearts (if you can get it). Spirulina and chlorella are also great options, and bee pollen is also a good source of protein as it's 40% protein and contains free amino acids that are easily digested and absorbed by the body. A great option if you're adding a little animal products into your diet. And remember oats, nut and seed butter as well as dark leafy greens also contain protein that is so beneficial to our bodies. Every little bit counts 🙂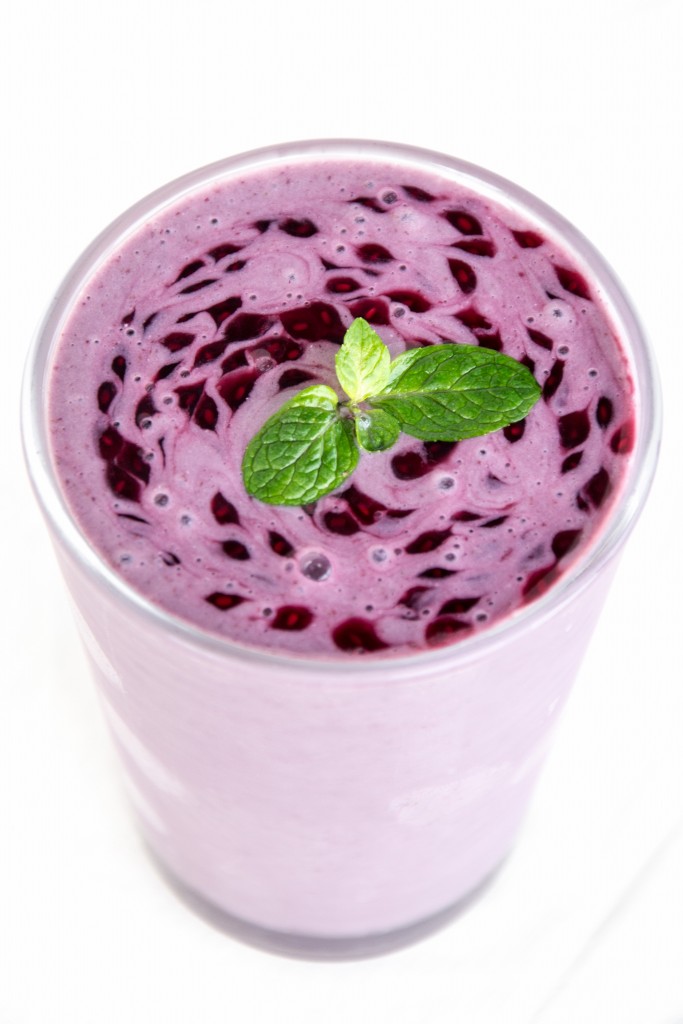 Blackcurrant CHIA and Mint Protein Smoothie
2016-05-26 10:31:09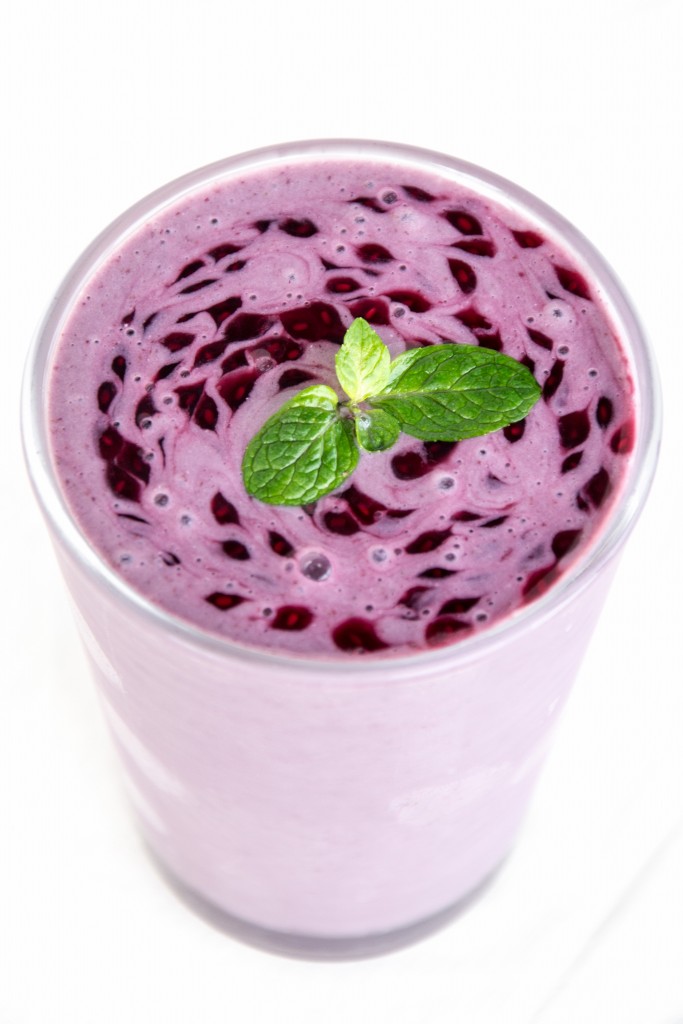 Serves 1
A vibrant energizing smoothie recipe that is loaded with nutritional benefits and amazing flavor. Mint, blackcurrant and creamy banana ensure this smoothie's delicious flavor and with an extra hit of protein, it will keep you happy and fueled.
Ingredients
1 Large Banana (Peeled, cut into chunks and frozen overnight)
4-6 Fresh Mint Leaves
Juice of 1 Small Lemon
1/2 Cup Blackcurrant & Apple CHIA Drink (See Substitution below if not in New Zealand)
1/2 Cup Plant Milk (Almond/Soy/Rice/Oat, etc)
1 Scoop Preferred Plant Based Protein Powder
Instructions
Add all ingredients into your blender
Blend until smooth
Add extra plant milk should you require a thinner smoothie consistency
Serve and enjoy
Notes
Use organic where possible
It's optional if you wish to add a couple of block of ice
CHIA Drink Substitution: 1-2 TBS Chia Seeds and 1/2 Cup of all natural blackcurrant concentrate diluted with water. Leave the seeds to re hydrate/swell for at least 1 hour.
If you can't get your hands on blackcurrant concentrate, then use your preferred natural unsweetened juice option and add 1-2 TBS of Chia seeds. Leave the seeds to re hydrate/swell for at least 1 hour.
Wellness with Taryn http://wellnesswithtaryn.com/