Cruciferous vegetables play an important role in a plant based diet. They are packed full of nutrients that nourish your body. They are super high in phytochemicals, vitamin A, carotenoids, vitamin C, folic acid, and fiber. Their unusually high content of vitamin C and manganese explain their growing reputation as an antioxidant vegetable group.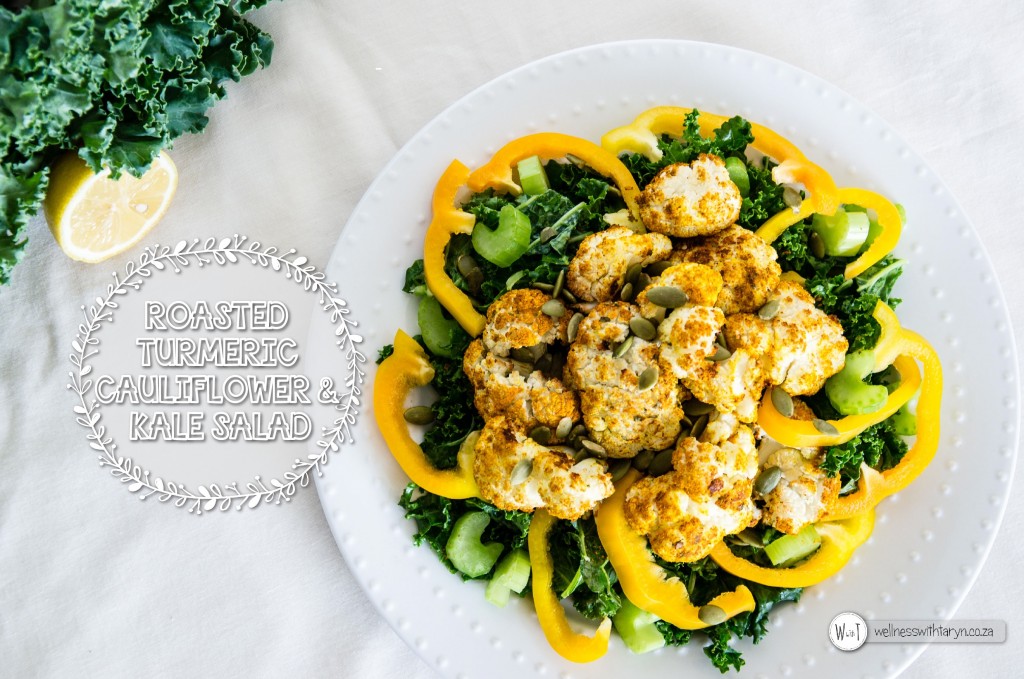 This salad is a perfect way to combine two powerhouse cruciferous vegetables – kale and cauliflower. With a slight heat from the cauliflower to compliment the zestyness of the massaged kale, this salad is definitely a winner! It's a perfect detox option as it's quite light, yet super fulling. 
I really really enjoy the combination of cauliflower and turmeric. I make a stunning cauliflower curry with turmeric, that hits all taste buds! I'll definitely post it soon, as winter peers around the corner. It's the perfect comfort meal.
Turmeric is such an amazing ingredient, that sometimes it's forgotten how many health benefits it promotes. Fresh turmeric (root) is similar looking to fresh ginger, although it's smaller and underneath it's protective covering reveals it's bright orange/yellow 'flesh'. Curcumin is the main active ingredient in turmeric, giving it it's vibrant yellow color. It has powerful anti-inflammatory effects and is a very strong antioxidant. It is so powerful that it matches the effectiveness of some anti-inflammatory drugs. Crazy right? Curcumin happens to be a potent antioxidant that can neutralize free radicals due to its chemical structure. But curcumin also boosts the activity of the body's own antioxidant enzymes. In that way, curcumin delivers a one-two punch against free radicals. It blocks them directly, then stimulates the body's own antioxidant mechanisms. Such a clever little compound!
Cauliflower contains sulforaphane, which is a sulfur compound that has also been shown to kill cancer stem cells, thereby slowing tumor growth. Sulforaphane has also been found to significantly improve blood pressure and kidney function. Cauliflower contains a wealth of anti-inflammatory nutrients to help keep inflammation in check. It is a good source of choline, a B vitamin known for its role in brain development, and also helps your body's ability to detoxify in multiple ways. All in all, a pretty powerful little vegetable! One of the main things I love about cauliflower is it's versatility. From pizza bases to spicy 'cauli-feta', the culinary possibilities are endless.
So,  the almighty 'king of leafy greens' kale topped with the 'curcumin-rich' turmeric coated anti-cancer cauliflower all on one plate – can only be a plate full of super powered nutrients., for sure!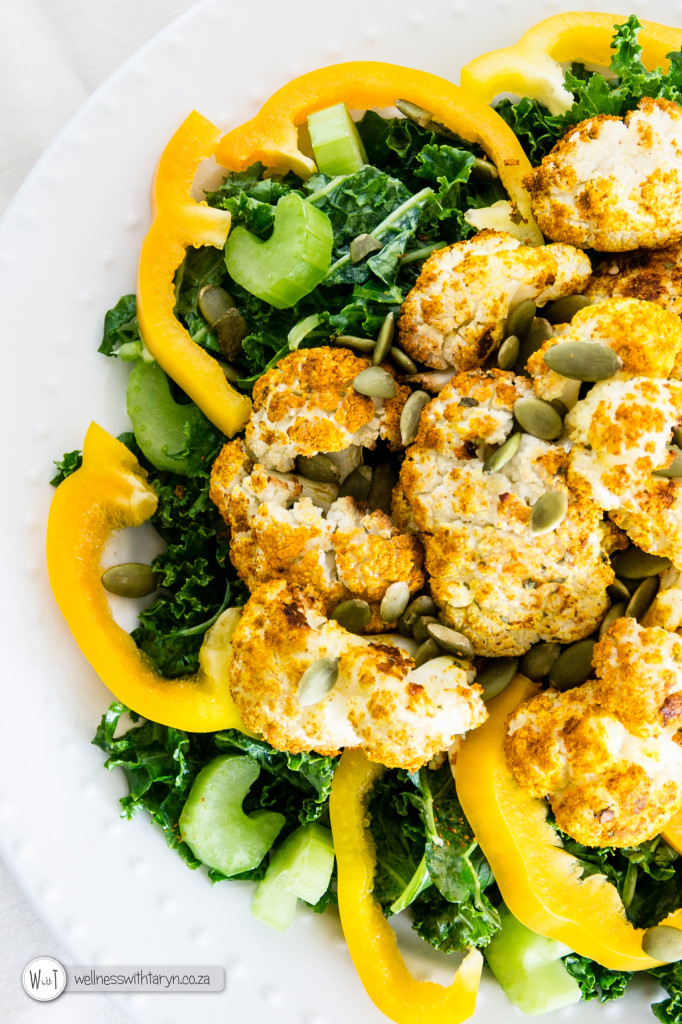 Ingredients
1/2 Head Cauliflower (washed, rinsed and dried)
5 Stalks of Curly Kale (washed and rinsed)
1 Yellow Pepper
1 Stalk Celery
1 TBS Turmeric
1/4 Tsp Cayenne Pepper
1/4 Tsp Paprika
1/4 Tsp Onion Flakes
1/2 Lemon
1/4 Tsp Apple Cider Vinegar
1/4 Tsp Tamari Sauce
Salt & Pepper (Pinch of each)
Pumpkin seeds
Coconut Oil (Optional)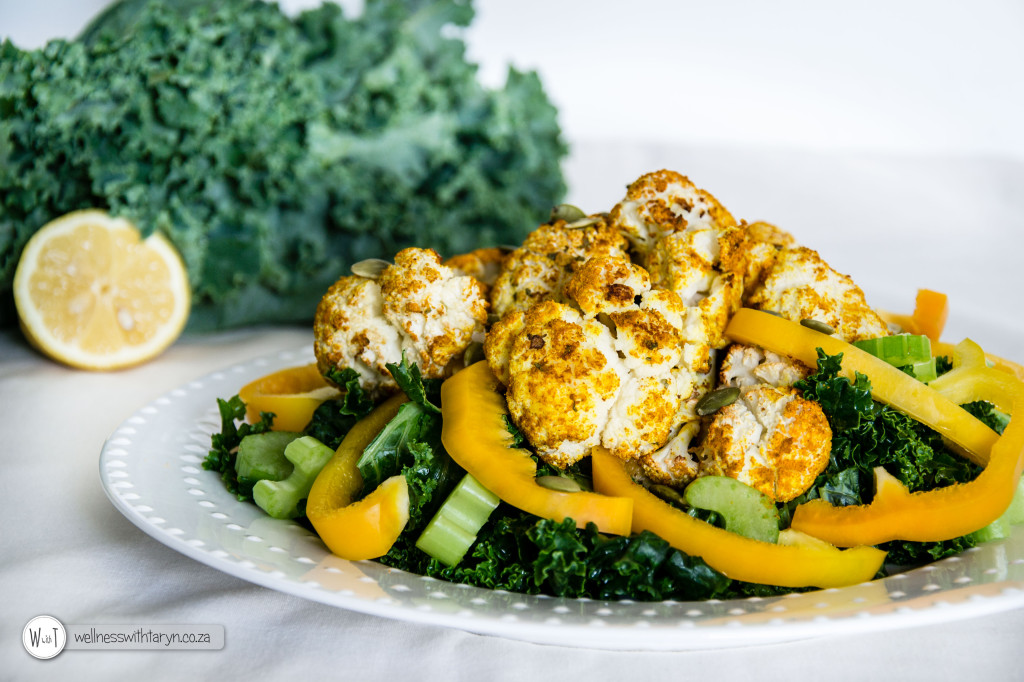 Recipe
First you want to pre-heat your oven to 180. Take your clean cauliflower head and chop into the desired floret size. Place into a large mixing bowl. Add the turmeric, cayenne pepper, paprika, onion flakes, salt and pepper and mix thoroughly. You can add some coconut oil here if you want, but I chose not to this time.
Once all the florets are covered in the spices, place onto a lined baking tray, and pop into the oven for around 20-30 mins depending on your oven or until cooked through and golden brown.
Now to prep the kale. Take your clean kale stalks and gently rip away the leaf from the stalk. I tend to do think in 4-5cm chunks. Place the leaves into a large mixing bowl. Add the juice of half a lemon and the apple cider vinegar, and using your hands, gently massage the kale. Slowly you'll begin to feel the kale become a bit 'slimy' and it'll reduce in size. Basically what we're doing here is aiding the break down of the 'sometimes-hard-to-digest' cell walls, so that they're more easily digested and absorbed. We're just helping out our bodies a bit, and adding the awesome benefits of apple cider vinegar and lemon into our lives 🙂
Once the leaves are fully massaged, add the tamari, stir and place onto your plate. Chop the yellow pepper and celery stalk and add it to your plate. Once the cauliflower is done, allow to cool slightly before placing it on top of the kale. Garnish with pumpkin seeds and any other optional extra's. You could sprinkle some nutritional yeast for a cheesy flavor, or a drizzle of tahini or a salad dressing of your choice, although the kale has quite sufficient dressing for my liking.
Serve with a crisp glass of chilled lemon water.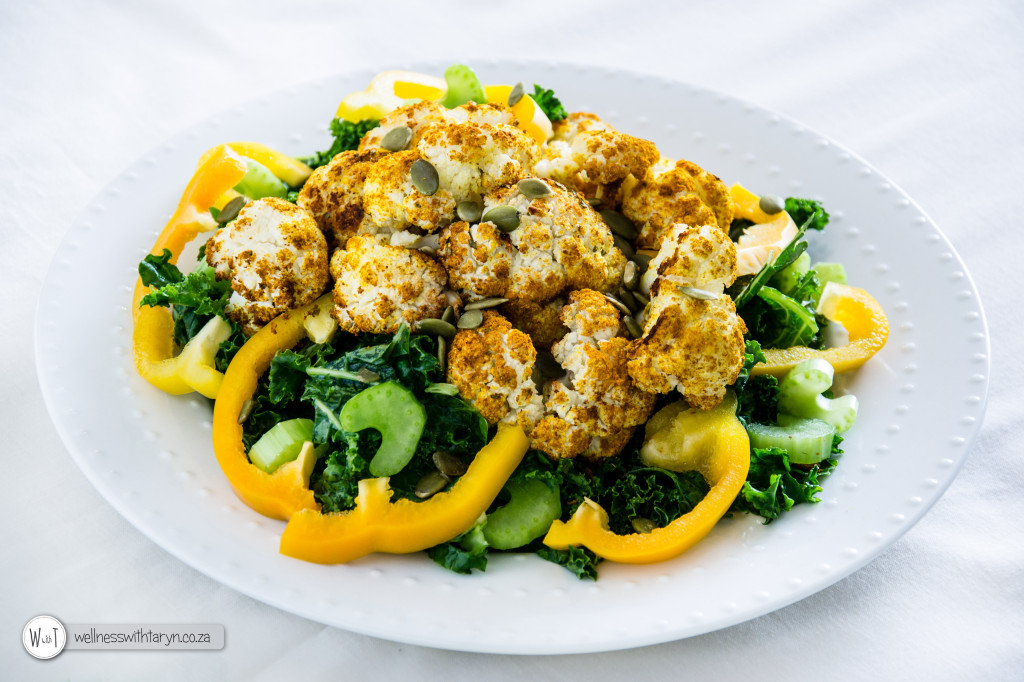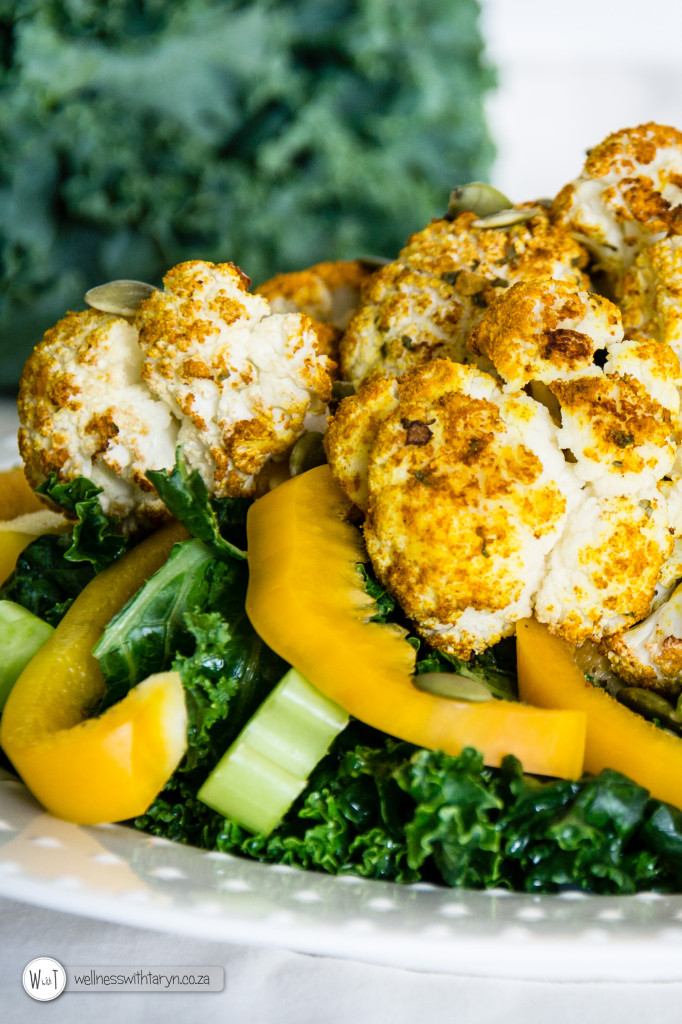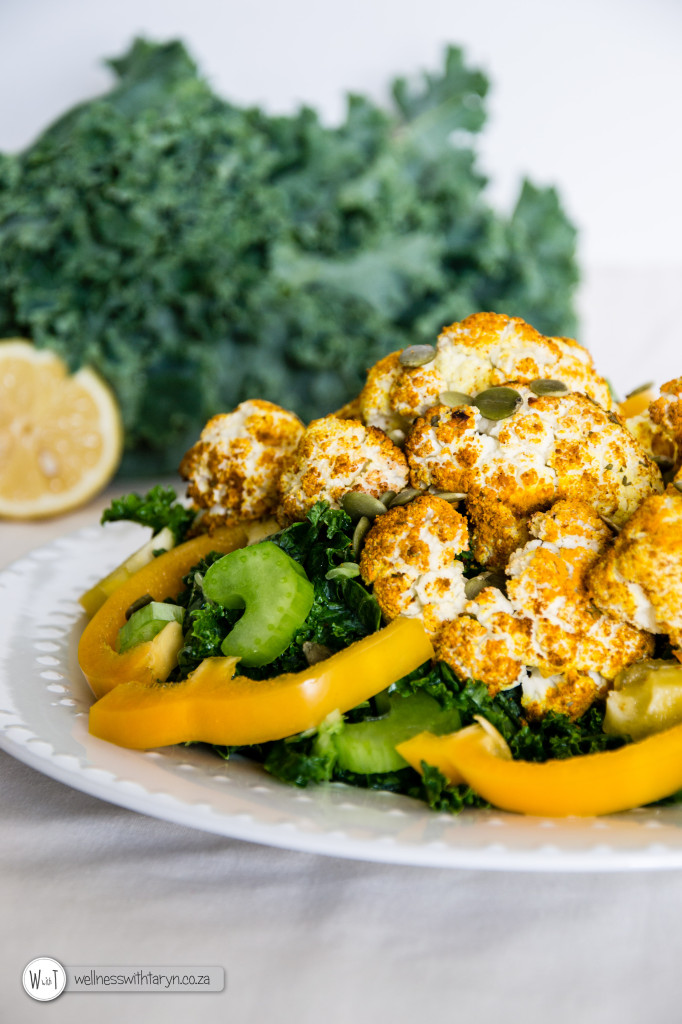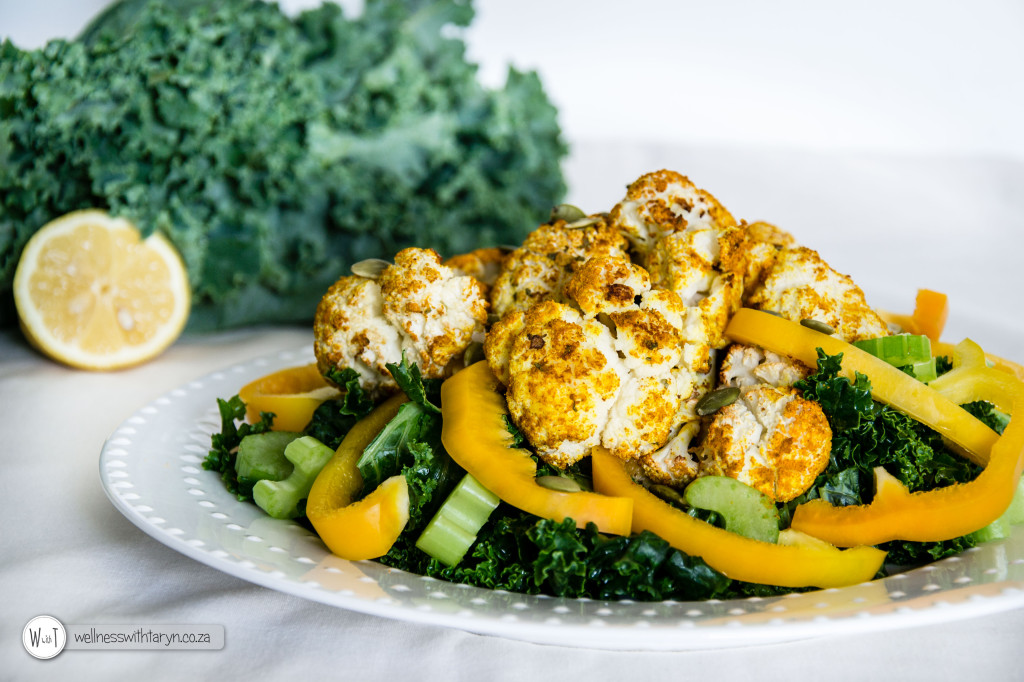 P.S. I always tend to make extra and store in a lunch box for the following day. I did this with this recipe and might I say, the salad was even better the next day!