Lemons! Fresh lemons from a gorgeous workmate, picked straight from her abundant tree. Local is most definitely best, and so much more appreciated!
So with all these beautiful bright vibrant lemons, I decided to make the most decadent, creamy, zesty and incredibly moreish Raw Lemon Squares. Goodness, these little squares of happiness have to be one of my favorite creations lately. I just can't get enough of them.
For that mid-morning or mid-afternoon slump, these babies will help glide you through, licking your fingers with the biggest grin stretched across your face. They are such a treat, and have so much flavor, everyone will love, rant and rave about them! They hardly taste healthy, let alone vegan and refined-sugar free, but don't be fooled, they most certainly are!
Before we proceed …. March?!? Can you comprehend! So what the hell happened to January, never mind February! Time is just flying by! This whole thought on the speed of time, made me reflect. I'm not getting any younger and the fact that I turn 30 next year blows my mind beyond measure! Where the hell did my twenties go! Life is definitely a roller coaster of a journey, and these days I am trying to embrace every second of it.
Today, while sitting in a quite shaded spot in the gardens in town (while eating my carrot/cucumber/bell pepper sticks with tahini and misomite) I looked up at the trees above, branches swaying gently in the crisp autumnal breeze. I thought to myself, I am so blessed! For those few minutes I tried hard to stop the bursting river of thoughts in my mind, and focused on appreciating all the things in front of me. The beautiful trees, crisp green lawns, warm sunshine, gentle breeze, nutritious lunch, the fat little ducks waddling in front of me. Appreciation. I felt it, and it felt real. I felt so good afterwards. It seriously felt like a min mind detox. Whatever I was worrying about before, had trickled passed and was now gone. I felt good. I felt happy. Appreciation. Give it a go 😉
So, back to this delicious creation! The health benefits:
Buckwheat Grouts/Buckinis:

rich supply of flavonoids, particularly rutin. Flavonoids are phytonutrients that protect against disease by extending the action of vitamin C and acting as antioxidants. It also has a well-balanced starch, protein, fat and mineral composition.

Pumpkin Seeds/Pepitas:

contain conventional antioxidant vitamins like vitamin E. However, not only do they contain vitamin E, but they contain it in a wide variety of forms. Alpha-tocopherol, gamma-tocopherol, delta-tocopherol, alpha-tocomonoenol and gamma-tocomonoenol are all forms of vitamin E found in pumpkin seeds.

Lemon:

contains many nourishing elements like vitamin C, vitamin B6, vitamin A, vitamin E, folate, niacin thiamin, riboflavin, pantothenic acid, copper, calcium, iron, magnesium, potassium, zinc, phosphorus and protein.

Cacao Butter:

high in anti-aging antioxidants and great for suppressing appetite for weight loss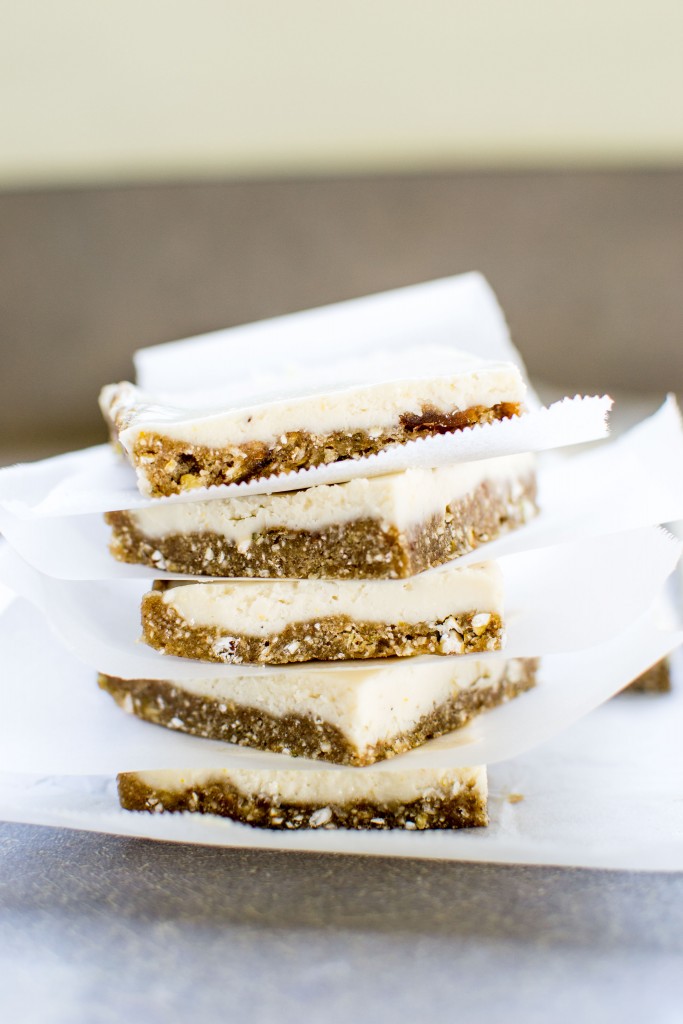 Raw Lemon Squares
2016-03-02 09:51:05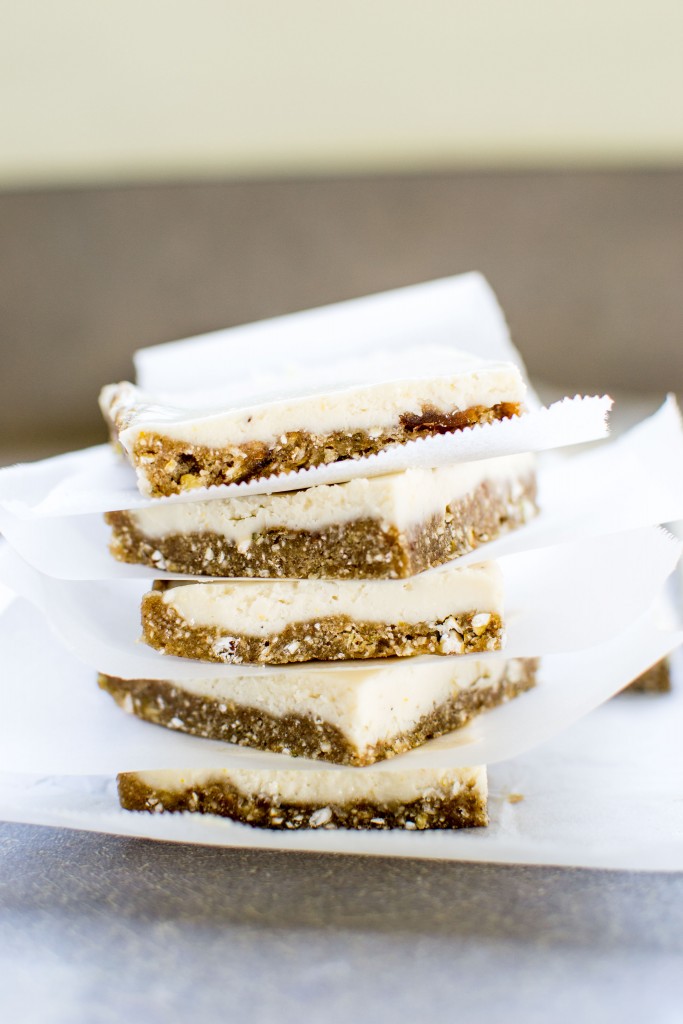 These squares are decadent, smooth and utterly scrumptious. They taste far from healthy, but are bursting with nutritional goodness. The perfect treat
Ingredients
BASE
18 Dates - 160g ( Softened in a little warm water)
1/2 Cup Buckwheat Grouts/Buckinis
1/2 Cup Pepitas/Pumpkin Seeds
3/4 Cup Shredded Coconut
1 TBS Lemon Zest
Pinch of Celtic Sea Salt
FILLING
80g Raw Unsalted Cashews (Soaked for at least 2 hours)
30g Cacao Butter (Gently melted)
3 TBS Coconut Oil (Gently melted)
3 TBS Coconut Cream
Juice of 3 Medium Lemons
3-4 TBS Rice Malt Syrup
3 Tsp Lemon Zest
1/8 Tsp Vanilla Powder/ 2 Drop Vanilla Extract
Pinch of Celtic Sea Salt
Instructions
BASE
Soften the dates and add to your high speed blender/food processor, ensuring there are no pips.
Pulse for a few seconds to begin breaking down the dates.
Add the remaining ingredients, and blend until a stick base consistency has formed. If you prefer a bit of crunch in your base, then don't over blend. The mixture should mold pretty easily in your fingers when squished together.
In a lined dish, place the mixture and press down, evenly into each corner, spreading the entire base. I used a little coconut oil rubbed on my hands to avoid the mixture sticking to me.
Once flattened evenly, poke with a fork all over, creating little holes that'll help the creamy filling to bind to the base.
Place into the freezer, while you begin on the filling.
FILLING
Once your cashews have soaked for at least 2 hours, place into your high speed blender.
Add all remaining filling ingredients and blend until a thick creamy mixture has formed. Have a little taste test to ensure your happy with the sweetness, etc.
Remove the base from the freezer, and pour over the creamy filling. Evenly spreading it out.
Allow to set in the freezer for at least 1.5 hours. Serve chilled or at room temperature, whichever your preference. A warm cup of rooibos tea accompany them wonderfully, in my opinion.
Notes
Use organic where possible
Ensure you soak your cashews
It's a good idea to soak, rinse and dry your buckwheat grouts for maximum nutritional absorption (buckinis), however not 100% necessary.
Wellness with Taryn http://wellnesswithtaryn.com/