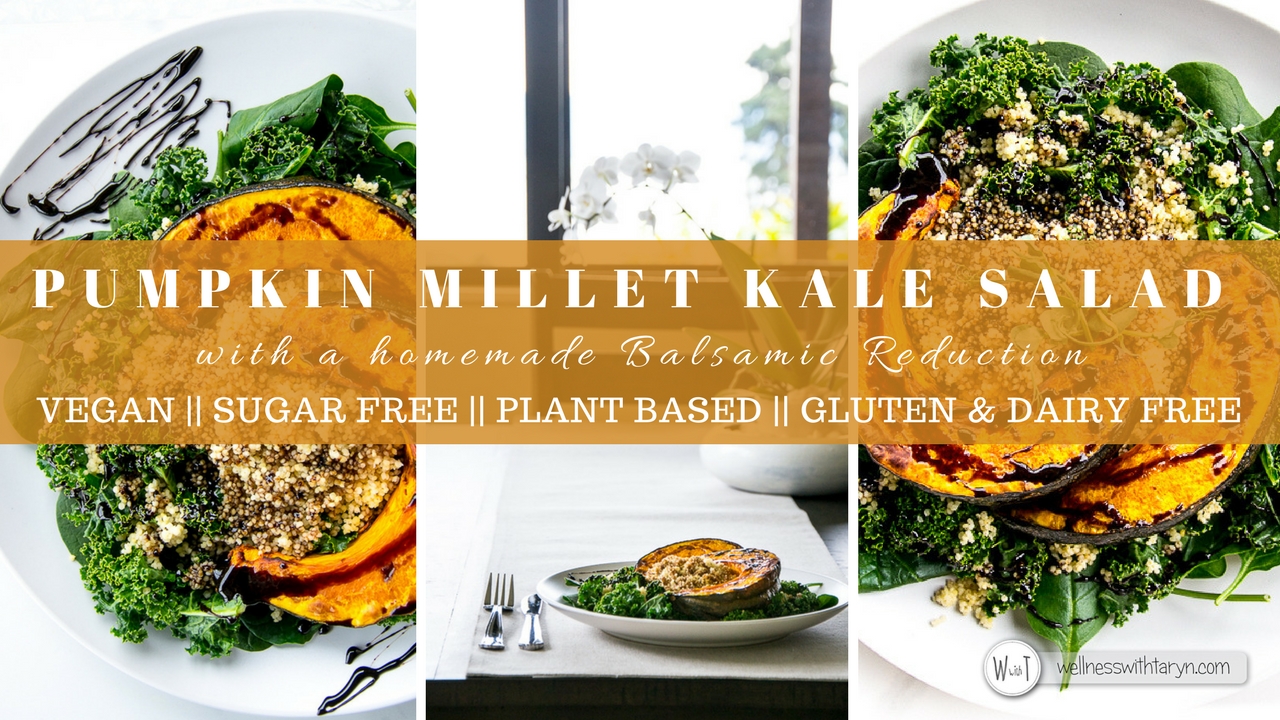 I love seasonal eating. I love the abundance of locally grown food that is at it's peak supply. Happy farmers, happy consumers and happy wallets. While it's saddening that avocado's are nearly triple their usual price, bright and beautiful pumpkin is bountiful. Vibrantly golden, this wholesome and nutritionally dense vegetable is just what I feel my body needs in these cooler winter months.
Paired with the earthy and nutty flavor of superstar grain millet, and alkalizing massaged kale leaves, this Pumpkin, Millet and Kale Salad is the perfect winter food. I've also created a healthy Balsamic Reduction to drizzle over, finishing off the dish perfectly.
As pumpkin is so readily available, I tend to make a big batch of roasted wedge's and keep them in the fridge to have throughout the week. I tend to do this so much with cooking, and I find it can be really helpful.
It doesn't cost that much more to make a double batch of whatever you're cooking, and I find leftovers a god-send. From lunch to dinners, left overs are just the best, and sometime's taste even better the day after.
Do you cook additional food or bigger batches, to have leftovers the next day?
Why I Love Pumpkins
Pumpkins are a very

low-calorie

vegetables. 100 g provides just 26 calories and contains no saturated fats or cholesterol; however, it is rich in dietary fiber, anti-oxidants, minerals, vitamins.
Pumpkin is loaded with many anti-oxidant vitamins such as vitamin-A, vitamin-C, and vitamin-E.
Contains high levels of vitamin-A. Vitamin-A is a powerful natural antioxidant and is required by the body for maintaining the integrity of skin and mucosa. It is also an essential vitamin for good eyesight.
It is also an excellent source of many natural poly-phenolic flavonoid compounds such as α, ß-carotenes, cryptoxanthin, lutein, and zeaxanthin. Carotenes convert into vitamin-A inside the human body which is so beneficial for skin health.
It is also a good source of the

B-complex group of vitamins

like folates, niacin, vitamin B-6 (pyridoxine), thiamin, and pantothenic acid.
And is a rich source of minerals like copper, calcium, potassium and phosphorus. Source
For this recipe, I used the delicious Organic Hulled Millet from @ceresorganics. I was so fortunate to have been sent the July Delight Box from @i.am.company, which included this delicious wholesome grain! How lucky am I? What is the Delight Box from I AM Company?
" The Delight Box is a health product sampling subscription box. It has been designed for those who need a little extra nourishment in their lives. We use our nutrition and wellness expertise to carefully hand select and fill each Delight Box with up to 10 of the latest and greatest health foods and natural beauty products for you to discover, sample and even review (if you feel inclined).
All products are naturally derived and free of additives, preservatives and other hidden nasties. Our promise is to deliver nutrient dense and body nourishing products that we love ourselves….then we let you decide! " Source
So if you love discovering and trying new health and wellness products, this subscription box is the perfect option.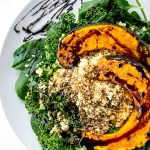 Pumpkin, Millet and Kale Salad with Balsamic Reduction
The perfect winter salad using seasonal produce. Roasted pumpkin, kale accompanied with nutty millet, this salad is so nourishing and full of amazing nutrition to keep your body at it's best in the colder months. Topped with a drizzle of healthy homemade balsamic reduction, this salad is the perfect winter meal.
Course:
Lunch, Main Course, Salad
Cuisine:
Dairy Free, Plant based, Refined Sugar Free, Vegan, Vegetarian
Ingredients
Roasted Pumpkin
800

g

Organic Buttercup Pumkin

- Sliced into wedges (skin kept on)
Millet
1/2

Cup

Organic Hulled Millet

- Toasted in the pot for 30seconds before adding water

1

Cup

Boiling Water
Kale Salad
2-3

Cups

Curly Kale

- Pulled off the stalk, cleaned and rinsed

1/2

Lemon

- Just the juice of

Pinch

Sea Salt

1

Cup

Baby Spinach
Balsamic Reduction
1/2

Cup

Balsamic Vinegar

- Good quality

2

TBS

Coconut Sugar
Instructions
Roasted Pumpkin
Pre-Heat the oven to 180C - fan forced

Slice the pumpkin into large wedges about 2-3cm thick.

Lay evenly on a baking tray lined with baking paper. Brush with Organic Cold Pressed Olive Oil. Sprinkle over a pinch of Sea Salt.

Roast for 25min @180C fan forced, turning the wedges over half way and brushing the other side with more olive oil. Remove when golden and cooked through.
Millet
In a sauce pot, add 1/2 cup of millet to a medium heat. Toast the millet for about 30 seconds, to help enhance the nutty flavor.

Add 1 cup of boiling water, reduce heat and put the lid on. Stir continuously every few minutes, to avoid sticking until all the water has been absorbed and a light fluffy texture is achieved. This should take around 15mins
Balsamic Reduction
In a small sauce pot, preferably non-stick, add the balsamic vinegar and coconut sugar.

Bring to the boil and reduce the heat to a simmer. The vinegar will simmer away until a thick reduction has formed. This should take about 15 mins.

CAUTION: Do not over-simmer the reduction as this can cause the sugar to burn, crystallize and turn hard when cooled.
Kale Salad
Take the cleaned and rinsed kale and place it into a large mixing bowl. Add the lemon and salt and massage with your hands for about 2 mins. This helps to naturally break down the cell walls making the kale easier to digest.

Lay the baby spinach on the serving plate, and place the massage kale evenly on top of it.
Assemble
Scatter the cooked millet over the kale and baby spinach. Next add the roasted pumpkin, and lastly drizzle with the balsamic vinegar.
Recipe Notes
Use Organic where possible - This salad can be served warm or cold - CAUTION: Do not over-simmer the balsamic reduction as this can cause the sugar to burn, crystallize and turn hard when cooled.
I hope you guys enjoy this recipe, it was delicious and I had such fun creating it. If you enjoyed this post, and enjoy what you see on my Blog, I'd greatly appreciate if you'd head over the the Saveur Blog Awards Voting page and vote for http://wellnesswithtaryn.com/ in the BEST PHOTOGRAPHY category. It'd be ever so grateful!