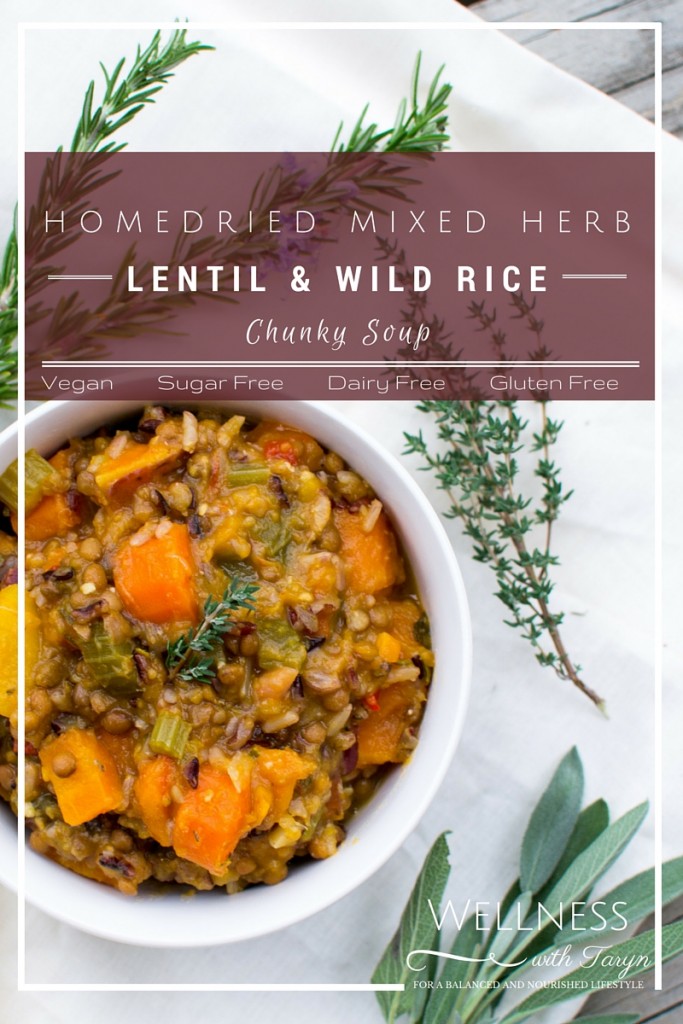 As the days get shorter and the mornings get darker, I can feel the changes in the weather. Although subtle, the crisp cooler air in the mornings is becoming more apparent, and I can feel the seasons shifting. In a way I am glad. I'm not particularly fond of the cold, but I am grateful for balance, even in nature. It allows me to appreciate the warmth of Summer and for that I am grateful. Life is all about balance, and so why not embrace the balance of nature.
With that said, I had been craving something nourishing, dense and filling. A dish of substance and bold flavors, one that would satisfy every taste bud. And so I stumbled upon a mixture of wild rice, and was instantly inspired. A warming, fueling bowl of hearty soup was born. Now I tend to enjoy my soup smooth, and blended to a fine puree, but in this instance I decided to step out of my comfort zone, and relish in a chunky flavorsome bowl of Mixed Herb Lentil and Wild Rice Soup, and my oh my! A goodie was created! 😉
I was generously given a huge bunch of various freshly picked herbs (see below), which got me extremely excited, I kid you not! The bunch consisted of the freshest Sage, most fragrant Rosemary, beautiful Thyme and delicate Oregano. I was in Heaven, and the herbs left our home smelling amazing! I decided to home dry the herbs and create my own jar of mixed herbs. With a very hands off approach, I left the herbs in the sun to dry out in the day, turning them every so often, and brought them back inside at night. No oven, no dehydrator, just letting nature do her thing.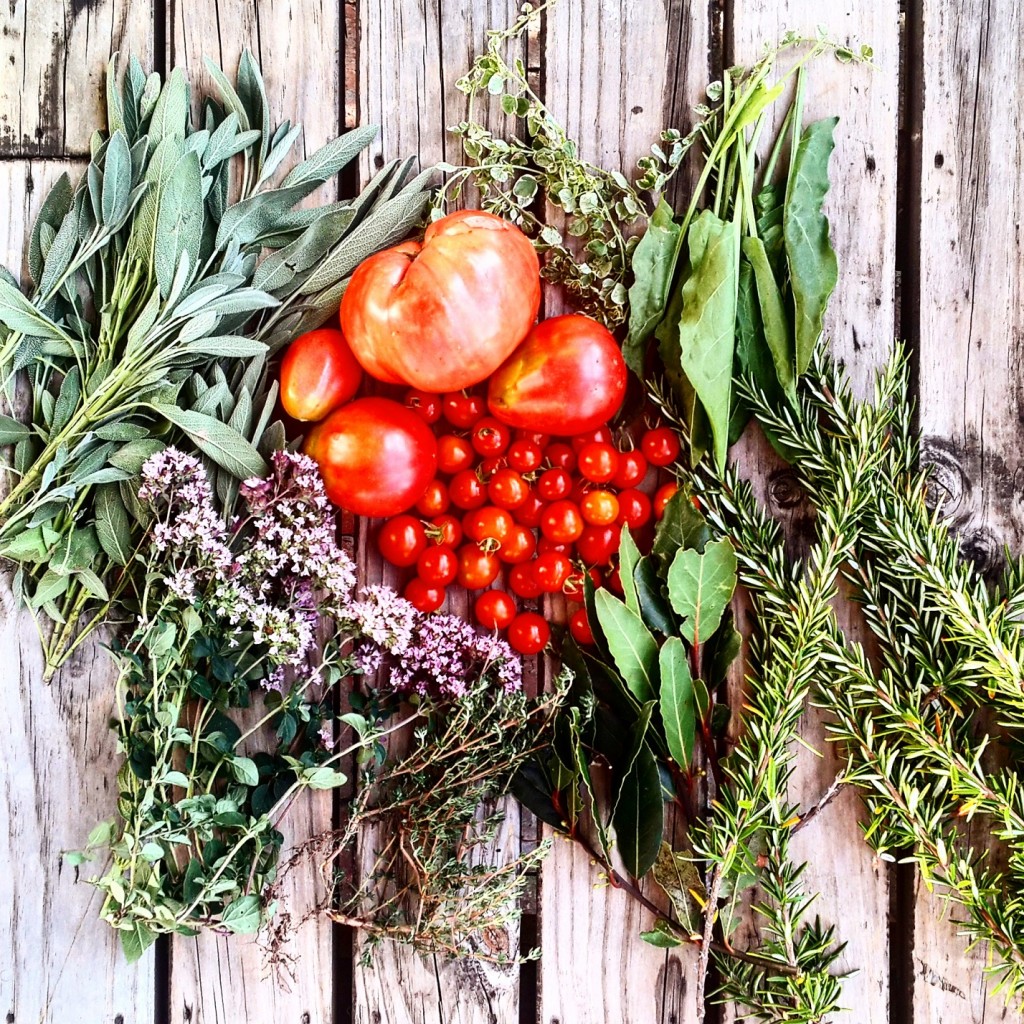 After a few days, they were looking pretty good and ready, so I made a cup of peppermint tea, sat down at the dining room table, and began to gently separate the dried leaves from the stems. I found this process so relaxing and calming, I found it really soothed and nourished my soul. When I was done, I place all my foraging into my Nutribullet, gave it a couple of blitzes, and Viola! Home-made, home-dried and home-grown (although not my home) mixed herbs!!!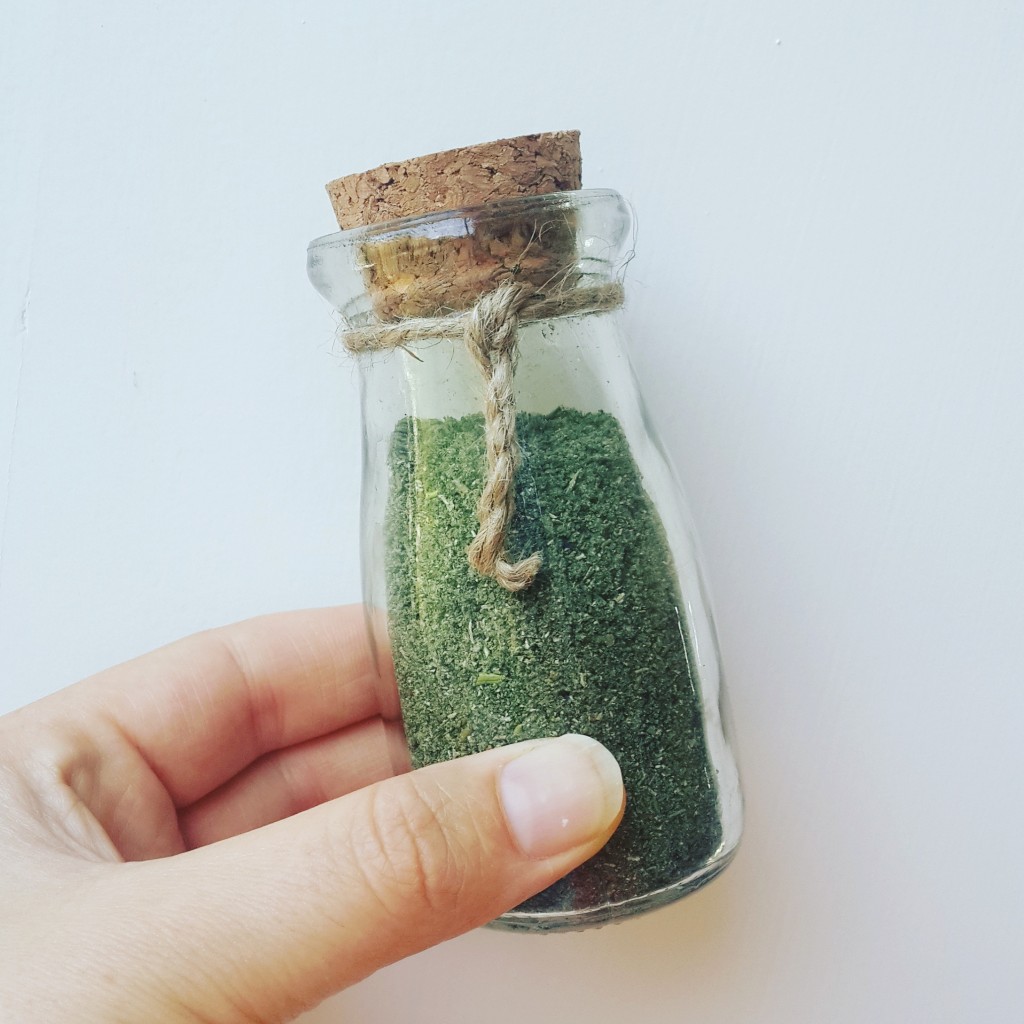 So with my added inspiration from finding the Wild Rice, as mentioned above, my home-dried jar of herbs got me even more excited to make a huge pot of nourishing goodness! Adding rice to the soup was also a whole new game changer for me. Why have I never done this before?? It made the dish that much more diverse in texture as well as flavour. I've seen other soup recipes with added pasta, and I'm almost positive adding rice is just as good, if not better 😉
Now I did make this soup real hearty and chunky, so I suppose there is a fine line between calling it a stew or a soup, but my goal was soup, so that's what it shall be! All good in my books! After indulging in a bowl of this epic soup, I felt so content! Goal achieved and all taste buds happily satisfied! I do hope you enjoy this dish filled with wholesome nutritional goodness! !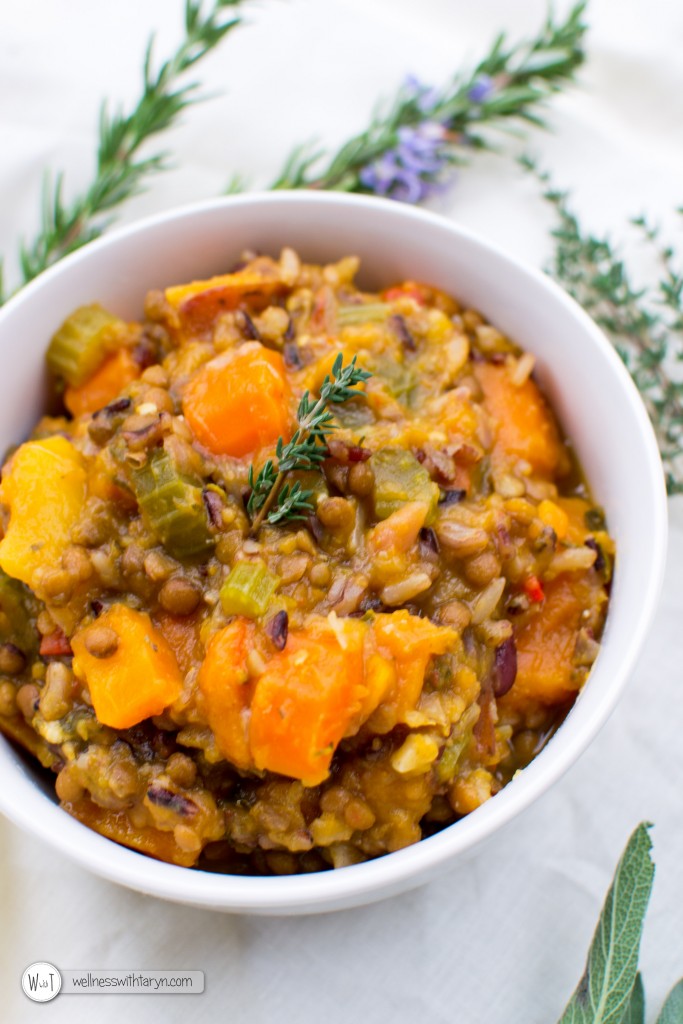 Mixed Herb Lentil and Wild Rice Chunky Soup
2016-03-31 10:19:32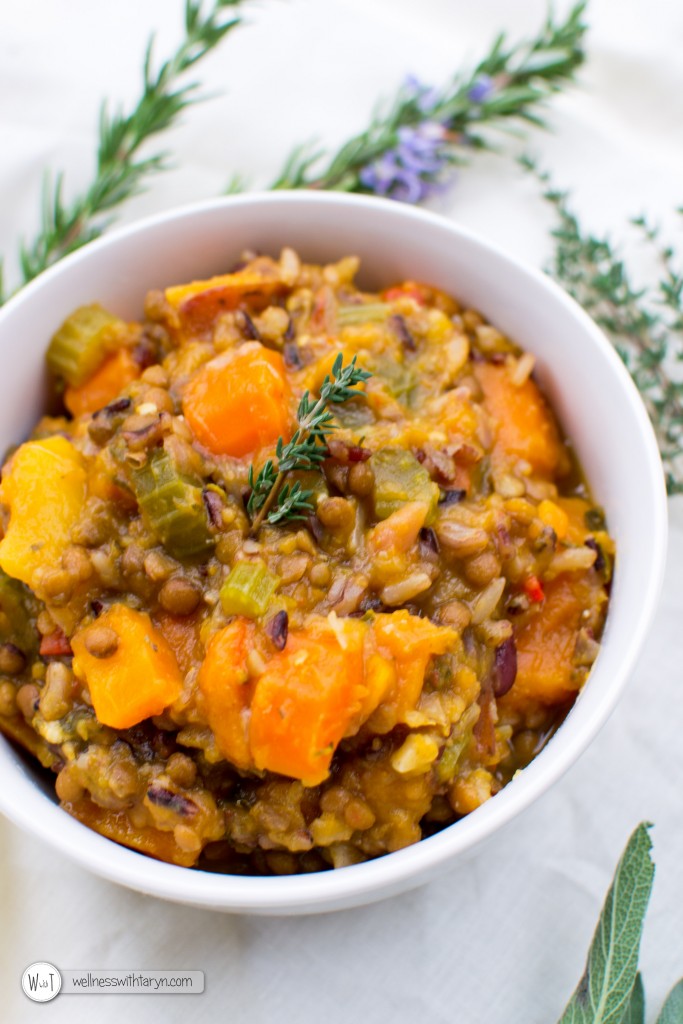 Serves 4
A delicious warming and flavorsome chunky soup, that definitely fills the spot. Satisfying all tastebuds, this recipe is great for the whole family. Filled with wholesome nutritional goodness!
Ingredients
1 Large Sweet Potato (Peeled and chopped)
1 Medium Onion ( Peeled and finely diced)
3 Cloves of Garlic (Finely diced)
4 Medium Carrots (Peeled and sliced)
2 Stalks of Celery (Cleaned and sliced)
10-12 Cherry Tomatoes (Whole)
1/2 Medium Butternut (Peeled and chopped)
1/2 Red Chili (Finely diced)(Remove seeds if heat sensitive)
1 Organic Vegetable Stock Cube (Low sodium - dissolved in 500ml hot water)
1 Can Organic Lentils (BPA free)(The lazy option I know!!)
1 Tsp Coconut Oil (For frying the onion and garlic)
1 1/2 Cup Cooked mixed Wild Rice (Brown, Red and Black)
1/2 Cup Organic Mixed Beans (From a can)(BPA Free)
1/2 Tsp Pink Himalayan Salt
1-2 Tsp Dried Herbs (Sage, Rosemary, Thyme and Oregano)
Instructions
In a large pot, heat the coconut oil. Add the onion and saute, gradually adding the garlic and finely diced chili.
Once the onion is brown, add the chopped sweet potato, carrot, celery, cherry tomatoes and butternut. Stir for approx 3 mins.
Add the dissolved stock mix and bring to the boil. Reduce the heat to medium, put on the lid and allow to cook for 15-20 mins.
Rinse and drain the lentils and mixed beans. Add to the pot along with the rice, herbs and salt.
Continue to cook for a further 5-10 mins.
You can add more water if you wish to reach the desired soup consistency. I preferred mine quite chunky. If you like you can also blend the soup with a stick blender, for a smoother texture.
Serve with a sprig of fresh thyme, and relish in all the delicious flavors!
Notes
Use organic wherever possible
You can add more water to reach a thinner soup consistency
Blending is always an option as well
Wellness with Taryn http://wellnesswithtaryn.com/