Granola Bars! Best! Things! Ever! For me, being a Type 1 Diabetic, my sugar levels can sometimes go haywire. There are SO many things that can affect sugar levels. Hormones, periods, exercise (or lack thereof), coffee, insufficient sleep, out of routine meals, stress, and the list goes on and on. Through ups and downs, it can be a real roller coaster. The joys of Type 1!!! For me, sugar lows are the worst, and the scariest as they can drop so low so quickly, and that's when you need something like these delicious chewy granola bars to pick them back up, and sustain your levels, without causing them to spike.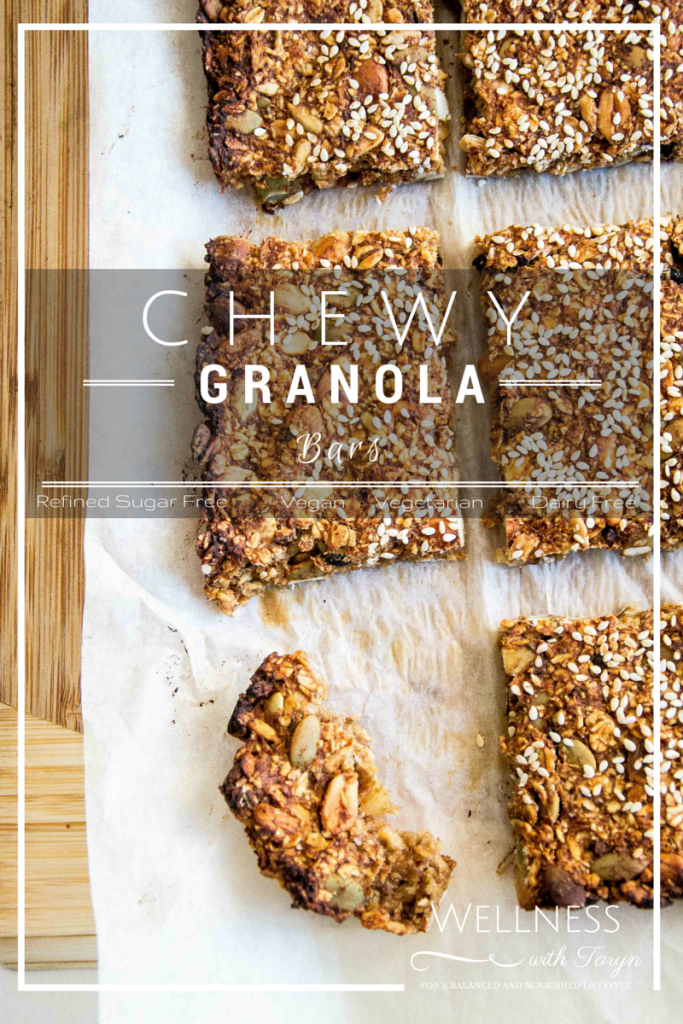 I try really hard to manage myself to the best of my ability, but sometimes I don't always get it right. I've realized that being kind to myself is the best treatment, and understanding there are sometimes things I cannot control.
Diabetes is tough! You can either choose to take it on board in a negative light (and battle against it) or a positive one (and totally accept it). Since the day I was diagnosed, I have chosen the latter. And , although sometimes it can be really challenging, energy consuming and difficult, I still believe my diabetes diagnosis was a blessing in disguise and it inspired me (in a rather drastic/life threatening way) to change my lifestyle, my diet and subsequently my life.
It brought me along this path that really means so much to me! And all I can hope is that my story will help others to be inspired to take control (of what they can) and maybe choose healthier lifestyle choices. It really does have the ability to change your life! Never did I think, 5 years ago, that I'd one day I'd decide to create a blog, let alone a health and wellness orientated food blog. And for that, I will be forever grateful!
I take much care in producing simple and delicious recipes and great quality photo's. I put loads of effort into my content. I use what I have, and make the most of it. I have taught and continue to teach myself (thank you Google and YouTube video tutorials). I get so inspired by so many amazing people/foodies out there! Life would be really dull without the constant inspiration I find, whether it be beautiful Instagram photographs, incredibly inspiring individuals or amazing content. Inspiration makes me feel so happy and energized! I urge you to find what makes you happy, and constantly be inspired by others in that field! It's kinda like fuel and motivation! I Love it!!!
So, now that I've rambled totally off topic, lets steer back to these tasty granola bars.
Before I changed my lifestyle, I love love loved granola bars. Especially when I was living in England. I was always nibbling on flap jacks and granola bars. Obviously these were loaded with sugar and not so great ingredients, so I decided to recreate a healthier version.
These bars are bursting at the seams with fiber, vitamin E, folic acid, niacin, pyridoxine, calcium, iron, manganese, zinc, magnesium, selenium, copper, omega 3's, tryptophan, potassium, biotin, antioxidants, flavonoids, minerals, pectin, riboflavin, vitamin k, protein, carbohydrates and healthy fats. Phew! What a mouthful! Now that's a lotta goodness crammed into 20 or so little bars!
They are:
great for picking up your

sugar levels

great for energy, especially sustained

energy

a perfect afternoon or mid morning

snack

to tide you over til lunch/dinner
super

fulling

so should refrain you from overeating
are so great for your

skin

as they're full of vitamin E
perfect for

lunchboxes

and kiddies will love them (get them to help you make them)
pretty

easy

to make so don't require too much effort
are so

so good for you

! and that should be enough 🙂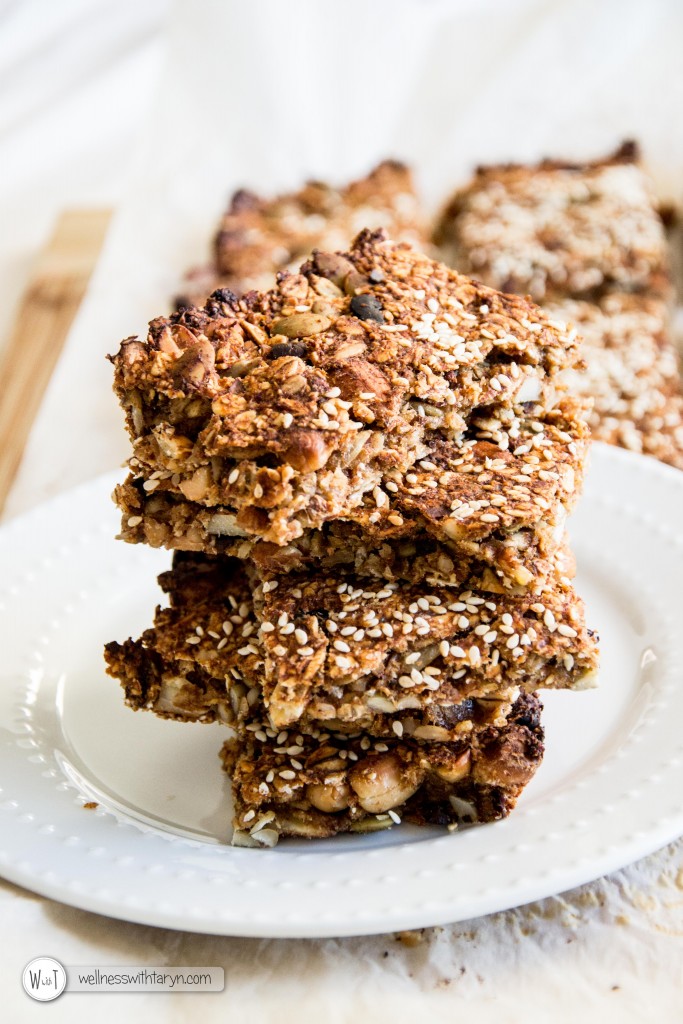 Chewy Granola Bars
2015-08-18 05:34:33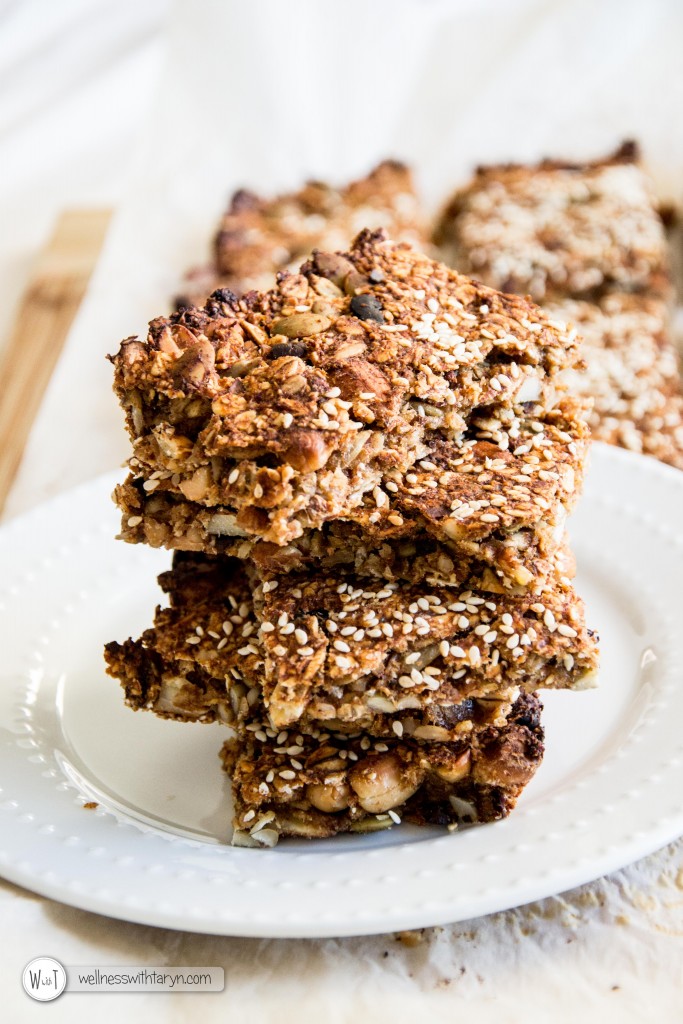 A super delicious granola bar recipe that is bursting with flavor and loaded with good nutrition. Perfect for all!
Ingredients
2 Cups Organic Rolled Oats (Pulsed in food processor)
1/4 Cup Organic Rolled Oats (non-pulsed)
1/2 Cup Sunflower Seeds
1/2 Cup Pumpkin Seeds
1/4 Cup Raw Cacao Nibs
1/2 Cup Peanuts (Optional)(replace with another nut)
1/2 Cup Almonds (broken up)
1/2 Tsp Celtic Sea Salt
2 Tsp Cinammon (Good quality)
1 Tsp Vanilla Extract
1 Tsp Chia Seeds (soaked in 2TBS water)
3 TBS Organic Cold Pressed Coconut Oil (melted)
Optional: Additional sweetener - maple syrup/honey/agave
PUREE
4 Big Organic Apples (steamed and pureed)
1 Cup Medjool Dates (steamed and pureed with apple)
Instructions
Preheat oven to 180C.
Next you'll want to make your apple and date puree. Start off by peeling and coring all 4 apples. Chop into small pieces and place into a steamer. Add the dates and steam for approx 10 mins, until the apples are completely soft.
While the apples and dates are steaming, place the 2 cups of oats into a food processor and pulse until quite fine, but not like a flour. You just want to reduce the flakes in size so that it's easier for them to stick together. Remove and place into a big mixing bowl.
If you don't have a mortar and pestal, you can chop your almonds up next in the food processor, and add to the mixing bowl.
Now, once the apples and dates are done, place into the food processor. Blitz until a smooth paste has formed.
Into your mixing bowl, add the remaining dry ingredients and stir thoroughly.
Add the date and apple puree, coconut oil, chia seeds and vanilla extract and stir thoroughly. If you would like to add additional sweetener like maple syrup or honey, you can do so here. The bars are sweet, but are diabetic friendly so additional sweetener may be necessary.
Once everything is mixed, place into a lined baking dish and press down. Use your hands or the back of a big spoon to level out the mixture.
Pop into the oven and bake for roughly 40mins, or until golden brown.
Remove and allow to cool. Store in an airtight container.
Wellness with Taryn http://wellnesswithtaryn.com/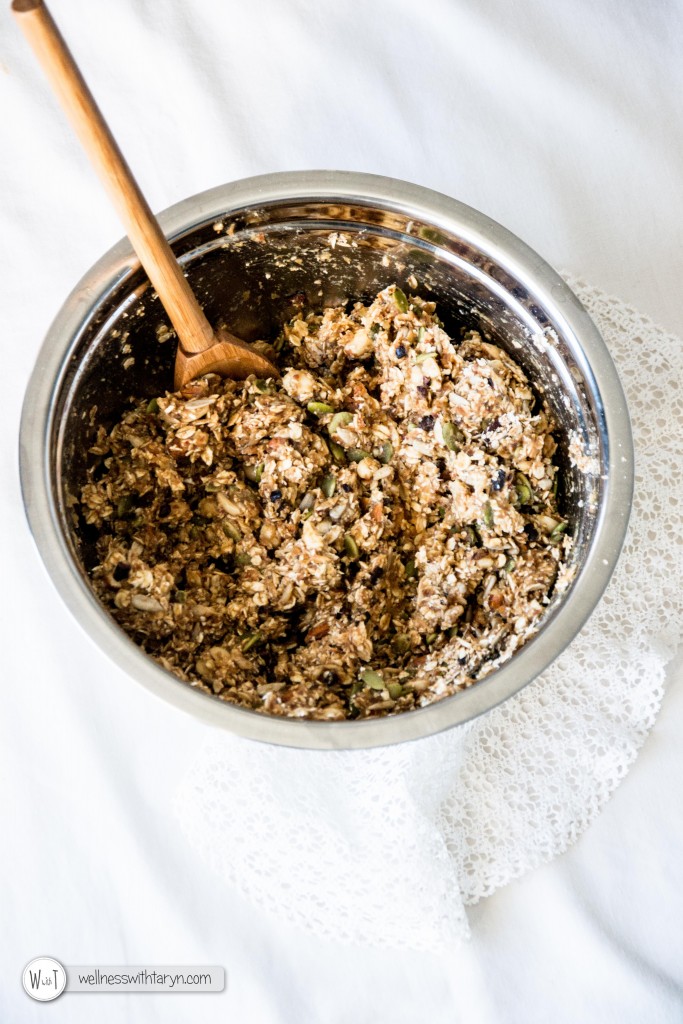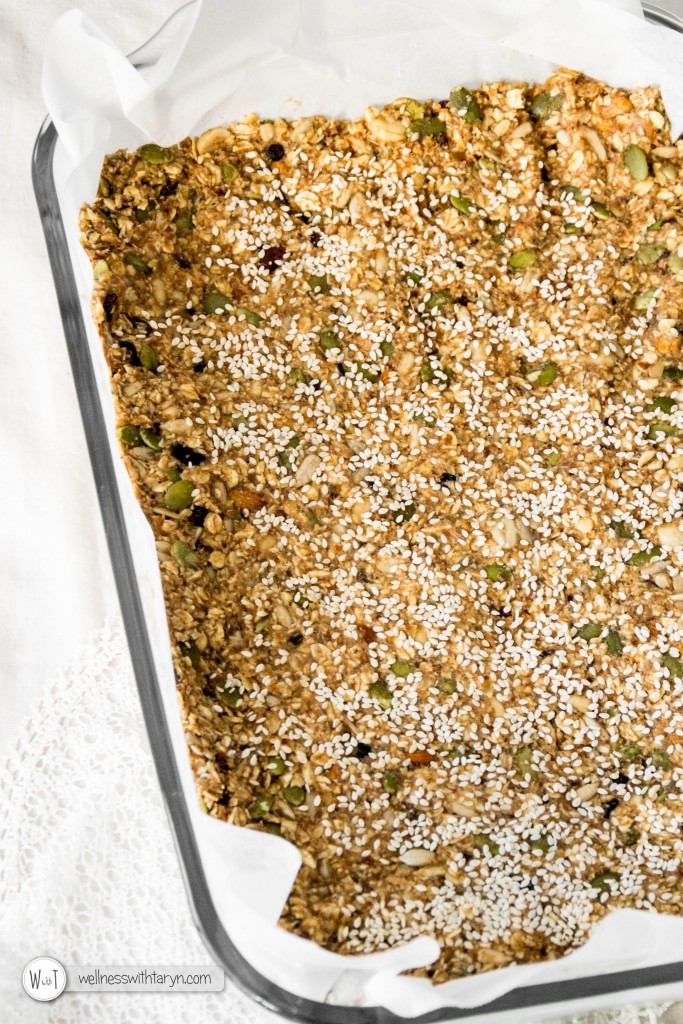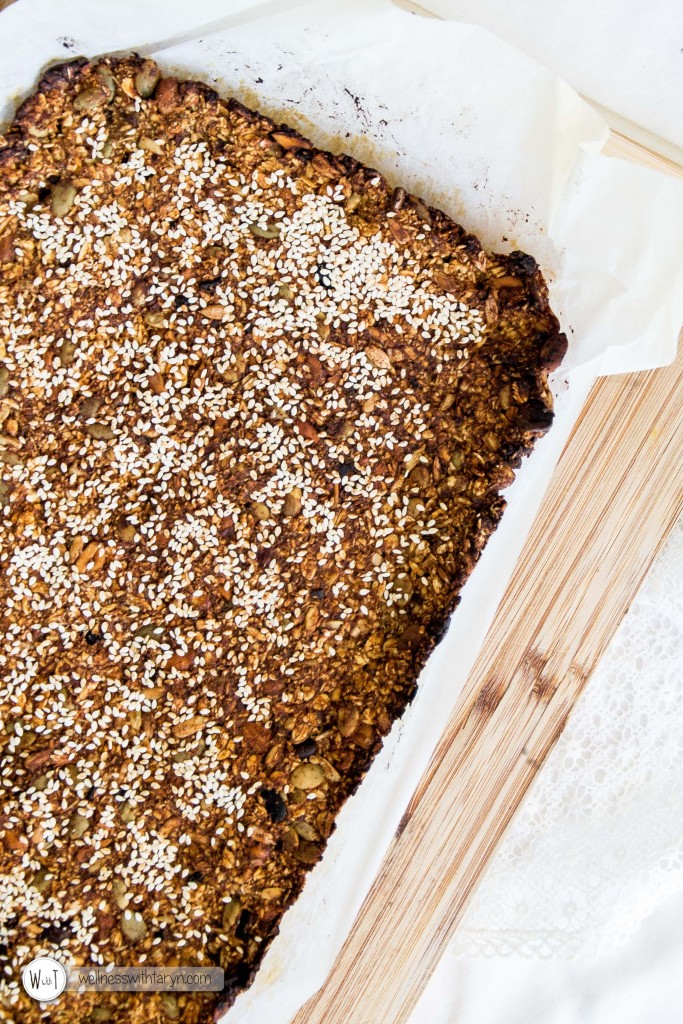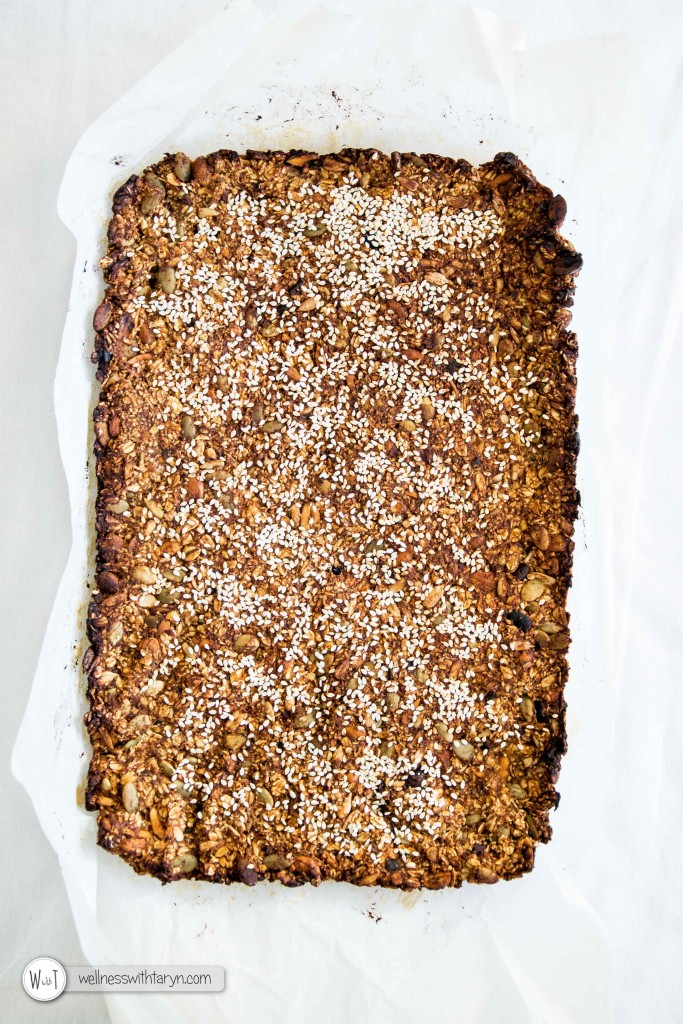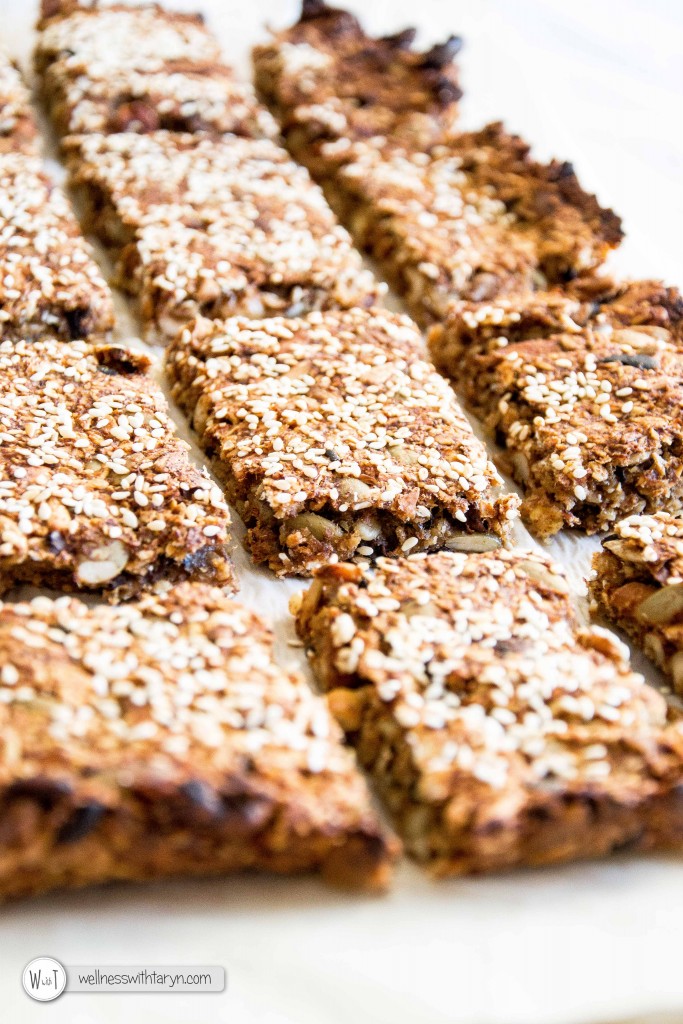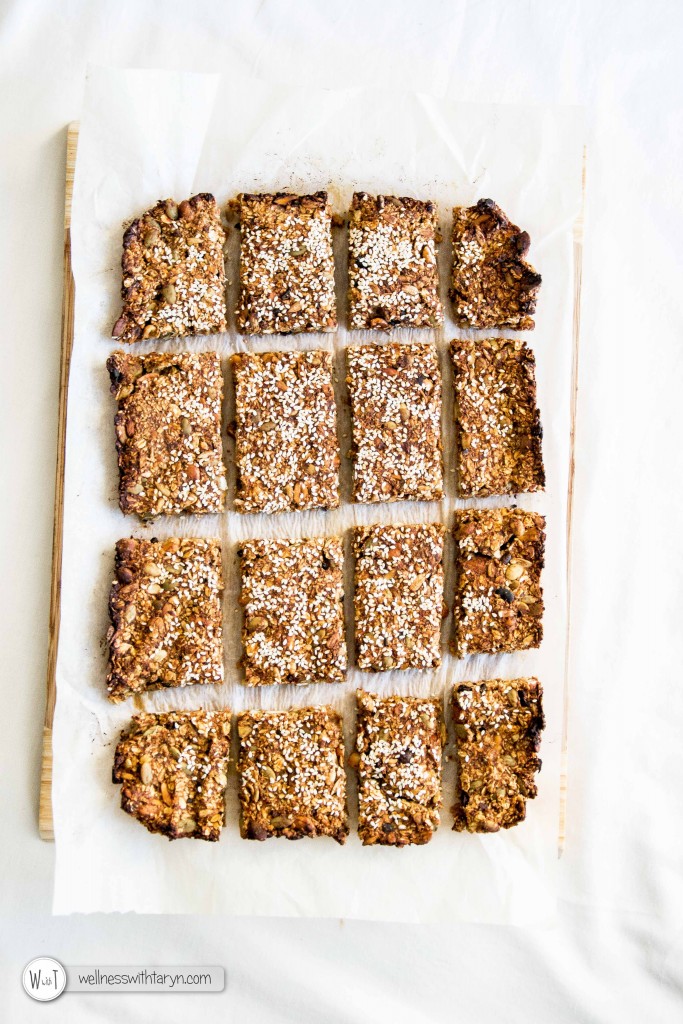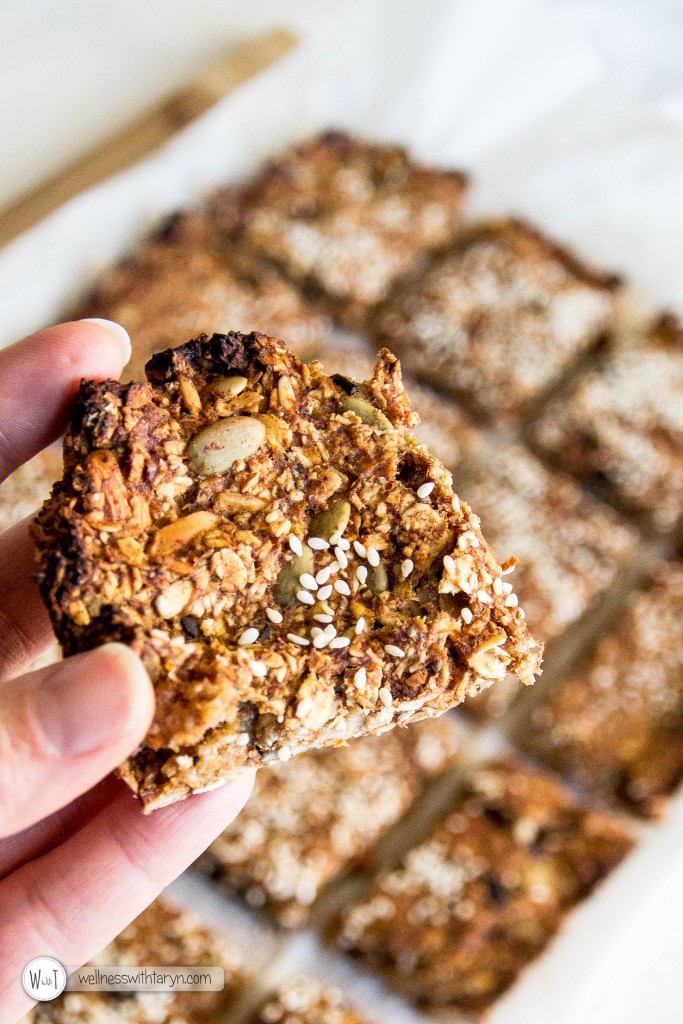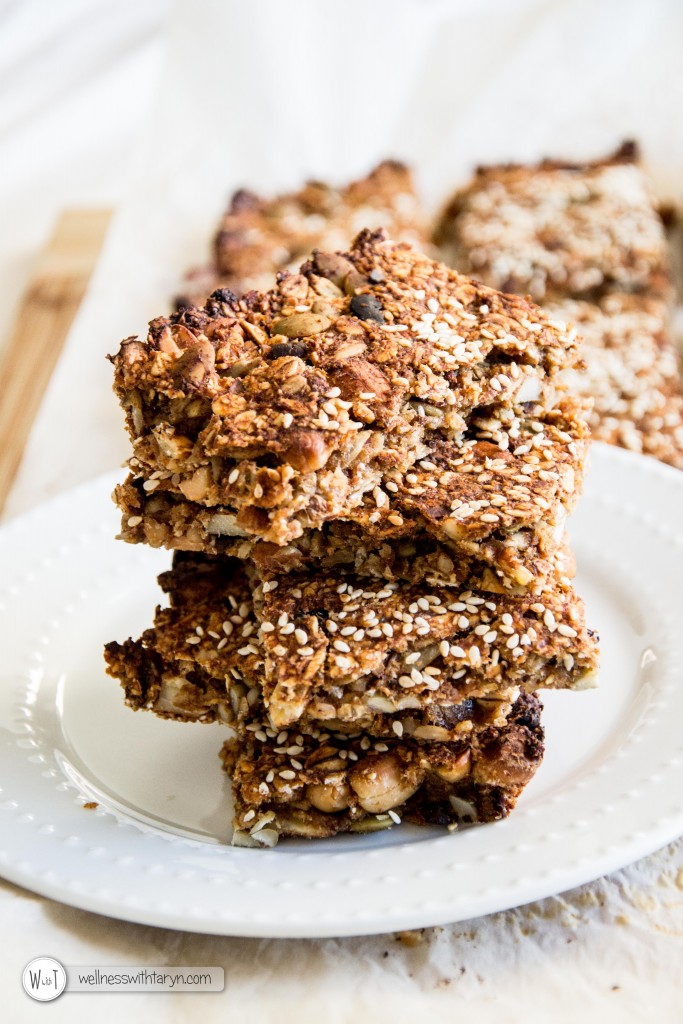 I hope you enjoy this post 🙂 Let me know if there's anything you'd love to see on the blog.