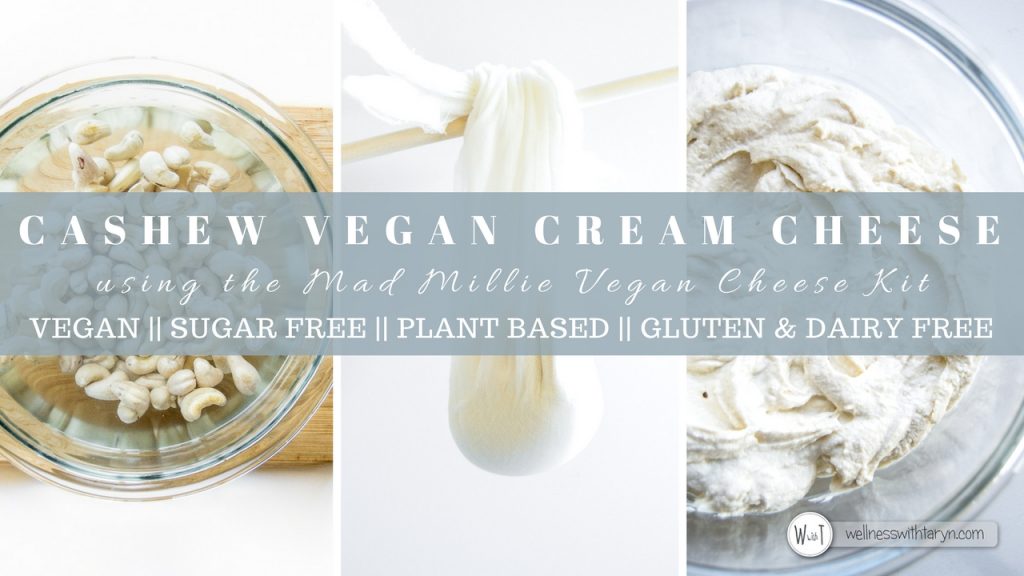 Nick generously gifted me a Mad Millie Vegan Cheese Kit for Christmas, which I finally got around to trying out. I've dabbled in a few vegan cheese recipes in the past, but mainly being cheese sauces and my macadamia cheese. I was super keen to test out a 'proper' vegan cheese recipe and so this Cashew Vegan Cream Cheese was the result.
Before changing my diet and lifestyle, I did eat regular dairy cheese – however I never sincerely missed it when I decided to cut it from my diet. I experimented with a few 'nut' cheeses but very rarely would make them – unless it was a cashew cheese sauce for pasta (because winter in New Zealand basically means comfort food).
So, I was super excited to try this recipe and it turned out SO well! Like seriously – I devoured that cream cheese in no time at all! I did adjust the recipe slightly – as I felt it did need more flavor (ie: heaps more nutritional yeast), but the end result was nothing short of perfect!
The Mad Millie Vegan Cheese kit is so cool – and I'd definitely recommend it if your interested in experimenting with dairy free cheeses. It has SO many delicious recipes in the little booklet that comes with it – for all different types of cheeses.
You'll get a fair few of the ingredients in the kit and basically just need to purchase the nuts. So much fun! I can't wait to try another type of cheese which calls for the use of the thermometer which is included in the pack – how fancy!
What Exactly is Nutritional Yeast?
Nutritional yeast is a pure strain of yeast that adds a cheesy and nutty flavor to vegan and vegetarian dishes. It's yellow with a flaky texture. It's also a source of protein, providing essential amino acids and B-vitamins.
If it's a fortified version is should contain vitamin B12. It's not the same as baking yeast and won't affect and candida conditions. Nutritional yeast boasts trace minerals and contains all 18 amino acids. It is naturally free of dairy, soy, gluten and sugar, and contains no animal products.
The B vitamins are a collection of eight water-soluble vitamins essential for various metabolic processes. The body uses energy-yielding nutrients such as carbohydrates, fat and protein for fuel. B vitamins help the body to use that fuel in necessary roles such as helping cells to multiply by making new DNA.
The B vitamins are also essential for a healthy nervous system. Nerve tissue has very high energy requirements, and is particularly sensitive to any shortages of the B's, such as in times of stress.
So nutritional yeast is a great ingredient to have in your cupboard, especially if your living a plant based lifestyle. It's generally available in the condiment section or natural foods stores. Stored in a cool dry place or the refrigerator or freezer, it will last for months.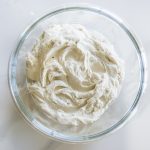 Cashew Vegan Cream Cheese
A super easy vegan cream cheese recipe from the Mad Millie Vegan Cheese Kit. Deliciously smooth and perfect on your favorite healthy cracker!

Course:
Lunch, Side Dish, Snack
Cuisine:
Dairy Free, Gluten Free, Healthy Fats, Refined Sugar Free, Vegan, Vegetarian
Ingredients
1

Cup

Raw Cashew Nuts

(Soaked overnight in water)

1/2

Cup

Water

1/2

1

Tsp

Cheese Salt

(Included in the kit)

1/4

Tsp

Citric Acid

(Included in the kit)

2

TBS

Yeast Flakes or Nutritional Yeast

(Included in the kit)(But I used some of my own too)
Instructions
Soak the cashew nuts in a glass bowl of water overnight.


Drain the nuts and rinse with water.


Place nuts into a blender or food processor and add the remaining ingredients. I used a Nutribullet to do this.


Blend until the mixture is fully combined and smooth


Spoon the cream cheese mixture onto the cheese cloth, bring the corners of the cheesecloth together and tie together. Allow this to drain overnight by hanging over a bowl of some sort to catch the drainage.


Scoop mixture into an airtight glass jar and store in the fridge for up to 3 days.

Recipe Notes
Recipe from Mad Millie Vegan Cheese Kit (This post was not sponsored in anyway - just really enjoyed the kit and wanted to share)
Hope you enjoyed this post – as always I really appreciate any feedback you may have 🙂