Tried and tested a handful of times, I can see this Broccoli Flatbread recipe becoming a regular favorite. It's just such a simple recipe and is a perfect alternative to bread. Straight out the oven or popped into the toaster, this recipe is full of goodness.
This Broccoli Flatbread is gluten free, low in carbohydrates, refined sugar free, egg free making it 100% vegan, as well as incredibly delicious. The texture is perfect, and the ingredients hold well together without falling apart.
There's nothing worse than making a cracker/flat bread recipe and being left with a disappointing mess because all the ingredients refused to stay bonded together.
Rest assured, this recipe is quick and easy and only uses a handful of ingredients. What you're left with is a perfectly healthy flatbread, packed with amazing nutritional benefits (not to mention flavor).
With a couple of these slices on hand, you'll have a number of quick and easy meal options. From toast to sandwiches – think smashed avocado, chili flakes with a squirt of fresh lemon juice or a fully loaded sandwich with hummus, veggies, greens, tomatoes and sprouts!
There are so many delicious options with this recipe, it's is fantastic!
Health Benefits of Broccoli
Cancer Prevention

Broccoli contains glucoraphanin, which the body processes into the anti-cancer compound sulforaphane. This compound rids the body of H. pylori, a bacterium found to highly increase the risk of gastric cancer. Furthermore, broccoli contains indole-3-carbinol, a powerful antioxidant compound and anti-carcinogen found to not only hinder the growth of breast, cervical and prostate cancer, but also boosts liver function. Broccoli shares these cancer fighting, immune boosting properties with other cruciferous vegetables such as cauliflower, Brussels sprouts and cabbage.

Cholesterol Reduction

Like many whole foods, broccoli is packed with soluble fiber that draws cholesterol out of your body.

Reducing Allergy Reaction and Inflammation

Broccoli is a particularly rich source of anti-inflammatory phyto nutrients. Broccoli even has significant amounts of omega 3 fatty acids, which are well know as an anti-inflammatory.

Powerful Antioxidant

Of all the cruciferous vegetables, broccoli stands out as the most concentrated source of vitamin C, plus the flavonoids necessary for vitamin C to recycle effectively.

Bone Health

Broccoli contains high levels of both calcium and vitamin K, both of which are important for bone health and prevention of osteoporosis.

Detoxification

Glucoraphanin, gluconasturtiin and glucobrassicin are special phytonutrients that support all steps in the body's detox process, including activation, neutralization and elimination of unwanted contaminants. These three are in the perfect combination in broccoli.
Diet Aid Broccoli is a smart carb and is high in fiber, which aids in digestion, prevents constipation, maintains low blood sugar, and curbs overeating. Furthermore, a cup of broccoli has as much protein as a cup of rice or corn with half the calories.

Alkalizes Your Body

Like many vegetables, broccoli helps keep your whole body less acidic, which has a host of health benefits. Source
What is Nutritional Yeast?
Nutritional yeast is made from a single-celled organism, Saccharomyces Cerevisiae, which is grown on molasses and then harvested, washed, and dried with heat to kill or "deactivate" it. Because it's inactive, it doesn't froth or grow like baking yeast does so it has no leavening ability. Don't worry; no animals are harmed in this process because yeasts are members of the fungi family, like mushrooms, not animals.
Nutritional yeast has such an unappealing name that somebody started calling it "nooch" and the name caught on in some corners of the internet.
Nutritional yeast is packed with nutrition, particularly B-vitamins, folic acid, selenium, zinc, and protein. It's low in fat, is gluten-free (check specific brands for certification), and contains no added sugars or preservatives. Because vitamin B12 is absent from plant foods unless it's added as a supplement, nutritional yeast that contains B12 is a great addition to the vegan diet (though I strongly recommend taking a supplement as it's the only way to be sure you're getting enough). Not all nooch has B12, so check the label carefully before buying. Source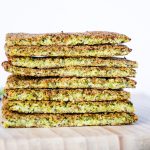 Broccoli Flatbread
This is a delicious flat bread recipe that is gluten free, dairy free, refined sugar free as well as 100% vegan. It's loaded with nutrients and vitamins and not to mention full of flavor. Straight out the oven, toasted or made into a sandwich, there are so many options with this delicious flatbread.
Course:
Appetizer, Lunch, Side Dish, Snack
Cuisine:
Dairy Free, Gluten Free, Grain Free, Healthy Fats, Keto, Paleo, Plant based, Refined Sugar Free, Vegan, Vegetarian
Ingredients
1

TBS

Chia Seeds

- left to swell in a small bowl with 4 TBS water

180g

Broccoli Florets

- cleaned and rinsed

1

Cup

Almond Meal

- ground almonds

3

TBS

Nutritional Yeast

1

TBS

Psyllium Husks

1 1/2

Tsp

Sea Salt or Himalayan Rock Salt

Grind of Black Pepper
Instructions
Pre-heat oven to 200C (fan forced)

Place the chia seeds and water into a small bowl, mix and leave aside to swell.

Blitz the broccoli florets in a food processor until fine.

Add the broccoli to a large mixing bowl and add the remaining dry ingredients. Mix thoroughly.

Add the swollen chia seed gel and mix well untill all combined.

On a lined baking tray, evenly spread the mixture and press down with either your hands or a flat silicone baking spatula (I find this works well and the mixture doesn't stick to it)

Poke a few holes around the mixture with a fork to ensure even baking

Pop into the oven and bake for 20 mins at 200C or until golden brown

Remove from oven and allow to cool for a couple minutes.

Slice into slices and enjoy.

Store in an airtight container.
Recipe Notes
Use Organic wherever possible - These flatbread slices are divine in the toaster, just watch them as they toast quicker than regular bread.
I hope you enjoyed this recipe as much as I did. I've already made two more batches of this flat bread and am proud to say I'm totally addicted. So delicious!