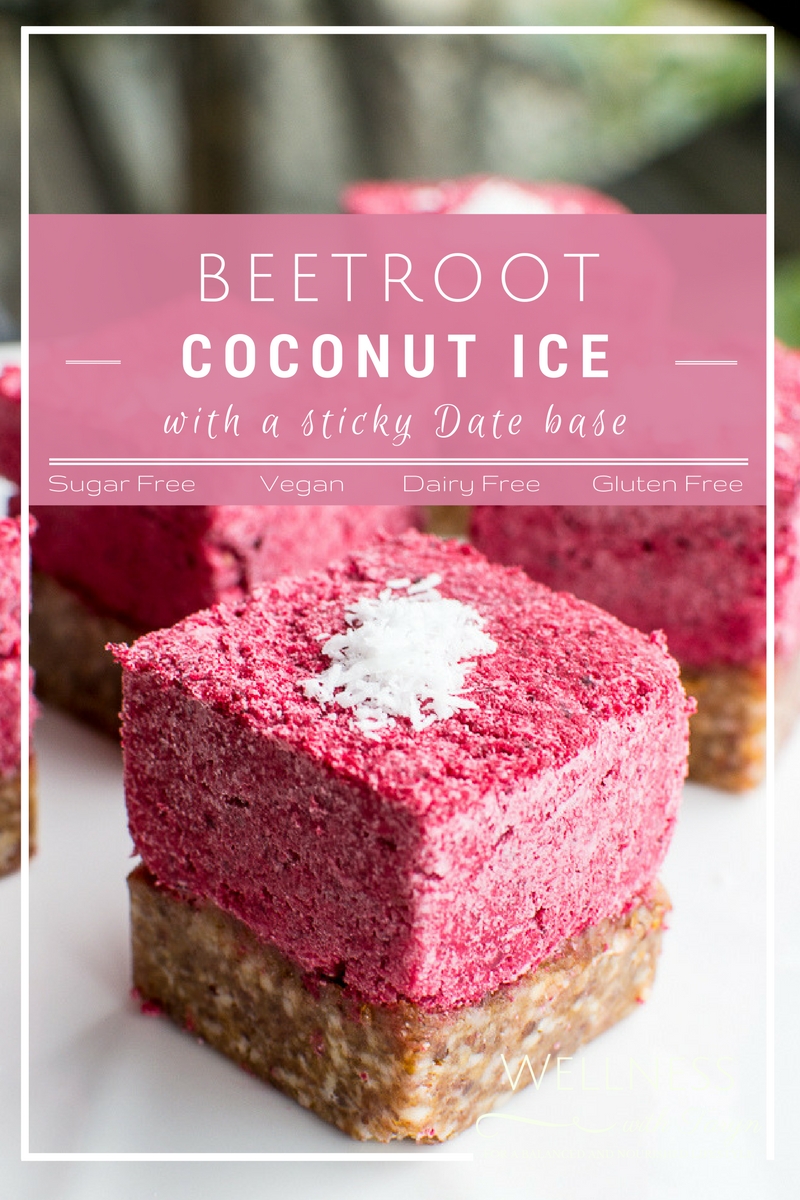 I set myself a challenge with this recipe. That challenge was to create something delicious out of the ingredients I already had. No additional purchases. Just make do with what I had in the kitchen.
So, with inspiration and creativity flowing, this Beetroot Coconut Ice Recipe was created. My hope is that you also have similar ingredients in your kitchen to create this recipe, and if not, then to use your imagination and have fun creating something with what you have already.
My mentality and drive behind this recipe, was being so grateful that I actually have all the ingredients I need to create something nutritious and delicious. Being grateful that I just need to turn to my kitchen to find what I need to use my imagination and creative juices to make something yum.
I often open the fridge, or the cupboard, or peer over the the fruit rack and just exude gratitude for all the abundance that I have in my life. Be it a single ripe avocado, or a bag of fresh green baby spinach, it's these little bursts of gratitude that have so much power!
In this day and age we are so lucky to be have an abundance of food at our fingertips. We've got stuck into watching David Attenborough's Planet Earth II and it's amazing to see how hard it is for animals to survive, with the uncertainty of where their next meal is coming from. Will they survive through the toughest of times when food is at an all time low. And I compare this to humans, being able to walk into a supermarket and purchase whatever they need, it's all right there for them. Convenient! Our culture seems to driven more and more by convenience. Making us lazy! And inconsiderate in so many ways. Granted I know money ties in with it all, but it's just fascinating to compare us to animals.
It's these feelings that fuel my gratitude, and really push me to find the gratitude in everything, big and small. I find peace in that I know that I truly do appreciate what I have in my life, and the gratitude that I practice in turn creates more magic than I could ever ask for.
Gratitude and Bliss
Here are a few ways to be more grateful each day and add more bliss to your life
Start a Gratitude Journal:

Make gratitude a habit and write down 5 things each morning that you are grateful for in your life. It could be an amazing relationship, a delicious breakfast or gratitude for each breath taken. Being more inclined to the positives in your life will force your focus that way, leaving little room for negatives.

Affirmations:

Daily affirmations can really help set your day off to a good start. Before getting out of bed, quietly sit and smile and recite a few positive affirmations in your mind. Affirmations can help us to be more appreciative of ourselves, others, and the world. " I appreciate all the abundance around me right now. " " I am completely happy with my whole self. "

Awareness:

Being more present and aware in each moment can really help shift your thinking and view as a whole. Taking time to be completely still, and in the moment can truly have amazing benefits. Yoga and meditation are great practices to incorporate into your life to help with this. It's amazing what clarity and calamity awareness can bring.

Appreciate:

Being more appreciative of everyone and everything in your life can make a huge positive impact. Giving and generally being more kind to those in your life can bring such abundance to your life. Never take the beautiful relationships in your life for granted.

Open your Mind:

Try to open your mind to new practices, habits and future possibilities. Having an open mind makes it easy for positivity to flow, and thus abundance, gratitude, self awareness and everything else that can make a life so whole. Replace fear with excitement and try new things. Don't worry about the future, but focus on the beautiful perfect present moment and relish in all that this wondrous life has to offer.
Now, this recipe is really quick and easy, and quite tasty! With beetroot being my center ingredient, I wanted to find a way to emulate it's beautiful purple/pinky hues. What better than to pair it with brilliant white shredded coconut! The pair suited each other surprisingly well. The vibrant pink certainly made it's appearance well known!
The sticky sweet date and almond base brought an earthy dimension to my take on this coconut ice recipe. Something different, I know, but I wanted to use the ingredients I had and, in the end, all turned out pretty well!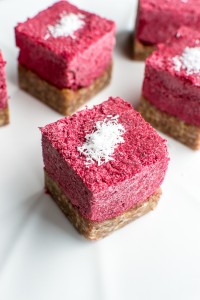 Beetroot Coconut Ice
2016-12-03 06:40:06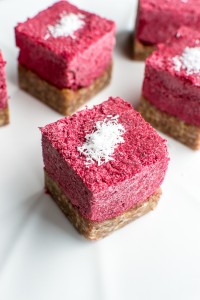 Serves 6
A quick and easy treat option that uses minimal ingredients, with beetroot as the center ingredient. Loaded with nutritional goodness and fiber, and perfect for all ages.
Ingredients
BASE
1/2 Cup Raw Almonds
10 Medjool Date - pitted
1 Tsp Organic Cold Pressed Coconut Oil
Pinch of Flaked Sea Salt
COCONUT ICE
1 Medium Beetroot (Raw)(Peeled and chopped)
2 Cups Organic Dessicated Coconut
4 TBS Organic Cold Pressed Coconut Oil (melted)
6 TBS Organic Rice Malt Syrup (Or sweetener of your choice)
3/4 Cup Almond Milk
Pinch of Flaked Sea Salt
Instructions
Place all BASE ingredients into a food processor and blend until all combined.
Divide the mixture up enely into your mold. I used a silicone mold, and used the back of a teaspoon and my fingers to press the base mixture down, until it was nice and firm.
Poke the top with a fork, and place into the freezer while you make the coconut ice layer.
Place all COCONUT ICE ingredients into a food processor or high speed blender and blend until all combined.
Distribute evenly into the mold, and use your fingers or the back of a teaspoon to push the mixture down.
Let it set overnight in the freezer.
Remove 5 mins before serving to all to thaw slightly to make it easier to remove.
Decorate with shredded coconut and enjoy.
Store in a sealed container in the freezer/fridge for up to 3 days.
Notes
Use Organic where possible
Make sure you use Organic shredded coconut to avoid any bleached brands laden with preservatives.
Wellness with Taryn http://wellnesswithtaryn.com/
I do hope you enjoy this recipe, and remember to
share
with all your food loving friends.
Much love
Xxx