Breakfast has to be one of my favorite meals of the day! And I'll admit, I am such a creature of habit, and tend to have a handful of breakfast recipes which I juggle and alternate from. Obviously making them each unique with various different toppings, or what ever is in hands reach in the cupboard. Now, in South Africa I used to frequently buy gluten (wheat) free oats, but am battling to find them here in Nelson. I don't have a gluten sensitivity, but I choose not to eat gluten containing foods often as I know the health implications. That being said my diet is pretty much gluten free, aside from oats (organic) every now and then. This breakfast oats recipe is one of my all time favorites!!!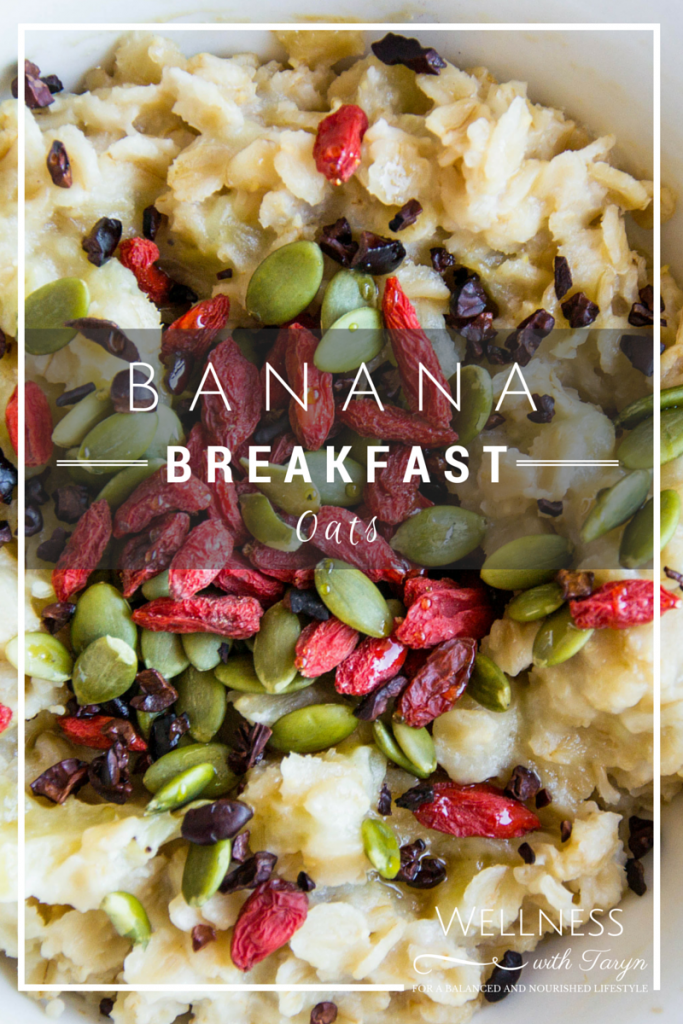 Being a Type 1 Diabetic, routine is pretty damn important, and I find it easier to eat breakfasts that I know:
Are low GI and won't cause a huge rapid rise in my

blood sugar levels

Are going to keep me

sustained

(slow releasing carbohydrates)
Are going to make me feel

energized

and ready for the day
Are absolutely

delicious

(of course)
Are super healthy, full of

good nutrition

Are not too time consuming, and can be

quick if need be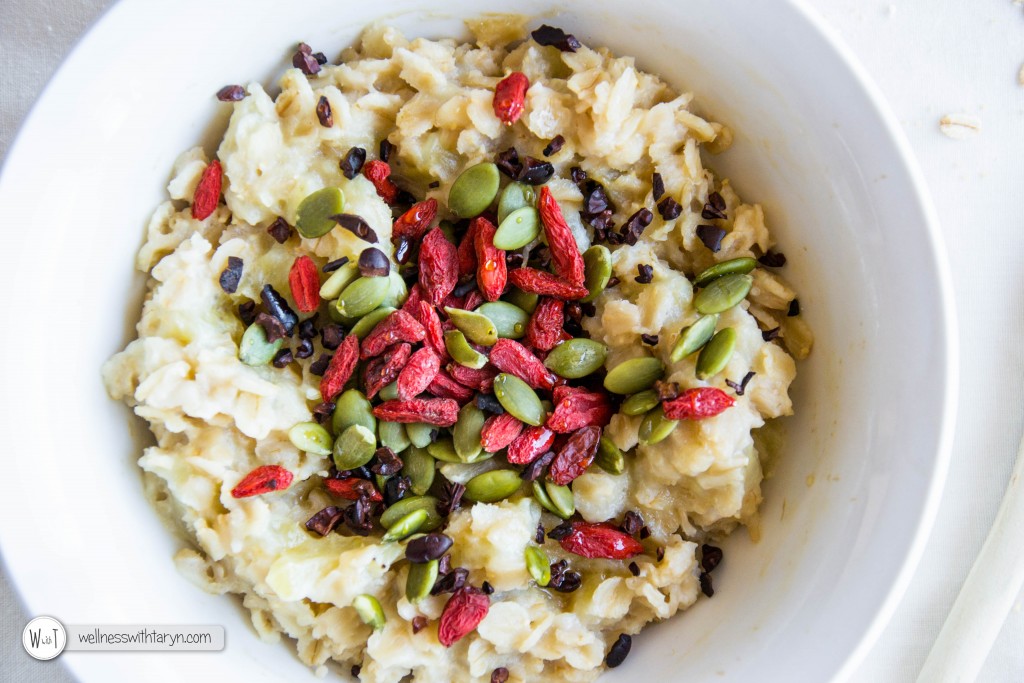 And this banana breakfast oats recipe, my friends, meets all those requirements. It is really really tasty! My favorite part of it is the taste of the cooked banana! Mmmmm! That taste sends my taste buds to another world! I always remember, on the weekends when I was growing up, it's be a tradition to have a big fry up breakfast on a Saturday, and often this induced fried banana! I absolutely adore the taste of cooked banana, and it sweetens the dish so lovely that you really don't need to add additional sweeteners, but you most certainly can if you wish. I drizzled a bit of Organic Agave nectar over this dish, mainly because I wanted that glistening syrupy look that photographs so beautifully, but it is by all means not a necessity for the dish 🙂
So I'm gonna skip the juicy goodness of oats today, and jump straight into the recipe.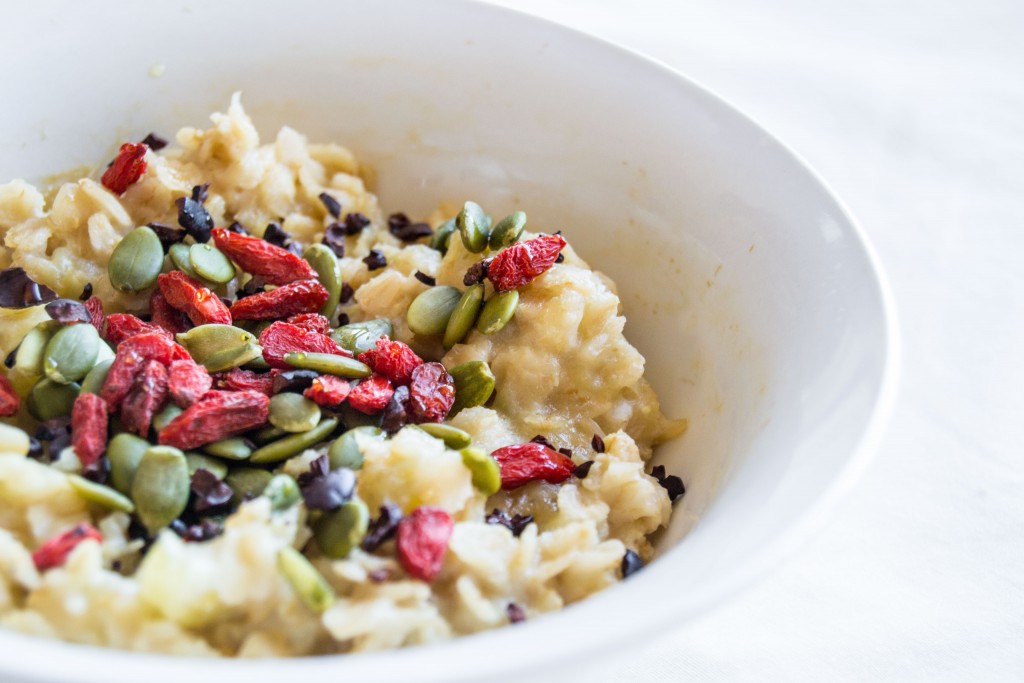 Banana Breakfast Oats
2015-07-21 05:06:23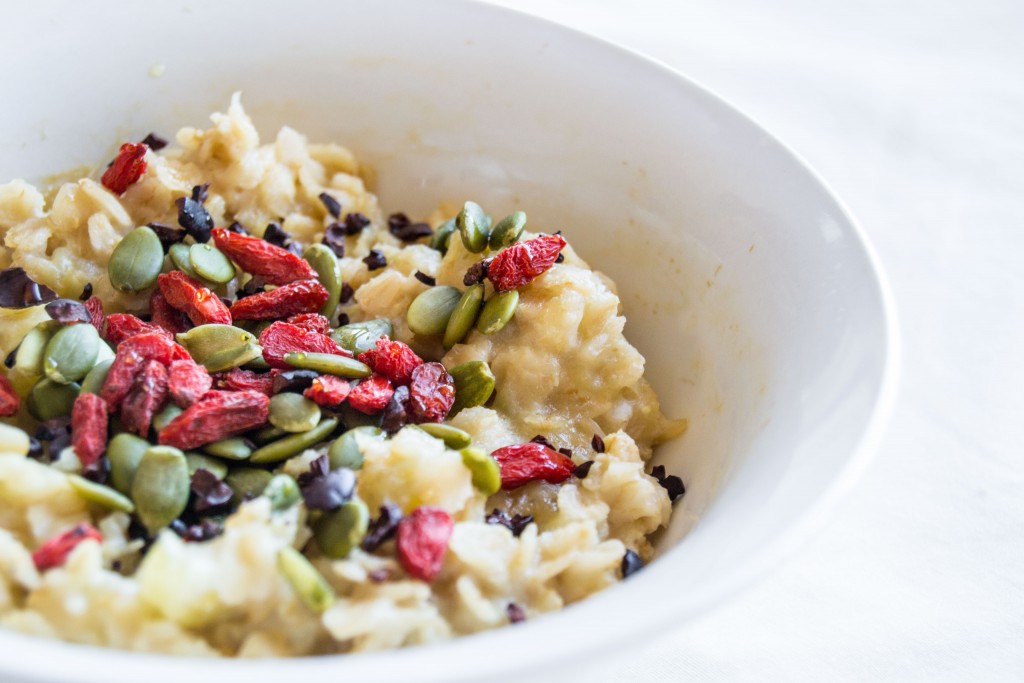 Serves 1
Super nutritious breakfast option that's tastes amazing, is sustaining and energizing!
Ingredients
PORRIDGE
1/2 Cup Organic Oats (Rinsed)
1 Cup Water
1 Banana (Mashed)
1/2 Tsp Celtic Sea Salt
1/2 Tsp Cinammon (Good quality)
1/2 Tsp Vanilla Extract
2 TBS Nut Milk (Dairy alternative milk)
1/2 Tsp Coconut Oil (Organic Cold Pressed)
TOPPINGS
Goiji Berries
Pumpkins Seeds
Raw Cacao Nibs
Agave Nectar (or Maple Syrup/Honey/Rice Malt Syrup)
Instructions
Rinse and drain your oats.
Place into a small pot, with 1 cup water and bring to the boil. Once boiling reduce heat to medium.
Add the mashed banana, salt, coconut oil, vanilla extract and cinnamon and allow to simmer for approx 7-10 mins. If the mixture becomes too thick, add a little water, gradually until the desired consistency.
Add the nut milk at the end to give it a creamy finish.
Remove off the heat and serve with your choice of toppings.
Wellness with Taryn http://wellnesswithtaryn.com/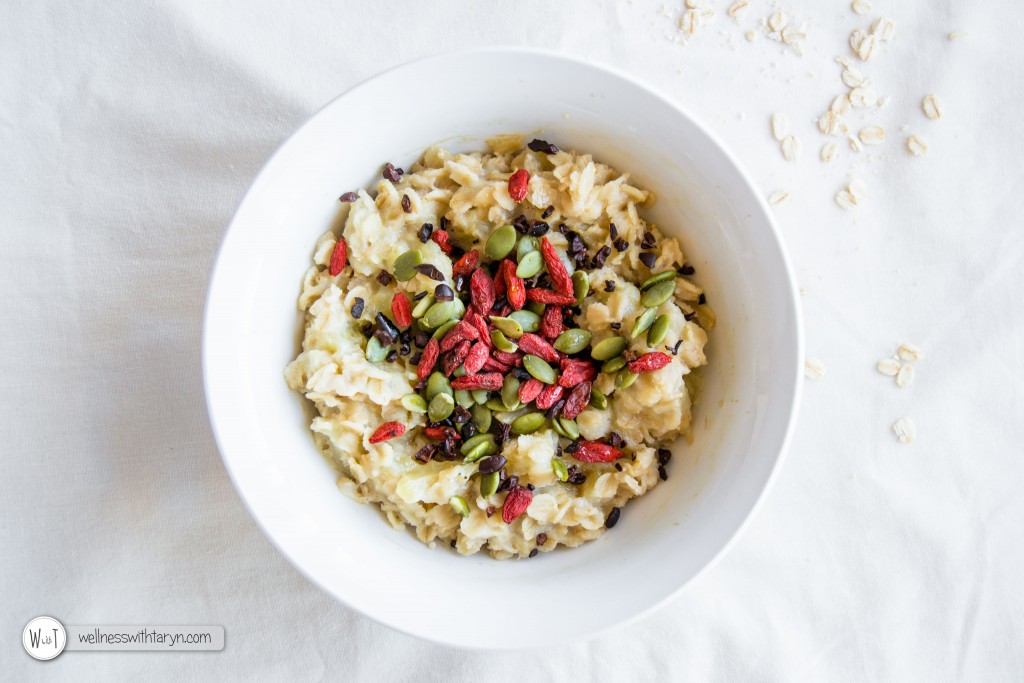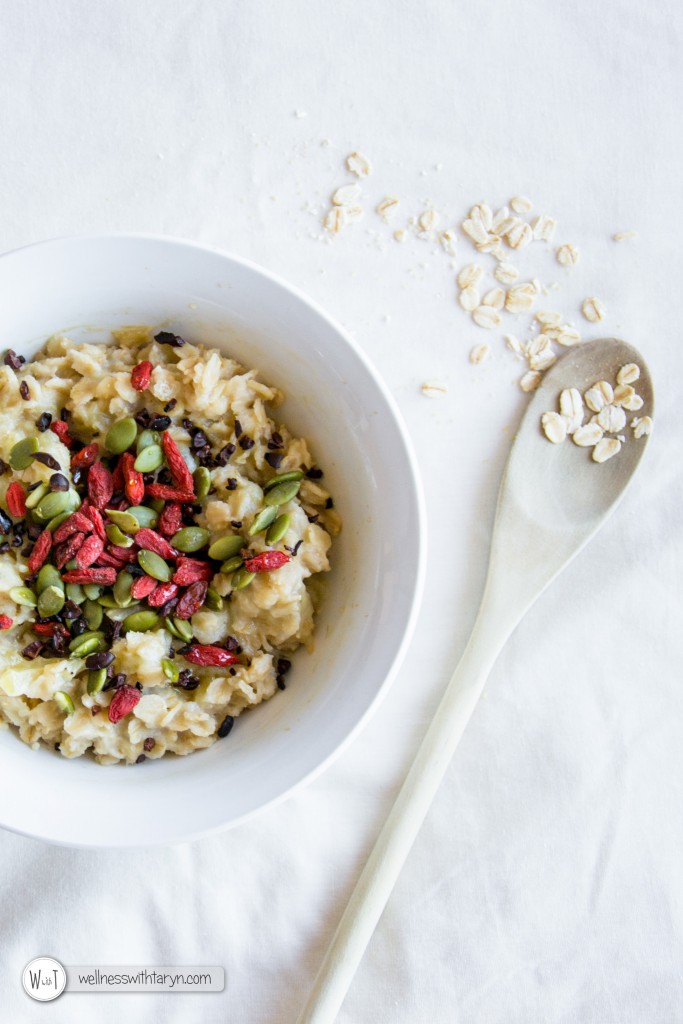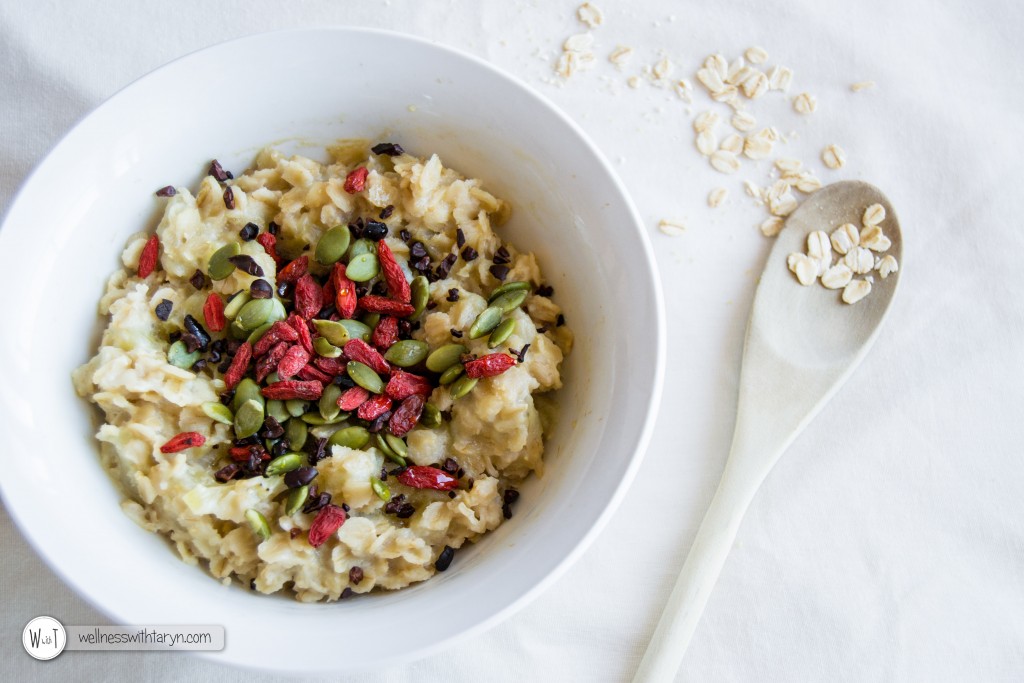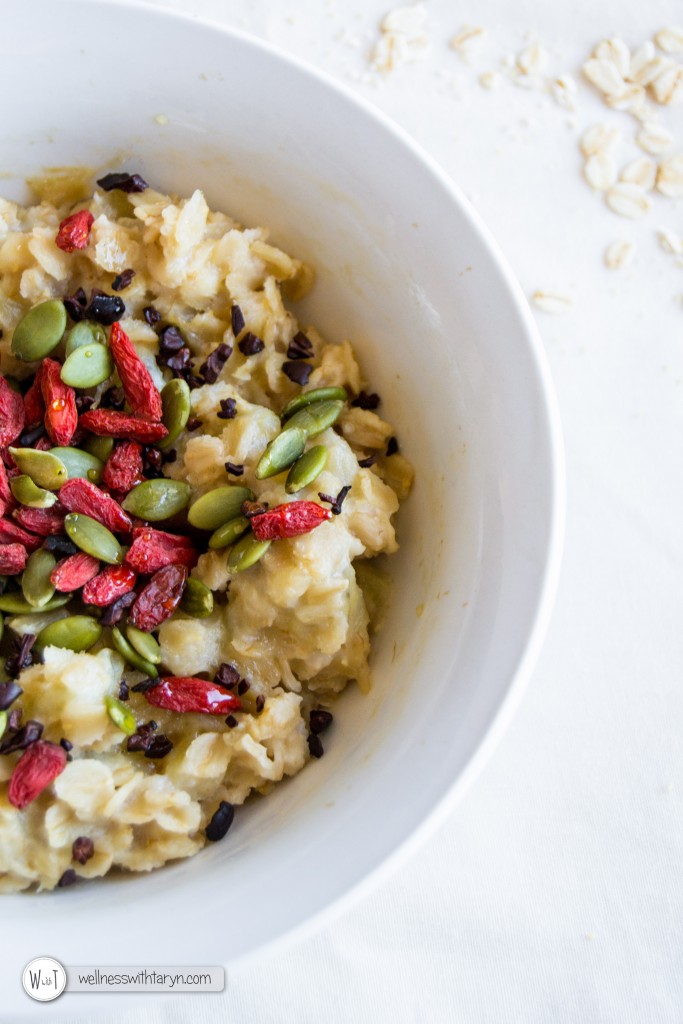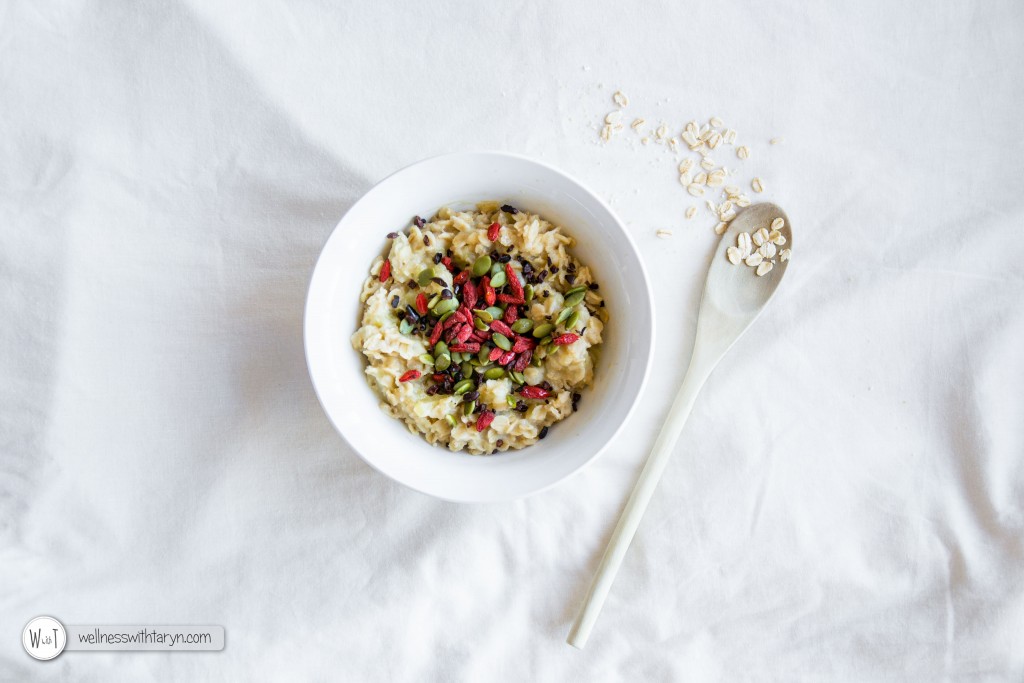 Hope you enjoy this recipe, and remember to
#wellnesswithtaryn
so I can see your dishes if you decide to give them a try 🙂