Marinated Kale and Mushroom Salad
So this recipe is the perfect way to pump up the alkalinity in your diet, with help from one of my biggest friends in the business, Kale. With kale being a primary ingredient, your assured to get a blast of nutrients from this powerhouse green leafy vegetable. I LOVE the fact that it's pretty simply, and that you kinda get involved with the kale 😉
Now kale can be tricky to work with, as it's quite a hardy vegetable. That is why this recipe calls for marinating your kale, allowing it to soften so that you end up with this delicious end result.
There are so many delicious things you can do with this super nutritious green leafy vegetable. From juicing to salads to soups to Crispy Kale Chips. It really is surprisingly a versatile leaf. So this recipe calls for the kale to be marinated, and how we do this is by using a combination of lemon juice and apple cider vinegar. By adding this mixture to a bowl of torn kale, and massaging it gently, we are breaking down those tough and hard cell walls, that are quite difficult to digest. By marinating it we aid our gut by making the leaves easier to digest and breakdown, allowing quicker absorption of nutrients.
Lately I've become such a fan of apple cider vinegar, and it's important to find a really good organic one. I add it to sauces, salads, and even wash my vegetables in it. It's wonderful if you battle to digest your food too, by taking a tablespoon before each meal, it'll assist your stomach in producing digestive enzymes that help to break down your food and helps the body maintain a healthy alkaline pH level. This helps to reduce heartburn, re flux, gas and bloating. Here are a quick few great uses for Apple Cider Vinegar:
Can be used instead of toxic chemicals to help clean your home
Adds great shine to your hair
Works great as a toner as it regulates the pH of the skin
It helps to remove yellow stains from your teeth
Great for soothing sunburn, added to a warm bath
Helps the body maintain a healthy alkaline pH level
Can aid in weight loss and detox
Can aid against candida
Works well to repel fleas from pets
So you see, living clean and green can be super easy and cheap.
Now that we've veered wonderfully off track, lets get back to this tasty salad recipe.
So to break it down, we're going to get a crap load of nutrients (Vitamin K, C, A, Calcium, iron, folate, omega 3's, and fiber) from the kale, a little digestive aid from the lemon juice and apple cider vinegar, a bucket load of vitamins, minerals, amino acids, carbohydrates and essential fatty acids from the pumpkins seeds, immune boosting benefits from the mushrooms, a heap of minerals such as phosphorus, lecithin, magnesium, potassium and iron from the tahini (not to mention calcium) added carbohydrates and fiber from the Bulgar wheat in the Tabbouleh and so much more! Phew that was a mouthful! So much goodness in such a little salad! I love it!
Marinated Kale and Mushroom Salad
2015-04-06 23:04:11
Serves 2
A nutrient dense salad that is delicious and satisfying.
Ingredients
4 Kale Leaves
1 Lemon (Juice)
1 Tsp Apple Cider Vinegar
3 Cups Chopped Mushrooms (I used Button Mushrooms)
3 TBS Tahini
1 Tsp Minced Garlic
2 Spring Onions
2 TBS Pumpkins Seeds
4 TBS Pre-Made Tabbouleh (Bulgar Wheat, Parsley, Mint, Tomatoes, Onion, Lemon Juice, Olive Oil)
Coconut Oil
Salt (Pink Himalayan, Celtic Sea) and Pepper to taste
Instructions
First you'll want to tear your kale leaves into bite size chunks, tearing bits away from the stem. Place these into a big mixing bowl.
Next add the lemon juice and apple cider vinegar and begin massaging the leaves with your hands, until they become quite soft. Set aside.
While the kale is 'marinating', gently fry your mushrooms in a little coconut oil, adding the minced garlic and spring onions. Once the mushrooms are golden brown, remove off stove top and set aside to cool.
By now the kale should be quite soft. Add the Tabbouleh, tahini, salt and pepper and mix. When the mushrooms have cooled down a bit, add them to the bowl and mix.
Serve in a bowl and garnish with the pumpkin seeds.
Wellness with Taryn https://wellnesswithtaryn.com/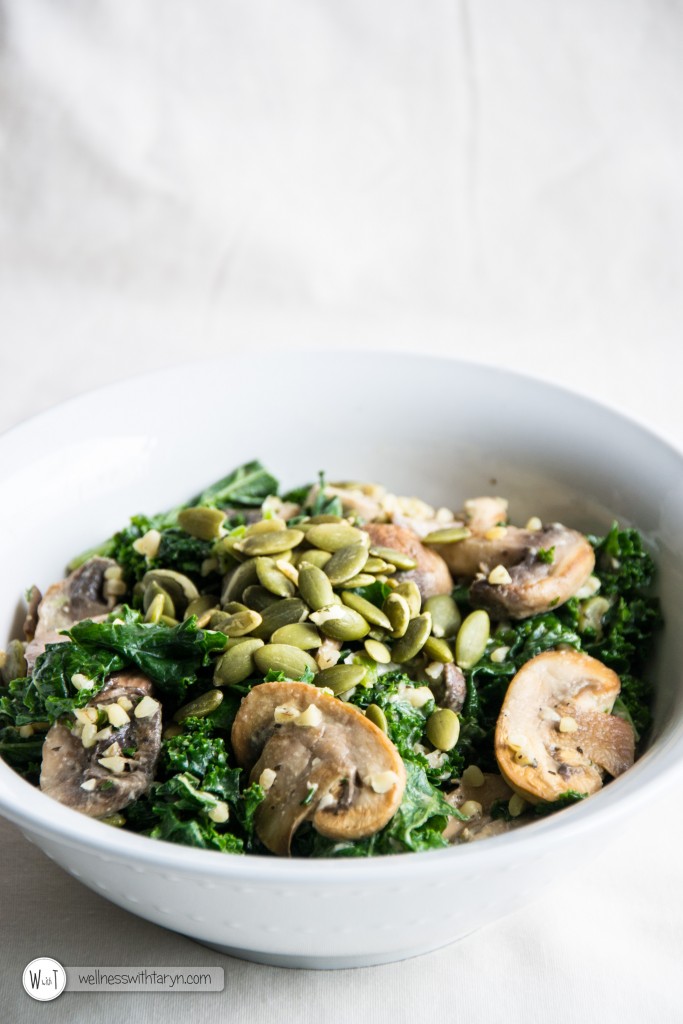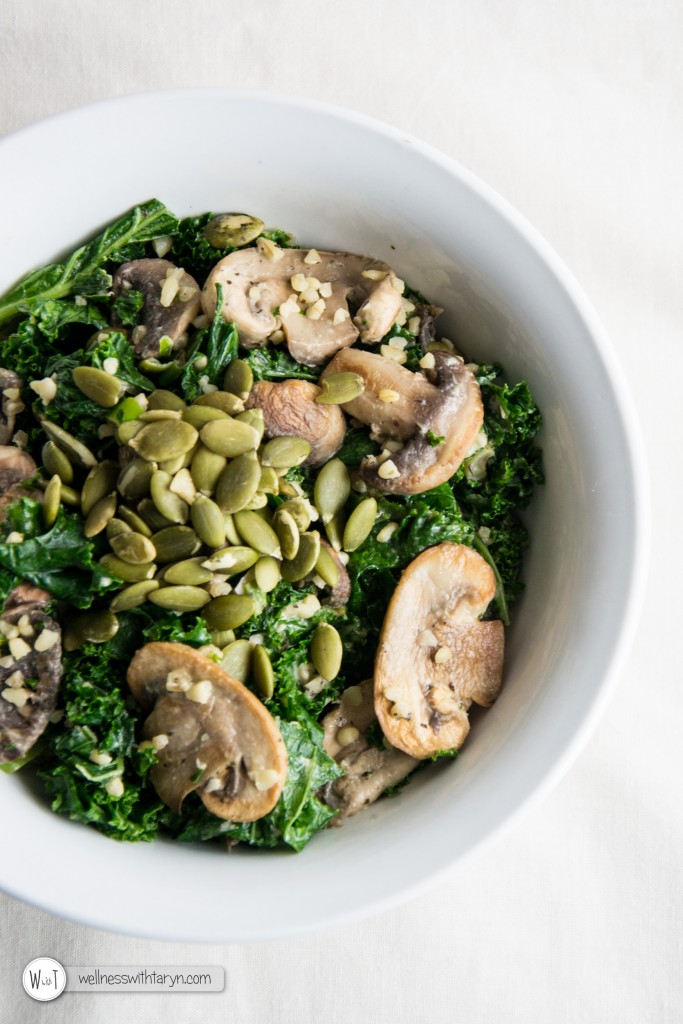 So I hope you enjoyed this wellness followers 🙂 If ya did, share with your friends and help #spreadthewellness