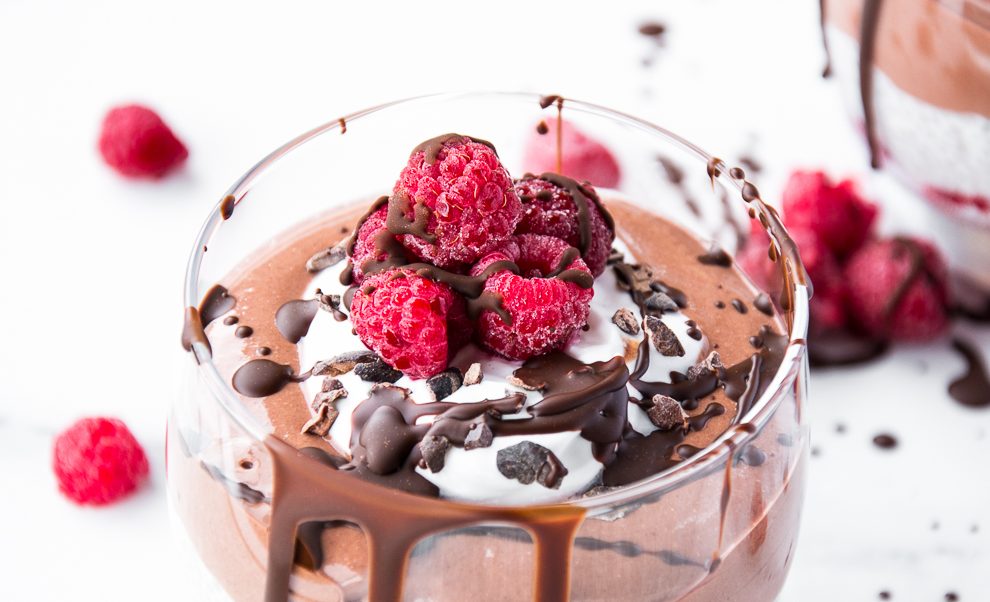 Chocolate Raspberry Mousse Chia Pudding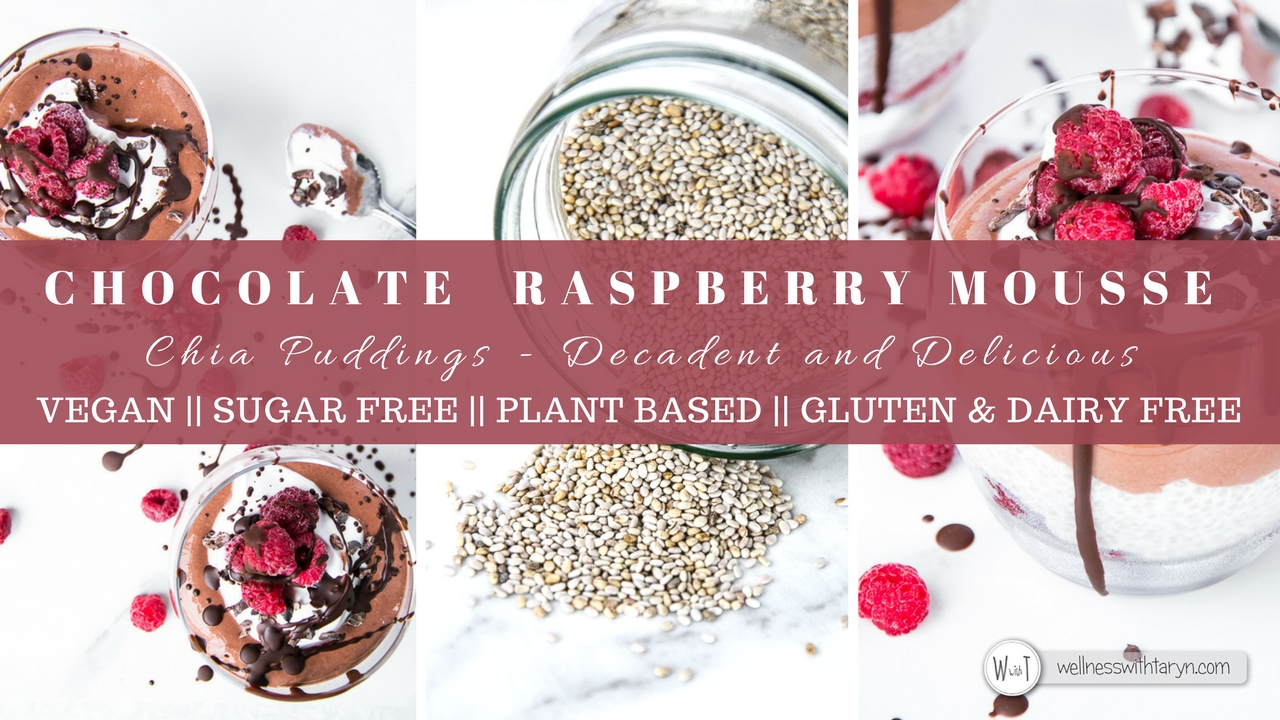 I am so excited to share this recipe with you guys, and I had such fun creating it. I find it so amazing how you can create something so decadent, beautiful and delicious with only a handful of ingredients. This recipe is perfect for breakfast and easily prepared the night before or spruce it up for a jaw dropping dessert.
The most exciting part of this recipe was the discovery of the Chocolate Raspberry Mousse. When the 'coconut milk soaked' chia seeds are blended with raw cacao, frozen raspberries and a sweetener of your choice, the most decadent perfect textured mousse is created. Stop it! I know! Ah-maizing right??
Along with this exciting discovery, these perfect Chocolate Raspberry Mousse Chia Puddings were assembled, and my goodness did they turn out so so well! They are rich and decadent, full of nutritional goodness, loaded with fiber, incredibly healthy yet taste like dessert! Can it get any better?
For this recipe I used the Organic White Chia Seeds from the awesome team at CHIA NZ. You can get some either online here, or check if your local store has them here.
They are so affordable and stretch so far (don't be fooled) as you only require small amounts at a time. Be sure to soak you're overnight for the best results. I used this delicious Coconut Milk from Vitasoy to soak mine in.
Facts you didn't know about Chia Seeds
The chia plant (Salvia hispanica), sometimes referred to as chia sage, originated in the central valley of Mexico and is a member of the mint family.
Records indicate chia seeds were used as a food source as far back as 3500 B.C.
It was the third most important crop for the Aztecs, who recognized it as a "superfood" and prized it so highly that it was often used as currency.
Aztec warriors and runners are believed to have sustained themselves for an entire day on just a tablespoon of chia.
The word chia is derived from the Aztec word chian, which means "oily."
Chia seeds have more Omega-3 fatty acids than any other plant food, including flax seeds.
Chia seeds are about 20% protein.
When soaked in water for 30 minutes, chia seeds form a thick gel. This gel also forms in the stomach when chia seeds are consumed. That sounds bad, but researchers believe it actually slows down the rate at which digestive enzymes turn carbs into sugar, making it especially beneficial for diabetics and others with blood sugar issues.
Chia is hydrophilic and can absorb more than 12 times its weight in water. This makes it helpful in maintaining body hydration, something that is especially beneficial for athletes who need to remain hydrated during races and endurance activities.
Chia seeds are so high in antioxidants that they do not spoil easily and can be stored for long periods, unlike flax seeds. Source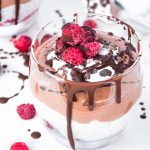 Chocolate Raspberry Mousse Chia Pudding
A deliciously healthy and decadent chia pudding recipe that is perfect for breakfast, or spruced up to create a jaw dropping dessert. Using only a handful of ingredients, this recipe is simple, affordable, nutritious and so good!
Course:
Breakfast, Dessert, Snack
Cuisine:
Dairy Free, Healthy Fats, Paleo, Refined Sugar Free, Treat, Vegan, Vegetarian
Ingredients
Chia Pudding and Mousse
6

TBS

Organic White Chia Seeds

2

Cups

Coconut Milk

- or plant milk of your choice

1/3

Cup

Frozen Raspberries

2

TBS

Organic Raw Cacao

1

Tsp

Organic Stevia

- or maple syrup/agave/etc
Raw Chocolate Drizzle (Optional)
1

TBS

Raw Cacao Butter

- melted bain marie style

1

TBS

Raw Cacao Powder

Stevia/agave/maple syrup

- optional
Toppings
Frozen Rasberries

Raw Cacao Nibs

Coconut Yoghurt
Instructions
Chia Pudding
In a medium bowl, add the white chia seeds and coconut milk. Mix well until all seeds are submerged in the milk and leave overnight in the fridge to swell.

In the morning, divide the swollen chia seed mixture in half.
Chocolate Raspberry Mousse
Place one half of the swollen chia mixture in the nutribullet/blender along with the, frozen raspberries, raw cacao and stevia.

Blend until a thick mousse has formed. If you find it needs a little more liquid to blend better, add a tiny bit of coconut milk and blend further.
Raw Chocolate Drizzle
Melt the cacao butter bain marie style. Add the raw cacao when the butter is fully melted and whisk until a creamy smooth mixture forms. Lastly add sweetener if you choose, however a sweetener here is optional
Assembly
Using two deep glasses, add a handful of frozen raspberries to each glass.

Divide the remaining swollen chia mix in half and pour ontop of the frozen raspberries.

Next scoop over the chocolate raspberry mousse, and spread evenly

Next top each glass with 2 TBS coconut yogurt, a few frozen raspberries and sprinkle over some raw cacao nibs.

To spruce up the recipe, drizzle over the raw chocolate sauce and serve.
Recipe Notes
Use Organic wherever possible - This recipe requires OVERNIGHT SOAKING
I hope you love this recipe as much as I did. Creating it was such fun, and eating it was even better. If you do try it out, remember to tag me on Instagram @wellnesswithtaryn. I'd love seeing your re-creations!