I've been craving banana bread for quite some time now. I absolutely love it!!! I actually don't know why it's taken me so long to make some, but I found some inspiration, and this recipe was born. I wanted to boost the nutritional value of the loaf so, using a zucchini I had already in the fridge, I grated it and added it in. The great thing is that it really doesn't alter the taste whatsoever. Adding vegetables into baked goodies is a great way to sneak those veggies into those fussy eaters diets 😉
Now I love banana's! They're a staple in my diet! They're great for energy and are pretty damn versatile. From adding them into baked goodies, to smoothies, to dried snacks and even creamy banana ice cream. It really is a magical fruit!!!
Banana bread actually has quite a sentimental place in my heart. My mums folks lived down the South Coast, in South Africa. They grew and sold banana's, hence the nickname "Granny Banana" we gave my gran 🙂 Along with the banana farm, my gran used to run a farm stall (Bucks Farm Stall – for those of you who'll remember it, just passed San Lameer on the right). She was quite well known for her amazing banana bread, which sold like hot cakes in shop! I remember she would always be baking fresh loaves, and have the mixing machine going non-stop! Such great memories! She was the best gran! Unfortunately she's now an angel, and can't flick me the family recipe for me to try and recreate a healthier version, so I had to make my own. I do aspire to make one kick ass loaf of banana bread that settles in the ranks of hers! But until then, I'll happily reminisce her beautiful soul with this delicious zucchini banana bread 🙂
Banana Nutritional Benefits
Bananas are good for your heart. They are packed with potassium, a mineral electrolyte that keeps electricity flowing throughout your body, which is required to keep your heart beating. Bananas' high potassium and low sodium content may also help protect your cardiovascular system against high blood pressure. Bananas can be helpful in overcoming depression "due to high levels of tryptophan, which the body converts to serotonin, the mood-elevating brain neurotransmitter. Bananas are high in fiber, which can help keep you regular. One banana can provide nearly 10 percent of your daily fiber requirement.
Banana Facts
Bananas may have been the world's first cultivated fruit. Archaeologists have found evidence of banana cultivation in New Guinea as far back as 8000 B.C.
Bananas are produced mainly in tropical and subtropical areas of Africa, Asia and the Americas, as well as the Canary Islands and Australia.
Bananas do not grow on trees. The banana plant is classified as an arborescent (tree-like) perennial herb, and the banana itself is considered a berry.
The correct name for a bunch of bananas is a hand; a single banana is a finger.
Nearly all the bananas sold in stores are cloned from just one variety, the Cavendish banana plant, originally native to Southeast Asia.
There are 50 recognized species of banana.
Wild bananas grow throughout Southeast Asia, but most are inedible for humans, as they are studded with hard seeds.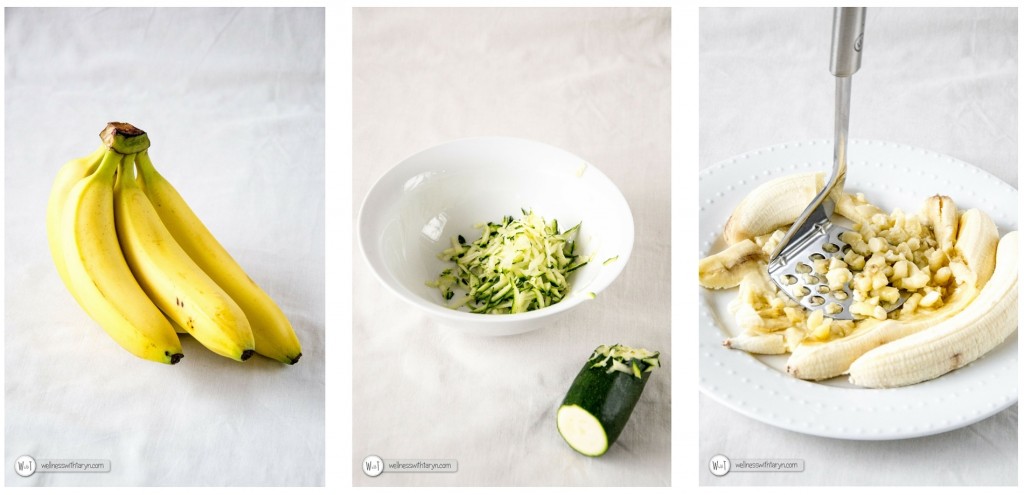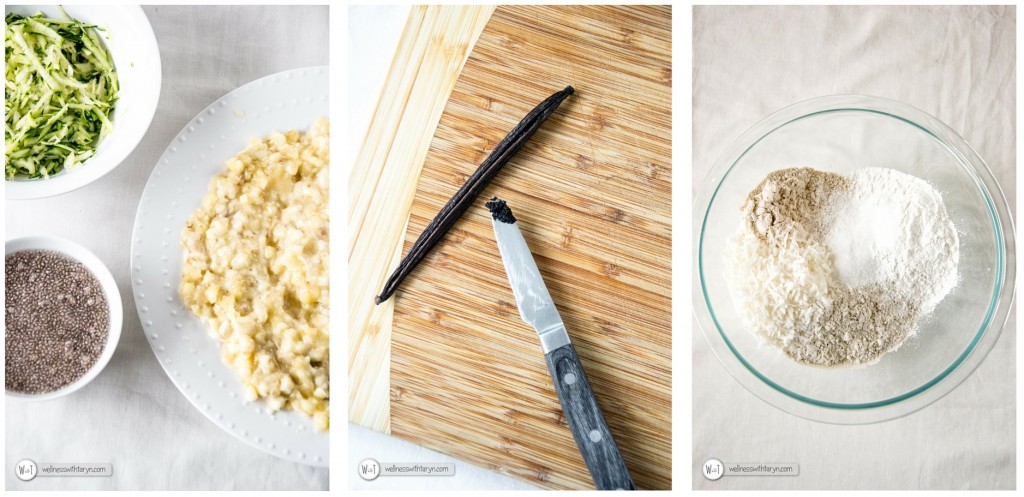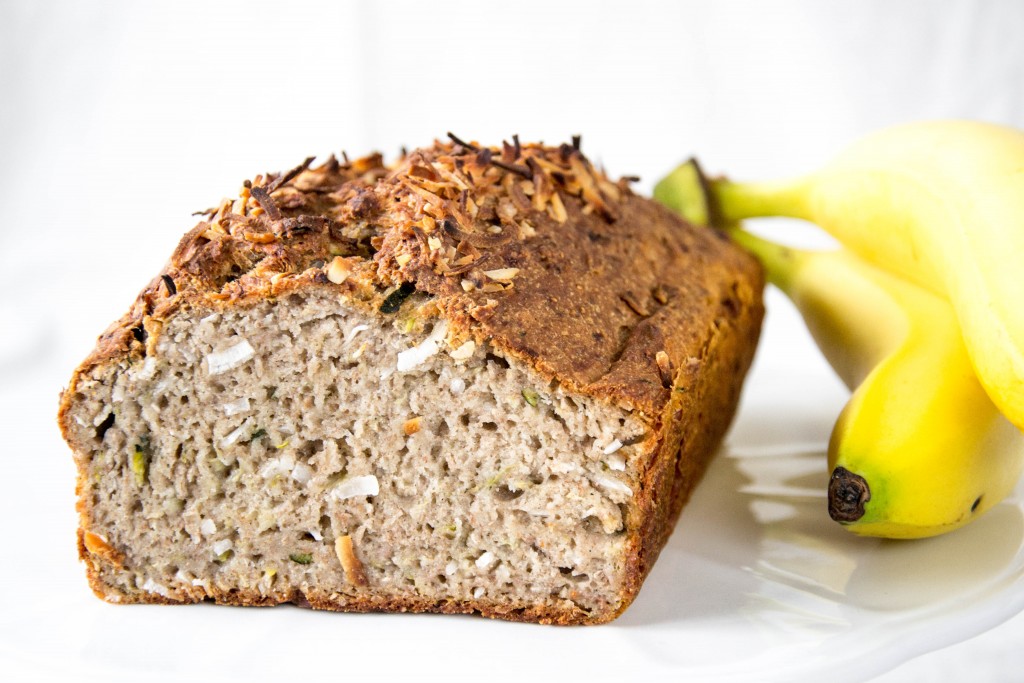 Zucchini Banana Bread
2015-09-21 04:53:00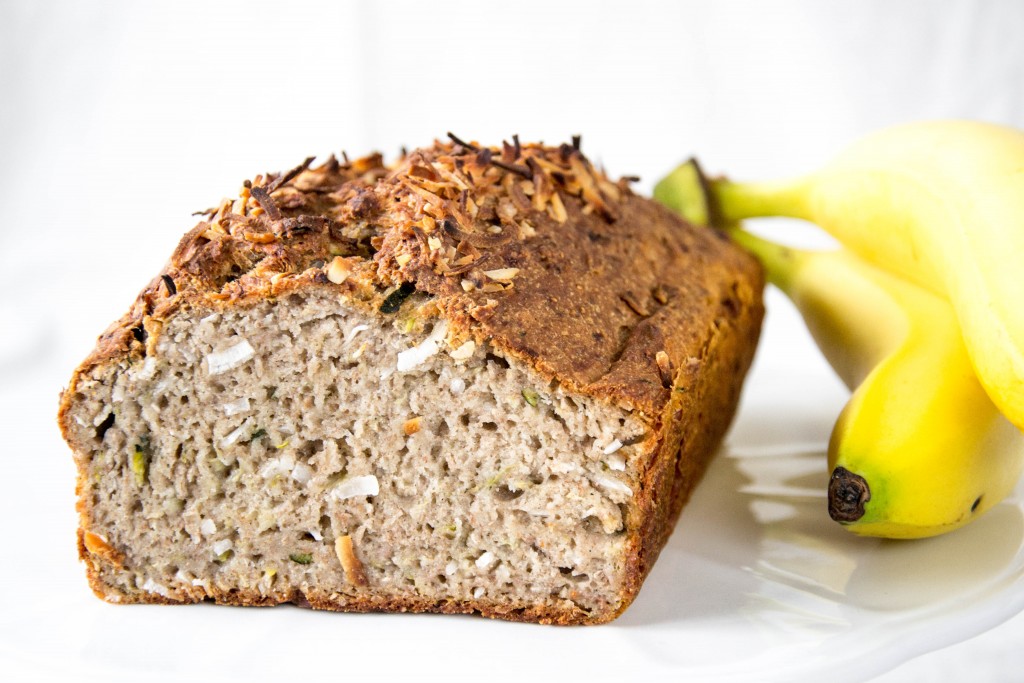 A delicious loaf of healthy vegan banana bread, that is gluten, dairy and refined sugar free.It's hearty and moist and scrumptiously fulling! The sneakily added zucchini boosts the nutritional value and is a great way to get more greens into your diet.
Ingredients
4 Bananas - Mashed
1 Zucchini - Grated
1 TBS Chia Seeds - (swelled with 4-6 TBS water)
1 Cup Buckwheat Flour
1/2 Cup Spelt Flour
1/2 Cup Gluten Free Flour mix
1 Tsp Baking Powder
1 Tsp Arrowroot Powder
1 Tsp Salt
1/2 Cup Coconut Threads
6 Tsp Stevia (Sachets) - or sweetener of choice
1/2 Cup Almond Milk
1 Vanilla Pod - seeds scraped
4 TBS Coconut Oil - Melted
TOPPINGS
Coconut threads
Instructions
Preheat your oven to 180 degrees C and line a bread tin with baking paper.
In a small bowl add your chia seeds and water and allow them to swell, mixing to avoid clumping.
Peel and mash your bananas until smooth. Rinse your zucchini and grate. Set both aside.
In a large mixing bowl add the flours, baking powder, arrowroot powder, coconut threads and salt. Mix thoroughly.
Add the mashed banana, zucchini, soy milk, vanilla seeds, stevia and chia seed mixture once it has swelled completely.
Add in the melted coconut oil and mix thoroughly ensuring that the dry mixture is evenly coated with the wet ingredients.
Pour the mixture into the lines bread tin and spread evenly. Decorate the top with coconut threads.
Pop into the pre-heated oven and bake for about an hour, until cooked through. Test by sticking a toothpick into the center of the bread and if it comes out dry, it's done!
Serve warm, or toasted with your favorite nut butter and a cup of tea.
Wellness with Taryn http://wellnesswithtaryn.com/
I hope you enjoyed this post and recipe 🙂 Follow me to keep updated!