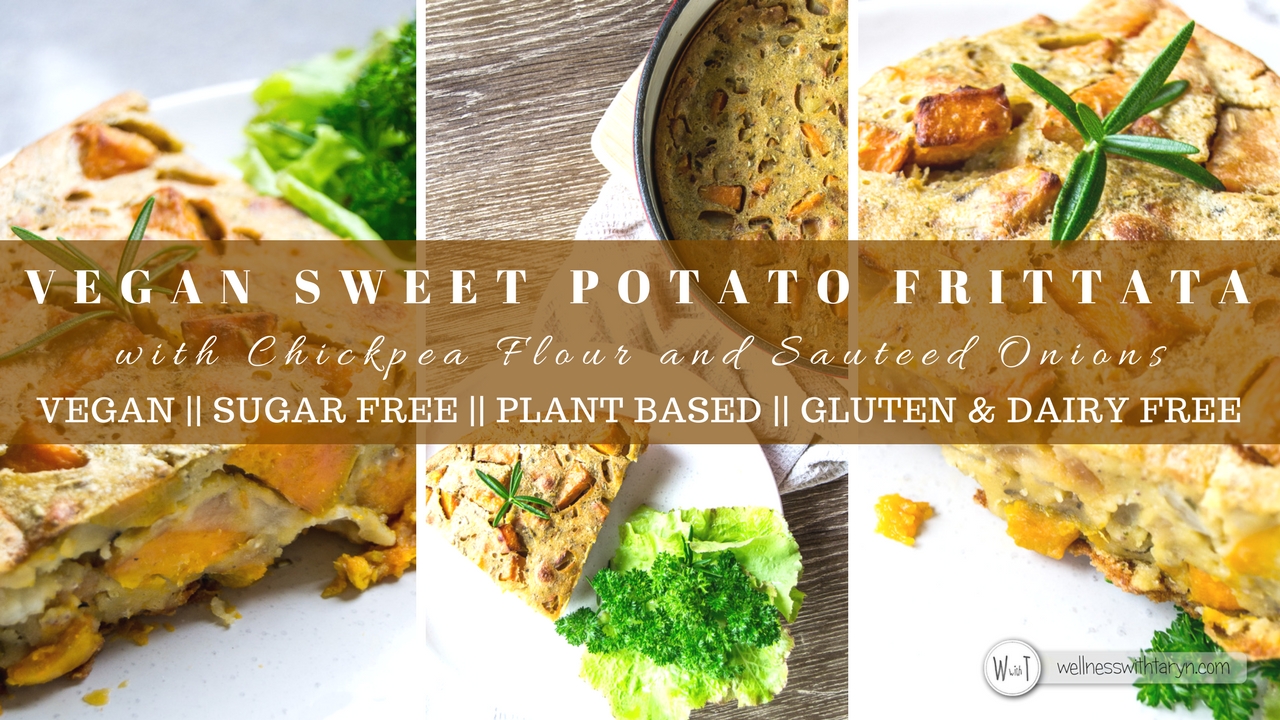 The summer months are here in the Southern Hemisphere, the days are long and warm. An abundance of Vitamin D has definitely had an impact on my overall health and wellness right now! I definitely thrive in warm weather.
That being said, I want to share this Vegan Sweet Potato Frittata, made with sautéed onions and chickpea flour. It's the perfect summer dish, that is full of great nutrition and can be beautifully plated with a crisp green salad.
Enjoyed wither warm or cold, this frittata has so much flavor it's sure to get the nod from all who try it. I always try to have left overs in the fridge because they come in so handy for lunch the next day, and this frittata is perfect for that!
Prior to opting for the kinder way of living, meaning I don't consume any animal products, I did enjoy quiches and frittatas – so this plant based version is wonderful to satisfy those cravings.
Someone asked me the other day why I don't eat animal products – including eggs and dairy, and my response was that I have made the conscious decision to lead a life with more compassion. Compassion for my fellow humans, animals and the environment. Now that I have educated myself on how cruel the animal product industry is in its entirety, I can't un-see what I've witnessed on the many documentaries I've watched exposing this heinous industry.
My reasoning is, that if I can live a perfectly healthy life without consuming animal products and without putting any animals through god forsaken torture, why the hell would I choose otherwise.
I've realized through this decision that I am in fact an incredibly sensitive being, and there's no way I could support an industry after what I know goes on behind the scenes.
But I will not preach. I will just continue to share the beauty that is a plant based lifestyle. How incredible it has been for me, and how grateful I am to have found this path, because even though I am only one human, I still have an impact on this world, and so do you.
Now, back to this recipe. I really had fun making it, and was pleasantly surprised how great it came out. It held together beautifully and the flavors really shone through. The subtle sweetness of the sautéed sweet potato, with the bold crispy onions, together with the protein full chickpea flour base that balanced them all out perfectly.
There is a bit of prep work required for this recipe, in that I sautéed the onions and sweet potato separately until cooked through, before baking them with the mixture. I can't stand it when potatoes aren't cooked through, so this eliminated that dread entirely.
That being said, it was well worth the effort and literally made enough for about 8 meals, which meant I was sorted for lunch for the next couple of days. Chickpea flour is such a versatile flour, and can be used in many recipes. From Chickpea wraps, to chickpea pancakes, to chickpea crackers. So many great uses!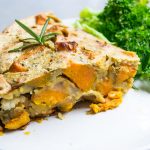 Vegan Sweet Potato Frittata
A delicious plant based vegan frittata recipe that is full of flavor, along with amazing nutritional benefits. With a base of sauteed onions and chickpea flour, this fitatta holds beautifully and is the perfect summer meal. Enjoyed warm or cold.

Course:
Dinner, Lunch, Main Course
Cuisine:
Dairy Free, Gluten Free, Plant based, Refined Sugar Free, Sugar Free, Vegan, Vegetarian
Ingredients
3

Medium

Orange Sweet Potatos

- peeled and diced into cubes

2

Large

Onions

- chopped

3

Garlic Cloves

- finely dices

1

TBS

Chia Seeds

- soaked in 3TBS water

2

Cups

Organic Chickpea Flour

2

Cups

Water

1/2

Tsp

Bicarbonate of Soda

1/2

Tsp

Freshly Ground Black Pepper

2

Tsp

Himilayan Rock Salt

2

Tsp

Braggs Organic Sprinkle Mixed Herbs

2

Tsp

Organic Cold Pressed Coconut Oil
Instructions
Peel, diced and chop all the vegetables. In a small bowl, add the chia seeds and water, mix and leave aside to swell to create the chia 'egg' (egg substitute)


Heat 1 Tsp coconut oil in a medium pan, when heated add the onions and saute until golden brown. I do this by cooking on a medium heat over a long period of time. I find by cooking them this way, they keep their 'sweetness'. Remove once cooked and place in a separate bowl.


Heat another Tsp of coconut oil in the same pan you used to cook the onions, and when heated add the chopped sweet potatoes. Saute until soft and golden brown. You can add a little water to help steam them along. Add 1 Tsp of the Braggs Organic Sprinkle Mixed Herbs just before removing from the heat.

Preheat the oven to 180C fan forced.




In a large mixing bowl, add the chickpea flour, chia 'egg', water, salt, pepper, the bicarbonate of soda and the remaining 1 Tsp Braggs Organic Sprinkle Mixed Herbs. Mix with a whisk so that there are no lumps of flour.

Add the cooked sweet potato and sauteed onions, and stir.


Grease a cast iron baking pot with some coconut oil, and place into the oven to heat up. Once heated for about 5 mins, and the oven is at temperature, remove and pour in the frittata mixture.


Place the lid on the pot, and bake @ 180C for 30 minutes. Take out of the oven after 30mins, and remove the lid. Place back into the oven and bake for a further 10mins.


Once fully cooked, remove from the oven, and leave to cool. Use a spatula to serarate the sides from the pot, slice into triangles and serve with your favorite green salad and healthy salad dressings.

Recipe Notes
Always use Organic where possible, and try to support local wherever you can. Reduce plastic use as much as possible!
I hope you enjoyed this recipe, and if you did and think you may try it, let me know in the comments below. Also, let me know where in the world you're reading this – let's connect! What are your thoughts on a more compassionate lifestyle. I'd love to hear!