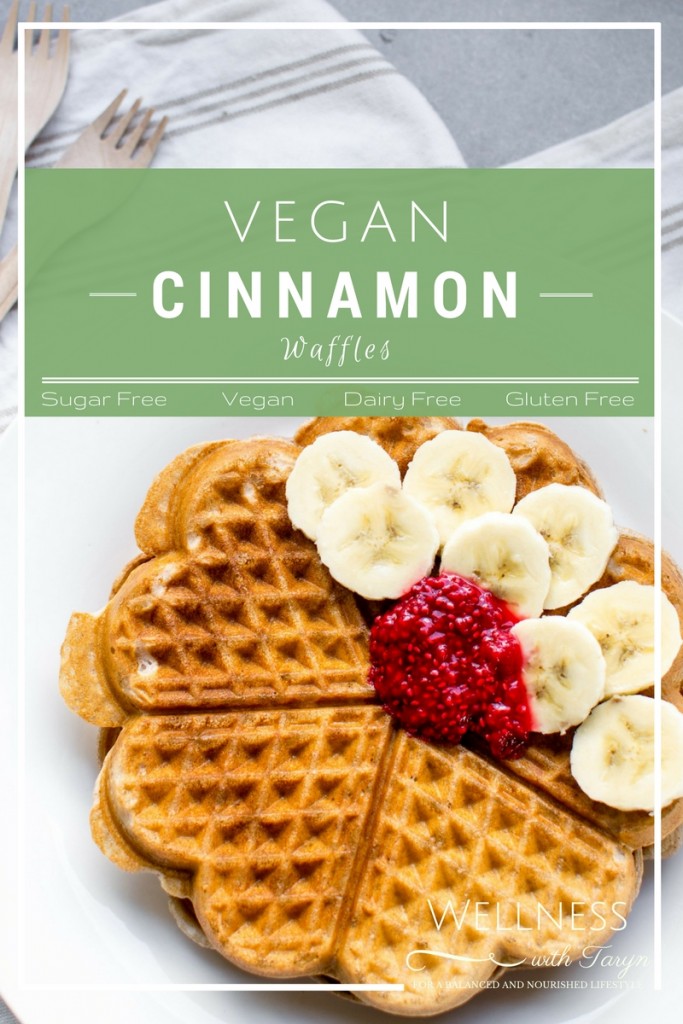 I have been dying to get a waffle maker for ages now, and it finally happened! So you can guess who's recently been having waffles galore! It's so nice to experiment and try foods that you wouldn't normally eat. Though of course these still fall between the lines of being gluten free, refined sugar free, healthy and vegan.
Experimenting and creating different dishes, trying new ingredients, and really just having fun with your food can be so rewarding, especially if you know that the food you're eating is doing your body a whole lot of good (as well as your mind 😉 )
I love how versatile waffles can be, as you can top them with pretty much whatever tickles your fancy. From 'nana-nice cream' to compote to vegan sugar free chocolate sauce! The possibilities are endless, all you need is a bit of imagination and a yearning for epic deliciousness!
This recipe was pretty quick to make, and relatively tidy as I made it all in the Nutribullet. What a handy kitchen gadget that is! I literally use mine every single day! Makes creating yummy food that much easier.
Why I love my Nutribullet
It's neat and tidy
It's so easy to clean
It's relatively small so takes up minimal counter space
It works so well!
It's perfect for smoothies, especially with the screw on lid
It makes eating healthy so easy
It blends sauces so smoothly
It's the best for making 'nana nice cream
It could just be this girls best friend! Forget the diamonds! Give me kitchen gadgets any day!!!
These waffles have a hint of sweetness, which compliments the tart raspberry compote beautifully. Although there is always the option to add more sweetener to satisfy your sweet tooth. The crisp up beautifully on the outside, yet still reaming airy on the inside – the perfect waffle.
Free from refined sugar
Free from gluten
Free from dairy
100% Vegan
Great healthy substitute to ordinary waffles
A perfect weekend treat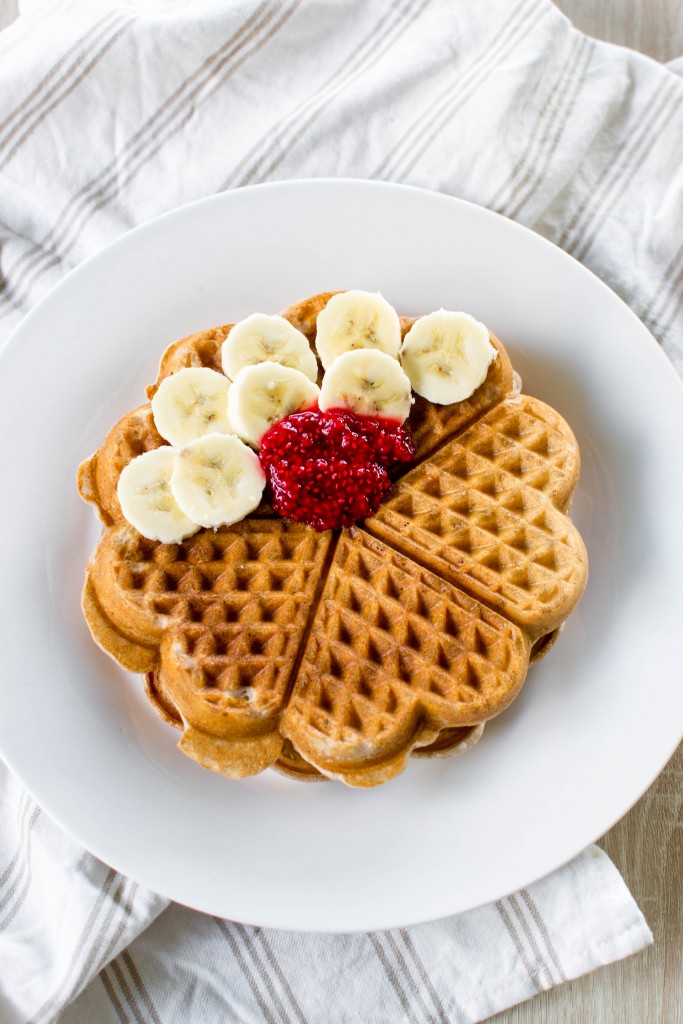 Vegan Cinnamon Waffles
2016-09-29 21:32:46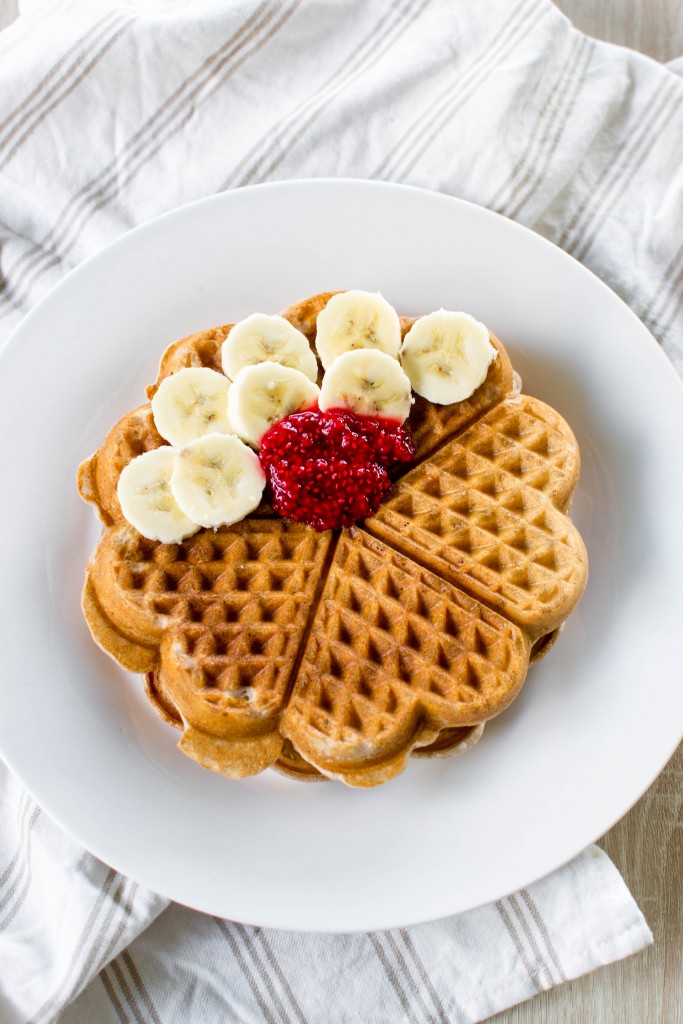 A quick and easy waffle recipe using the Nutribullet. They're gluten free, refined sugar free and vegan. Perfect for Saturday mornings and full of great nutrition.
Ingredients
CINNAMON WAFFLES
1 Cup Organic Almond Milk
1 Tsp Organic Apple Cider Vinegar
3/4 Cup Gluten Free Flour
35g Organic Cold Pressed Coconut Oi (Melted)
1/2 Cup Almond Meal (Ground almonds)
1 Tsp Vanilla Extract
1 Tsp Cinnamon
Pinch of Himalayan Rock Salt
2-4 TBS Organic Rice Malt Syrup (Depending on how sweet you want them)
1 Tsp Baking Powder
1 Tsp Ground Flax
RASPBERRY COMPOTE
1/2 Cup of frozen raspberries
1 Tsp Chia Seeds
1 Tsp Organic Rice Malt Syrup
Instructions
CINNAMON WAFFLES
Add the Almond Milk and Apple Cider Vinegar into your Nutribullet or blender and blend for a few seconds until frothy.
Add all the remaining ingredients into the Nutribullet/blender and blend until smooth.
Scoop 1/2 cup of this mixture (or how much your waffle machine requires) into your waffle machine and cook until desired crispness.
RASPBERRY COMPOTE
Add the raspberries to a small sauce pan, on a medium heat. Allow to melt and reduce, adding the chia seeds. Stir until the seeds have swelled and add the rice malt syrup
Remove from heat and leave for about 5 mins to allow the chia seeds to swell to their maximum.
Notes
Use Organic where possible
Refer to your Waffle Maker for the desired amount of batter it requires
Wellness with Taryn http://wellnesswithtaryn.com/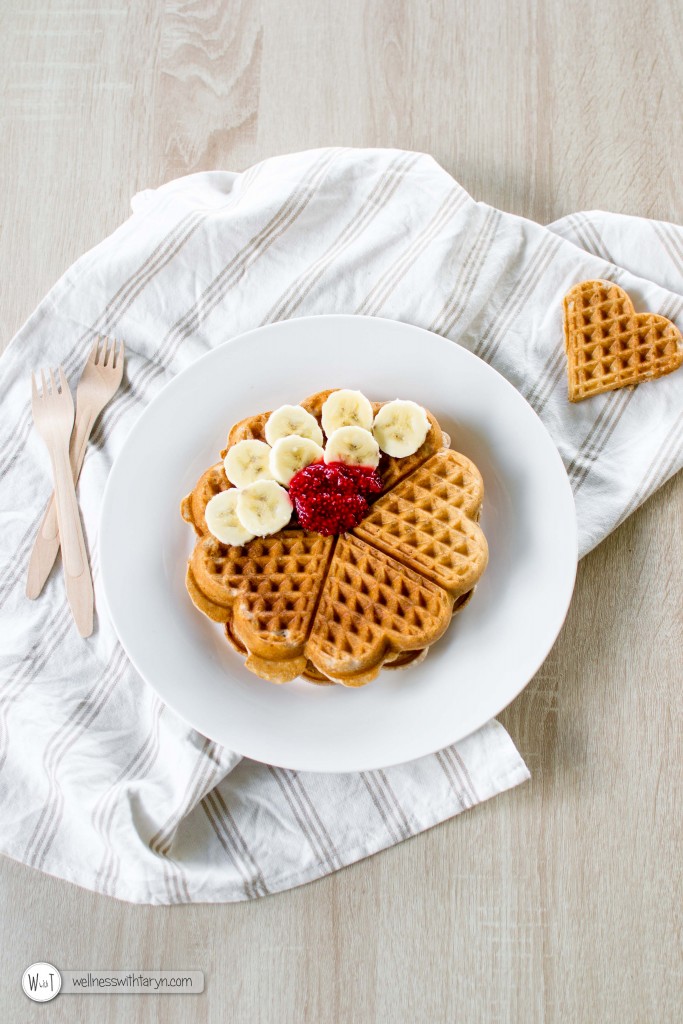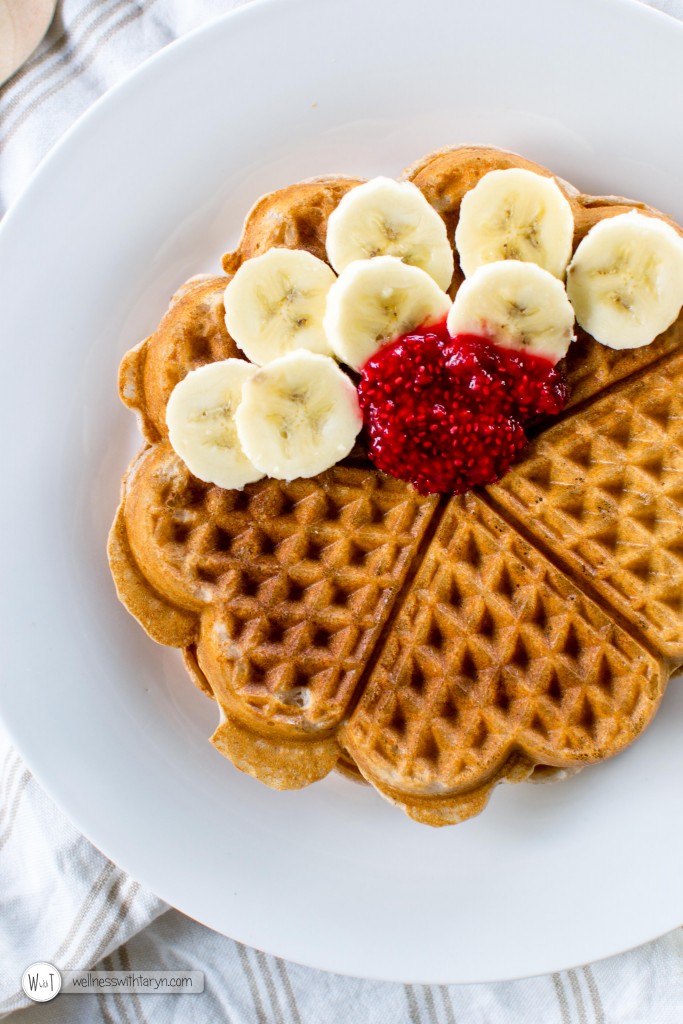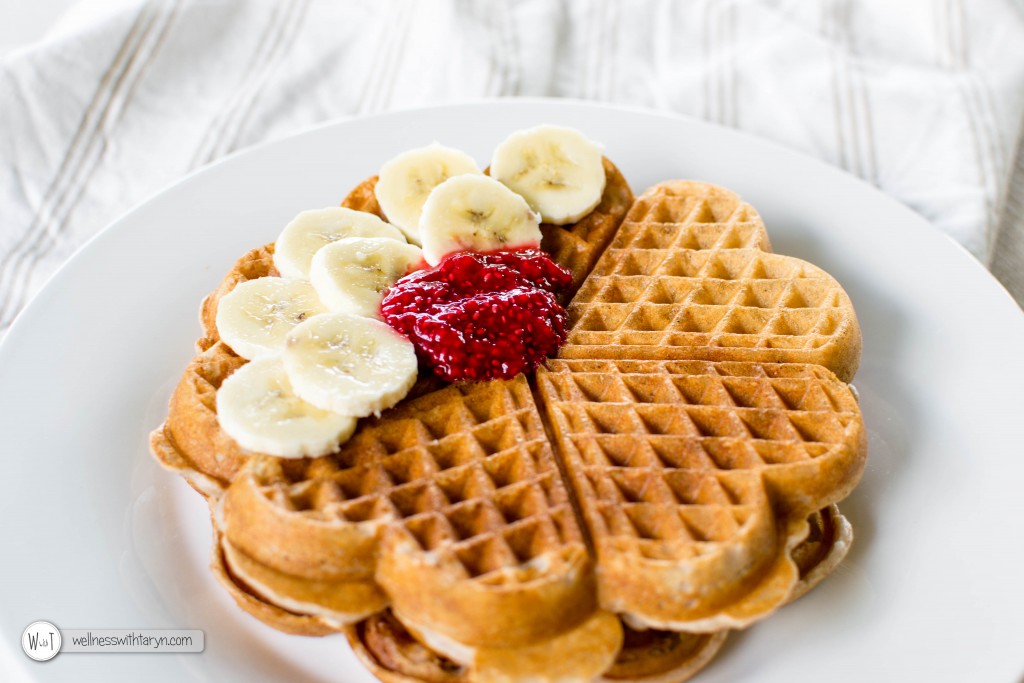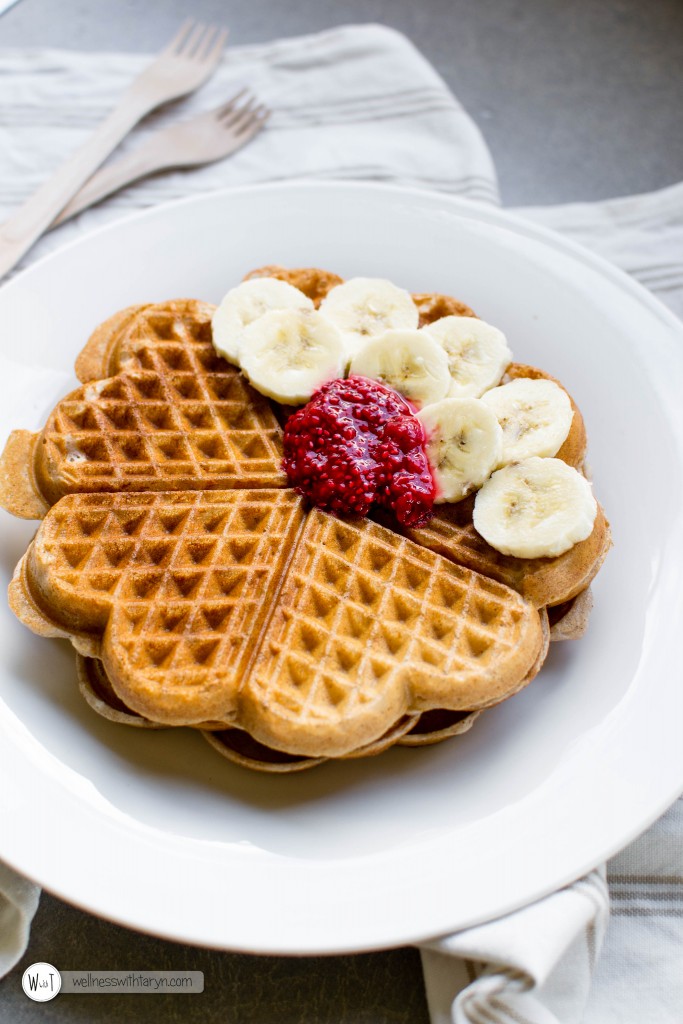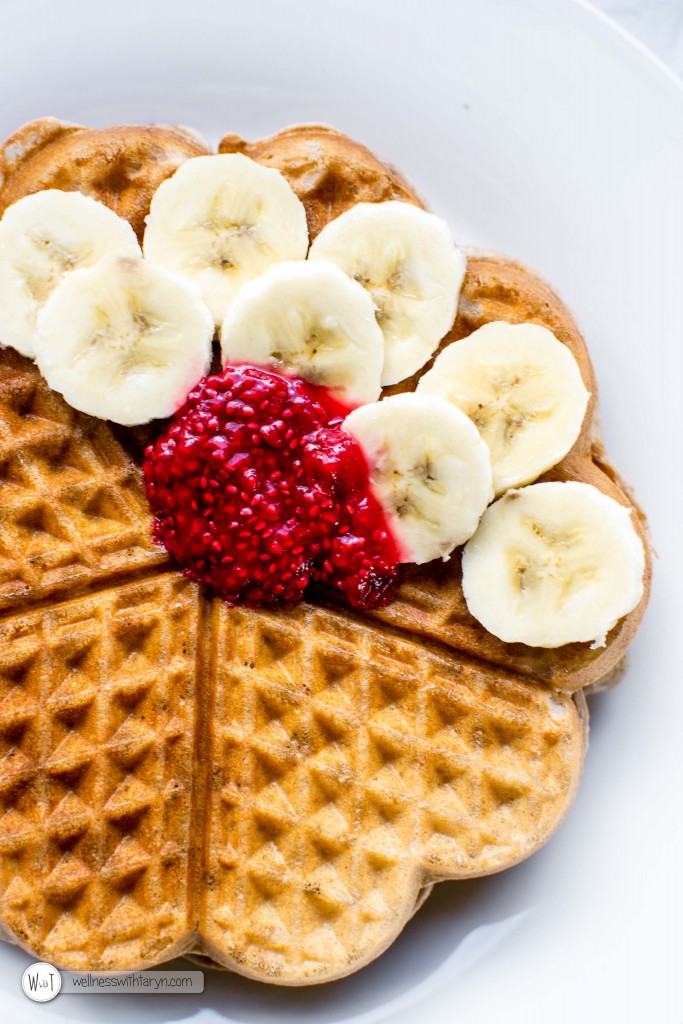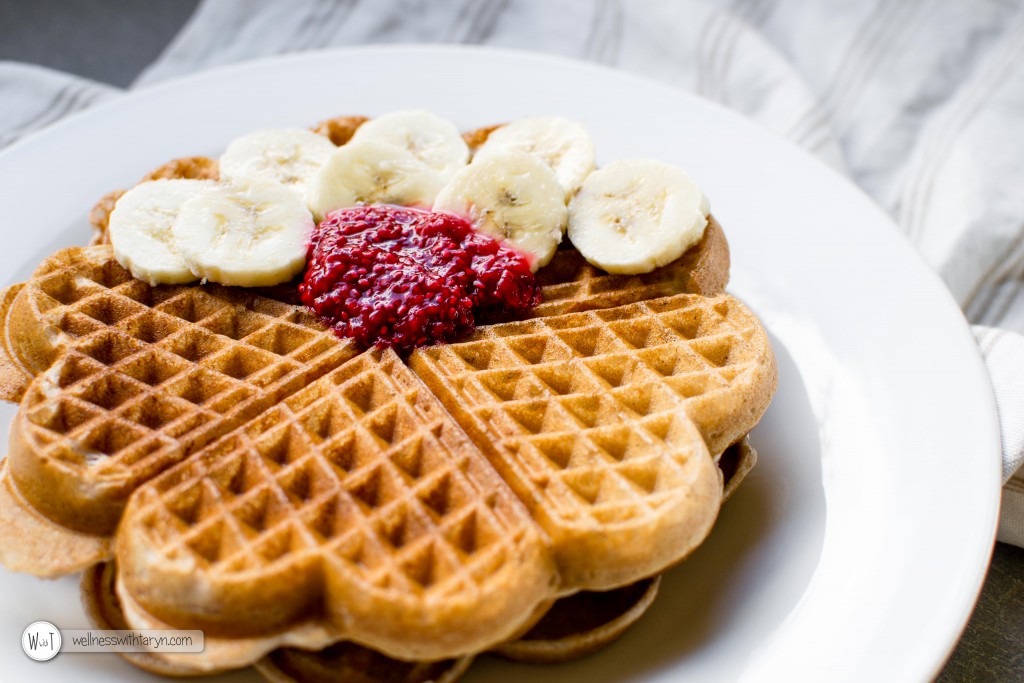 Thanks for reading and I hope you enjoy this recipe. As always like, subscribe and follow me for more
Much love …