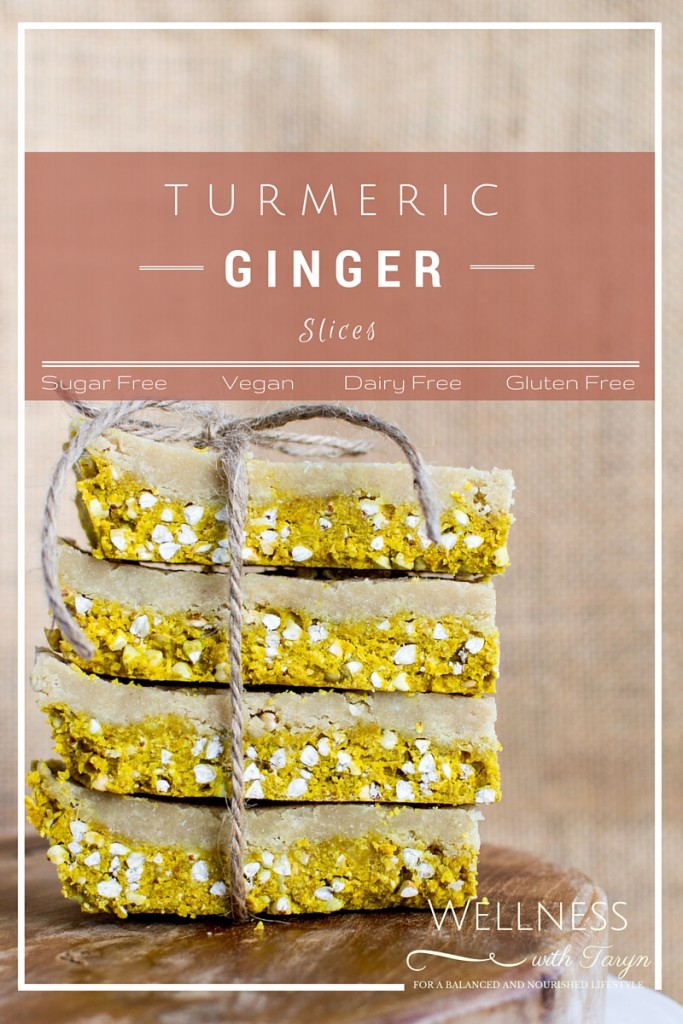 I don't know where you are in the world right now, but it's getting pretty chilly where I am! Winter is most certainly evident in Nelson, and the snow capped mountains in the distance, that greet me every morning, are a sure sign that the seasons have changed and colder times are on the way!
And along with the chilly mornings and darker afternoons, come the subtle effects or 'symptoms' of the changing seasons. May it be a snuffled nose, a sneeze, a cold or the flu, winter likes to let us know it's here! So I've created these Turmeric Ginger Slices that will not only boost your immune system to harp you from getting these symptoms, but will make it super easy and quick to stopping them in their tracks!
Now these slices are super healthy, to say the least! Turmeric has quite a bold flavour, and if you're not quite used to it then it maybe a good idea to half the quantity. But if you're like me and quite enjoy the taste, then by all means follow the recipe! Fresh turmeric tastes quite a bit different to ground turmeric – the one that we use in curries. It has a more fresh vibrant taste, and my goodness is it LOADED with health promoting benefits. When paired with fresh Ginger, these slices seriously knock the ball outta the park! Good bye Winter sniffles, take that Winter cold, adios yucky flu and Hello Health and Wellness!!!!!
I originally got the inspiration for these slices from one of my favorite health and wellness/food blogs, Be Good Organics. I came across this amazing site when I first moved to New Zealand, and have followed it ever since. When the recipe for Buffy-Ellens's Healthy Ginger Crunch arrived in my inbox, I knew I had to recreate it with some additions on my end. These slices came out so beautifully, so Thank You lovely Buffy-Ellen for the blissful inspiration and delicious recipe! Be sure to check out her site!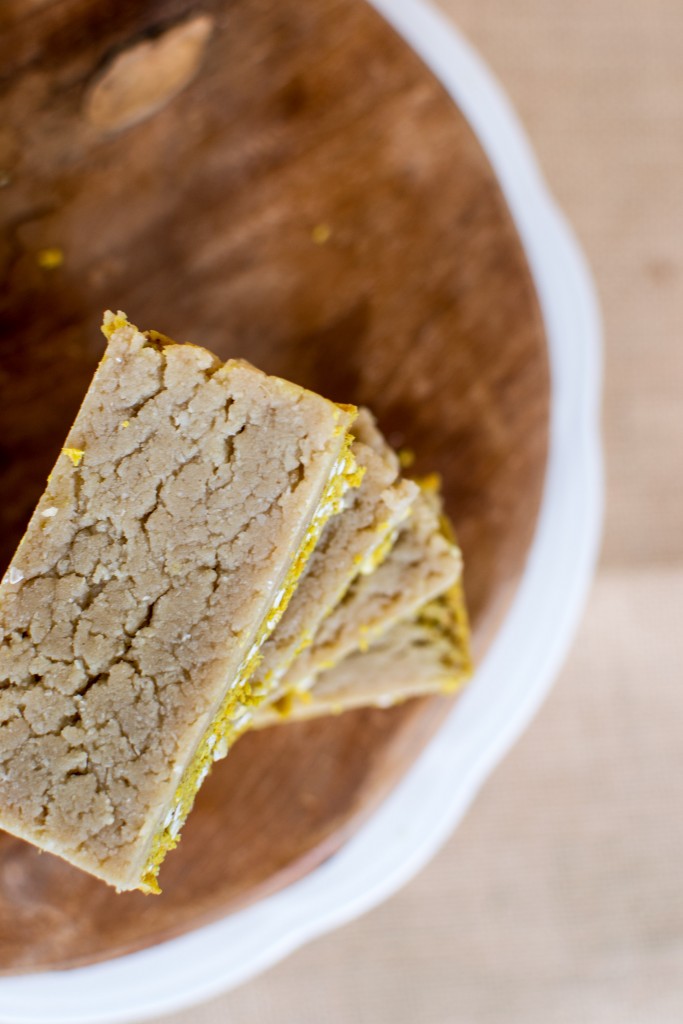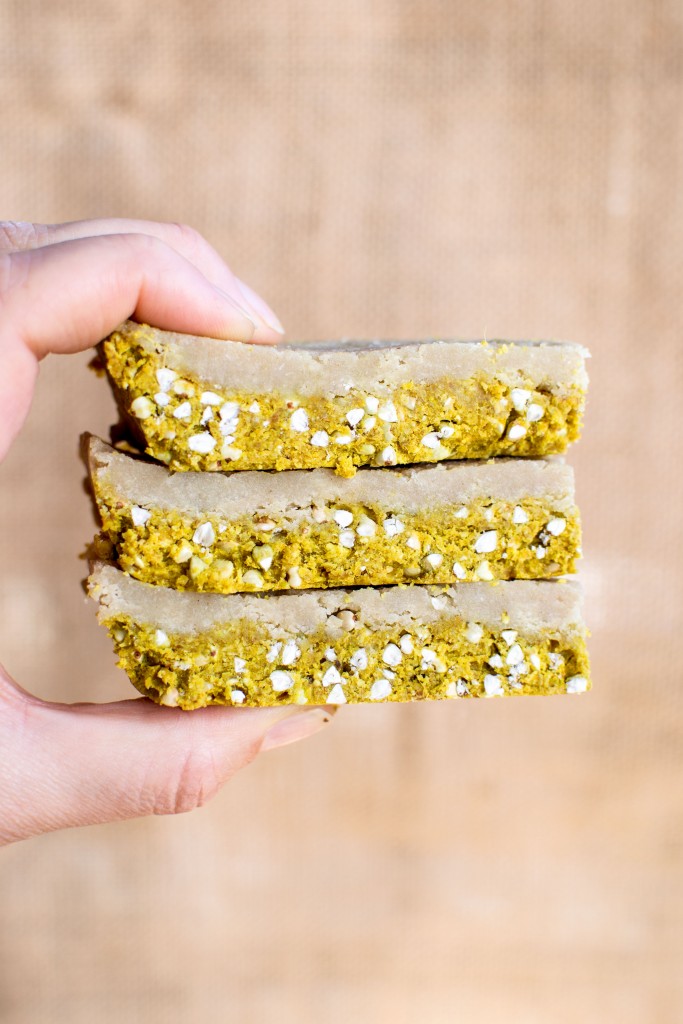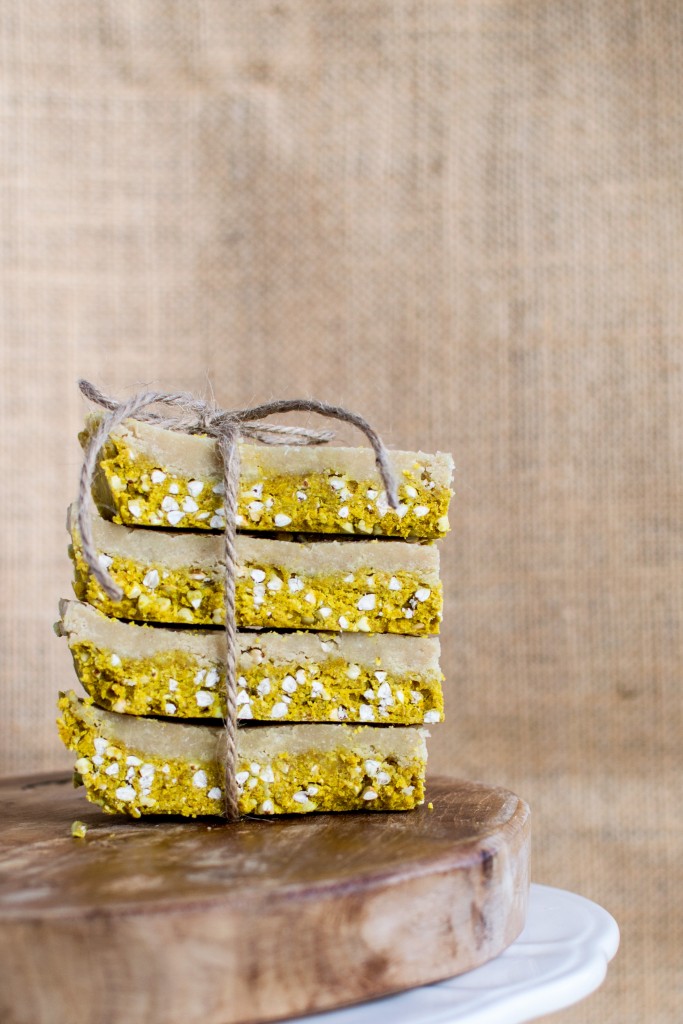 Health Benefits of Turmeric and Ginger
Ginger and turmeric are two powerful spices that have been used widely throughout history for both culinary and medical purposes.
Ginger and turmeric are both rhizomes in the Zingiberaceae family. According to a 1999 study published in the "British Journal of Cancer" by researchers at the Forest Research Institute of Malaysia, extracts of ginger and turmeric have been found to inhibit the growth of cancerous tumors. In this study of human cancer cells, turmeric was found to completely inhibit further growth of cancer cells. Ginger was also found to inhibit tumor growth. In 2006, an additional study by researchers at the University of Michigan Comprehensive Cancer Center showed that ginger has further benefits for women suffering from ovarian cancer, as it kills ovarian cancer cells. Turmeric and ginger both have antioxidant properties that contribute to their ability to help to prevent cancer.
Both ginger and turmeric have anti-inflammatory properties. Turmeric is widely used in Ayurvedic and traditional medicines to treat inflammation. According to the University of Maryland Medical Center, one study showed that a mixture of Ayurvedic herbs and turmeric decreased inflammation in people suffering from osteoarthritis, although it's unclear as to whether it was turmeric that resulted in the lowered inflammatory response. Ginger is also used to decrease inflammation in traditional and herbal medicines. Health care professionals often use ginger to treat inflammatory conditions such as arthritis and ulcerative colitis, according to the University of Maryland Medical Center.
Turmeric and ginger are used to treat different forms of stomach and digestion-related issues. Ginger has been shown to be effective at reducing symptoms of nausea and vomiting related to chemotherapy. The University of Maryland Medical Center points to ginger's effectiveness at reducing nausea and vomiting from motion sickness. Turmeric may help reduce symptoms of indigestion, such as bloating and gas, according to the University of Maryland Medical Center. Source
Turmeric Ginger Slices
2016-06-03 00:32:24
These slices are super healthy and are sure to kick any Winter symptoms out the door! Loaded with antioxidants and anti-inflammatory goodness, these slices have it all!
Ingredients
BASE
1 Cup Oats
1 Cup Buckwheat Grouts (Soaked and Dried/dehydrated prefferably)
1 Cup Desiccated Coconut
1 Cup Dates (Soaked)
4 Tsp Fresh Ginger (Finely diced/processed)
3 Tsp Fresh Turmeric (Finely diced/processed)
1 TBS Coconut Oil
1 Tsp Vanilla Extract
Pinch of Salt
ICING
1 Cup Desiccated Coconut
1/2 Cup Cashew Nuts
1 Cup Sesame Seeds
3 Tsp Grated Ginger (Finely diced/processed)
1 Tsp Ground Ginger
1/2 Small Lemon (Juice of)
3 TBS Coconut Oil
1-3 TBS Rice Malt Syrup (Depending on your sweet tooth)
Pinch of Salt
Instructions
BASE
Add all ingredients, EXCEPT the buckwheat grouts, into your food processor or high speed blender.
Blitz until all combined, you may need to stop and scrape down the sides occasionally or use your blender tamper to push the ingredients into the blades.
Once all combined add the buckwheat and give it a couple of pulses to slightly combine, but you want to keep the buckwheat whole to get the crunch!
Once all combined, press into a lined baking dish. I used a 11 x 7 x 1.5 inch (28 x 18 x 4 cm ) rectangular baking dish. Using a tablespoon or a silicone spatula to evenly press the mixture out and flatten it down.
Pop it into the freezer to set while you make the icing.
ICING
Add all the ingredients into your food processor or high speed blender and blend until all is combined.
This may take a few minutes as the oils in the sesame seeds heat up and begin to form a creamy like texture.
Using your tamper and stopping to scrape down the sides will be needed.
When all combined, remove and spread over the crunchy base.
Use a tablespoon or silicone spatula to evenly spread and press the mixture down.
When done, pop back into the freezer.
For best results let it set overnight, however 2-4 hours should be fine.
Slice into slices and keep in the fridge for up to 7 days.
Notes
High Speed Blender or Food Processor is needed
Use Organic where possible
Use melted or soft coconut oil
Wellness with Taryn http://wellnesswithtaryn.com/