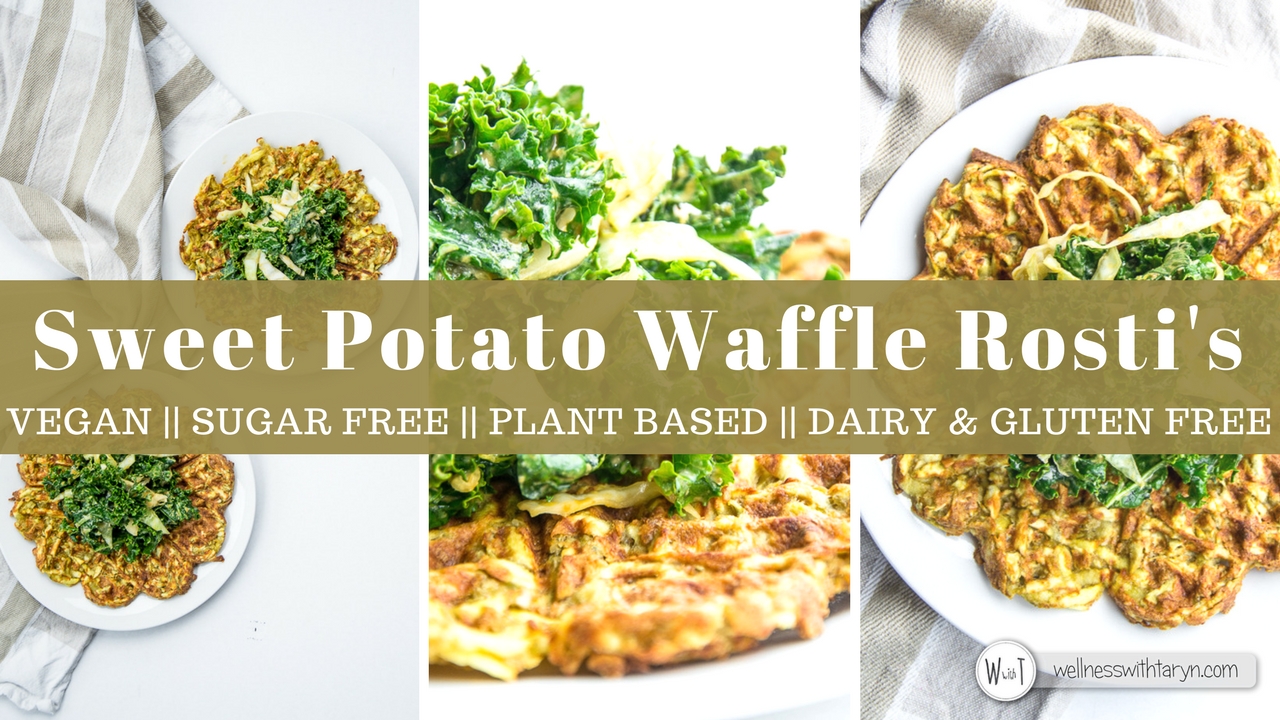 Moving to a new country can come with many new things to learn and get used to. New places, new mannerisms and new names. For me, one of those new names is Kumara aka. Sweet Potato. Here in New Zealand, the Kumara is a staple in many diets. Now I also know that sweet potatoes/kumara make up a large portion of most plant based eaters diets too, and there is a number of reasons why.
Firstly they are so delicious! They are sweet and when steamed they have that 'melt in your mouth' sensation. Sweet potatoes have a lower GI than regular potatoes, which means they won't spike your sugar levels, but rather gradually elevate and sustain them over a period of time. This is great for keeping that 'satisfied' feeling we get after eating, meaning you'll have sustained energy levels which is great!
Sweet potatoes are also so versatile, they can be used in a variety of ways. From chips, to oven roasted, to steamed, to mashed in savory dishes, to working so well in baking and in sweet treats like this Sweet Potato Chocolate Tahini Fudge recipe and this Sweet Potato Caramel Tart recipe.
While there are quite a few varieties, my favorite in the purple skin and butter-colored flesh (Japanese sweet potatoes), with the orange or red skin and orange flesh coming in at a close second.
So you see, there are so many reasons for so many people loving this versatile spud! They can be really affordable when they're in season and relatively easy to grow from what I've heard, but I've yet to try grow my own. (*Puts on long term 'To Do List")
Moving onto this recipe, and Oh my gosh! is it a good one! I've always loved the idea of savory waffles, and so when I was preparing this rosti recipe, I thought, let's try it out in the waffle iron. I'm happy to say it really turned out so well and I'm certain this will become a favorite 'easy-go-to' recipe for me in the future.
They're crispy, crunchy and full of flavor, with a subtle hint of sweetness from the sweet potato. You can really 'go-wild' with the toppings, and in this case I decided to make a massaged kale salad to accompany this scrumptious waffle rosti.
Using only one bowl, this recipe is so quick and easy, and the rosti cooks for just a little more than a normal waffle in the waffle machine. Just perfect! Top with whatever toppings you please, and you have a nutritious, delicious and fun recipe that whole family will love! They are free from gluten, refined sugar and dairy and are 100% plant-based vegan goodness.
I hope you love this recipe as much as I do and let me know by leaving a message in the comments section below. Be sure to follow me on my other social media platforms to stay inspired.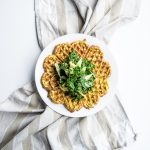 SWEET POTATO WAFFLE ROSTI'S
A delicious and nutritious sweet potato rosti recipe, using a waffle iron. This recipe is so easy and uses on 1 bowl. The result is a crispy, flavorful savory waffle rosti with which you can top with whatever you please.
Ingredients
SWEET POTATO WAFFLE ROSTI
1

Medium

Sweet Potato/Kumara

(330g)(Pink skin golden flesh variety) -Peeled and grated

3

tsp

Ground Golden Flax Seeds

(Left to swell in 3 TBS warm water)

1/2

tsp

Bicarbonate of Soda

5

tsp

Ground Almonds

1

tsp

Sea Salt

(I used Marlborough Sea Salt)

4

tsp

Nutritional Yeast Flakes

1

Tbs

Cold Pressed Organic Olive Oil
KALE SALAD
2

Cups

Organic Curly Kale

(rinsed)

1

Cup

Shredded Cabbage

(Cleaned and rinsed)
KALE SALAD DRESSING
1/2

Lemon

(Juiced and seeds removed)

1

tsp

Organic Tahini

1/4

tsp

Organic Djion Mustard

1/2

Tsp

Organic Rice Malt Syrup

2

tsp

Organic Tamari
Instructions
SWEET POTATO WAFFLE ROSTI

In a large mixing bowl, add all the sweet potato rosti ingredients, and mix thoroughly.

Preheat the waffle iron and spray generously with a olive oil 'non-sticking' spray

Dividing the mixture in half, firmly spread one half onto the waffle iron, ensuring the whole base is covered.

Using a spoon gently press the mixture into the waffle iron grooves, helping to further bind the ingredients.

Allow to cook until golden and crispy. Top with a topping of your choice and enjoy.

KALE SALAD

In a mixing bowl, mix together the dressing ingredients.

Add the cleaned and rinsed kale and cabbage.

Massage with your hands until all combined and the kale and cabbage have softened.

Add to the crispy crunchy sweet potato waffle rosti's and enjoy!
Recipe Notes
Use Organic wherever possible
Don't make the rosti's too thick as you want them to cook thoroughly in a short amount of time without burning.
As long as the base of the waffle iron is fully covered, you can't go wrong.