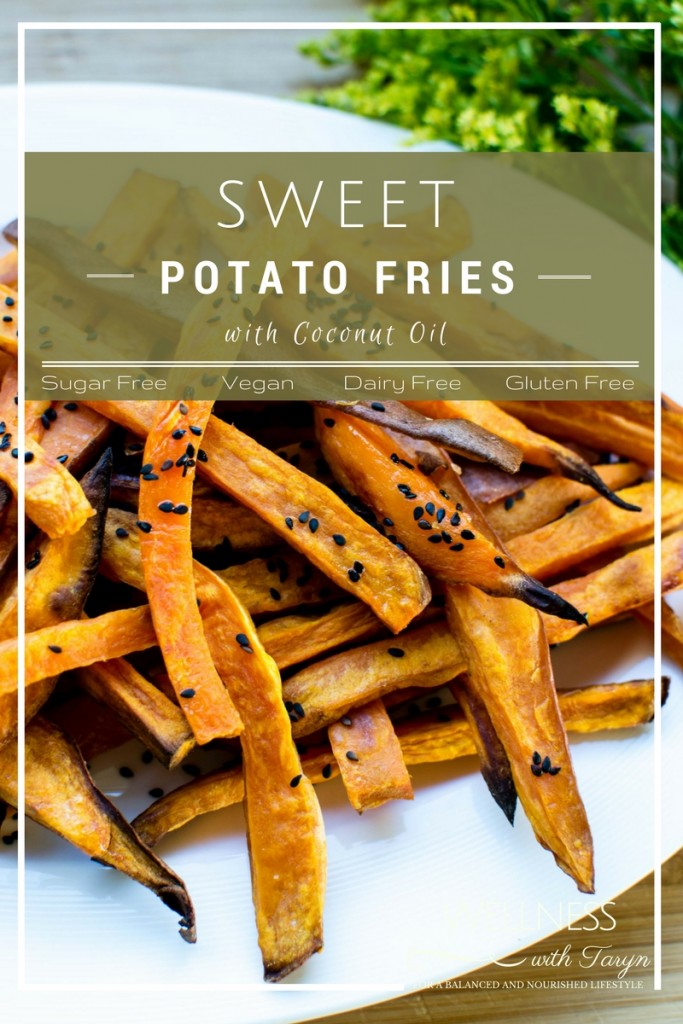 These past few weeks have been so busy, I'm slowly settling back into my normal routine. These Sweet Potato Fries are one of the quick and easy meals/side dishes I've been making while being so occupied.
At the end of June I flew to Auckland for training and stayed in the most posh hotel. Truly felt like royalty and the view of the city skyline was incredible.
We then had a friend over from South Africa at the beginning of July and had an amazing three weeks exploring this beautiful country with him. From skiing at Mt Hutt in Christchurch to the incredibly scenic West Coast of the South Island hustle and bustle of Auckland City. We had an amazing time!
Then we had another set of friends from South Africa stay with us here in Nelson for a week, and that was awesome! We visited Lake Rotoiti and it started snowing! It was such a surreal and magical experience. We were in a real life Winter Wonderland. I'll insert a few pics below, but head over to my Instagram page for more 🙂
So life has been pretty full, and slowly I'm nestling back down into my routines. It's quite hard to stay on track when you're out of rhythm and out of flow,so there are a few tips I can recommend to help keep you on your path when things get busy.
Be prepared

– When you're travelling it's easy to nip into a store when you're hungry or thirsty and grab whatever you can find. So I always make sure I'm fully prepared with water, drinks, snacks and food. It just takes a little time to think ahead and set aside a bunch of things to keep you fueled and nourished.

Stay Hydrated

– I find this quite difficult as I get caught up in the activities of the day and don't always drink my usual amount of water. A tip here is to always carry a water bottle with you, and re-fill when necessary. That way it's always on you and you can never go thirsty. Keeping hydrated is so important for our bodies, so be sure to get your required daily recommended water intake.

Sleep

– When you're travelling and are out of your usual comfort zone, it can be quite difficult to fall asleep or get comfortable and relax. You're in a different space, different bed, different sounds. A few simple breathing techniques can help to calm the mind and body, and settle into that resting mode.

Exercise

– Although you may be out of your routine and usual schedule, it's vital to still move your body. Be it a brisk walk, workout, bike ride or yoga flow. Exercise releases endorphin's that make us feel great and why wouldn't we want to feel our best when we're busy travelling. Make it a social thing if you've got friends. Like our walk up the Geographical Centre of New Zealand. It was such fun, we did it first thing in the morning and our day had the best start.
This Sweet Potato Fries recipe is so quick, easy, nourishing and most of all delicious! It only takes a few minutes of prep, chuck it in the oven and a little while later you're munching on delicious healthy fries. I love sweet potatoes as their relatively low GI, and granted their GI does rise if baked not steamed, but they're oh so tasty!
You can accompany them with plant based burgers, a healthy salad or just indulge them on their own. You could get adventurous with a cashew aioli, or a homemade tomato sauce. The options are endless!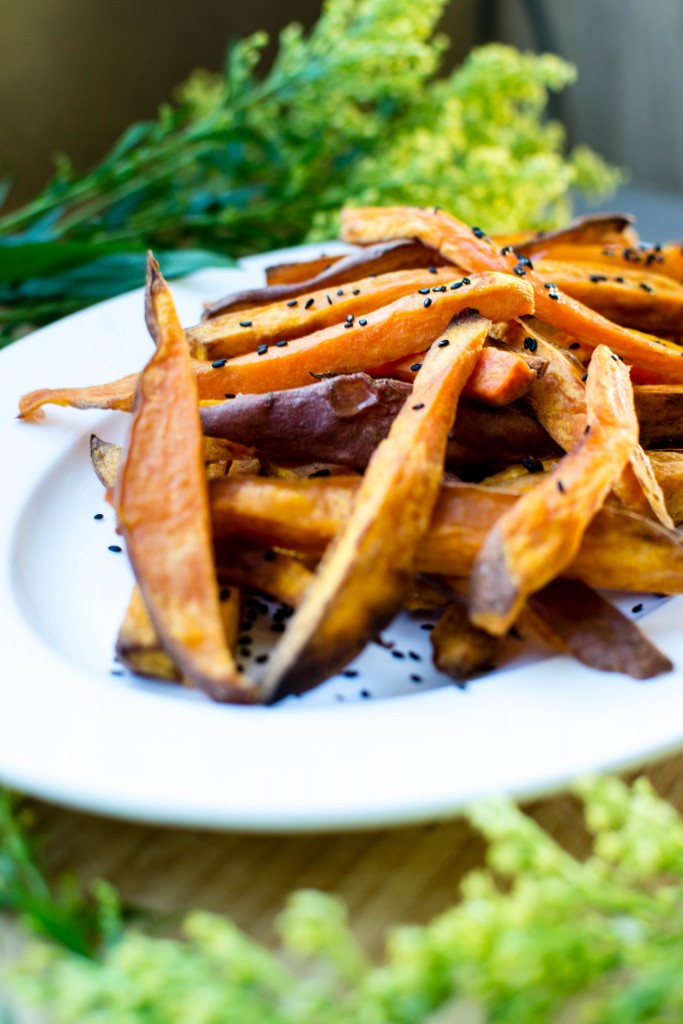 Sweet Potato Fries
2016-08-12 04:17:40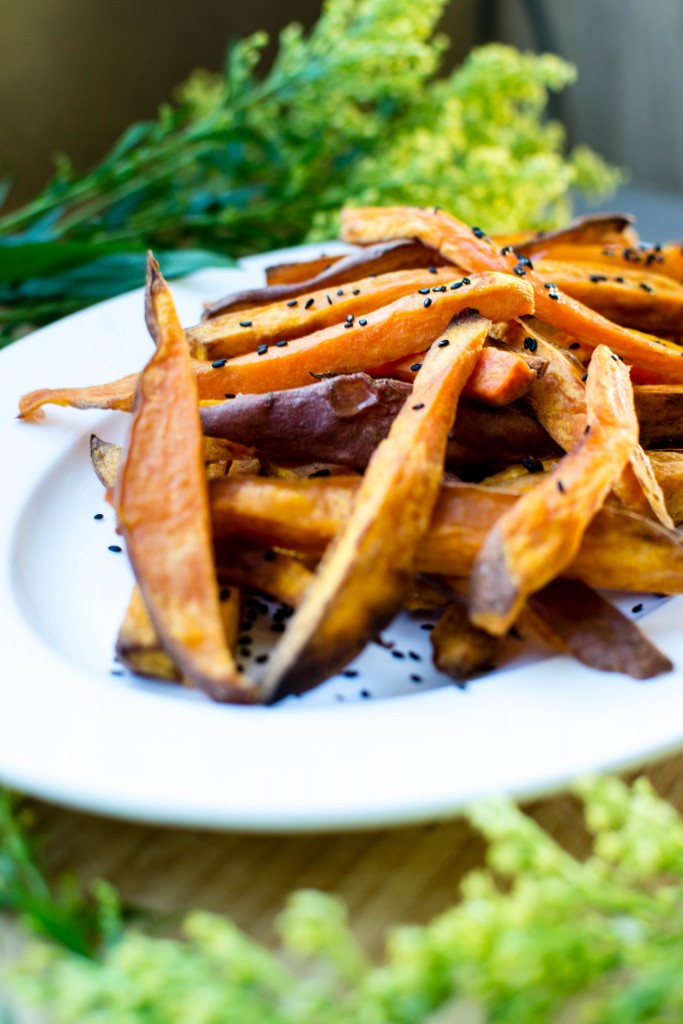 Serves 2
A quick easy and healthy recipe for scrumptious sweet potato fries. Using healthy fats these are great with burgers, salads or on their own.
Ingredients
3 Medium Sweet Potatos/Kumaras/Yams (Washed and chopped into thin fries)
2 TBS Organic Cold Pressed Coconut Oil (Melted)
1 Tsp Himalayan Rock Salt
Black Sesame Seeds
Instructions
Pre-heat the oven to 160C
Clean and chop the potatoes into thin fries. Spread out evenly on a lined baking tray
Melt the coconut oil and once melted, drizzle over the fries.
Using your hands, mix the potato fries until all are evenly coated in the coconut oil.
Evenly sprinkle the salt over the fries.
Once the oven has pre-heated, place the tray and bake for 40 minutes.
At the 20min mark, remove the tray and gently turn the fries over.
Bake for the remaining 20mins. Once cooked and golden brown, remove from the oven.
Sprinkle with the black sesame seeds and tuck in!
Notes
Use Organic where possible.
I used a fan forced oven, possibly 170C if non fan forced, but always keep an eye on them as all ovens are different.
Wellness with Taryn http://wellnesswithtaryn.com/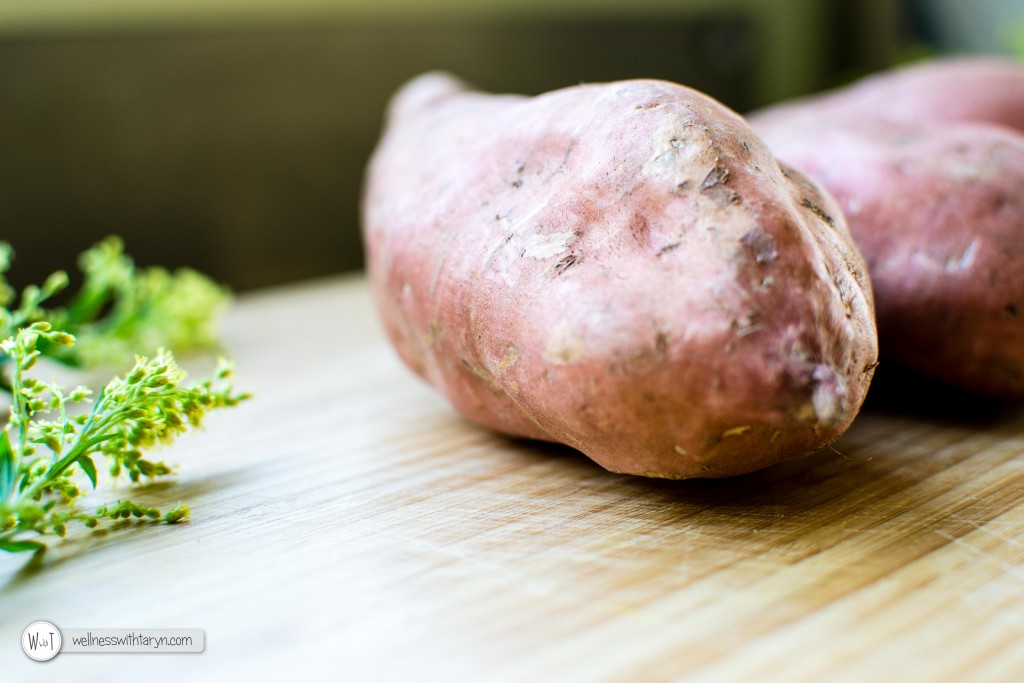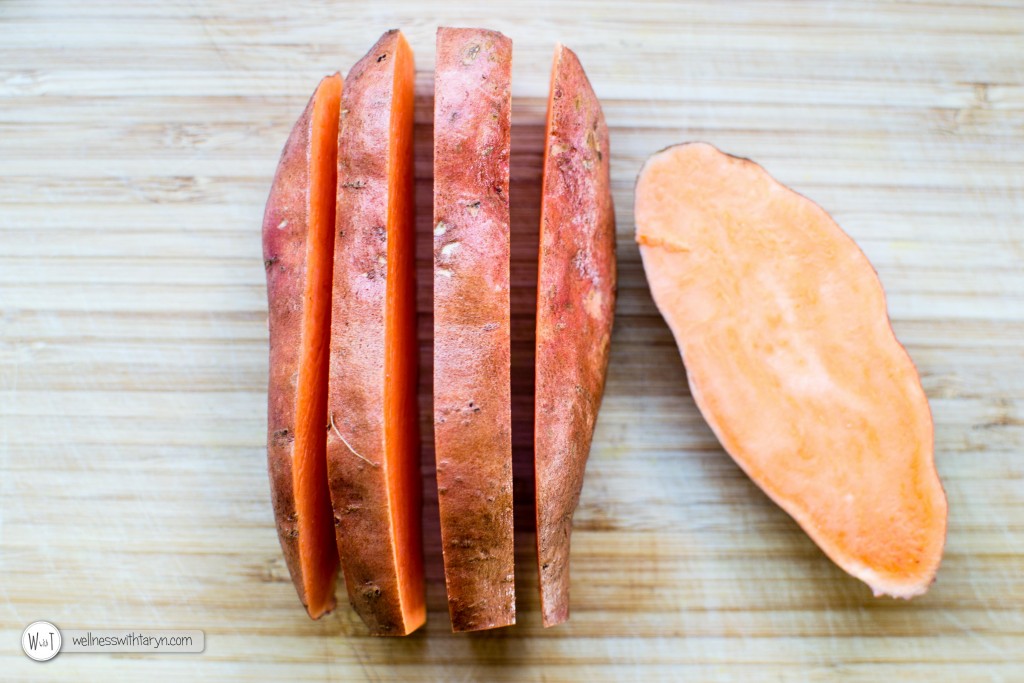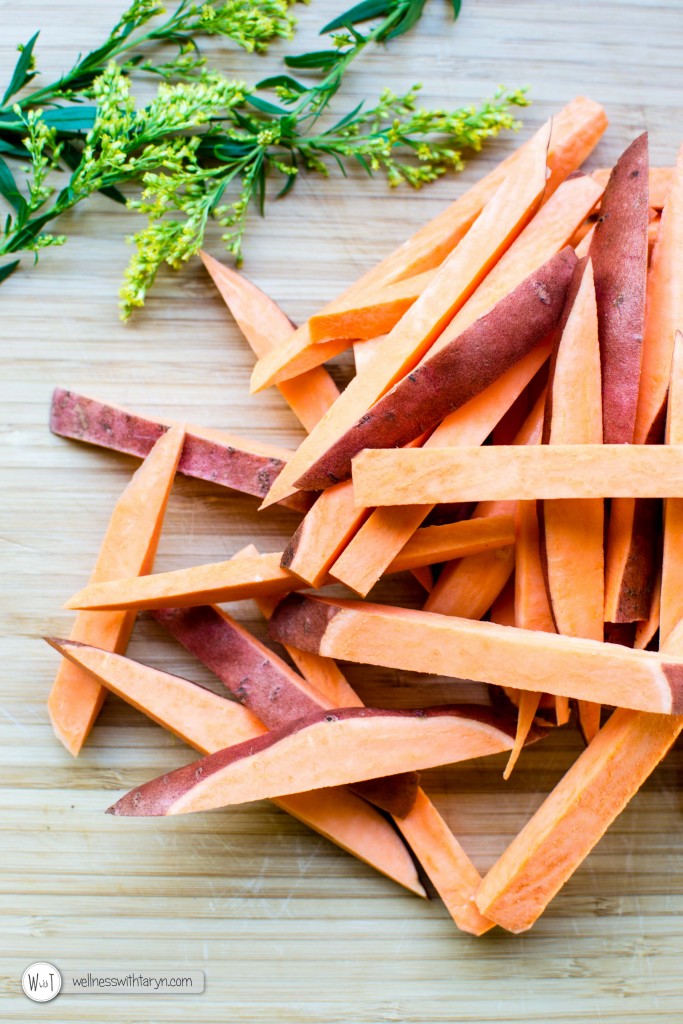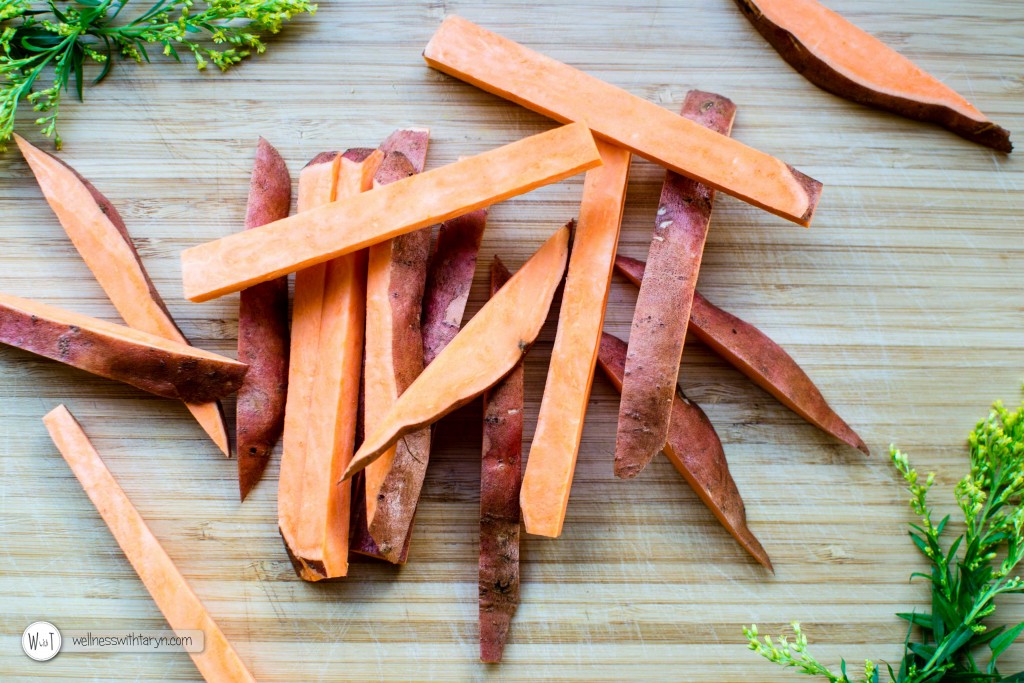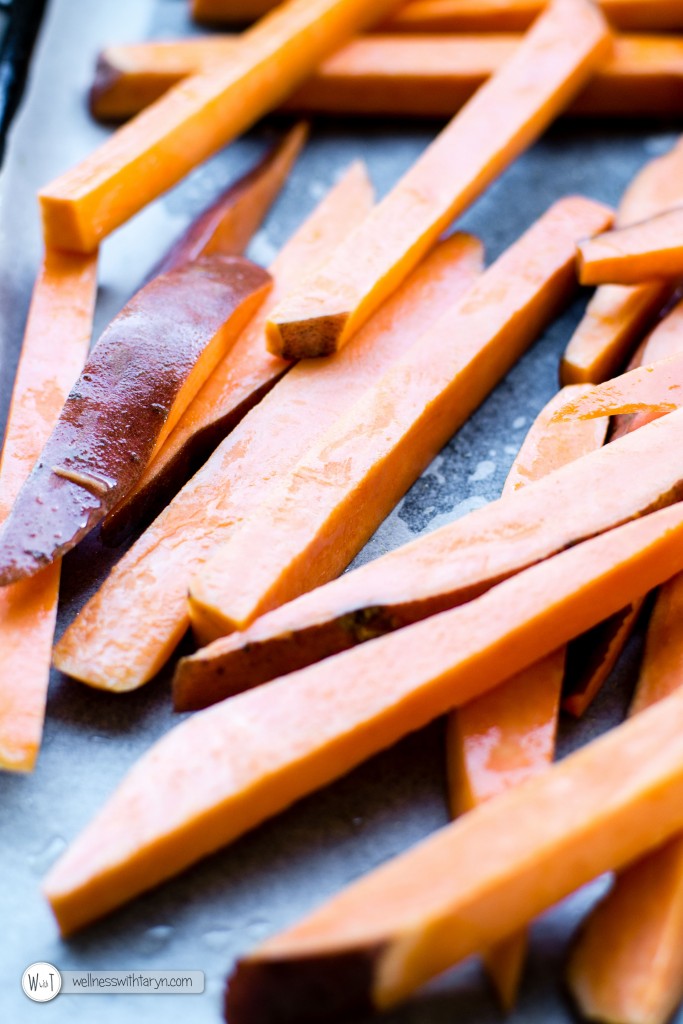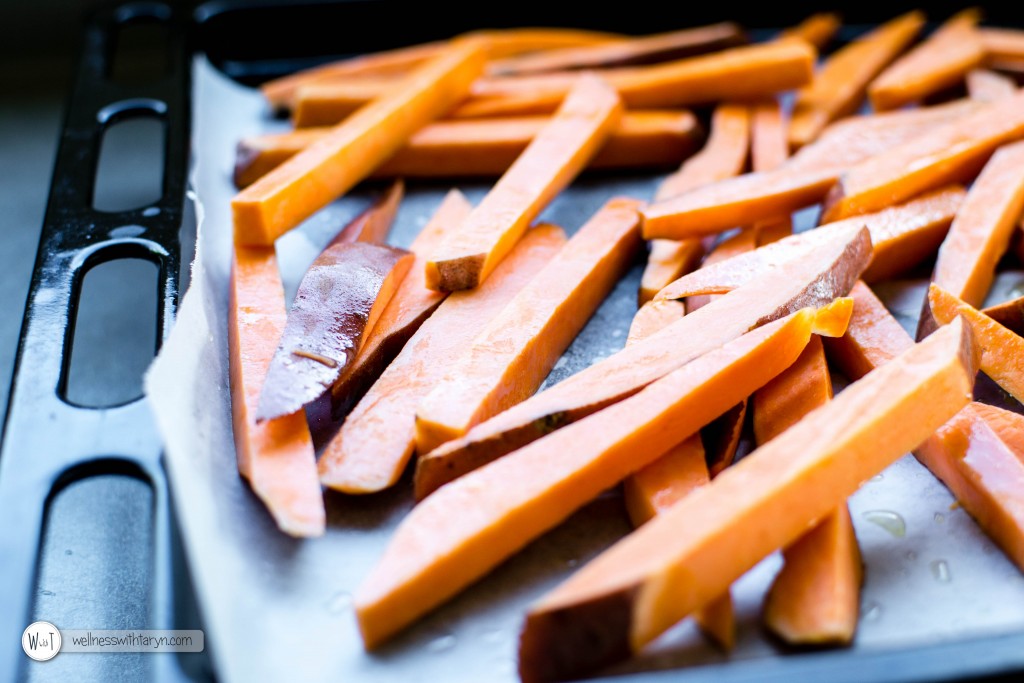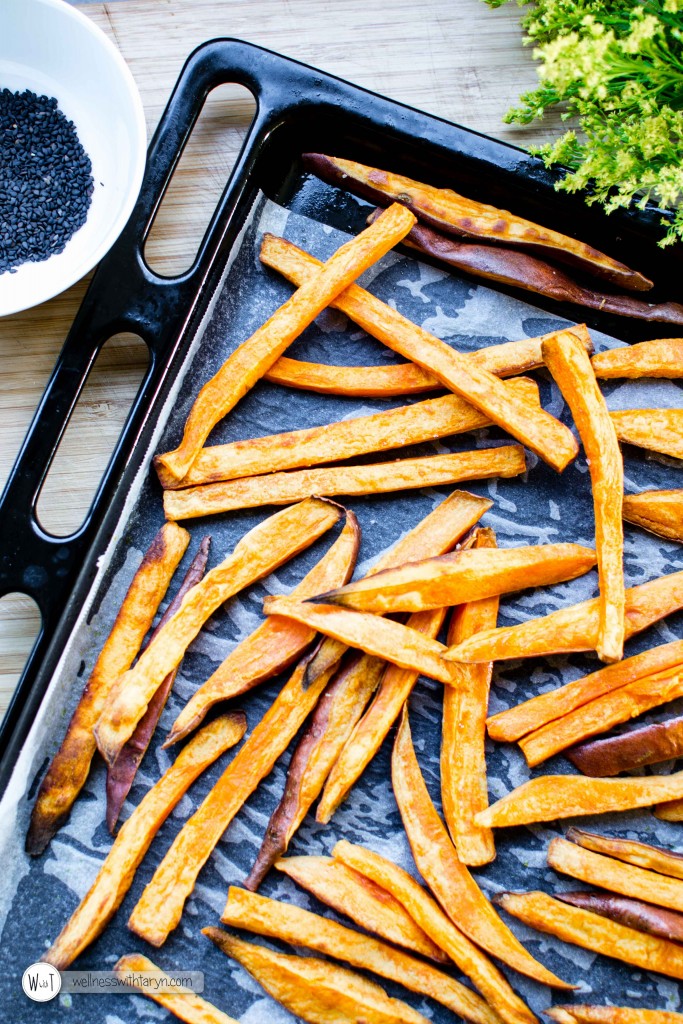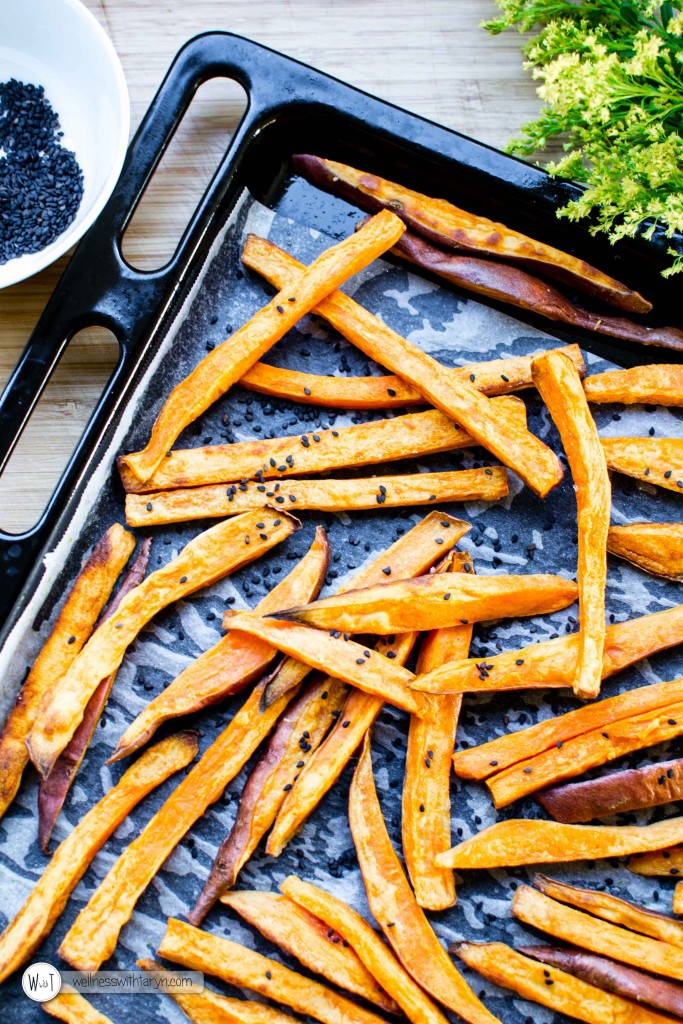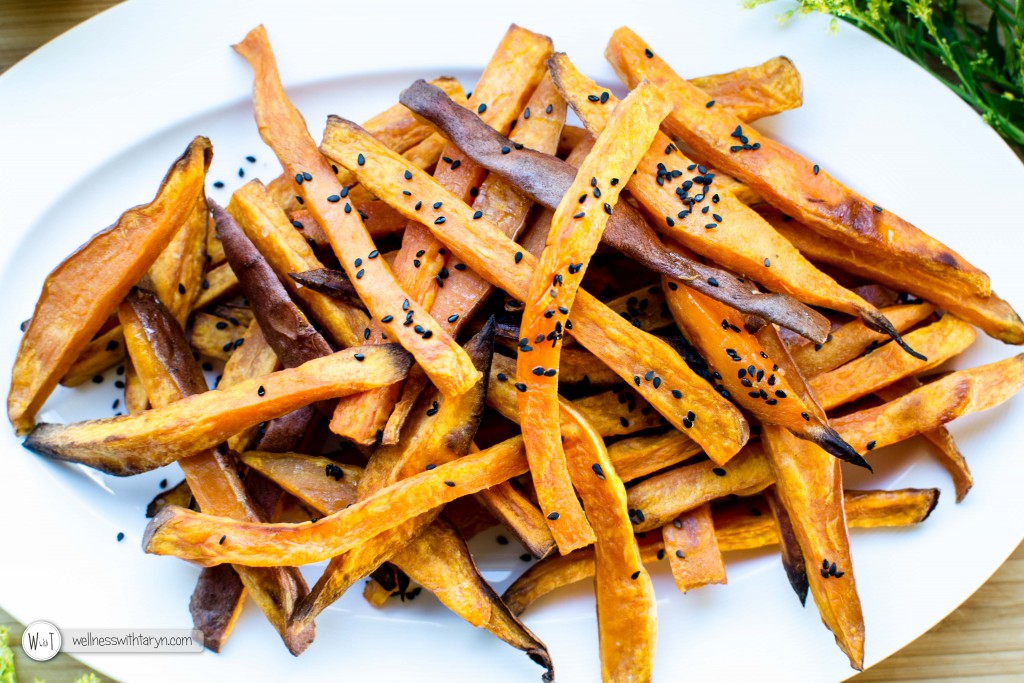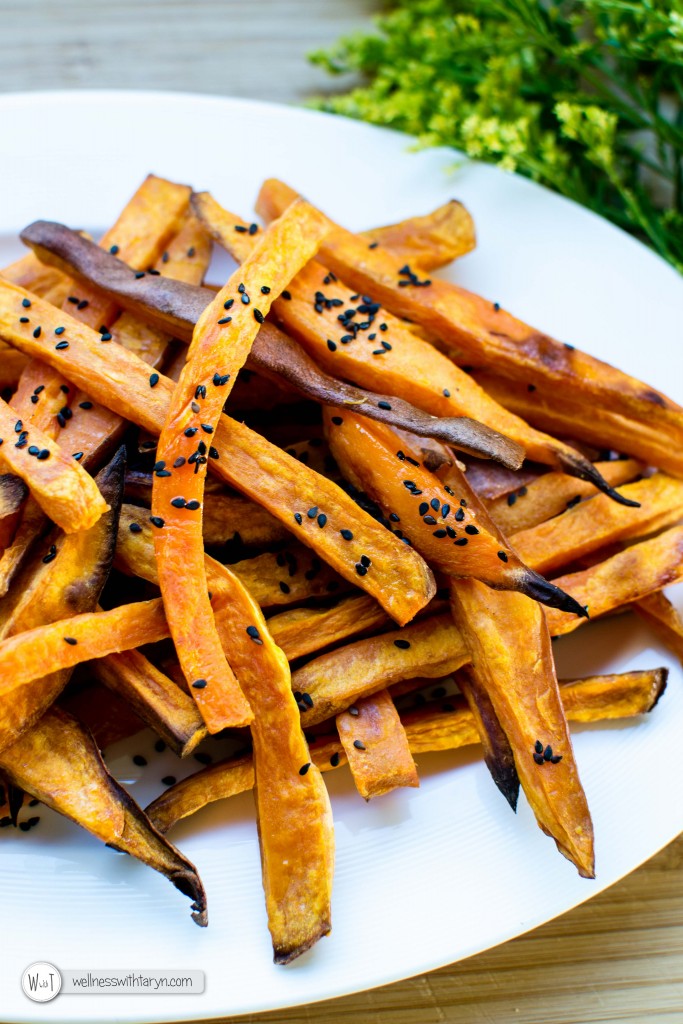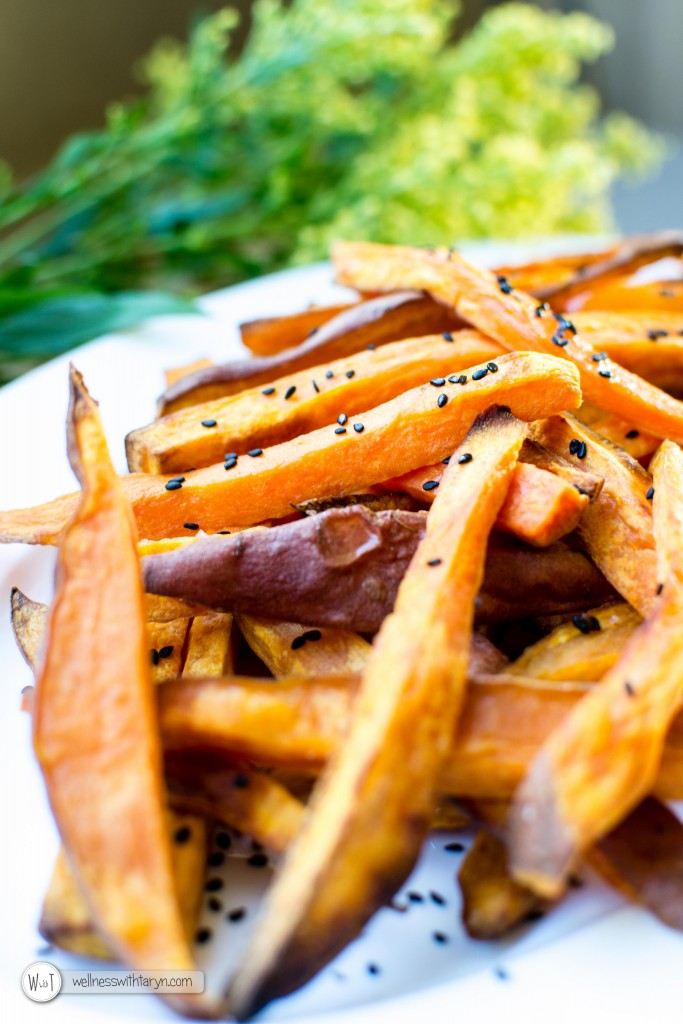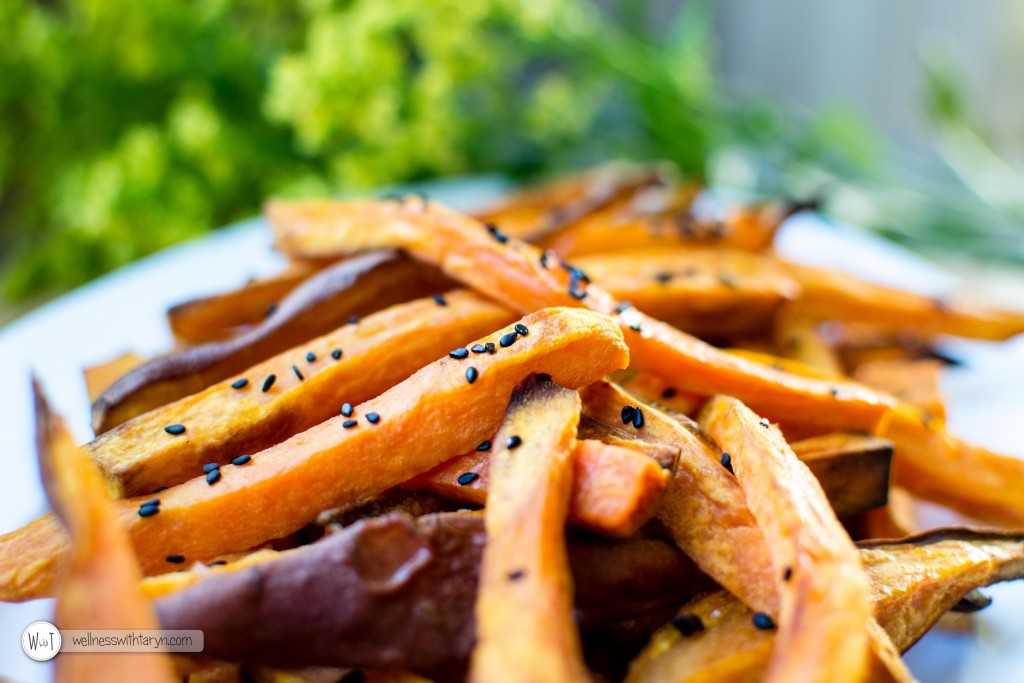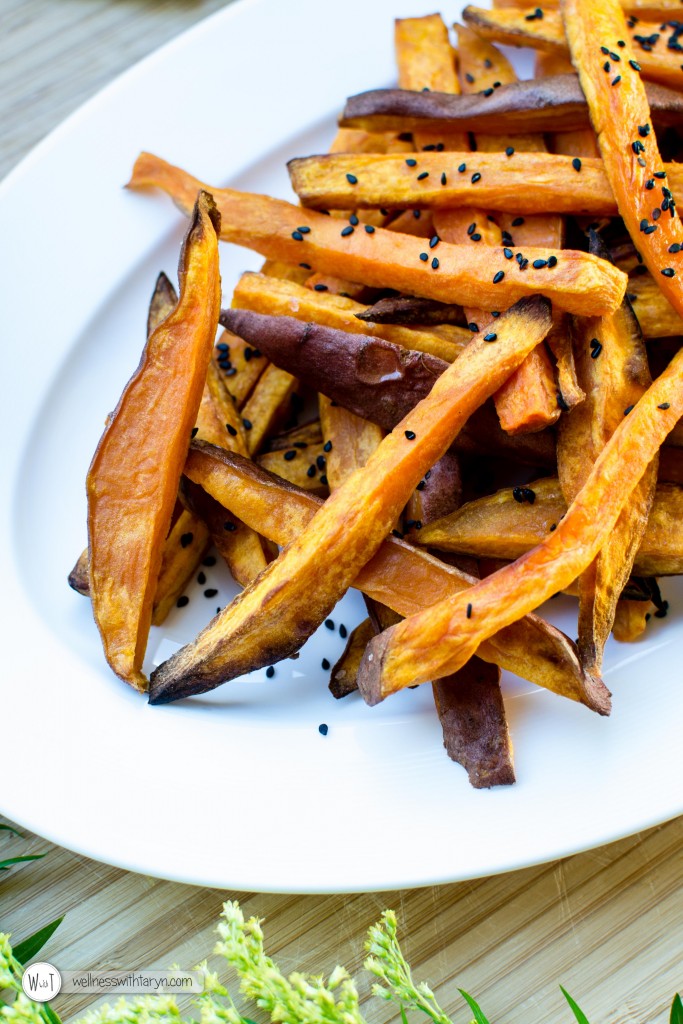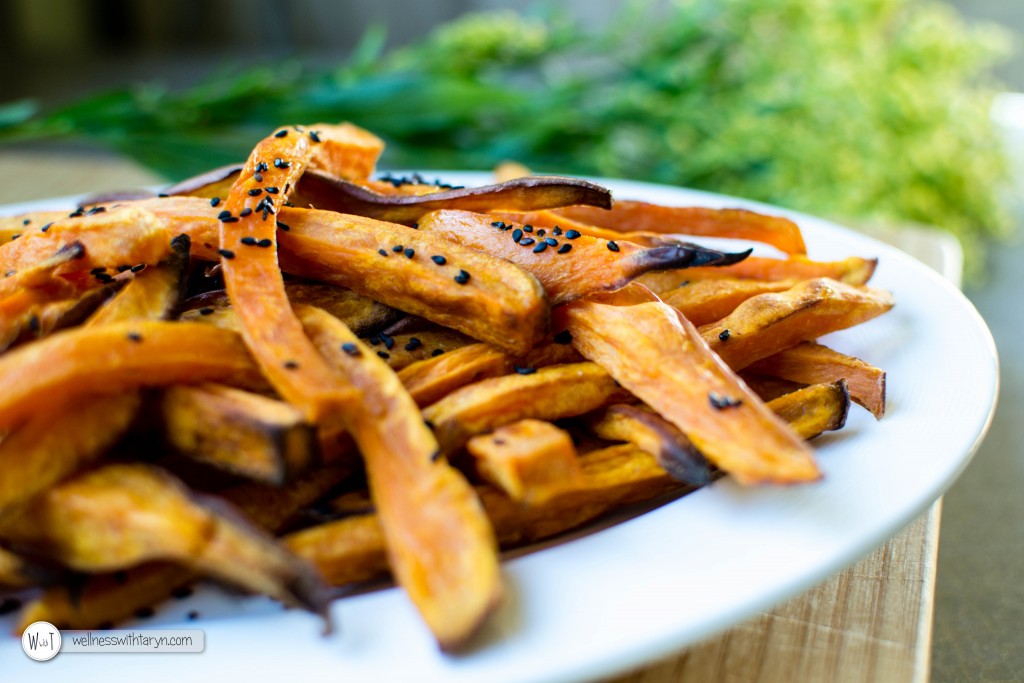 I do hope you enjoyed this post and I'd be ever so grateful if you shared with your friends and family. Remember to subscribe to keep updated and til next time…
Much love…