Love is not only an amazing feeling that brings such joy and warmth, it is also an vital tool in well being. Living your life from the perspective of love can seriously have a positive ripple effect on every aspect of your life.
Learning to love, feeling love and seeing the world through love are some of the topics I'll be delving into this post, including all the goodness of these Sunflower Seed Cookies. Quite fitting as it is the month of love, but let's not forget about ourselves and the practice of self-love. Self respect.
I was so incredibly blessed to be able to go to Wanderlust last weekend, and what an experience! (check out my Instagram for pics) I am yet to take off my wrist band, because whenever I look down at it I get the flood of feels I felt at this special event.
The yoga, the activities, the people, the food, the venue, the camping between the gum trees, the night swims, the walks, the nature, the feels. It was liberating to experience all these alone, without the comfort of friends, and I find solace in the fact that I gained so much!
While there I delved deep into this book, which opened up so many doors in my brain and train of thought. I seriously recommend this book to help implement changes that will benefit your life forever. What I took away and what resonated with me was viewing all from a point of love. Whether it be a meal, a red traffic light, a rude person or a great conversation. Making the conscious effort and decision to experience this life from a point of love.
Letting fear go, and finding comfort in peace. Granted we all have busy lives, and we all have our separate 'stuff' going on, but love can truly (I believe) make such a profound difference to how your life unfolds. For me, I feel my spirituality awaken when I choose to be conscious and aware of the way I'm thinking, what I'm thinking and how I'm thinking.
Whether it be breathe work, yoga, meditation or any other tools that helps to deepen this sense of conscious awareness, love is always the underlying essence that allows each experience to shine. I encourage you to try:
Use more love

in your life – in moments that are trying and those that aren't. Try include more love into your life and see if anything changes. The way you feel? The way your day unfolds? There's no harm in trying, right?
To

be more conscious

of your breathe, and to use your breathe. When you get into moments that are difficult, use your breathe to try turn back to the light, instead of heading down the dark tunnel that seems so incredibly more favorable at the time.

Find a practice

that resonates with you that can help deepen your awareness. Be it a class that involves moving your body and focusing on the present, or be it time in the kitchen where your sole focus is on making a nourishing plate of food. Little practices like these can enrich our life more than we know.
Now, moving forward to this recipe that I'm so exited to share. These Sunflower Seed Cookies were made from a point of love, with love and will be shared with love. They are symbolic of the love I feel for life right now. The love that is engulfing me and the way I view the world. They are made with sunflower seed flour, which I recently discovered and instantly felt the need to experiment.
They are crunchy and full of amazing nutrition like Vitamin B1, B3 and B6, loads of Vitamin E which is so good for healthy glowing skin, healthy fat omega 6, copper, magnesium, manganese, phosphorus and selenium. Not to mention plant based protein such as cystine, phenylananine and tryptophan.
They're pretty easy to make, only include a short list of ingredients and are really really tasty! I also use granulated stevia which is great for those with sugar sensitivities or those who are just cutting back but still yurn for that sweet note. Stevia has very little effect on blood glucose, making it totally ideal.
The addition of a dark chocolate covering, and the vibrant freeze dried raspberries not only makes for glorious photos, but the flavor! I cannot explain how well they all work together! I also use a vegan butter which helps with the binding and gives them their great crunchy texture.
There are some seriously good ingredients in this recipe to benefit the skin, from the sunflower seed flour to the coconut oil to the almond meal. All these have such great properties that help to support healthy glowing skin, which we all want, right? I really felt so much creativity, fun and peace while making them, and they turned out so beautifully. I do hope you enjoy!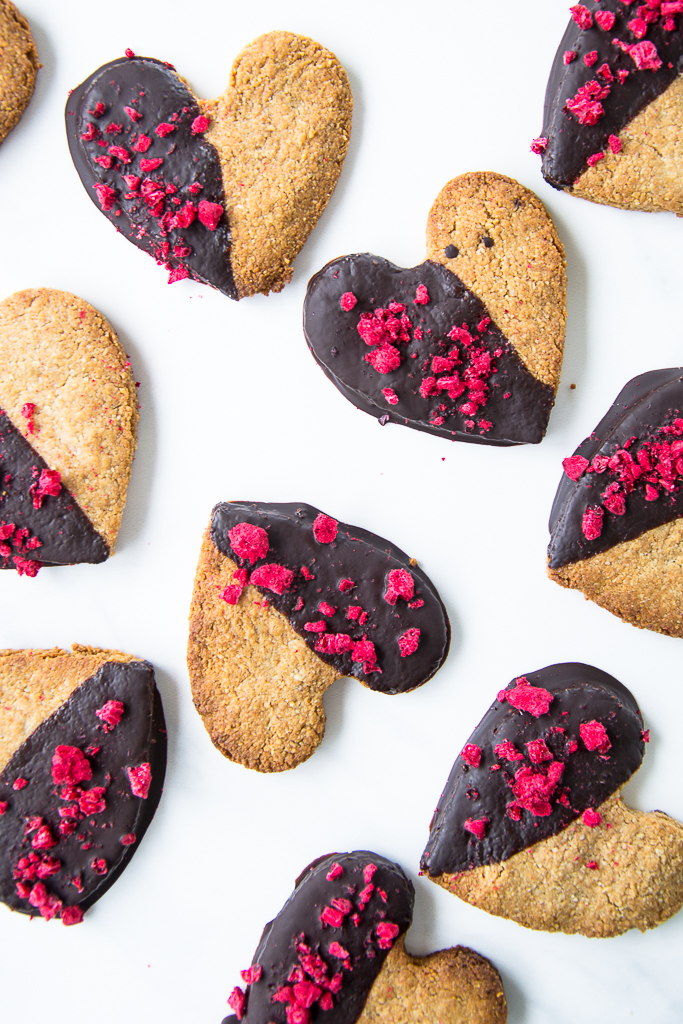 Sunflower Seed Cookies
2017-02-10 04:48:18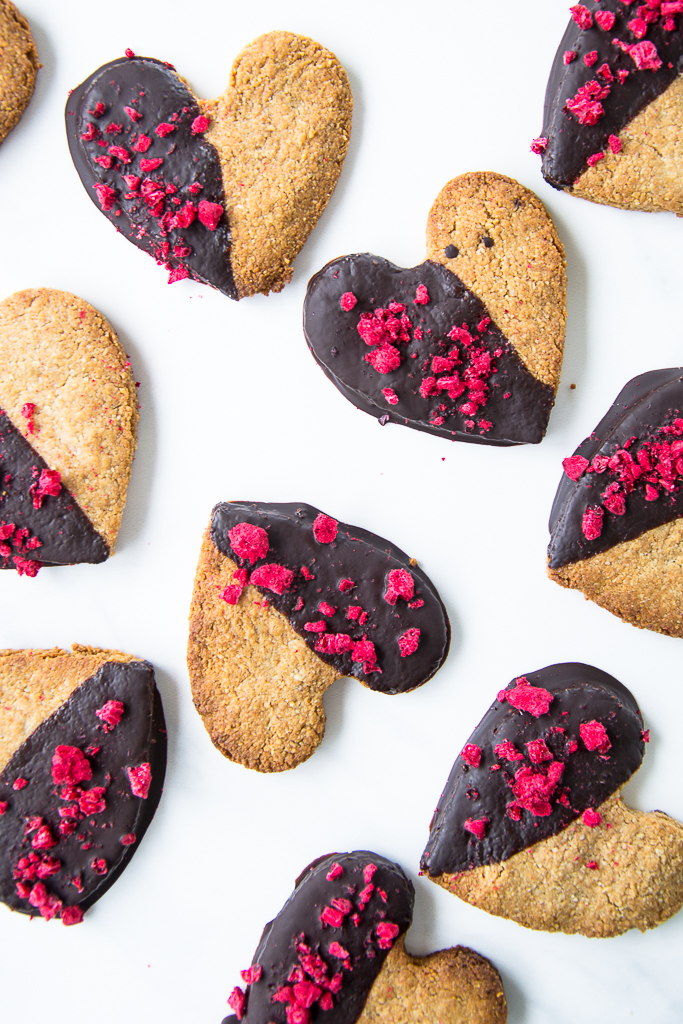 These cookies are so crunchy and delicious. They are packed with nutrition and low in sugar. They only use a short list of ingredients and take only 10 mins to cook. A perfect food gift for your loved ones
Ingredients
1 Tsp Ground Golden Organic Flax Seeds (Left to swell in 4 Tsp of water)
35g Vegan Butter (I used the Nuttelex brand)
35g Organic Cold Pressed Coconut Oil
1-2 TBS Organic Coconut Sugar (Use 2 if you have a sweet tooth)
2 Tsp Granulated Organic Stevia
1 Tsp Pure Vanilla Extract
2/3 Cup Organic Almond Meal
1 1/2 Cups Organic Sunflower Seed Flour
1/2 Tsp Bicarbonate of Soda
1/3 Cup Gluten Free Flour Mix
1/2 Tsp Sea Salt
Organic Sugar Free Dark Chocolate
Freeze Dried Raspberries
Heart Shaped Cookie Cutter
Instructions
Make the flax egg in a small bowl, and leave aside to swell.
In a small pot on a medium heat add the vegan butter, coconut oil, coconut sugar, stevia and vanilla extract and allow the ingredients to melt down.
In a large mixing bowl add the sunflower seed flour, almond meal, gluten free flour mix, bicarbonate of soda and salt and mix well with a whisk - leaving a well in the center.
Pour in the melted mixture, add the flax egg and stir together well until all is combined.
Place the mixture in the fridge for 10-15 mins to chill.At this time, preheat the oven to 160C fan forced.
Once the mixture has chilled, and using your hands, roll the mixture into a big ball and press it down onto a clean surface/kitchen benchtop. Really use your hands to evenly press out the mixture, pressing together any cracks that form.
You can also use a rolling pin to help you, but if you find it starts to stick, just go back to using your hands.
You want about a 1cm high even layer of cookie dough.
Use the heart shaped cookie cutter to cut out the cookies, and lay them evenly spaced apart on a baking tray lined with baking paper. Carry on pressing out the dough using the left overs to create another layer to cut.
When all the dough has been used, place the tray into the oven to cook for 10 mins until golden brown.
Remove from the oven and allow to cool fully.
Using a bain-marie style, melt down the chocolate and dip each biscuit half into the melted mixture. Lay onto a tray lined with baking paper.
Sprinkle with freeze dried raspberries and allow to cool. Store in an airtight container for up to 4 days.
Enjoy and share the love!
Notes
Use Organic wherever possible
Adapted from Deliciouslly Ella
Wellness with Taryn http://wellnesswithtaryn.com/