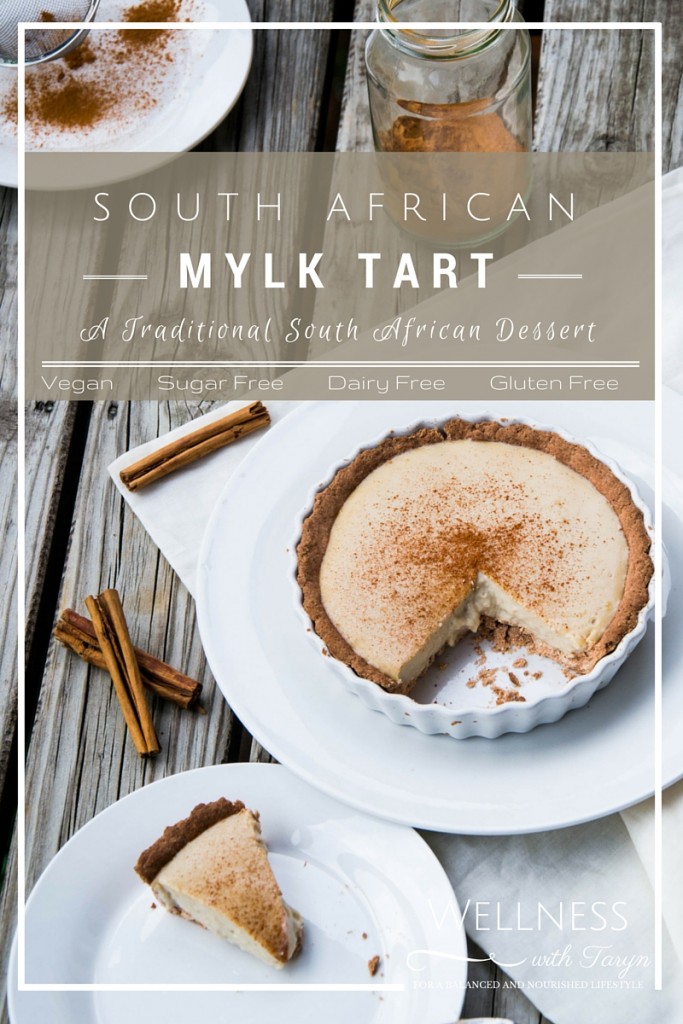 Lately I've been feeling rather nostalgic. I've been reminiscing old memories and missing my family, friends and home country. It's now been roughly 17 months since I opened my wings, flew out of Durban South Africa, and nestled into a new life with my love in this beautiful country, New Zealand. I have loved every single step of my journey and am incredibly grateful each and every day. Yet I do think of my 'people' back home ALL the time and miss them all so dearly!
So to cheer my spirits I decided to get back to my roots, and create a healthy vegan version of a great South African traditional dessert. It's wonderful how food is able to have an influence on our feelings, frame of mind and moods. And when it's a healthy guilt free dessert, it's even better.
Needless to say my weekend was full of nostalgic memories and mouthfuls of my Vegan Gluten & Sugar Free South African Mylk Tart!
Traditionally 'melktert' consists of a pastry case filled with milk, eggs and sugar, which is usually thickened with flour or corn starch. The finished tart is traditionally dusted with cinnamon. A real South African comfort food and it is served chilled as a dessert or afternoon tea treat.
The tart has a stiff consistency, that to which I can kind of compare to a panna cotta, but thicker. Now, traditionally this consistency is reached by using egg whites and often corn starch as a thickener, but I don't use animal products or corn starch. Why?
1. Because I am a Vegan enthusiast and
2. Corn starch is essentially a highly processed carbohydrate. It packs about 30calories or 7grams of carbohydrate per tablespoon. There's no protein, fat, vitamins, minerals or fiber. When added to recipes, it can add significant calories that you may normally not consider because it's similar in color and texture to baking soda or baking powder which are essentially calorie-free.
That is why I opt for a healthier thickener, arrowroot powder.
What is Arrowroot Powder?
Arrowroot is not technically a plant in itself, but rather a type of starch that can be readily obtained from the roots of numerous different plants and rhizomes. This high nutrient density starch has been very valuable to a number of indigenous cultures dating back more than 7,000 years, but despite the fact that so many herbal remedies have been disproven or have gone out of use, arrowroot remains an important and effective remedy for many different health conditions. It can be used as a replacement in many foods, rather than flour or corn. Essentially arrowroot powder can be a healthier alternative to the more common cooking ingredients for breads, pastas, and cakes. Arrowroot is also gluten-free, which makes it all the more valuable today with the rising incidence of Celiac disease in many countries.
One of the most common uses of arrowroot is as a food thickener, but it can also be eaten on its own, even for infants in their formula rather than other less nutritious forms of starch. You can eat the root of these various tubers raw, roasted, boiled, or stewed without losing the potency and nutrients. Now, let's take a more in-depth look at the many health benefits of arrowroot.
Health Benefits of Arrowroot
Circulation Issues:

The rich nutrient mixture found in arrowroot includes significant levels of copper and iron. These two essential minerals are important parts of red blood cells, which makes arrowroot very good for preventing anemia, which is characterized by weakness, fatigue, and cognitive disorders. Furthermore, by increasing circulation, you encourage oxygenation of your body's organ systems and extremities, which can boost your energy levels.

Metabolic Processes:

The high concentration of vitamin B within arrowroot makes it an important enzymatic and metabolic substance. The B-vitamin family is very important in regulating processes throughout your body, from hormonal release to circadian rhythms, meaning that you never want a deficiency in that department!

Birth Defects:

One particular member of the B family of vitamins is folate, and it is found in high levels within arrowroot. Studies have shown that folate is important for expecting mothers, as it can help to prevent neural tube defects in their unborn child. Folate is also an important factor in DNA synthesis and healthy cell division, thereby promoting rapid healing and healthy growth.

Stomach Concerns:

Celiac disease seems to be the new global pandemic, and as the numbers continue to climb around the world, people are seeking gluten-free alternative to traditional starches and wheat. Arrowroot is a gluten-free substance, making it very popular in recent years, as it can prevent the gastrointestinal discomfort, pain, and danger that those handling a gluten intolerance must face every day.

Growth and Development:

As compared to other root vegetables and starches acquires from tubers, arrowroot has a higher concentration of protein, an essential component of any diet. By increasing our dietary intake of plant proteins, which are easier to process than animal proteins, we can guarantee healthy growth and development.

Weight Loss Concerns:

Arrowroot is extremely low in calories as compared to other starches like yams, potatoes, or cassava. For this reason, people trying to remain on a diet can get complex carbohydrates and a wealth of nutrients, as well as a healthy dose of dietary fiber, and eliminate the desire to snack between meals. Arrowroot fills you up and gives you the minerals and vitamins your body needs.

Digestion:

Dietary fiber is one of the most important parts of our digestive process, as it helps move food through the bowels in an efficient manner, while also stimulating the uptake of nutrients. It can eliminate issues of constipation and diarrhea, and manage blood sugar levels to prevent the onset of diabetes. Finally, dietary fiber can help to clear out excess cholesterol, further promoting cardiovascular health. Source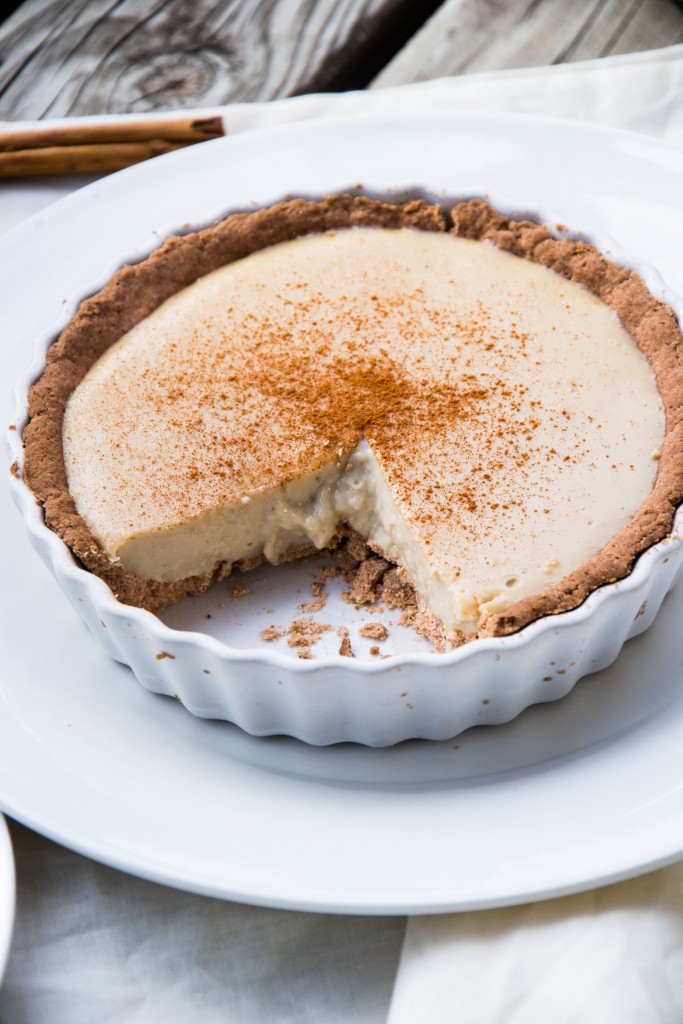 South African Mylk Tart
2016-04-06 05:21:30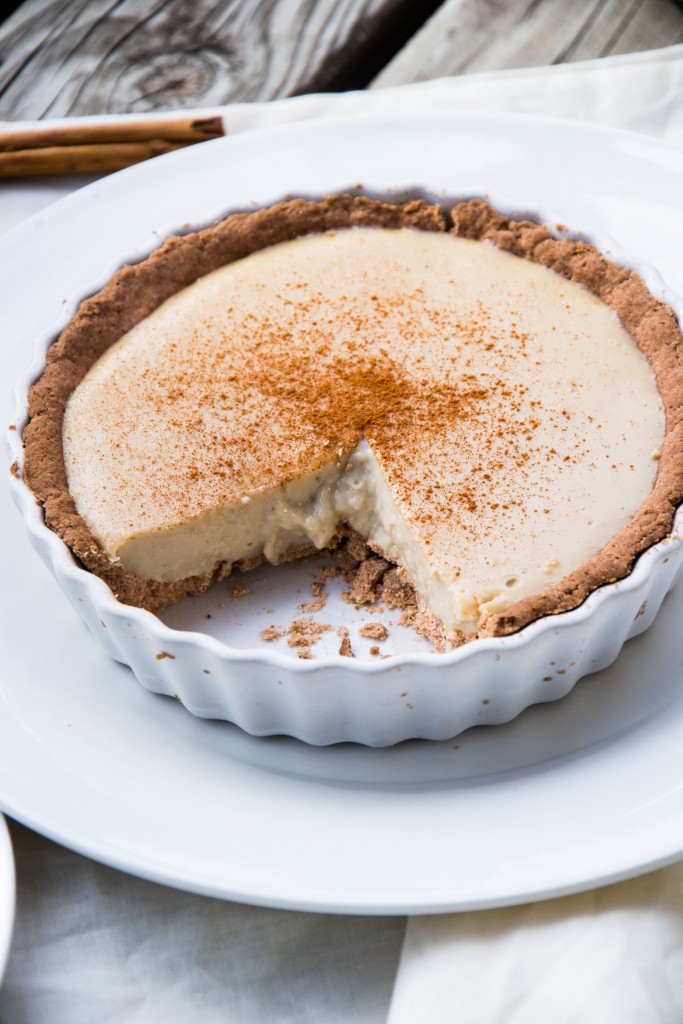 Serves 6
A delicious take on a popular traditional South African dessert. Sugar free, gluten free and vegan, this dish is delicious and healthy. Full of nutrition and goodness in every bite.
Ingredients
CRUST
1 Cup Organic All Purpose Gluten Free Flour (Sifted)
1 Tsp Organic Cinnamon
1/4 Tsp Ground Nutmeg
Pinch of Himalayan Rock Salt
3 TBS Organic Rice Malt Syrup
4 TBS Coconut Oil (Melted)
FILLING
2 1/2 Cups Organic Soy Milk
3-4 TBS Rice Malt Syrup (Depending on your sweet tooth)
1 Tsp Organic Vanilla Extract
4 Tsp Arrowroot Powder
Cinnamon for dusting
Instructions
CRUST
Preheat oven to 180C
In a large mixing bowl, sift the flour. Add the cinnamon, nutmeg and salt.
Add the rice malt syrup and melted coconut oil, and begin mixing together.
Once combined enough, time to roll up your sleeves and use your hands to mix the mixture together. Crumbling it in between your fingers.
Once fully combined add to a greased (with coconut oil) pie dish, I used a 16cm/6.5" dish. Press firmly down, pressing the mixture up the sides to create an even crust around the whole dish.
Poke a few holes into the crust with a fork, and pop into the oven.
Bake for 20mins at 180C. Once golden brown remove and set aside to cool.
FILLING
In a medium pot, bring 1 1/2 cups of soy milk to the boil. Remove from the heat and add the vanilla extract and rice malt syrup. Stir thoroughly.
In a seperate little bowl, whisk together the arrowroot powder and 1 cup of soy milk until smooth and no lumps are visable.
Add this mixture to the pot, and on a low heat stir until thick. This may take around 3-5mins but do take caution that arrowroot powder can be sensitive to heat, so ensure it's on a low heat.
Once thickened, remove from heat and allow to cool for a few minutes.
Gently pour the mixture onto the crust evenly, and dust with cinnamon.
Chill in the fridge for at least 2 hours before serving.
Serve chilled as a dessert or afternoon tea treat! And enjoy a traditional South African dessert made plant based, healthy, diabetic friendly and vegan.
Notes
Use organic where possible
Note that arrowroot powder is sensitive to heat, use on a low heat
Wellness with Taryn http://wellnesswithtaryn.com/