Simplicity is becoming more and more of a priority in my life these days. Taking time and making a conscious effort to simplify my life in as many ways as possible. Making the decision to not complicate or clutter my space or days, and in this case – my plate.
This Simple Wholefood Granola recipe is just that – simple. I wanted to create a breakfast option that only has a handful of ingredients, is quick and easy to make, and most importantly – is delicious! For me, breakfast needs to be fulling and needs to sustain me until lunch, which this granola definitely does.
Simplicity can mean different things for different people. For me, simplicity is getting rid of clutter and chaos in my space. Having a calm, tranquil space where energy can flow is optimum. That's why I'll ALWAYS clean the living area, dining room table and kitchen, etc every night, so that in the morning when I come through – it's neat, tidy and peaceful! Making my mornings a breeze.
It also means letting go of negative emotions, and practicing more gratitude in my life. A simple gratitude practice can make SO much magic in your life – it's extraordinary! I urge you to create a practice each day that serves you.
However you decide to do it, focusing more on gratitude and being thankful for the things you do have in your life is so powerful. All those thoughts of what you NEED in your life, dissipate or are seriously dulled down.
And, finally simplicity comes through in the food I choose to nourish myself with. Wholefood ingredients that have had little or no processing, locally sourced foods and products, and really just getting back to basics.
This wholesome breakfast option allows me to hold space, and take a few moments to appreciate the nourishment on my spoon. It's simple ingredients culminate together to create a satisfying meal that is full of nutritional benefits, as well as being sustainable energy source – one that keeps me going for SO long!
One of my favorite features of this granola is the dates! The super gooey medjool dates, blitz up into little bits, and when baked – they go super crunchy! Oh my goodness! If you're someone who loves texture in your food – you're going to LOVE this granola.
My favorite combination at the moment is a few scoops of this granola, sliced half banana, raw cacao, maca and hemp protein powder. The combination of adding superfoods does make it a little more complex, but at the moment I'm loving that blend. It is perfectly delicious just by itself too!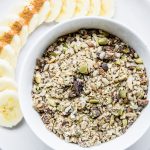 Simple Wholefood Granola
A simple wholefood granola recipe that is nourishing and fulling. Aligned with the focus on simplicity, the handful of ingredients are minimally processed, and culminate together beautifully.

Cuisine:
Plant based, Refined Sugar Free, Vegan, Wholefood
Ingredients
2

Cups

Organic Rolled Oats

2

Cups

Sunflower Seeds

2/3

Cups

Pumpkin Seeds

1/3

Cup

Chia Seeds

- black or white

10

Medjool Dates

50

g

Organic Cold Pressed Coconut Oil

- melted

Pinch of Sea Salt
Instructions
Pre-heat the oven (fan-forced) to 180C


Place all ingredients (except the coconut oil) into a food processor


Pulse lightly until the dates have broken down into little chunks


Lay the mixture out evenly on a lined baking tray and drizzle over the melted coconut oil. Mix through with a wooden spoon


Bake in the oven (fan forced) on 180C for 5 mins. Remove from the oven and stir the mixture around bringing the outer ingredients into the middle




Reduce the heat to 120C and bake for another 10mins. Again remove from the oven and stir. Bake for another 10 mins on 120C




Remove from the oven, stir the mixture around and leave to cool fully


Store in an airtight jar glass and enjoy

Recipe Notes
Use Organic wherever possible
I do hope you enjoy this post and recipe, and as always I'd love to hear from you below.