This week on the blog I chat about one of the most common root vegetable, yet rarely regarded as a nutrition powerhouse. If you haven't guessed by now, it's carrots. In this Savory Almond Carrot Biscuit recipe, I put a raw carrot powder to the test to see if I can create a savory biscuit, that leans towards savory, yet still has a slight natural sweetness.
Vibrant, orange, ever so crunchy carrots. The magical vegetable that we all grew up understanding to have super "night-time-vision-enhancing" powers.
Carrots are such a versatile vegetable, and can be added to so many different recipes along both the sweet and savory spectrum's. This recipe meets somewhere in the middle. Albeit not so exciting by themselves, these biscuits work so well with a savory topping, think hummus or a vegan almond ricotta (recipe coming to the blog soon 😉 )
A perfect canape option when friends are over, or a delicious weekend snack with a delicious glass of red wine. I do hope you enjoy the recipe, and leave a comment below if you do manage to try them out.
Chantal Organics Raw Carrot Powder
I used the Raw Carrot Powder from Chantal Organics in this recipe, which was such an easy way to really amp up the nutrients and add all the goodness that carrots have to offer. These vegetable powders are so handy to have on hand when you're trying to boost nutrition in your dishes – especially for those fussy eaters. I can see this powder becoming a favorite – and I can't wait to try the rest of the range.
Health Benefits of Carrots
Special nutrition for the eyes and skin
Powerful antioxidant
Prevents cell damage
Helpful as a dietary supplement for those concerned with age-related diseases

Source
I'm currently counting down the days til our exciting trip back to South Africa. While I envision putting a post on the blog next week, there is a slight possibility I may be inundated with last minute travel organizing. If I don't get to posting next week, I'll be back in a couple of weeks, while we enjoy our holiday back home.
A much needed refreshing pause from the blog will hopefully do me the world of good, and I plan to come back over-flowing with inspiration. I'll leave you here with this yummy recipe, 'til next time.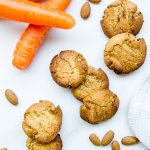 Savory Almond Carrot Biscuits
A savory biscuit recipe that is loaded with great nutrition from raw carrot powder. A perfect canape option and great paired with either hummus or a vegan chive ricotta.

Course:
Breakfast, Canape, Side Dish, Snack
Cuisine:
Cookies, Dairy Free, Gluten Free, Healthy Fats, Plant based, Refined Sugar Free, Savory, Vegan, Vegetarian
Ingredients
1

Cup

Almond Meal

2

Tsp

Psyllium Husk

2

TBS

Raw Carrot Powder

1

Tsp

Baking Powder

3

TBS

Organic Cold Pressed Coconut Oil

- melted

4

TBS

Rice Malt Syrup

- or sweetener of your choice

2

TBS

Organic Almond Butter

Pinch of Celtic Sea Salt

2

TBS

Hot water
Instructions
Add all dry ingredients into a food processor, blend until all combined.


Add the remaining wet ingredients and blend until a large ball or dough forms. Everything should stick together quite well.


Scoop out equal amounts of cookie dough and roll into balls. Evenly space them on a baking paper lined tray.


Use a fork to press down each biscuit.


Pop into the oven and bake for 13-15mins @ 160C until golden brown and cooked through.


Remove once cooked and allow to cool. Store in airtight container for up to 4 days

Recipe Notes
Use Organic where possible