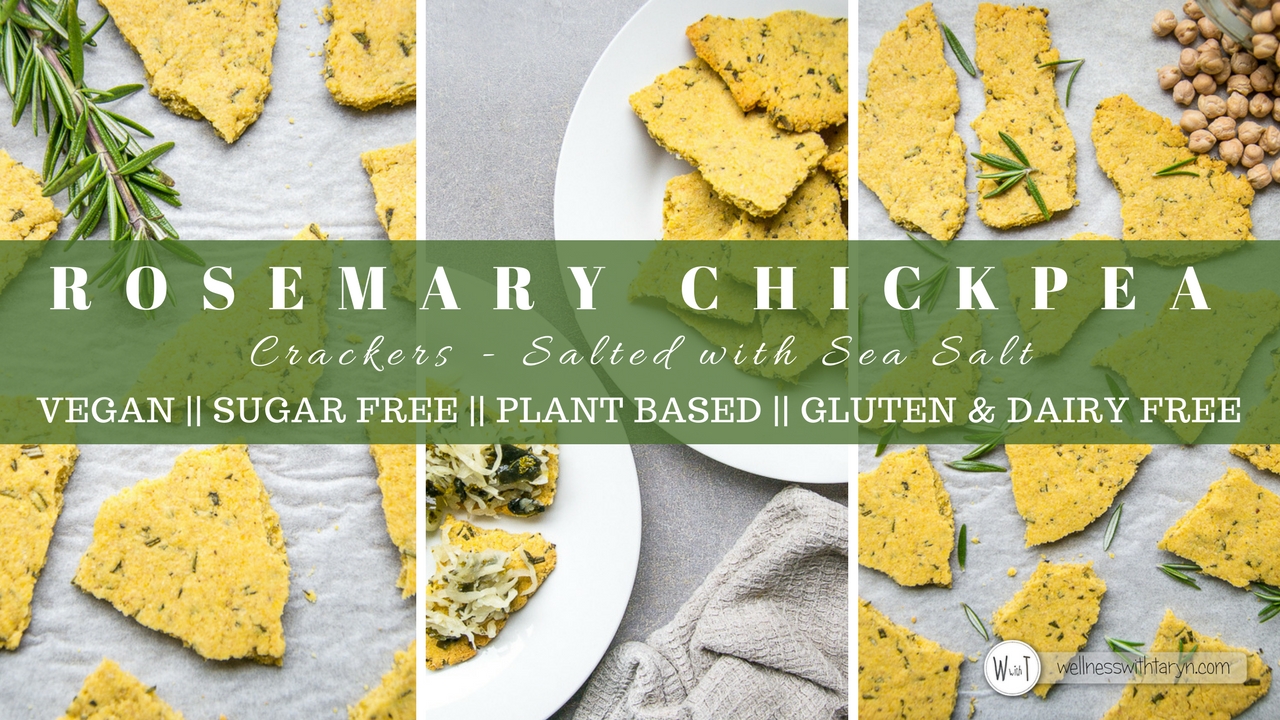 Chickpea flour is such a handy ingredient to have in the kitchen cupboard. This really versatile flour can be used in an array of recipes.
From falafels, to crepes, to pancakes, to crackers. It's flavor is evident, yet not dominant and really pairs well with a bunch of other ingredients.
These Salted Rosemary Chickpea Crackers are proof of just how delicious this little ground dried legume can be.
I love the consistency and flavor chickpea flour adds to falafels and am quite fond of it's texture in pancakes and crepes. It is also a great alternative flour choice for crackers. Most store bought crackers are made with highly refined flour.
Nearly everyone knows that white flour is not healthy for you, but most people don't know that when white flour is bleached, it can actually be FAR worse for you. It's generally understood that refining food destroys nutrients. With the most nutritious part of the grain removed, white flour essentially becomes a form of sugar.
Consider what gets lost in the refining process
Half of the beneficial unsaturated fatty acids

Virtually all of the vitamin E

50% of the calcium

70% of the phosphorus

80% of the iron

98% of the magnesium

Fifty to 80% of the B vitamins
And many more nutrients are destroyed — simply too many to list. Source
Versatile Chickpea Flour
So I'd much rather use a tasty alternative, and chickpea flour is my perfect choice. These Salted Rosemary Chickpea Crackers are loaded with plant protein.
Chickpea flour is high in fiber, high in protein, and is lower in carbs and calories than traditional wheat flour.
Just one cup of chickpea flour contains over 20 grams of protein. It's a good source of folate, containing seven times the amount in whole wheat flour and more even than enriched all-purpose flour. It is also a source of magnesium, potassium, and phosphorus.
It is also gluten-free and wheat-free, making it a fantastic substitute for making bread for those with allergies. Source
Salted Rosemary Chickpea Crackers
A delicious cracker recipe using flavorsome rosemary and chickpea flour. Crunchy and salty and just so delicious! A great alternative to highly refined flour crackers, and full of plant protein and amazing nutrition.

Course:
Appetizer, Lunch, Side Dish, Snack
Cuisine:
Dairy Free, Gluten Free, Grain Free, Refined Sugar Free, Sugar Free, Vegan, Vegetarian
Ingredients
1

Cup

Organic Chickpea Flour

1

TBS

Fresh Rosemary

- finely diced

2

TBS

Organic Cold Pressed Extra Virgin Olive Oil

1/2

Tsp

Baking Powder

1/2

Tsp

Bicarbonate of Soda

- alluminium free

1/2

Tsp

Sea Salt

2

TBS

Warm Water

Grind of Black Pepper
Instructions
Preheat the oven to 160C fan forced.


In a large mixing bowl, sift the chickpea flour, baking powder, bicarb and salt. Mix until all combined.


Finely dice the fresh rosemary sprigs. Add to the flour mixture with a few grinds of black pepper and stir.


Make a well in the center of the flour and add the olive oil and warm water.


Mix until roughly all combined, and then it's time to roll up your sleeves. Using you hands squeeze the mixture until all combined and a stiff 'dough' has formed.


On a flat surface, place a sheet of baking paper down, and place the dough ball on top. Use your hands to press down the mixture.


Place another sheet of baking paper on top of the flattened dough ball, and use a rolling pin to further roll out the dough as flat as you can get it, without it cracking apart.


If cracks start to form along the sides, use your fingers to merge the dough back together and carefully roll it out again with the rolling pin.


Carefully transfer to a flat baking tray.


Place in the oven at 160C fan forced for 15mins, leaving the top baking paper on top of the dough.


Remove from oven when cooked through, and leave to cool. Gently crack the big cracker into small little ones. If you prefer your crackers extra crunchy, pop them back into the oven for a few minutes to crunch up.


Store in an airtight container for up to 3 days.

Recipe Notes
Use Organic wherever possible
I do hope you enjoy this recipe as much as I did. I in fact had these crackers for lunch yesterday after making this recipe, and they're so delicious that I've had them again for lunch today.
Perfectly topped with sauerkraut and accompanied with celery and freshly sprouted mung beans – lunch was amazing to say the least.