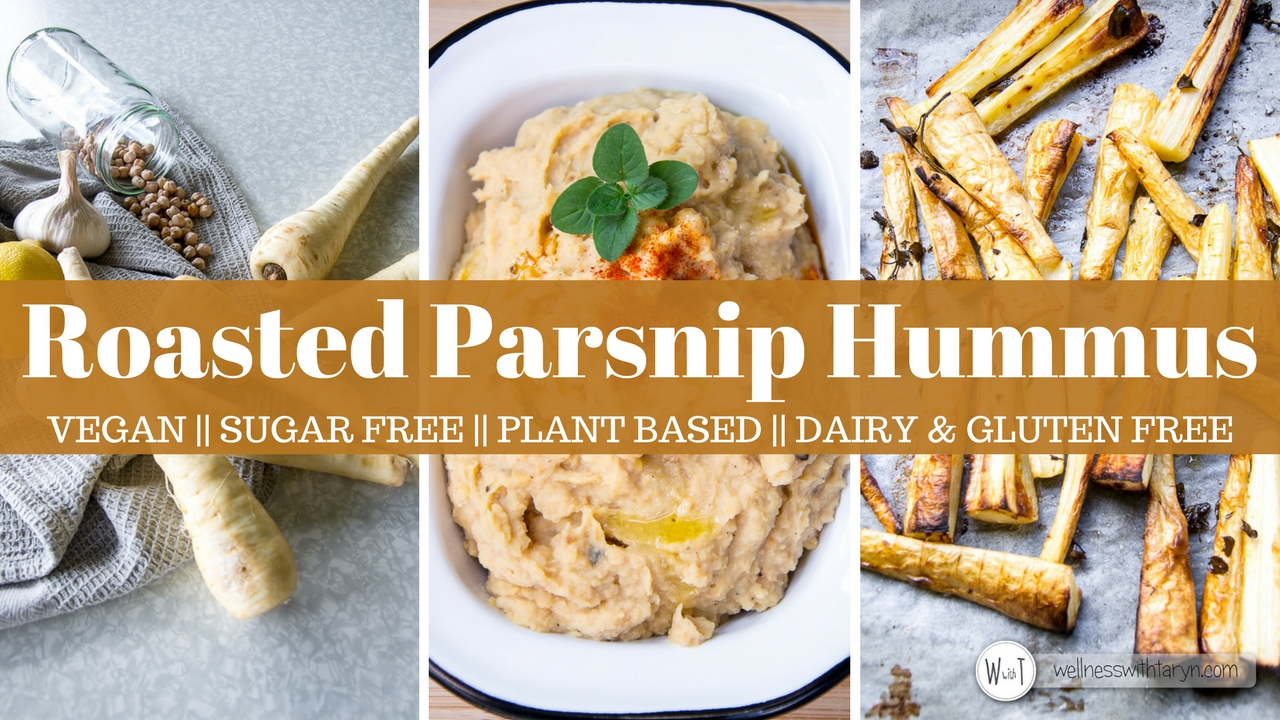 Chickpeas have to be one of my favorite staples in the kitchen. They're so handy to have – whether they be dry and stored in a glass jar, soaking over night on the kitchen counter, sprouting in my ceramic colander under a kitchen cloth or organic tinned chickpeas in bpa-free tins, tucked away in the pantry. There's so many beautiful recipes to make with these little legumes, and they make such delicious additions to simple summer salads to roasted vegetable platters to creamy hummus.
A great source of dietary protein, chickpeas are a great addition to any plant based diet. They're pretty easy to prepare, are loaded with all sorts of great nutritional values and are really fulling. I especially love this Roasted Parsnip Hummus recipe, and may be slightly addicted to it! It's really that good!
The sweetness of the roasted parsnips, combined with the hint of freshly roasted thyme, mixed with the smoothness of the ground chickpeas – this hummus is really so divine! This recipe makes a huge batch too, which can be easily stored in glass jars and kept in the fridge for up to 4 days. Having this hummus on hand makes lunches and afternoon snacks a breeze.
I especially love this recipe, because I've adapted a technique from Chef Michael Solomonov, where I recently read this post on his genius Zahav's Hummus recipe. " …you drop whole unpeeled cloves of garlic, papery skins and all, into the blender (or food processor), then mulch it all up with lemon juice and salt. It's an unsettling mixture to think about, filled with inedible debris—until you learn that it's just steeping for 10 minutes, then all getting strained away. " Source
So clever, and it means you don't have to get your fingers all 'garlicky', because you don't have to chop or peel the cloves. It adds the garlic essence to the hummus, but it leaves behind that intense, not-so -nice garlic experience one can often get. I thought I must share! In this post he also explains his technique for soaking chickpeas which is also so interesting, and I'm excited to give it a try.
Now, I want to head off on a bit of a tangent here and talk about mindfulness and setting intentions. Life is crazy and life is so beautiful, and sometimes I am truly blown away by the power and synchronicity of the universe. Let me elaborate…
I started my journey to health nearly 6 years ago, and around that same time I fell in love with yoga, particularly Tri-Yoga at the time. My beautiful friend Kirsty was doing her teachers training in this beautiful practice, and she (along with her teacher Bindu) were constantly inspiring me to delve right into all that Tri-Yoga had to offer. So, you see, yoga has been a pretty huge part in my journey so far. I was excitedly being inspired from yogi's all over the world and set the Wanderlust Yoga Festival at the top of my bucket list, but brushed off the reality that I'd ever be able to attend such a great gathering of like minded souls.
Fast forward 4 years down the track (beginning of 2016), I take a blank page and start writing travel plans and pricing for Wanderlust 2017. Flights, accommodation, ticket prices, everything. This little intention then gets slipped away at the back of my diary and forgotten about.
Life carries on and just last week, I went through my diary and decided to clear out all the unnecessary papers that had found their way into it. Out pops my Wanderlust intention. My eyes glide gently over it, and I smile, and let it go, into the bin. "I wish, but maybe next year"
So I had set the intention, by writing it down (this is such a big and important step in manifesting your true desires), and then let it go. Without realizing I let it go to the universe, I put it out there, and then ….
I get a phone call from my friend at 9.30pm last Sunday night excitedly asking if I've checked my phone because the beautiful Michelle from Michelle Keenan Yoga & Holistic Health had tagged me in a post letting me know that I HAD WON A TICKET TO WANDERLUST 2017!!!!!!!!!!!!!!!!!!!!!!!!!!!!!!
I'm going to Wanderlust 2017 – Greak Lake Taupo
Can you believe it? Because I am still battling to comprehend that one of my life's desires is manifesting right now, before my eyes! But wait it get's better!
Not only did I win a ticket, but my beautiful friend, who is so deserving of a special get away like this, has also just won a full 4 day pass, that INCLUDES camping, which is what my accommodation plan was! So the universe worked it's beautiful magic in such a special and perfect way!
Mindfulness matters. Intentions are important! And gratitude is key. You truly can create the most wonderful life for yourself with help from practices like these.

I'd love to hear back from you and know how the universe has worked it's magic for you? Even if it's that perfect car parking spot that opened up as soon as you needed it. Because all forms of magic are beautiful! And we must learn to appreciate them all, big and small!
Let's steer back on track and get into this delicious recipe. It's low in oil, which is great because I actually never realized how much oil is in conventional supermarket bought hummus. Using only a little oil to roast the parsnips, and transferring this into the blender while blending, it brings with all the flavor and sweetness of the roasted caramelized parsnips. I then replaced the oil in a usual hummus recipe with water when blending, and the end result is just perfect! Better than the oil laden supermarket hummus!
I can also rest assured that I've used a great quality organic and cold pressed olive oil to roast my vegetables in. Making your own food is really such fun! And the sense of accomplishment is one I'll never tire from. So I do hope you enjoy this recipe, and look forward to your magic moments from the universe.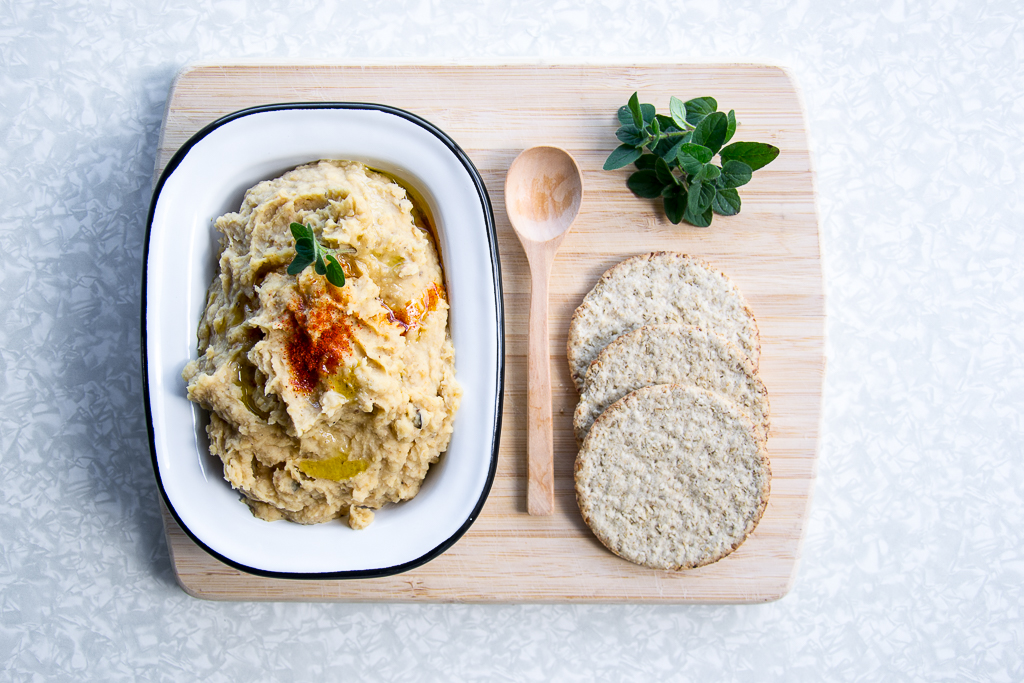 Roasted Parsnip Hummus
2017-01-27 23:45:43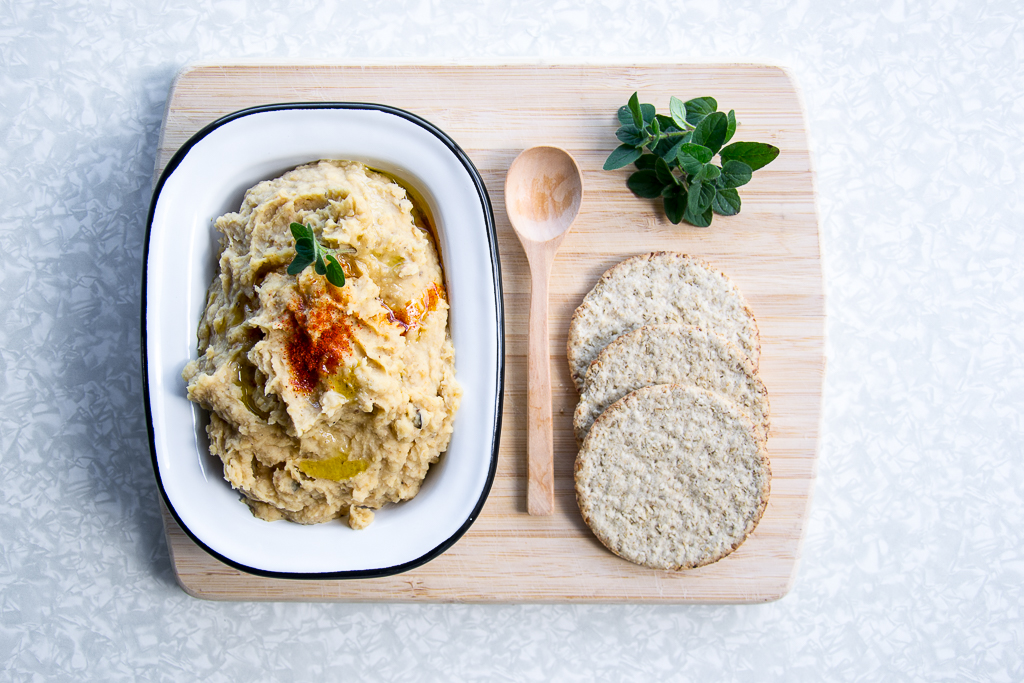 Serves 8
A smooth and creamy hummus recipe, with the incredibly delicious sweetness of roasted parsnips and fresh thyme. Easy, affordable and low in oil!
Ingredients
2 400g Organic Canned Chickpeas (BPA Free Certified Organic)
3 TBS Hulled Tahini
2 Cloves Garlic (Unpeeled)
1/2 Medium Lemon (Juice of)
5 Parsnips (Scrubbed clean and rinsed, no need to peel)
3 Sprigs Fresh Thyme (I used lemon thyme, but any fresh thyme will do)
2 TBS Cold Pressed Organic Olive Oil
1/2 Tsp Flaked Sea Salt
1/2 Cup Water (Possibly a bit more)
Instructions
Preheat the oven to 200C
Scrub clean and rinse the parsnips. Chop them into strips and lay evenly on a line baking tray.
Drizzle over the olive oil, and a sprinkling of sea salt. Place the sprigs of thyme on top. Place the cloves of garlic on the side of this tray, because we're going to raost them for about 7-10mins, just to get the flavors to develop.
When the oven is pre-heated, pop the tray in for about 20-25mins - until golden brown.
In a food processor, add the lemon juice. Once the garlic cloves have been in the oven for about 10mins, remove and place directly into the food processor. No need to peel or chop.
Blitz until the garlic is finely mushed.
In a blender (or food processor) add the canned chickpeas and tahini.
Using a mesh sieve, pour over the lemon and garlic mixture, and press as much liquid out as possible, without getting any of the actual garlic into the blender. You can also use the food processor for this, but you'll have to remove the lemon mixture first.
Next, add the salt and parsnips once they're golden brown and almost caramelized. Add as much of the oil that they cooked in too, as a lot of the flavor will have seeped into this.
Add about 1/2 cup of water, and blend.
If you need to add more water to get things moving, add little bit by bit.
Once fully blended, creamy and smooth, remove and store in airtight glass jars, in the fridge for up to 4 days.
This hummus is the best on oat crackers with thinly sliced baby tomato.
Notes
As always, use organic wherever you can
Make sure your tinned chickpeas are BPA free
Wellness with Taryn http://wellnesswithtaryn.com/