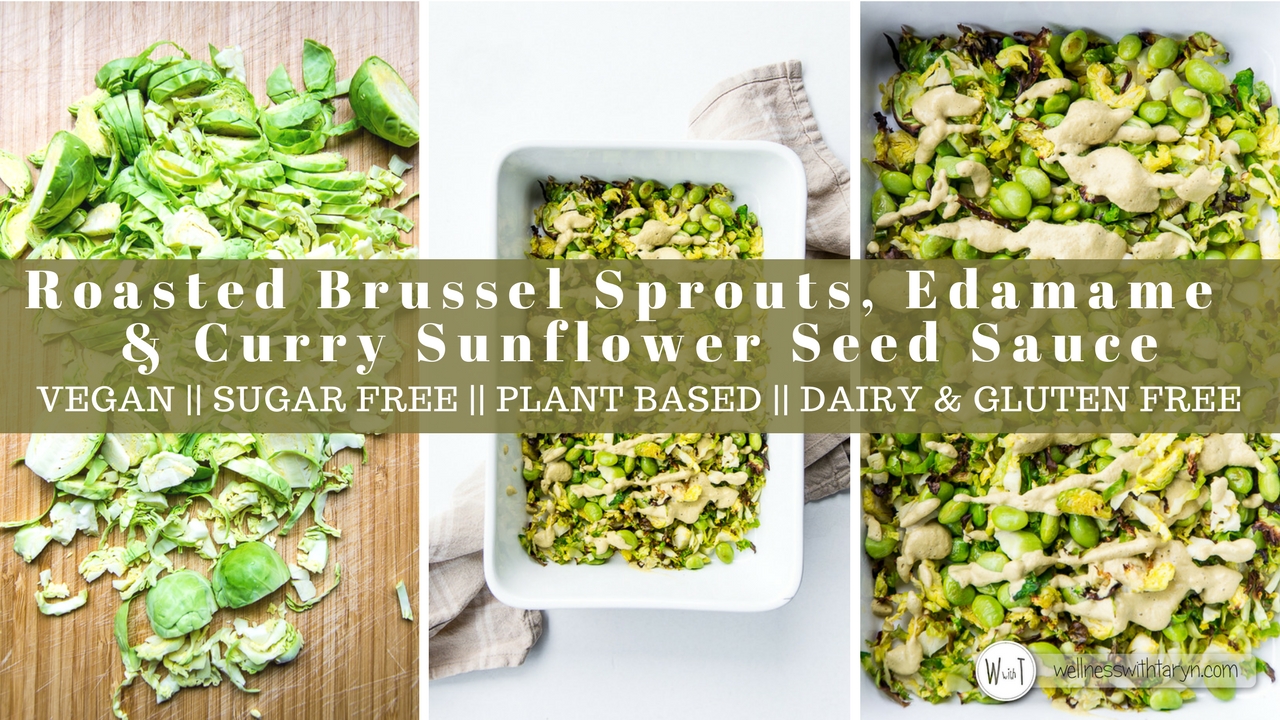 Happy weekend! I'm feeling refreshed, revitalized and inspired after spending yesterday taking care of myself, and spending the morning immersed in nature.
This week on the blog, I want to share with you a bit of a different recipe, yet still keeping it simple, nutritious and delicious. This Roasted Brussel Sprout, Edamame and Curry Sunflower Seed dish may have an array of unusual flavors, but I found it quite tasty!
Not only is it loaded with great nutrition, it's a perfect dish for those with nut allergies/intolerance's, yet who are also staying away from dairy. The creamy sauce could just change your life. Could sunflower seeds be becoming the new basis for vegan creamy sauces? With their beautiful ability to blend beautifully into a creamy smooth consistency, and add that subtle sunflower seed flavor, I could just be hooked!
A Break from Routine
I took the day yesterday, where normally I'd be recipe creating/blogging/editing, I took the day to spend a bit of time with myself. To ground, to unwind and to re-connect. I find that it's so easy to get caught up in routine, that breaking that routine ever now and then can be so refreshing. Don't get me wrong though, I find routine so important – especially for managing sugar levels, but sometimes a break from the regular is well deserved. So I hopped on my bike and went for a long ride up the valley, and it was so divine! Being in nature is so healing, and it is such a great way to clear the mind.
I paused for a moment on the side of a hill, set my bike aside and found a nearby bench. I took this time to close my eyes, take a couple of deep breaths through my nose, and focused on the sounds around me. I opened my eyes and glanced around at the beauty that surrounded me. How did I managed to be so fortunate to end up in such a beautiful place? A place where I feel calm and stress free. A place where life feels so good. A place that has become home.
Gratitude enveloped every single cell and I felt the waves of appreciation flow through my body. Do you know what I mean? That feeling where you're just so damn happy and grateful, you can truly feel it lighting up your insides. Call me crazy if you don't but this magical feeling, I believe, has such great power and I try so hard not to forget that.
Floating back down to earth from that high, we'll settle on this simple nourishing recipe. I wanted to create a side dish/lunch option, that was quick, easy and nutritious. Focusing on gut and skin health, this recipe is loaded with prebiotics as well as loads of Vitamin E to keep your skin glowing.
Prebiotic foods selectively stimulate the growth of the beneficial bacteria already inhabiting the gut and brussel sprouts are a great example. Sunflower seeds contain Vitamin E which help neutralize free radicals, in addition to essential fatty acid lipids that help keep skin hydrated and free from sun and pollution damage.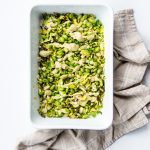 Roasted Brussel Sprouts, Edamame & Curry Sunflower Seed Sauce
A quick, easy nutritious side dish or lunch option. Perfect for vegans and those with nut allergies. Loaded with different flavors, great nutrition, and simply delicious.
Cuisine:
Vegan, Vegetarian
Ingredients
10-15

Burssel Sprouts

- for two people

1/2

Tsp

Sea Salt

2

Tsp

Extra Virgin Cold Pressed Olive Oil

3/4

Cup

Shelled Edamame Beans

- add 1 cup if serving more than one

Coconut oil

- for sauteing edamame
Curry Sunflower Seed Sauce
1/2

Cup

Shelled Sunflower Seeds

- left to soak over night

3

Tsp

Organic Tamari Sauce

1/2

Tsp

Turmeric

- Dried

1/2

Tsp

Curry Powder

1/2

Tsp

Paprika

1/2

Tsp

Coriander

- Dried

1/2

Cup

Boiling Water

- add gradually
Instructions
Brussel Sprouts
Pre-heat the oven to 200C (fan forced)

Chop off the hard ends of each sprout, and peel away the first couple of layers. Rinse well.

Slice in half length ways 'vertically'. Place each side flat side down and thinly slice width ways 'horizontal' Refer to photo if you're confused.

Place all thinly sliced sprouts into a big mixing bowl, and add the salt and olive oil. Mix thoroughly.




On a flat baking tray lined with baking paper, evenly lay the sliced sprouts to ensure even cooking. Once the oven is at temperature, add the tray and roast for 10 mins, until golden brown. Stir every 2 mins or so, to ensure even cooking and avoid them from becoming soggy.

Remove from oven when all are golden brown.
Edamame Beans
Saute the beans on a medium heat for about 5-8 mins until cooked through, in a little organic coconut oil.
Curry Sunflower Seed Sauce
Ensure the sunflower seeds have soaked in water overnight. Drain and rinse well.

Add all ingredients, except the water into your blender/nutribullet. Gradually add the boiling water, until you've reached a smooth creamy consistency.
Assembly
Evenly lay the sprouts on a serving dish, and scatted the edamame throughout. Lightly drizzle the sauce over using a teaspoon. Serve and enjoy
Recipe Notes
Use Organic wherever possible
Sunflower Seeds require overnight soaking in water
Hope you enjoyed this recipe, and be sure to tag @wellnesswithtaryn with your recreations.