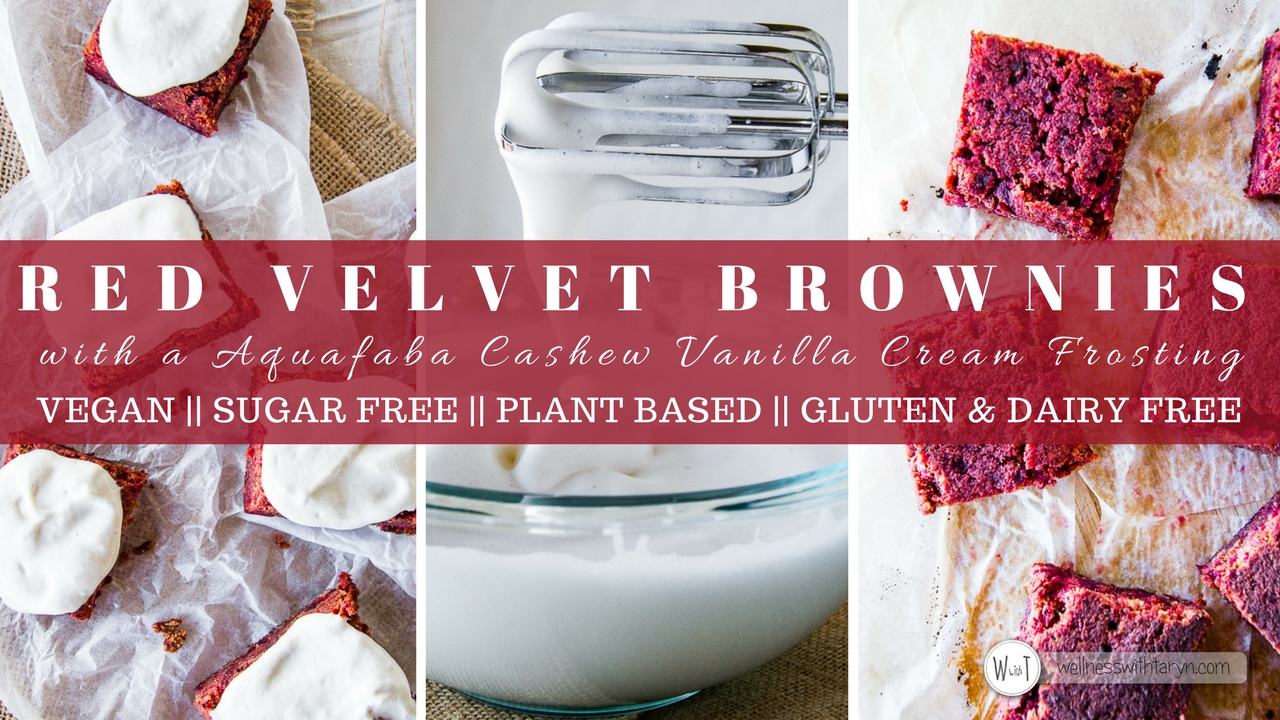 I've been wanting to make a Red Velvet Beetroot recipe on the blog for ages. Being not too sure if I wanted to experiment with either cupcakes or brownies, I settled on the latter. Brownies are a good size for a treat, and a little can go a long way. And so, these Red Velvet Beetroot Brownies were created.
Crumbly yet gooey at the same time – what perfect balance. The intoxicating red hue from the crimson beetroot is captivating to say the least. It beckons an elegance that I was eager to experiment with and share.
At times, I will revel at how remarkably exciting the plant based world of nutrition is, and how many insanely delicious recipes are out there that make this way of living that much better!
Wholesome, nourishing nutrition that merges with impeccable flavor and earthy tones. These Red Velvet Beetroot Brownies are just that, and so much more. Subtly sweet and the texture …. just perfect!
Now, let me tell you about the aquafaba cashew vanilla cream frosting. Where do I begin? Soft, light and fluffy. A hint of vanilla that elevates through the subtle and elegantly sweet undertones.
Together, the brownie and frosting are a match made in heaven. I reached this fluffy consistency by folding aquafaba through the vanilla cashew cream, keeping it airy and light. The perfect compliment to the more dense brownie base.
What is aquafaba, you ask?
It's kind of like the vegan alternative to whipped egg whites and it's made by whisking up the liquid inside a can of chickpeas.
Who would have ever thought you could use that liquid, that's almost always tossed down the drain, to add a decadently light and airy texture to a vegan cream frosting.
Beetroots are an amazing root vegetable. Incredibly intricately designed to fuel our bodies along with a list of benefits.
Nutritional Benefits of Beetroot
Lower Your Blood Pressure – Drinking beet juice may help to lower blood pressure in a matter of hours. One study found that drinking one glass of beet juice lowered systolic blood pressure by an average of 4-5 points. The benefit likely comes from the naturally occurring nitrates in beets, which are converted into nitric oxide in your body. Nitric oxide, in turn, helps to relax and dilate your blood vessels, improving blood flow and lowering blood pressure.
Boost Your Stamina – If you need a boost to make it through your next workout, beet juice may again prove valuable. Those who drank beet juice prior to exercise were able to exercise for up to 16 percent longer. The benefit is thought to also be related to nitrates turning into nitric oxide, which may reduce the oxygen cost of low-intensity exercise as well as enhance tolerance to high-intensity exercise.
Fight Inflammation – Beets are a unique source of betaine, a nutrient that helps protects cells, proteins, and enzymes from environmental stress. It's also known to help fight inflammation, protect internal organs, improve vascular risk factors, enhance performance, and likely help prevent numerous chronic diseases.
Anti-Cancer Properties – The powerful phytonutrients that give beets their deep crimson color may help to ward off cancer. Research has shown that beetroot extract reduced multi-organ tumor formations in various animal models when administered in drinking water, for instance, while beetroot extract is also being studied for use in treating human pancreatic, breast, and prostate cancers.
Rich in Valuable Nutrients and Fiber – Beets are high in immune-boosting vitamin C, fiber, and essential minerals like potassium (essential for healthy nerve and muscle function) and manganese (which is good for your bones, liver, kidneys, and pancreas). Beets also contain the B vitamin folate, which helps reduce the risk of birth defects.
Detoxification Support – The betalin pigments in beets support your body's Phase 2 detoxification process, which is when broken down toxins are bound to other molecules so they can be excreted from your body. Traditionally, beets are valued for their support in detoxification and helping to purify your blood and your liver. Source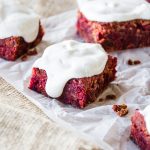 Red Velvet Brownies with a Aquafaba Vanilla Cashew Cream Frosting
A decadently healthy treat that has both dense and light textures. Wonderfully balanced with earthy sweet tones. A treat full of amazing nutritional benefits and well as heaps of flavor. Refined Sugar, Gluten and Dairy Free as well as 100% Vegan.
Course:
Dessert, Side Dish, Snack
Cuisine:
Dairy Free, Gluten Free, Refined Sugar Free, Treat, Vegan, Vegetarian
Ingredients
Red Velvet Brownies
3/4

Cup

Pitted Dates

- to be soaked in boiling water

1/2

Cup

Boiling Water

- for the dates to soak in

2

Medium

Beetroots (240g)

- Peeled, diced and blitzed in food processor

1

TBS

Chia Seeds

- left to swell in 3 TBS boiling water

1 1/2

Cup

Almond Meal

- ground almonds

1/3

Cup

Coconut Flour

1

Tsp

Baking Powder

1

TBS

Psyllium Husk

1/3

Cup

Coconut Sugar

2

TBS

Organic Cold Pressed Coconut Oil

- melted

pinch of salt
Vanilla Cashew Cream Frosting
1

Cup

Cashews

- soaked in water over night - rinsed and drained

1

Tsp

Vanilla Extract

1

Tsp

Lemon Juice

- freshly squeezed

1

TBS

Rice Malt Syrup/Maple Syrup

1/4

Cup

Organic Cold Pressed Coconut Oil

- melted

1/4

Cup

Coconut Milk

pinch of salt
Aquafaba
90

mls

Liquid from a can of Chickpeas

- 1/2 the liquid in the can

1

TBS

Rice Malt Syrup/Maple Syrup

1

Tsp

Vanilla Extract
Instructions
Red Velvet Brownies
Add the Chia seeds and water to a small bowl and leave aside to swell

Pre-heat the oven to 200C fan forced

Add the dates and boiling water to a small sauce pot on the stove. Bring to the boil and reduce to simmer. Eventually the dates will soften down and a paste will form. Continue to stir until paste has formed.

Add the melted 2 TBS of Coconut Oil to the sauce pot and stir until all combined

Peel, dice and blitz the beetroot in a food processor. Add to a large mixing bowl with the remaining dry ingredients. Mix thoroughly until all combined.

Add the date paste along with the soaked chia seeds to the large mixing bowl, and mix all the ingredients well.

Line a deep baking dish with baking paper. Transfer the brownie mixture to the dish and press down firmly with a silicone spatula, back of a tablespoon or your hands (careful because beetroot stains)

Poke a few spots around the dish with a fork to ensure even cooking.

Place into the oven and bake for 17-20mins until cooked through.

Once cooked through, remove from oven and allow to cool before slicing into squares. Be careful as it's a delicate consistency.
Vanilla Cashew Cream Frosting
Add all ingredients into a nutribullet or blender and blend until smooth. You can add less coconut milk if you're wanting a thicker frosting.
Aquafaba
Place the Aquafaba chickpea liquid into a medium mixing bowl. Using an electric beater, beat the liquid until thick fluffy white 'clouds' form. Similar to that of egg whites.

When white and fluffy, add 1 TBS Rice Malt Syrup/Maple Syrup and 1 Tsp Vanilla Extract and beat for a couple more seconds to mix through.
Aquafaba Vanilla Cashew Cream Frosting
Gently fold through the Aquafaba (approx 1/2 cup) into the Vanilla Cashew Cream Frosting until fully combined, light and fluffy.

Ideally you'll want to transfer into a plastic/piping bag, remove all air and place into the fridge/freezer for a few minutes to cool and slightly harden.




When you're ready you can pipe the frosting over the brownies however which way you please.

This Aquafaba can be made to further lighten the frosting, however not 100% necessary and can be left out.
Recipe Notes
Use Organic wherever possible - This recipe requires cashew nuts to be soaked over-night - Aquafaba can be made to further lighten the frosting, however not 100% necessary