I am a great chickpea (AKA Garbanzos) fan, as most vegan's and vegetarians are. From chickpea flour, to chickpea sprouts, these little gems are so versatile in the kitchen and are loaded with some mad nutritional goodness. This Falafel Salad is a great choice for a light summers lunch or dinner. You can have the falafel balls warm or cold, totally up to you. A quick and easy nutritious salad option.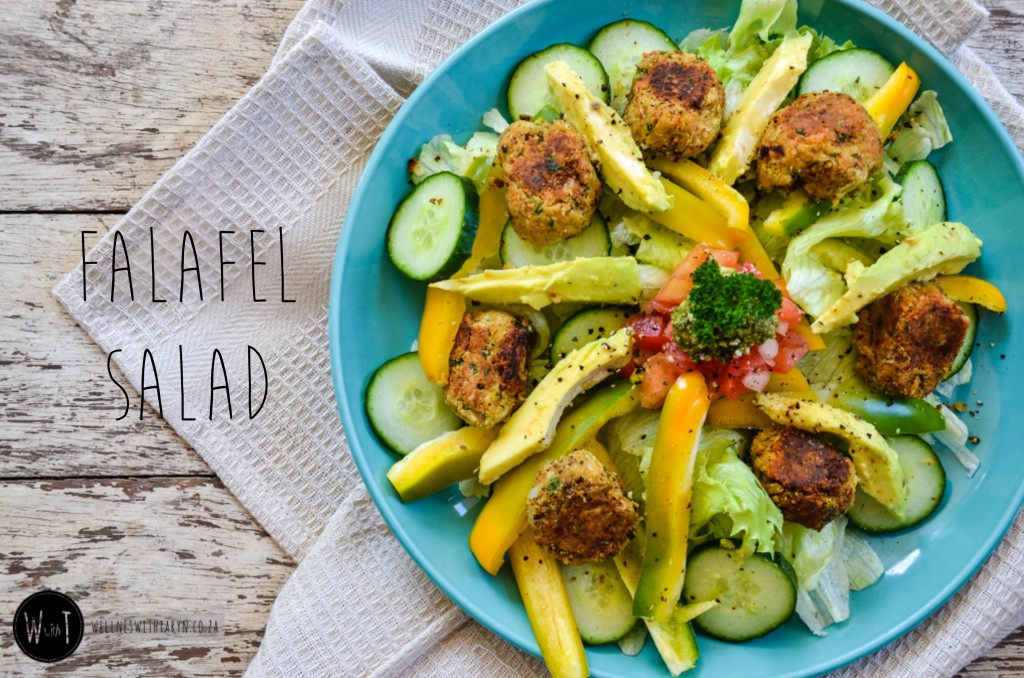 So why do so many of us plant based enthusiasts love chickpeas? Well, here's a few reasons why:
Fiber Advantage and Weight Loss: Like other beans, Chickpeas, are rich in both soluble and insoluble dietary fiber. Soluble fiber forms a gel-like substance in the digestive tract that snares bile (which contains cholesterol) and ferries it out of the body.
Protein for Vegetarians: Chickpeas are a good source of protein. Combined with a whole grain such as whole-wheat protein, they provide amount of protein comparable to that of meat or dairy foods without the high calories or saturated fats.
Manganese for Energy Production: Garbanzos are an excellent source of the trace mineral manganese, which is an essential cofactor in a number of enzymes important in energy production and antioxidant defenses.
Iron Boost: Garbanzos can boost your energy because of their high iron content. This is particularly important for menstruating women, pregnant or lactating women and growing children. Iron is an integral component of hemoglobin, which transports oxygen from the lungs to all body cells, and is part of key enzyme systems for energy production and metabolism.
Stabilizing Blood Sugar and Low Glycaemic Index (GI): Soluble fiber helps stabilize blood sugar levels. If you have insulin resistance, hypoglycemia or diabetes, beans like garbanzos can help you balance blood sugar levels while providing steady, slow-burning energy. They have low GI value of 28 – 32 means the carbohydrate in them is broken down and digested slowly. This is helpful for weight loss as it controls appetite.
Heart Healthy: Regular intake of Chickpeas can lower LDL (bad) and total cholesterol. Garbanzos contain the significant amounts of folate and magnesium. Folate lowers the levels of the amino acid, homocysteine and strengthens the blood vessels.
For Women: Garbanzo contain phytochemicals called saponins, which can act as antioxidants. It could lower the risk of breast cancer, protect against osteoporosis and minimizes hot flushes in post-menopausal women.
Weight Loss: Due to high fiber content and low GI, chickpeas are excellent for weight loss diets. Salad with chickpeas are tasty and can keep you full longer, controlling the appetite.
When I make falafel balls, I tend to make a huge batch and keep them in the fringe for up to 3 days. They're great for salads, falafel wraps, or just as a snack. I've tasted some pretty amazing falafels in my time, and here in Nelson, New Zealand, they sell premade falafel mixture, so all you need to do is make the balls or patties and cook them. So lovely, but I do like my homemade ones. For convenience though I have opted for the pre-made mix. Naughty naughty! 🙂
You can also make these balls into patties, and serve in between two giant mushrooms, for a falafel bun-less burger (Hmmm…next blog post idea??)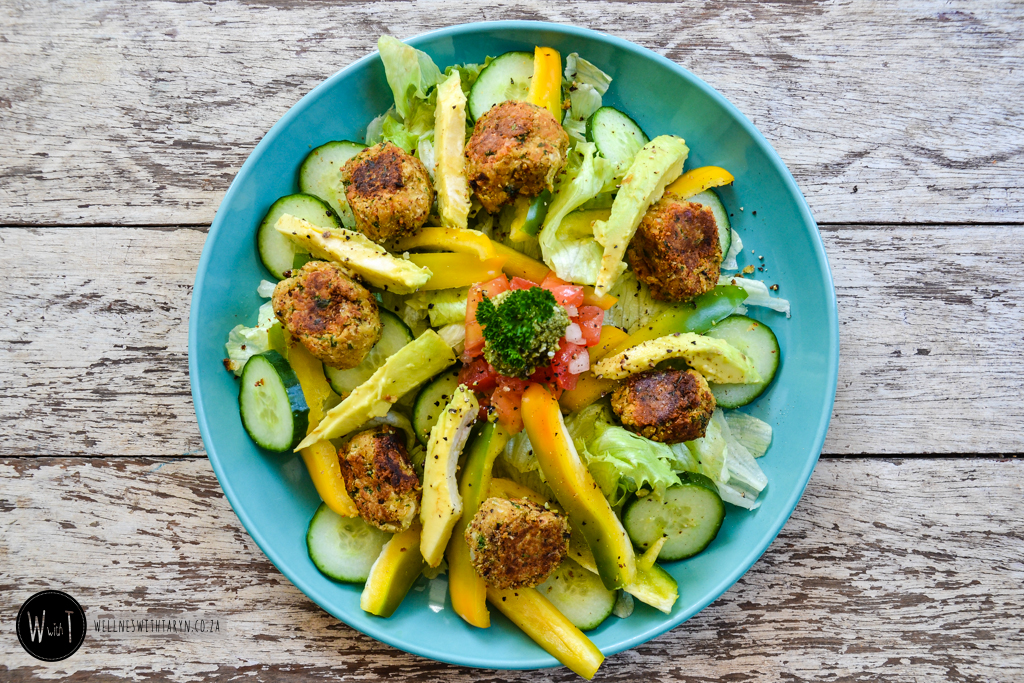 It's quick and only uses a handful of ingredients, and is truly yummy!
Ingredients:
Falafel
1 can of Chickpeas (organic if possible, drained and rinsed)
1 Red Onion
2-3 Cloves of Garlic (finely chopped or minced)
2 TBS Tahini
1 TBS Fresh Lemon Juice
1 Tsp Ground Cumin
1 Tsp Ground Corriander
3 TBS Chopped Fresh Parsley
1/4 Tsp Pink Himalayan Salt
1/4 Tsp Ground Black Pepper
1-2 TBS Chickpea Flour (or any other Gluten-free flour)
Coconut Oil for Frying
Salad
Lettuce
Cucumber
Avocado
Yellow Pepper
Tomato and Onion (Diced)
Basil Pesto (See recipe here: Basil Pesto)
Fresh Lemon
Black Pepper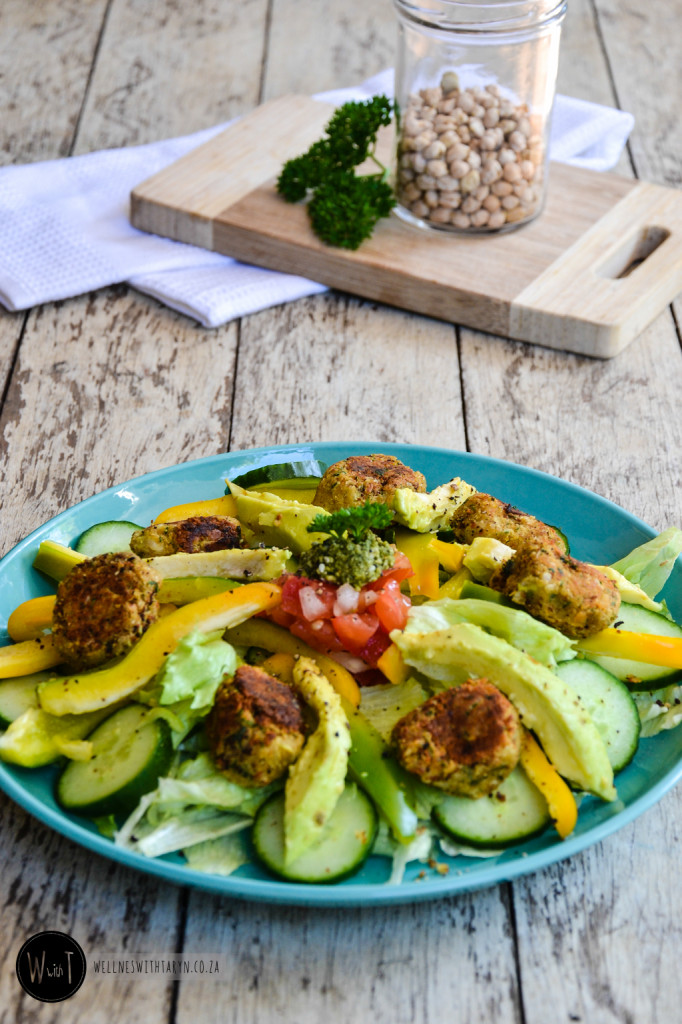 Recipe:
Using a food processor, add the chickpeas, onion, garlic, tahini, spices, parsley, lemon juice and flour.
Process until the mixture is finely ground, stopping to scrape the sides of the bowl every 30 seconds.
You want the mixture to be firm enough to make a ball. If it's a bit dry, add more lemon juice, and if it's a bit wet, add a bit more flour. Once you're happy with the consistency, you can begin to make the balls.
I find it easier to make the balls if you begin with rubbing some coconut oil onto your hands first. This helps the mixture to stay together, and not stick to your palms and fingers.
So roll the mixture into balls, the size really depends on how big you'd like them. Just try to ensure they're all a similar size so that they cook evenly.
Once you've made the balls, allow them to chill in the fridge for about an hour.
To cook them, warm up a pan with about 2-3 teaspoons of coconut oil. Once the oil is hot, slowly add the balls. Cook evenly all round, and serve either warm or chilled.
Place on a bed of lettuce with cucumber, avocado and yellow peppers. Garnish with diced tomato and onion, and a dollop of basil pesto.
Squeeze half a fresh lemon over the entire salad, grind some black pepper and enjoy!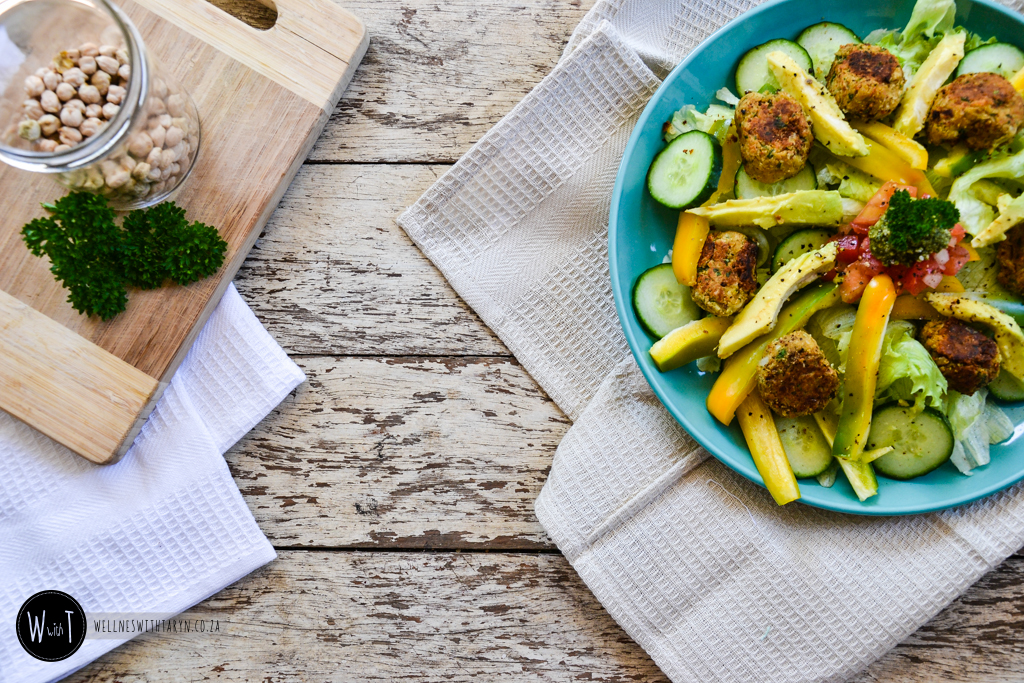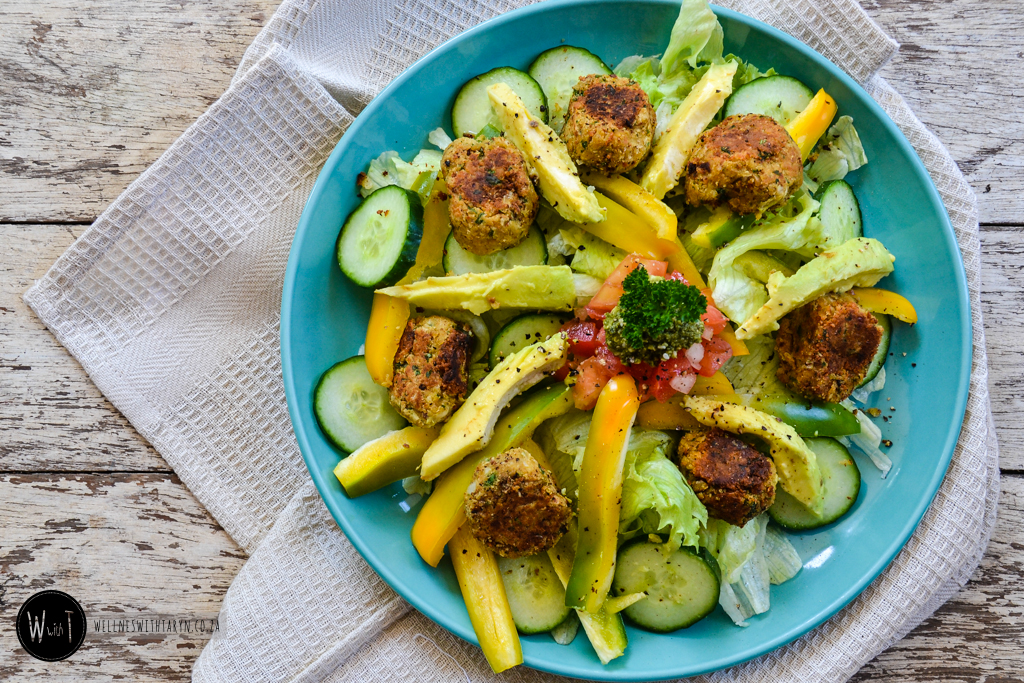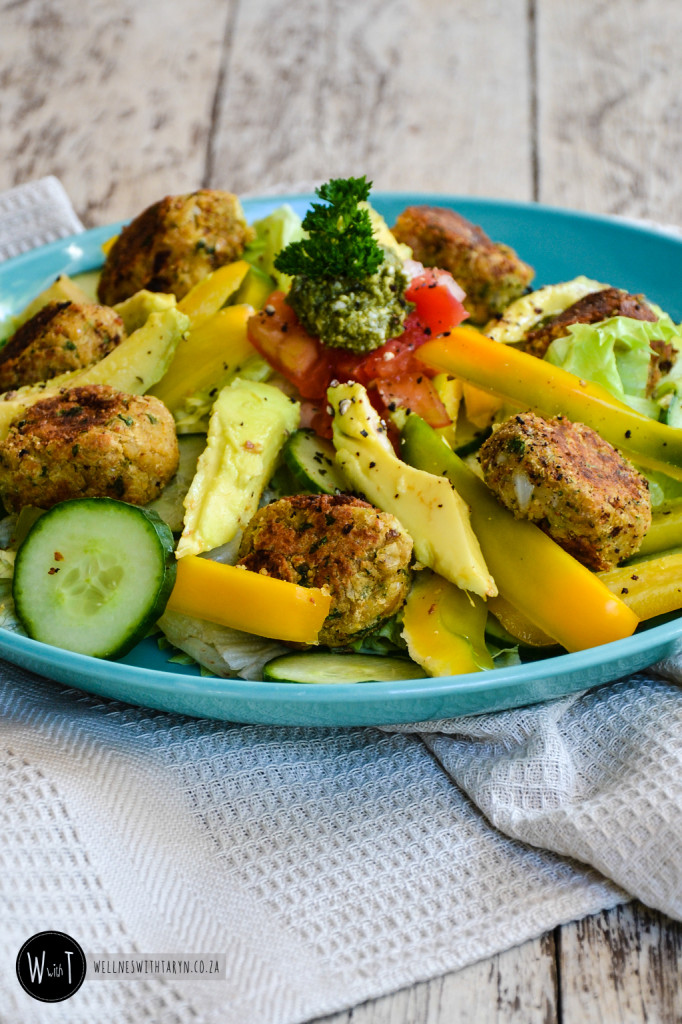 Healthy, nutritious and perfect for the whole family!
Let me know what you think by leaving a comment below: