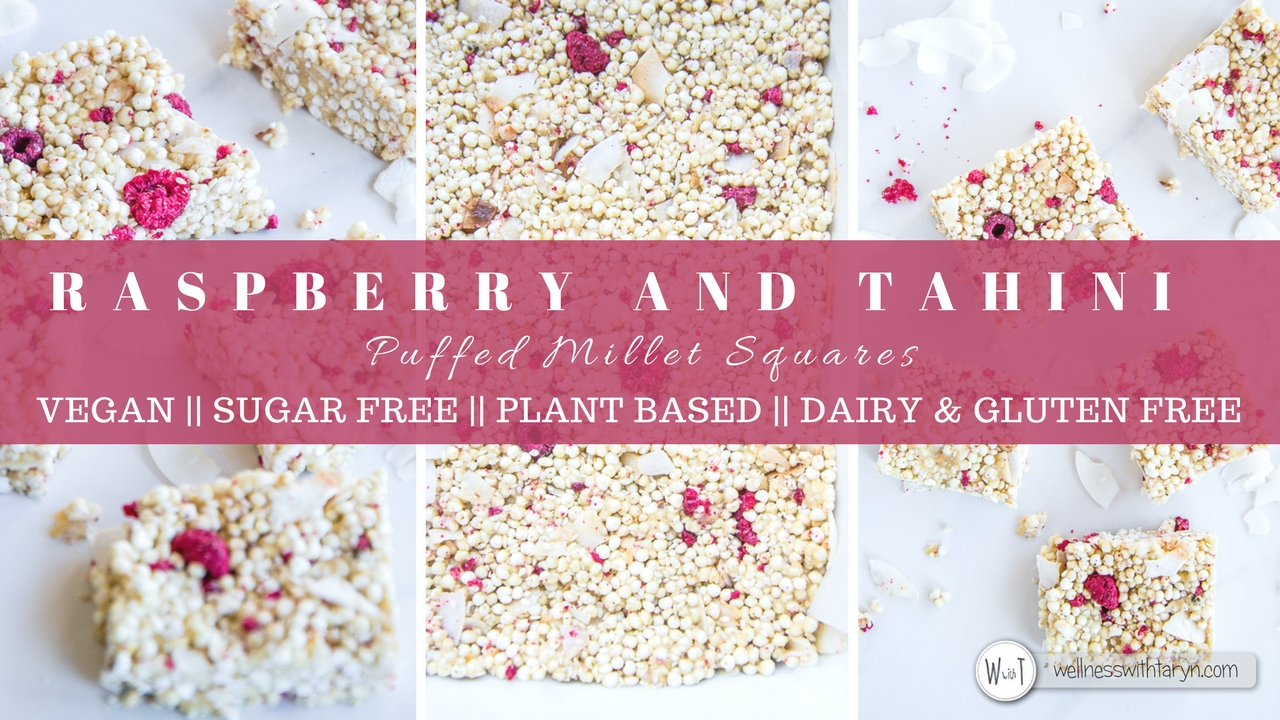 The thing with healthy eating is to be prepared. One way to be prepared is having loads of snacks and healthy treats available to avoid yourself from caving in to unhealthy temptations. That's why I like to always have 'ready made' snacks and treats on hand, to curb those cravings and satisfy them with a healthy alternative that, at the same time, is nourishing my body.
These Raspberry and Tahini Puffed Millet Squares are such a quick snack/treat option that literally are made in one bowl, popped into the freezer overnight to set and that's it! Slice them into squares once frozen, pop them into a lunchbox, and you have yourself a healthy treat or snack to satisfy any lurking cravings or hunger pangs.
Last weekend Nick and I went for such a beautiful walk along the Pupu Hydro walkway in Takaka. It was seriously such a stunning (albeit challenging in the beginning) walk and sits quite high up on my list of favorite walks in New Zealand. If you do happen to be in the area, I'd highly recommend it.
The reason I'm telling you this is because I went a little unprepared, and didn't bring any healthy snacks. I ended up getting a homemade raw energy bar from an awesome local cafe, which was incredible, but the point I want to make is that I didn't plan correctly. It may have been a bit of an indulgent choice with a slightly higher price tag, and making my own homemade batch would have been much better in the long run, but I am human, and unfortunately am unprepared at times.
When it comes to sweet treats, there's nothing better than indulging in a delicious creation of your own, that allows you to rest assured your putting nothing but goodness into your body. It's such an empowering feeling that boosts my over-all happiness and respect for my body.
These bars are really so quick to throw together and are great to have on hand. Kept in the freezer, they'll last a wee while – if you can keep your hands off of them. The tartness of the freeze-dried raspberry shines through, and the earthy tahini and crunchy puffed millet brings adds balance to the mix.
The toasted coconut flakes have to be my favorite addition to the recipe that tie all the flavors together perfectly. They are refined sugar, gluten and dairy free as well as also 100% vegan. Yum!
This recipe was actually inspired by these amazing Sesame Rose and Millet Bars by the gorgeous Amy Chaplin. Her blog is so incredibly inspiring and the photography is just so beautiful. Best you follow her more plant-based inspiring goodness.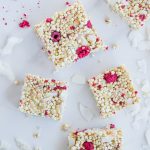 Raspberry and Tahini Puffed Millet Squares
A delicious healthy treat recipe, that's so quick and easy. Made in one bowl in a couple of minutes and left in the freezer to set overnight. These squares are flavorful as well as gluten/sugar/dairy free and 100% vegan!
Cuisine:
Dairy Free, Refined Sugar Free, Treat, Vegan, Vegetarian
Ingredients
2

Cups

Puffed Millet

1/2

Cup

Coconut Flakes

- toasted

2

TBS

Organic Cold Pressed Coconut Oil

- melted

1/4

Cup

Freeze Dried Rasperries

1/4

Cup

Sesame Seeds

1/2

Tsp

Sea Salt

1/2

Cup

Hulled Tahini

3-4

TBS

Organic Rice Malt Syrup
Instructions
Place the two cups of puffed millet into a bix mixing bowl.

Add the coconut flakes, sesame seeds, sea salt. Mix thoroughly.

Add the coconut oil, tahini and rice malt syrup and mix well.

Gently fold in the freeze dried raspberries.

Lay out mixture evenly in a lined baking dish.

Use a piece of baking paper to firmly press the mixture into the dish.

Place into the freezer to set overnight.

Remove from freezer and slice into squares. Store in an airtight container in the freezer for up to 10 days.
Recipe Notes
Always use Organic wherever possible - This recipe does require overnight setting in the freezer.
I hope you enjoyed this post and remember to subscribe for future recipes and inspiration.