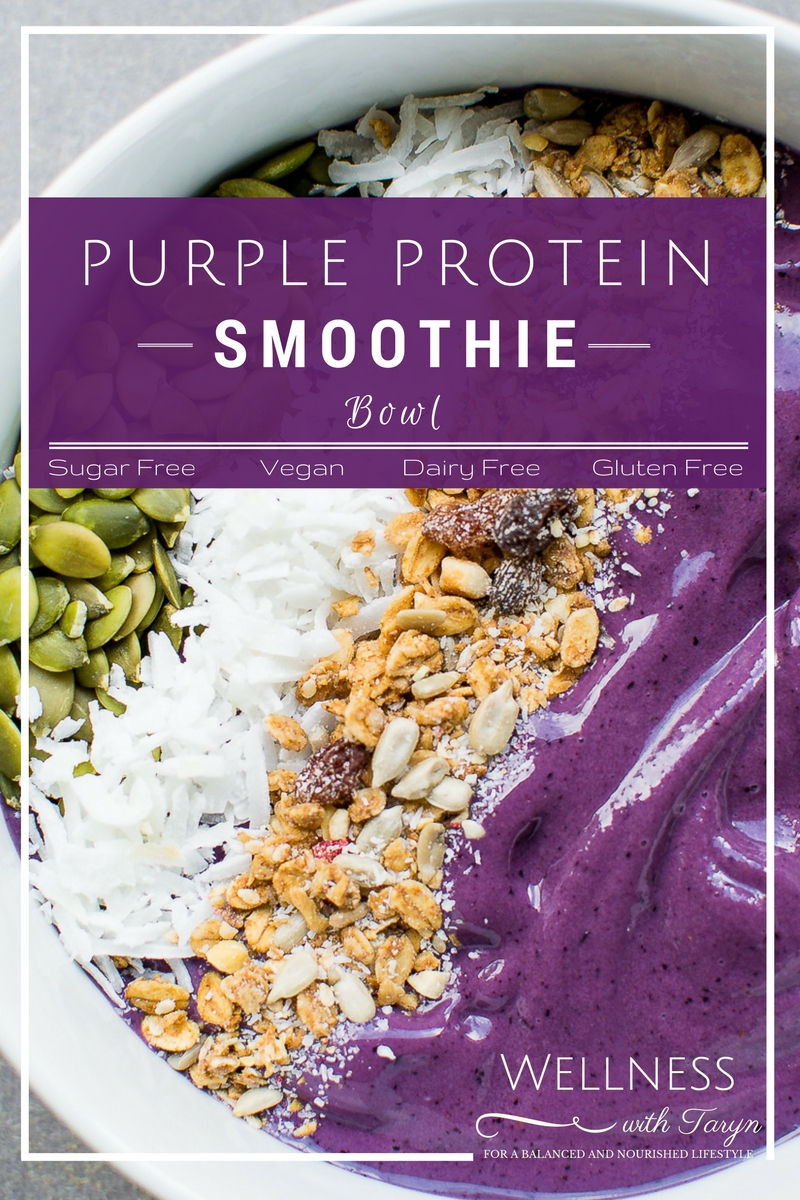 Recently I've been reflecting on this blog, and analyzing how it makes me feel. I absolutely love sharing health and wellness content with my growing community. It inspires me to no end, and I feel such a sense of gratitude that I am able to.
Wellness with Taryn has become such a special part of my life, and there is so much more juicy stuff to come. Today I'd like to share with you this delicious Purple Protein Smoothie Bowl recipe which I'm sure you're going to love!
All the recipes and foods that I create come from a place of love. Love for my body, love for health and love for this earth.
I recently watch the new National Geographic documentary Before the Flood with Leonardo DiCaprio and my heart bled. Not only is if full of terrifying scientific information, but shocking realities of the devastating effect that climate change is having on this planet we all call home.
I felt so sensitive about the fact that some large corporations and governments literally do not give a shit about what their actions are having on this planet, and it makes me sad and angry! This is my home too! And they should be allowed to f*#! it up for the rest of us! Money, I presume is sadly the evil core of this downward spiraling issue!
From fracking to large scale agriculture, this planet is being raped! And the devastating effects are appearing all over, and much sooner than ever expected.
That is why we all need to do our part, and I totally understand if you think "What difference is one little change by me going to make?" But I can assure you it can! And it will!
The number of people that I have influenced with no real efforts on my part, just by them observing my lifestyle, is astounding, and that's just little old me. Once the ripple effect begins, it's only a matter of time before we start to see waves and shifts.
I do believe it is possible, and I can find a little bit of peace in that hope.
Now, on a more positive brighter side, I have created this gorgeous vibrant Purple Protein Smoothie Bowl for you to feast your little soul windows on J
It is incredibly delicious and could most creating pass as a dessert that just so happens to be incredibly good for you! Now who doesn't love a bit of dessert for breakfast once in a while, and with the added bonus of it being completely healthy. And why not jump on the smoothie bowl train that seems to be so on trend at the moment 😉
The protein powder and spirulina really help to boost the protein levels in this smoothie bowl. I like to add a hint of peppermint extract just to elevate the flavor and I find this so refreshing in the mornings when I choose to have this for breakfast. It's super energizing and keeps me going until lunch.
The flavor is divine and the creamy thick ice cream consistency is just so yum! I do hope you enjoy and please #wellnesswithtaryn your creations if you do decide to make any of my recipes because I love seeing them.
Purple Protein Smoothie Bowl
2016-11-04 05:13:40
Serves 1
Quick and easy smoothie bowl recipe that's vibrant and full of flavor. Loaded with a host of nutrients and tons of protein. Perfect for breakfast!
Ingredients
1 Large Banana (Frozen)
1 Scoop Protein Powder (I used the Sunwarrior Vanilla)
1/2 Cup Frozen Blueberries
1/2 Tsp Organic Spirulina
1/4 Cup Organic Coconut Water
1/2 Cup Organic Almond Milk
TOPPINGS
Pumpkin Seeds
Desiccated Coconut
Sugar Free Granola
A couple drops of peppermint extract (Optional)
Instructions
Place all ingredients into the blender, beside the almond milk.
Turn the blender on and slowly add the almond milk, until your desired consistency is reached.
Use less for a thicker smoothie bowl, and more for a thinner smoothie bowl.
Pour into a bowl and add your choice of toppings. Enjoy!
Notes
Always use Organic wherever possible
Wellness with Taryn http://wellnesswithtaryn.com/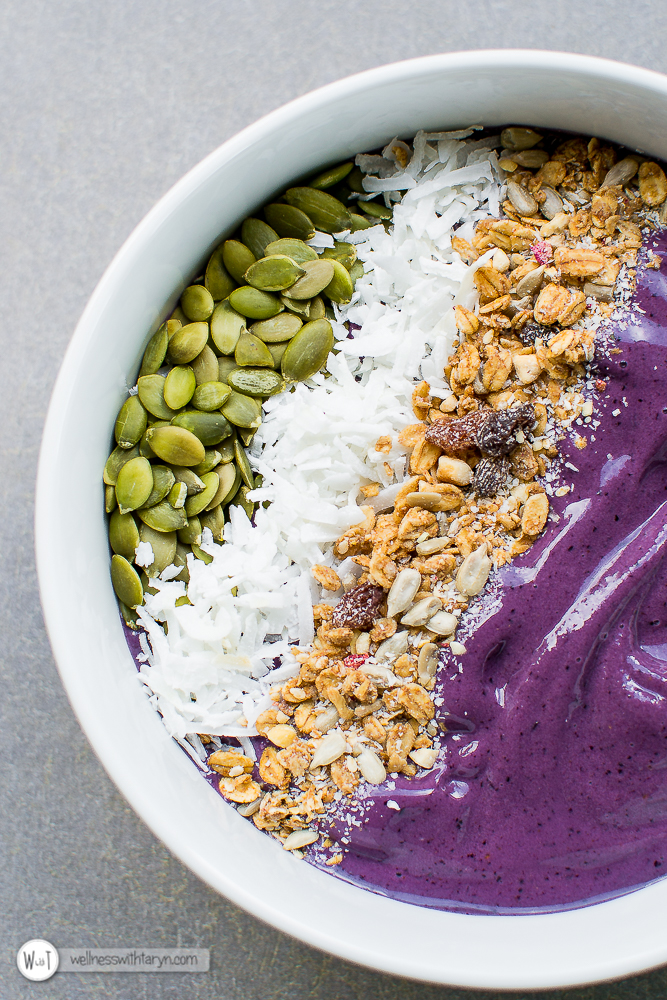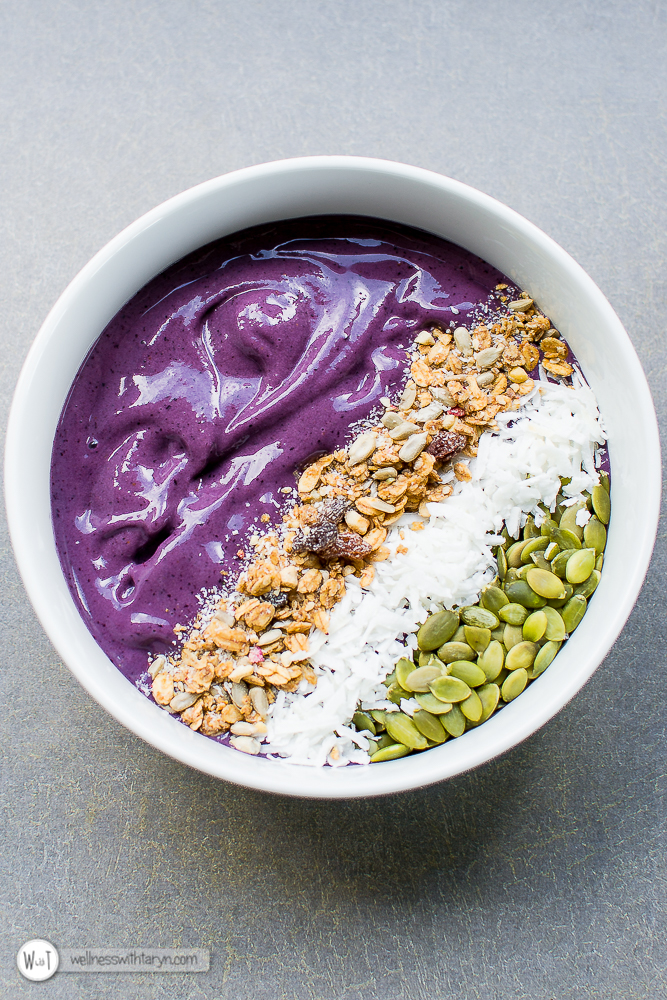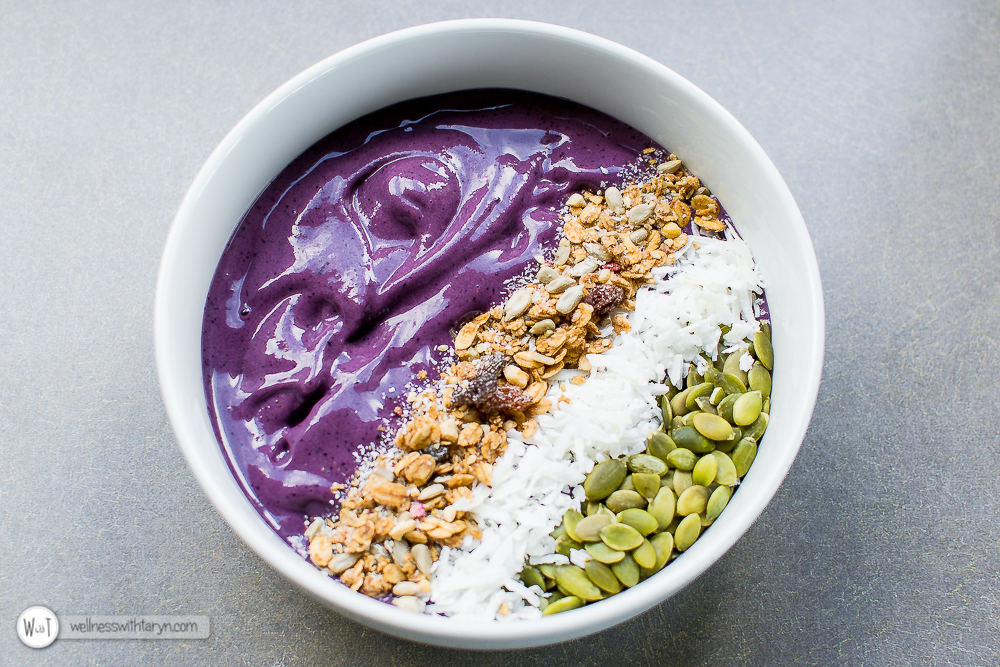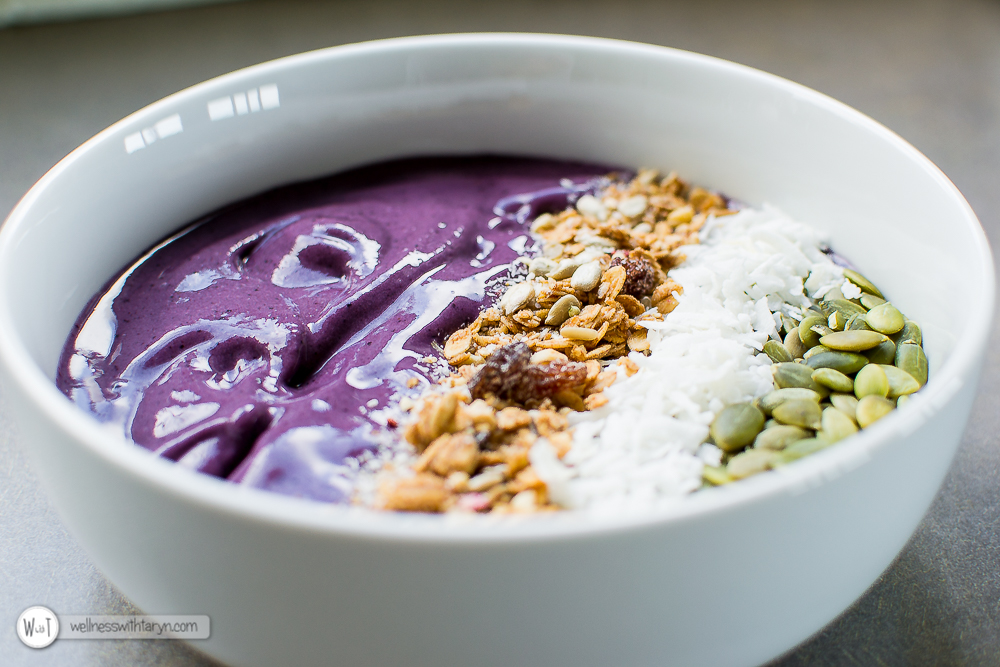 Much love…