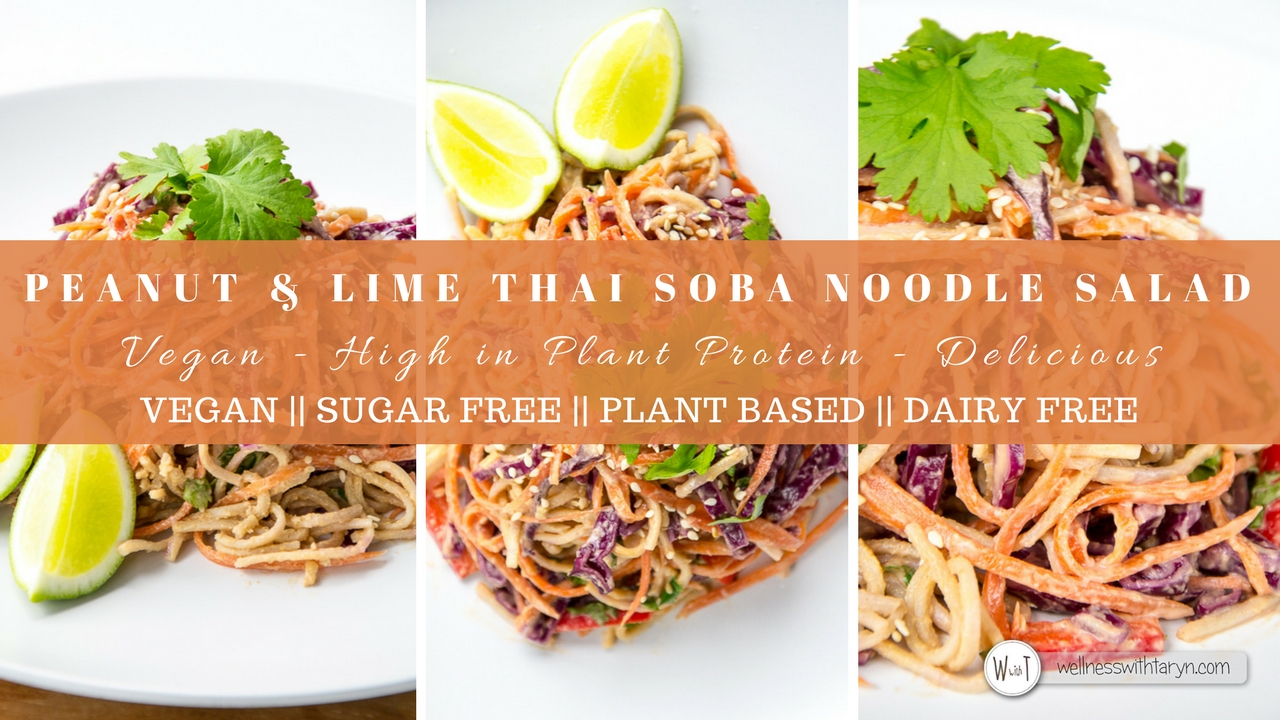 You know that feeling when you make a dish that just is so perfect on all levels? That's what happened with this dish – let me explain. I was browsing and searching for something creative to make for dinner. Something that I could make for Nick and I, and something that was easy and at the same time, delicious!
I stumbled across this Rainbow Thai Noodle Salad with Peanut Lime Dressing recipe from the Little Spice Jar blog. I was looking on here to find a recipe that Nick would enjoy, that I could either substitute the meat/ make it vegan friendly. This recipe caught my eye and I'm SO GLAD it did, because I love how it turned out.
I made some changes here and there ( and may have been a bit heavy handed with the fresh ginger and garlic! Lol! Sorry Nick) and created this Peanut & Lime Thai Soba Noodle Salad version which is 100% plant based vegan!
My recipes aren't usually adapted from other creators, but this one really took my fancy, and I knew I had to create a version that would suit me, and one that Nick wouldn't mind either. Much to my shock, Nick opted for a meat free version which was incredible – however it was a bit too intense in the ginger and garlic department for him, but he enjoyed it nonetheless.
So this bold and colourful dish was created. A dish that screams flavor and plant based protein. A dish that is perfectly rounded – sweet, savory and tart. A perfect dish.
Soba Noodles
What are Soba Noodles you ask? Soba Noodles are thin Japanese noodles made of buckwheat flour (soba-ko) and wheat flour (komugi-ko). They are roughly as thick as Italian spaghetti, and can be prepared in various hot and cold dishes. This brand I used are organic, dairy free, low in sugar and vegan. Although they do have wheat flour (gluten) in them, so I wouldn't eat them everyday. However if you are sensitive to gluten, you could substitute them with 100% buckwheat Soba noodles, gluten free noodles, rice noodles or even chickpea spaghetti.
Why I Love Buckwheat?
While most think that Buckwheat is a cereal grain, it in fact is a fruit seed that is related to rhubarb and sorrel. And, although the name may sound like it does, it is in fact totally unrelated and free from wheat making it 100% gluten free. It is relatively inexpensive and is great to use in baking, and is an essential ingredient in these yummy pancakes. Now, why do I love this nutty little seed so much?
Good for your Cardiovascular System

Diets that contain buckwheat have been linked to lowered risk of developing high cholesterol and high blood pressure. Diets high in buckwheat intake were associated with lower total serum cholesterol, lower low-density lipoprotein cholesterol (LDL, the form linked to cardiovascular disease), and a high ratio of HDL (health-promoting cholesterol) to total cholesterol.
Better Blood Sugar Control The nutrients in buckwheat may contribute to blood sugar control, and may significantly lower blood glucose and insulin responses. Buckwheat and other whole grains are also rich sources of magnesium, a mineral that acts as a co-factor for more than 300 enzymes, including enzymes involved in the body's use of glucose and insulin secretion.

Helps Prevent Gallstones

Eating foods high in insoluble fiber, such as buckwheat, can help women avoid gallstones. Insoluble fiber not only speeds intestinal transit time (how quickly food moves through the intestines), but reduces the secretion of bile acids (excessive amounts contribute to gallstone formation), increases insulin sensitivity and lowers triglycerides (blood fats).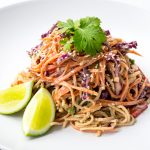 Peanut & Lime Thai Soba Noodle Salad
A delicious Vegan and plant based Thai salad, based on the recipe by Little Spice Jar Food Blog. It is vibrant, zesty and full of flavor! Great room temperature or cold, this recipe is definitely one you need to make ... now!
Course:
Dinner, Lunch, Main Course, Pasta
Cuisine:
Dairy Free, Low Gluten, Plant based, Sugar Free, Thai, Vegan, Vegetarian
Ingredients
Sauce
1/2

Cup

Smooth Peanut Butter

- I used Pics Peanut Butter (The Best)

1/2

Tsp

Fresh Garlic

- Finely Diced

1.5-2

Tsp

Fresh Ginger

- Finely Diced

3

TBS

Tamari

- Organic

3

Tsp

Coconut Sugar

- Organic

1/3

Cup

Lime Juice

3

TBS

Jalepeno/Green Capsicum Sauce

- or any hot sauce/sriracha

1

TBS

Cold Pressed Organic Olive Oil

3

TBS

Hot Water
Salad
1/4

Head

Red Cabbage

- Finely Sliced

2-3

Carrots

- Julienned

1

Large

Red Bell Pepper/Capsicum

- Finely Sliced

1/3

Cup

Fresh Coranider

- Finely Diced

1

Lime

- Cut into Wedges

Sesame Seeds for sprinkling ontop
Noodles
270

g

Organic Soba Noodles

- if you can get 100% buckwheat the better
Instructions
Finely dice the garlic and ginger and place into a mixing bowl

Add the peanut butter, lime juice, hot sauce, tamari, coconut sugar and olive oil and mix thoroughly.

Add the hot water and mix just before serving/combining with the rest of the ingredients.

Bring a pot of water to boil

While the water is heating up, begin to chop up/slice/dice all the veggies and herbs

Once the water is boiling, add the noodles and cook according to instructions on the packet.

Add all the vegetables into a large mixing bowl and squeeze one of the fresh lime wedges over. Mix well with your hands.

Add the hot water to the sauce and stir

Remove the noodles from heat, drain and rinse with cold water. Add them to the vegetables and mix.

Pour over the sauce and mix everything together.

Serve on a plate, alongside a fresh wedge of lime and sprinkled with sesame seeds
Recipe Notes
Use Organic wherever possible - If you can find 100% buckwheat Soba noodles, the better - This dish can be served room temperature or cold
Nick and I are getting so excited for our trip back to South Africa in at the end of October. We can't wait to see our family and friends, and just have a fabulous holiday really! We're pretty much settled here in New Zealand, and are so grateful to be able to live in such a magical part of the world, but we do miss our peeps. It's going to be such fun! I'm dying to swim in the Indian Ocean and can't wait to be sun kissed by the warm South African sun. #cannotwait
We're heading via Singapore, so if anyone has any foodie related suggestions for Singapore – do let me know.
Hope you enjoy this recipe, and as always remember to follow me on my social media platforms – Instagram / Twitter / Facebook
Have you checked out my Finding Vegan gallery or my Foodgawker gallery?