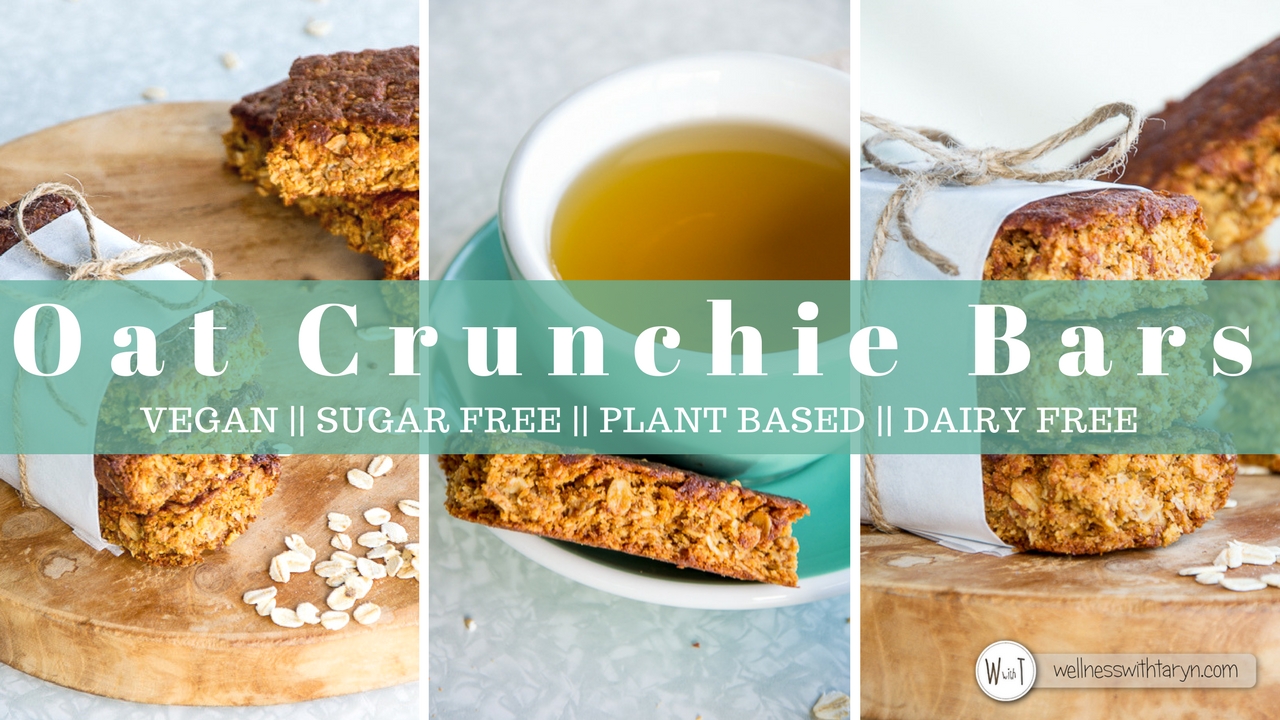 It's Easter weekend and I'm slowly slipping into this well awaited break/4 day weekend. I can't quite believe that we're a third of the way through the year already, but I'm feeling happy with how this year is shaping out. We have an exciting trip back to South Africa planned in October, which I am so happy about. I cannot wait to see my family and friends.
Holiday times can be hard when you're away from your family and friends, and at times like these I like to reminisce in memories, and this Oat Crunchie Bar recipe in particular was inspired by childhood memories I'll never forget.
There are three main recipes I remember my mom always making. Huge batches of crunchy muesli, sweet microwave fudge and traditional South African Crunchies. When we caught wind that my Mum was making crunchies, my brother and I would jump at the chance to nibble on some raw crunchie batter – oaty, syrupy, buttery crunchie mixture. While not so much on the healthy/vegan side, back then it was delicious to us and we'd eager get our grubby paws involved in the mixing bowl.
What makes these Bars so Good?
So with this vivid memory in mind, I aspired to re-create a healthy refined-sugar free version of my mom's crunchie recipe and what a success it turned out to be. Although this recipe does contain a substantial amount of fats (healthy ones), moderation is key. I used rice malt syrup to sweeten, and used this coconut spread which worked so well in the recipe. Any vegan butter substitute will do the trick though.
Think crunchy, subtly sweet, oaty goodness! Ya-hum! The perfect companion to a cup of Rooibos tea, on a relaxing weekend day, leaving you feeling satisfied and nourished. Only plant based goodness, with no nasties. These crunchie bars help to support a balanced well nourished diet, while gratifying any 'treat-cravings'.
Health Benefits of Oats
Oats are such a versatile kitchen staple. Be it in warming morning porridge's, or in recipes like these, there's just so much you can do with them. Now, I know they're not gluten free, but if you can tolerate them with little digestive discomfort, making them a part of your diet is such a good idea as they've got so much goodness in them.
They are full of soluble fiber, which is digested slower than any other grains, allowing a slow, gradual and sustained release of energy. This helps to keep sugar levels stable, without any spikes. Oats also improve immune system defenses, and help to lower bad cholesterol. Oats contain manganese, selenium, phosphorus, fiber, magnesium, and zinc.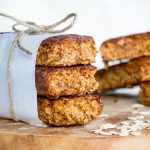 Oat Crunchie Bars
These bars are crunchy and full of oaty goodness. Naturally sweetened, dairy free and packed with good nutrition. The perfect addition to your afternoon tea
Cuisine:
Cookies, Treat, Vegan, Vegetarian
Ingredients
Dry Ingredients
1

Cup

Rolled Oats

- course

1

Cup

Rolled Oats

- fine

1

Cup

Desiccated Coconut

- unbleached

1

Cup

Wholemeal Spelt Flour

1/2

Tsp

Himalayan Rock Salt
Wet Ingredients
175

g

Vegan Butter

1/2

Cup

Coconut Sugar

1/3

Cup

Rice Malt Syrup

1

Tsp

Bicarbonate of Soda
Instructions
Pre-heat the oven to 170C (fan forced)

Mix all the dry ingredients in a large mixing bowl

On a low/medium heat, melt the vegan butter, coconut sugar and rice malt syrup in a small sauce pot.

Once all has melted, using a whisk to mix, remove from the heat and add the 1 Tsp bicarbonate of soda. Mix well. You'll notice a slight bubbling reaction taking place, which is totally normal.

Pour the melted mixture into the bowl of dry ingredients and mix thoroughly

Once all combined, line a deep baking tray (I used a 20cm x 29cm) with baking paper. Spread the mixture evenly in the tray.

Using a separate sheet of baking paper, place on top of the tray, and use your hands to firmly press the mixture tightly together. This helps to get an even, tight spread ensuring even baking.

Once the oven has pre-heated, place the tray and bake for 10 mins.

Rotate the tray and turn the heat down to 140C for a further 5 mins.

Remove from the oven, and using a sharp knife, slice the mixture into bars. Pop back into the oven for a further 3-4 mins.

Remove from oven and lift out the baking paper from the tray. Gently separate each bar and allow to cool fully. It's in the cooling stage do the bars become nice and crunchy.

Store in an airtight container for up to 4 days
Recipe Notes
Always use organic and locally sourced products where ever possible
As always, hope you enjoyed this recipe. Remember to subscribe for future recipes in the column alongside.