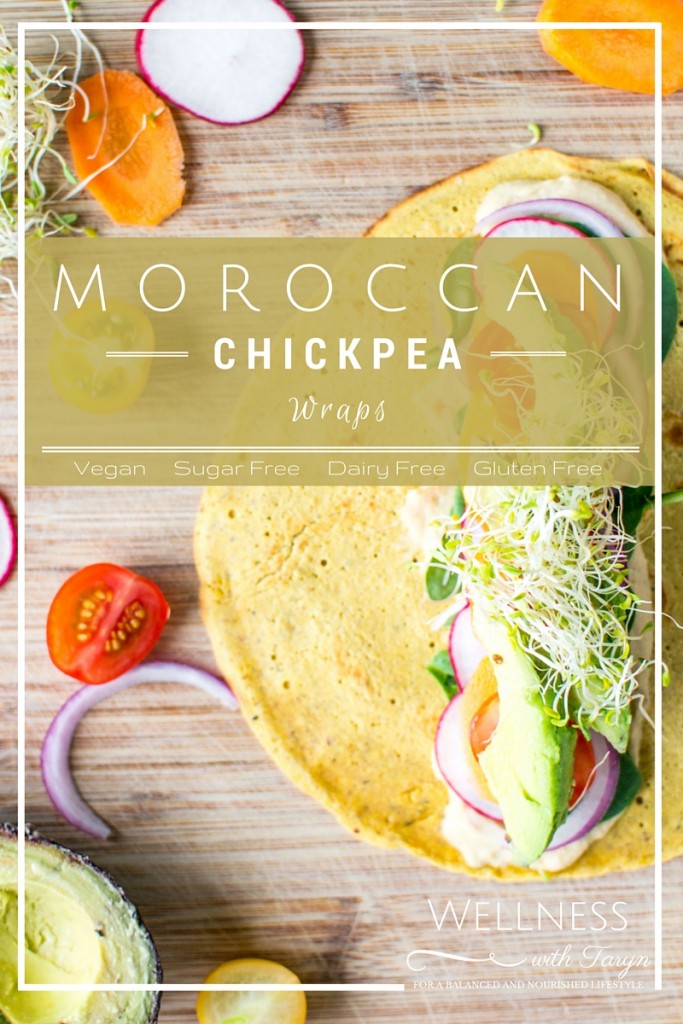 So, my slight obsession with Cajun spice overflows into this post. I had to create something to accompany my delicious Cajun spiced hummus, and that's where this Moroccan Chickpea Wrap recipe was born.
Inspired by the spectacular Kris Carr and the Chickpea Crepe recipe from her mouth-watering Crazy Sexy Kitchen Cookbook (serious food porn for the eyes might I add), this simple chickpea wrap gives the traditional tortilla wrap a run for it's money!
The traditional tortilla wrap is usually made out of highly refined wheat flour, that is generally bleached, and that's actually not so great! Here's why…
Nearly everyone knows that white flour is not healthy for you, but most people don't know that when white flour is bleached, it can actually be FAR worse for you. It's generally understood that refining food destroys nutrients. With the most nutritious part of the grain removed, white flour essentially becomes a form of sugar. Consider what gets lost in the refining process:
Half of the beneficial unsaturated fatty acids

Virtually all of the vitamin E

50% of the calcium

70% of the phosphorus

80% of the iron

98% of the magnesium

Fifty to 80% of the B vitamins
And many more nutrients are destroyed — simply too many to list.
It has been shown that alloxan is a byproduct of the flour bleaching process, the process they use to make flour look so "clean" and — well, white. No, they are technically not adding alloxan to the flour — although you will read this bit of misinformation on the Internet. But, they are doing chemical treatments to the grain that result in the formation of alloxan in the flour. With so little food value already in a piece of white bread, now there is potentially a chemical poison lurking in there as well. So what is so bad about alloxan?
Alloxan is a product of the decomposition of uric acid. It is a poison that is used to produce diabetes in healthy experimental animals (primarily rats and mice), so that researchers can then study diabetes "treatments" in the lab. Alloxan causes diabetes because it spins up enormous amounts of free radicals in pancreatic beta cells, thus destroying them. Beta cells are the primary cell type in areas of your pancreas called islets of Langerhans, and they produce insulin; so if those are destroyed, you get diabetes.
There is no other commercial application for alloxan — it is used exclusively in the medical research industry because it is so highly toxic. Given the raging epidemic of diabetes and other chronic diseases, can you afford to be complacent about a toxin such as this in your bread, even if it is present in small amounts?
So you see why it's so important for you to choose good quality ingredients and foods because there is SO much we don't know but unfortunately are feeling the negative health effects. It's so important to know what you're eating and the effects it has on your body.
Now, back to this vibrant recipe, which is jam packed with goodness, that you and your body will love!!!
These wraps are made slightly thicker than a normal tortilla wrap, and damn! are they so much more tastier, not to mention gluten free which is great for coeliac's and those with gluten sensitivities. They're quick and easy to whip up, and take a couple minutes on each side to cook. They pair well with most fillings, and in this case the salad and Cajun Spiced Hummus.
I've recently been reading about the karmic connection between us and our food, and isn't it so refreshing when you learn to look at things at a different angle. Your whole perspective is shifted and the learning path is huge! I love it! Anyway, here is the recipe and I do hope you enjoy. Remember to comment below if you did 🙂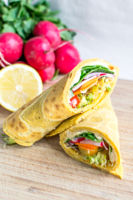 Moroccan Chickpea Wraps
2016-01-28 08:07:55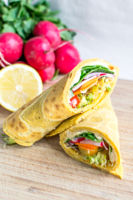 A yummy recipe for the whole family. If you're feeling like something a little different, yet not too adventurous this is the recipe for you. Gluten free and full of goodness!
Ingredients
MOROCCAN CHICKPEA WRAPS
1/2 Cup Chickpea Flour
1 Tsp Morrocan Spice Blend
1 Tsp Ground Flax
1/2 Tsp Garlic Powder
1 Tsp Cold Pressed Extra Virgin Olive Oil
Cold Water (Add 1 TBS at a time)
Salt and Pepper
FILLINGS
Cajun Spiced Hummus - See recipe archives
Baby Spinach
Red Onion
Raw Carrot
Sprouts
Radishes
Baby Tomatoes
Instructions
In a mixing bowl add all the ingredient except for the water.
Slowly add water until you've combined all ingredients into a pancake like batter.
You want the consistency to be runny, but not too thin, so about a medium thickness.
If you accidentally add too much water, you can add more chickpea flour to correct.
In a preheated to medium frying pan, spoon the batter, and pick the pan up and circulate to spread the mixture into a medium thickness circle. It should be slightly thicker than a tortilla.
When the little air bubbles start to show, and the underneath is nicely cooked through, use your skills and flip onto the other side.
The size of each wrap is up to you, obviously the bigger you go the less you'll be able to make, but in that regard just double up on the recipe to make a larger batch.
Notes
Use organic where possible
The ground flax will help bind the ingredients together and make it more flexible, without cracking when trying to wrap up the fillings.
Wellness with Taryn http://wellnesswithtaryn.com/