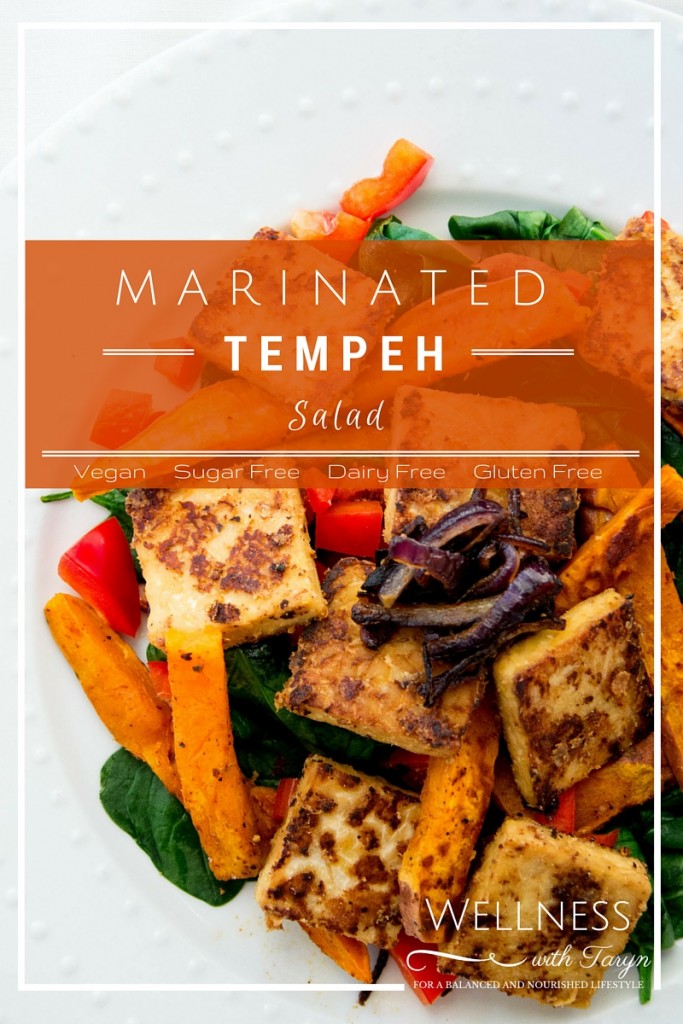 Prior to moving to New Zealand, I had never tasted Tempeh before. I'd heard of it, but never really knew what it was. All I knew was that it was foreign and really hard to come by in KZN, South Africa. Well, to be honest, I hadn't really ever searched for it before, so that previous sentence could possibly be inaccurate. Anyway, upon moving to a new exciting country, came along a lot of exciting new foods, and Tempeh has been one of them.

I love it! It has such an odd flavour, it's quite difficult to describe. Earthy and 'beany' and somewhat of 'peanutty', but it is delicious! I love the firm texture, plus being able to marinate it and amalgamate your own flavors to satisfy your taste, makes it that much better! This recipe is so delicious! that I often have it once a week. I love the versatility of Tempeh, as well as the ease that comes along with it. Versatile, easy and delicious! Doesn't get much better than that!
What is Tempeh?
Tempeh (pronounced TEM-pay) is a traditional soy product originally from Indonesia where it was an ancient delicacy. It is traditionally made by cooking whole soya beans, and adding a rhyzopus culture to them. This culture grows through the beans, binding them together to form a dense cake form, similar to a very firm vegetarian burger patty.
Tempeh's firm texture and earthy mushroom like flavor is so versatile, and can be used in many different ways. From stir fry's to soups to spreads and salads. Like tofu, Tempeh is made from soybeans, but it is a whole soybean product with different nutritional characteristics and textural qualities. Tempeh's fermentation process and its retention of the whole bean, give it a higher content of protein, dietary fiber, and vitamins, which is great news for vegans and vegetarians.
Tempeh has been a favorite food and staple source of protein in Indonesia for several hundred years. It is rapidly growing more and more popular all over the world, as people discover it's delicious health benefits.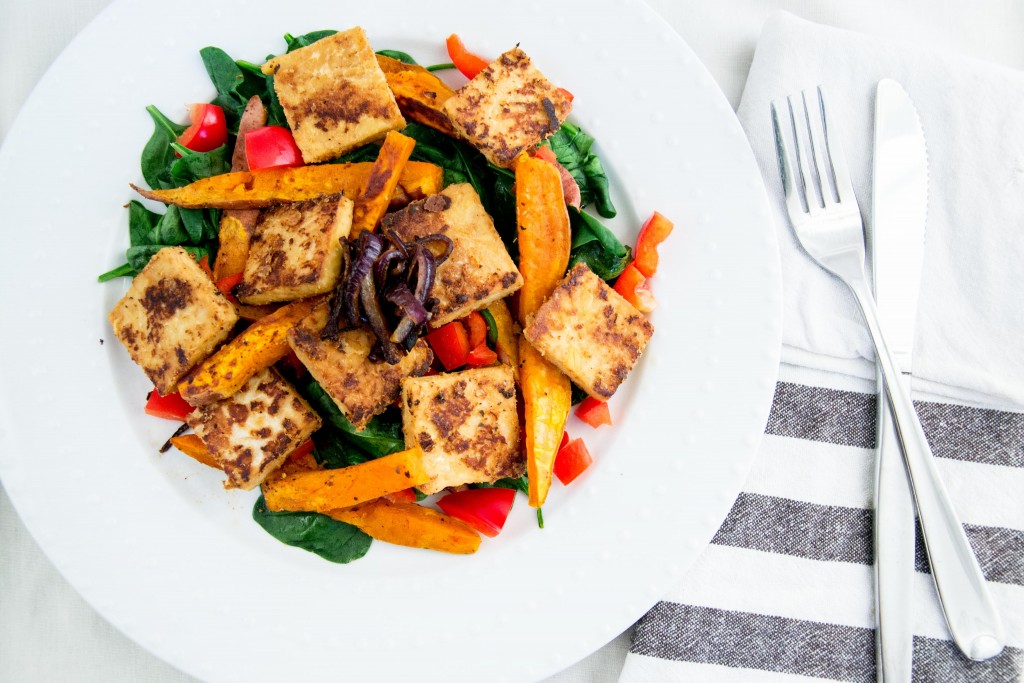 Health Benefits of Tempeh
vegan/vegetarian source of vitamin B12
high in protein
contains all the essential amino acids making it a complete protein
low in saturated fats
no cholesterol
contains many health promoting phytochemicals such as isoflavones and saponins
high in fiber and gains some digestive benefits from the enzymes formed during the fermentation process
I've been using the Tonzu Organic Tempeh which is made by using certified organic whole soya beans and a rhyzopus culture. Being a soy product, it's important to always get organic, as most soy crops are heavily sprayed with nasty chemicals.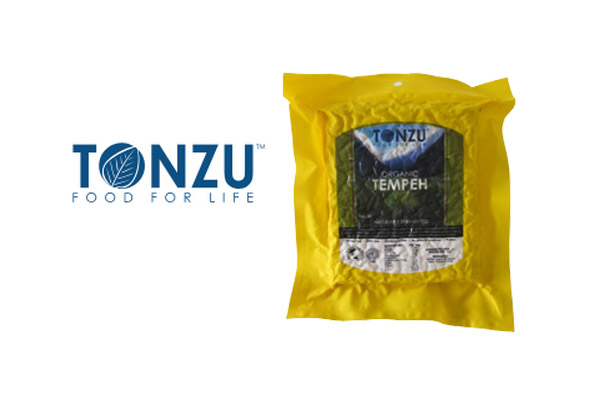 So the recipe is pretty basic, and the marinade is really what makes it. Once lightly pan fried, the crispy outside holds the most tastiest flavor, and combined with the flavor of the Tempeh, it's just magic! Lol, it's pretty darn good!
Let me know what you think if you try the recipe, by commenting below and sharing it on social media by #wellnesswithtaryn. I'd love to see your creations!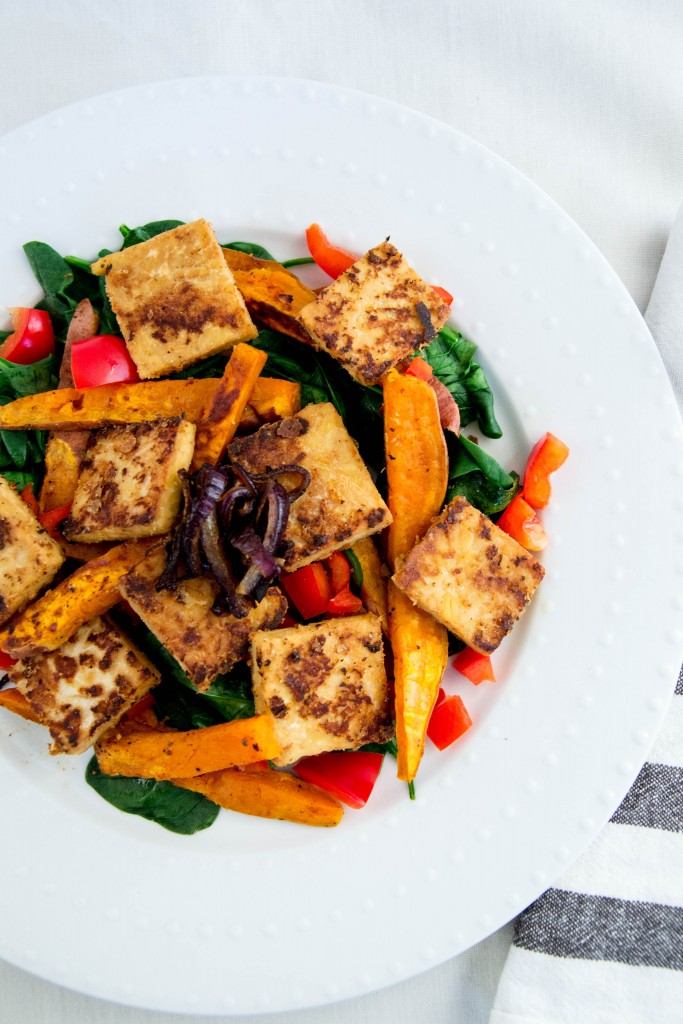 Marinated Tempeh Salad
2015-11-11 07:19:31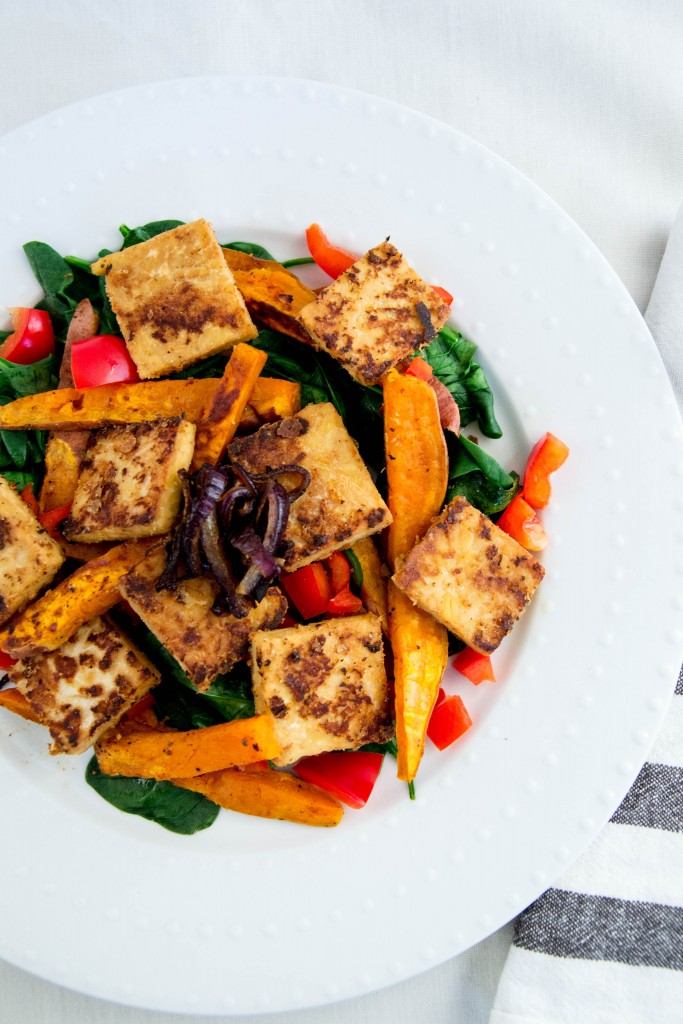 Serves 2
A delicious Tempeh salad that's bursting with flavor and boasts an array of textures.
Ingredients
Tempeh - Organic block (cubed and marinated for 15-20 mins)
1-2 Large Orange Sweet Potato - Cut into chips and roasted
1/2 Red Onion - Finely sliced
1/2 Red Capsicum - Sliced
Baby Spinach
Coconut Oil - For Frying
Paprika
Salt and Pepper
MARINADE
3 TBS Tahini ( Sesame seed paste)
1 TBS Tamari ( Soy sauce alternative)
1 Tsp Grated Ginger (finely grated from fresh)
1/2 Lemon - Juice
Instructions
Preheat oven to 180C
Clean and prep your sweet potato chips, and pop them on a lined baking tray with a little coconut oil, paprika, salt and pepper. Roast until golden brown and cooked through.
Make your marinade sauce by adding all marinade ingredients into a small bowl and mixing well.
Dice your tempeh block into cubes, place into a shallow tray and coat evenly with the marinade. Set aside for 15-20mins.
Finely chop your red onion and bell pepper. Wash and rinse the baby spinach.
In a frying pan, add a little coconut oil and when the tempeh is ready, lightly fry on each side until cooked through and golden brown - approx 2mins, depending on your stove temperature.
Once all is cooked, set aside, adding a little more coconut oil and cooking up the diced red onion. Once nice and crispy, remove and you can plate up once your chips are done.
Lay out the baby spinach on a plate, adding the sweet potato chips, tempeh cubes, red pepper, and finally the crispy red onion.
Salt and pepper if you so wish, and enjoy!
Notes
You can add another sweet potato if serving two.
Remember to mix the marinade well, it looks odd at first and seems to have separated, but once you mix it well it turns into a smooth paste.
Wellness with Taryn http://wellnesswithtaryn.com/