As the season's change, and we slip back into our Winter cocoons, I reflect back on to the warmer and longer days. I love this time of year, as it always reminds me how balance is so important in our lives, as well as in nature. While our Summer wasn't as great as last years, I still am grateful and am looking forward to Winter.
While we (in the Southern Hemisphere) transition into this cooler season, colds and flu's may arise, and these Lemon Thyme Tartlets are just what you need to satisfy your sweet tooth, and keep you on guard for those pesky Winter colds. Using the Artemis Thyme Lemon Tonic, these tartlets contain so much great nutritional and healing benefits, they definitely stand you in good stead to surviving the seasonal transition!
Herbalism and the practice of herbal medicine has been around for millenia, dating right back to the first written record of herbal medicine in 2800 B.C. In recent times herbal medicine has gained a new momentum in the medical field, as more people turn to herbs for their powerful and natural healing benefits.
Pharmaceutical medications, with their potential for harmful side effects are becoming less and less popular. Many folks are seeking alternatives to the modern medical interventions, and opting for more of a natural approach.
More and more substantial research is being published, proving the powerful healing properties that plants and herbs have on the human body, and I find it so exciting. I feel this ever growing shift toward healthier lifestyles, those that are earth friendly and coincide with Mother Natures awesome abundance.
So when I was offered the chance to try out Artemis's Thyme Lemon Tonic I was super inspired and excited to get creative and familiar with the healing properties of Thyme. Gone are the day's where thyme was only seen in western societies as a small garnish to a well presented dish, or a dried sprinkle of it over pizza. No! Now, as we learn more and more about this (and other) amazing herbs, we discover they offer so much more in the realm of plant medicine and herbalism! Que, ancient cultures and their traditional herbal medicine systems, like China, India and even Africa, who have all been using traditional plant medicine for many years, proving the western world may have something to learn from them.
Healing Properties of Thyme
Anti-fungal Ability: The most famous active ingredient found in thyme is thymol. This organic compound has a wide range of effects on the body, including the ability to prevent fungal and viral infections, thereby reducing strain on the immune system.
Antioxidant Capacity:
With one of the highest antioxidant concentrations in any herb, thyme has been praised for thousands of years as an overall health booster. The phenolic antioxidants found in thyme, including lutein, zeaxanthin, and thymonin all contribute to neutralizing and eliminating free radicals throughout the body.
Circulation: The high concentration of iron and other essential minerals in thyme make it ideal for stimulating the production of red blood cells, thereby boosting your body's circulations and the oxygenation of essential organ systems and extremities throughout the body.
Heart Health: The rich blend of antioxidants, minerals, and vitamins in thyme have many small effects on the heart, but the potassium and manganese are particularly important. Potassium is a vasodilator, meaning that it can reduce the stress on the cardiovascular system by relaxing blood vessels and lowering blood pressure.
Vision Booster: The concentration of carotenoids and vitamin A found in thyme make it an effective antioxidant agent for your visions health. Carotenoids can neutralize the free radicals in your ocular system and slow the onset of macular degeneration and prevent cataracts!
Immune System: The high levels of vitamin C found in sage make it a natural immune system booster. Vitamin C stimulates the production of white blood cells, which are the first line of defense in the body's immune system. Vitamin C also plays a crucial part in the production of collagen, which is essential for the creation and repair of cells, muscles, tissues, and blood vessels.
Reduce Stress: One of the vitamins in thyme (B6) has a powerful effect on certain neurotransmitters in the brain that are directly linked to stress hormones. Regular inclusion of thyme in your diet can help to boost your mood and ease your mind when stressful thoughts come calling.
Respiratory Issues: One of the most well known and long-standing uses for thyme in traditional medicine is as a respiratory health agent. If you are suffering from bronchitis, chronic asthma, congestion, colds, flus, blocked sinuses, or seasonal allergies, thyme acts as an expectorant and an anti-inflammatory substance, eliminating phlegm and mucus from the respiratory tracts, easing inflammation to help breathing, and prevent microbial development that can lead to illness. Source
Thyme Lemon Tonic
This tonic has such a divine flavor, and I love the combination of lemon and thyme and it works so well in this recipe. There's nothing quite like the aroma of herbs! I remember, back in South Africa, I'd visit my best friends farm and for lunch she'd take us around picking all different types of herbs to make up our salads, straight from the garden. The flavors were all so phenomenal, and I find herbs so soothing and healing.
Although this product does contain brown sugar, it is in small amounts, and I don't use too much in the recipe. I am sure the team at Artemis only use the finest of ingredients, so I can rest assured knowing that only goodness comes out of the bottle!
This wonderful winter tonic supports your chest and soothes your throat when you are feeling under the weather. Thyme Lemon Tonic is traditional plant medicine to calm chest discomfort. Made fresh with hand-harvested Central Otago ThymeTM and lemons, this traditional Swiss tonic is delicious! Drink it hot or cold. Great for children. Source
Artemis is New Zealand owned and operated and exists to harness the power of traditional plant medicine. The name is borrowed from the Greek deity, goddess of the wilderness, protector of women. Like the goddess, we find and use natural resources to look after those we care for. Enabling your health and wellbeing is what drives us. We've created our range of products so you too can benefit from the wisdom of plant medicine. Source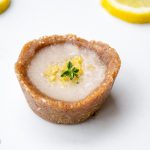 Lemon Thyme Tartlets
These tartlets are creamy, zesty and full of flavor. Not to mention loaded with healing nutritional goodness from the Thyme Lemon Tonic infused filling. Perfect for a healthy high tea, or healthy dessert.
Cuisine:
Vegan, Vegetarian
Ingredients
Base
3/4

Cup

Raw Almonds

- blitzed in a food processor

1/4

Cup

Almond Meal

8

Medjool Dates

- pitted

1

Tsp

Lemon Zest

Pinch of Sea Salt
Filling
1 1/4

Cup

Organic Almond Milk

- 1/4 kept aside

4

Tsp

Arrowroot Powder

- mixed well with the 1/4 cup almond milk

2-4

TBS

Rice Malt Syrup

- depending on your sweet tooth

30

ml

Artemis Thyme Lemon Tonic

- see alternative below

Lemon Zest

- for garnish

Fresh Thyme

- for garnish
Instructions
Base
Place the raw almonds into a food processor and process for about 6 seconds


Add the almond meal to the processor and blend again until all combined

Add the dates (ensure they're pitted), salt and lemon zest and blend until all combine into a big sticky ball

Using a muffin tray, cut out six strips of baking paper, and lay into the muffin molds. This is to make it easy to remove the cups once they're set.

Place equal amounts of the base mixture into each mold, and using your fingers, press evenly to create a tart base. I find it easier if you rub a little coconut oil on your fingers to press the base down. This helps not to get the mixture to stick to your fingers, and allows you to spread it out evenly, the back of a teaspoo would also work.

Once all the bases are made, place the muffin tray into the freezer to set.
Filling
Heat 1 cup of Almond milk in a small sauce pot on a medium heat.

Remove once warm and add the rice malt syrup. Use a whisk to stir in

In a separate small little bowl, add the 1/4 almond milk and arrowroot powder, and mix well ensuring there are no lumps.

Whisk this mixture into the warmed almond milk, and return to a medium heat, continually stirring to ensure no lumps form.

Add the Thyme Lemon Tonic, and continue to stir. Eventually the mixture will begin to thicken up. You don't want to over heat it though, as this causes the arrowroot powder to loose it's thickening abilities.

Once the mixture is thickened (about 3-5mins), remove from the heat.

Remove the tart/base molds from the freezer and carefully lift each one out of the tray. I find this step just makes them easier to remove when they have the filling in them.

Evenly pour the filling into each tart mold, and gently garnish with fresh thyme and lemon zest.

Place into the fridge to set overnight
Recipe Notes
Requires to be set in the fridge overnight
Use Organic wherever possible
As an alternative to the Thyme Lemon Tonic - you can substitute with pure 100% Lemon Essential oil or extract and pure 100% Thyme oil - see packing for amounts but I'd say about 2-3 drops of each would suffice
I do hope you enjoyed this post, and a big thank you to the Artemis team for this divine product! Remember to follow me on Facebook, Twitter, Instagram, Pinterest and Youtube to keep updated with juicy health and wellness titbits 😉