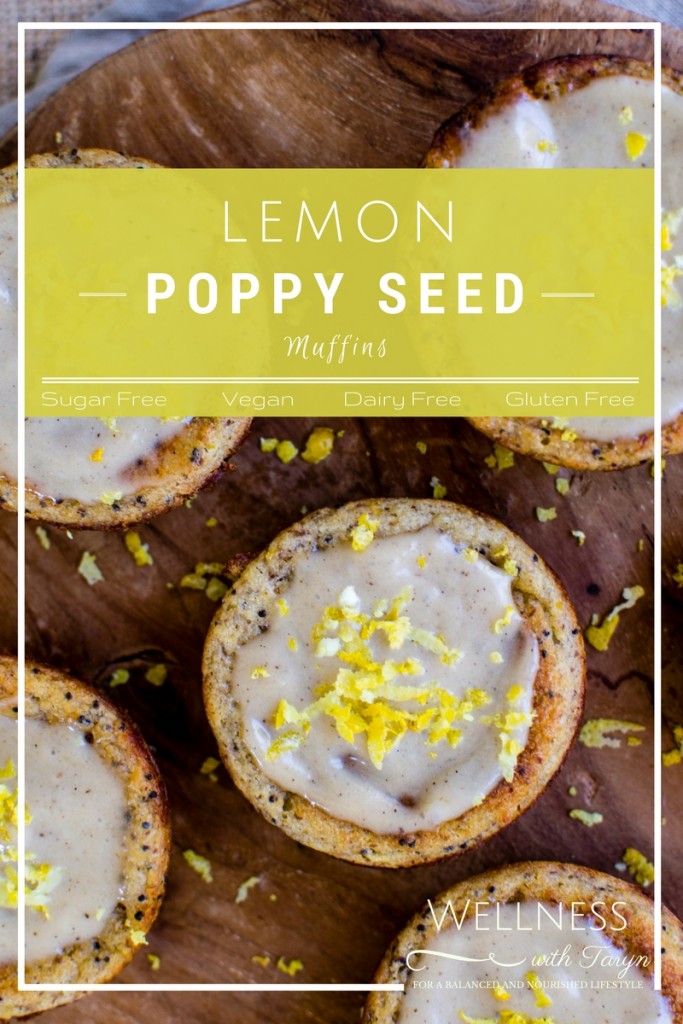 With the apparent abundance of lemons this time of year, I've been incorporating as much lemon into my diet as possible. Whether it be squeezed freshly over a salad, or juiced and frozen into ice blocks for a refreshing glass of sparkling water. It hasn't been difficult because I love lemons, and use them so regularly. They're amazingly good for you, as I'll discuss a little later on.
So, while searching for inspiration, this Lemon Poppy Seed Muffin recipe was created, and I incorporated the ever so delicious Vanilla Cashew Glaze. This creamy sweet concoction paired so well with the zesty lemon muffins ending in a recipe success.
I used natural sugars to sweeten, such as apple sauce and rice malt syrup. The gluten free flour blend, along with the almond meal created a firm muffin base and the lemon just elevated all the flavors. These muffins are Vegan, refined sugar free, gluten free and absolutely scrumptious!
I scoffed a couple with a warm cup of Dandelion tea and enjoyed the warm Spring sun. I cannot explain how excited I am for warmer weather and longer days! Pair these muffins too with a cold glass of lemon water – so refreshing and delicious!
Health Benefits of Lemon
Lemon is an excellent and rich source of vitamin C, an essential nutrient that protects the body against immune system deficiencies
Lemons contain pectin fiber which is very beneficial for colon health and also serves as a powerful antibacterial
It balances to maintain the pH levels in the body
Having warm lemon juice early in the morning helps flush out toxins
It aids digestion and encourages the production of bile
It is also a great source citric acid, potassium, calcium, phosphorus and magnesium
It helps prevent the growth and multiplication of pathogenic bacteria that cause infections and diseases
It helps reducing pain and inflammation in joints and knees as it dissolves uric acid
It helps cure the common cold
The potassium content in lemon helps nourish brain and nerve cells
It strengthens the liver by providing energy to the liver enzymes when they are too dilute
It helps balance the calcium and oxygen levels in the liver In case of a heartburn, taking a glass of concentrated lemon juice can give relief
It is of immense benefit to the skin and it prevents the formation of wrinkles and acne
It helps maintain the health of the eyes and helps fight against eye problems
Aids in the production of digestive juices
Lemon juice helps replenish body salts especially after a strenuous workout session Source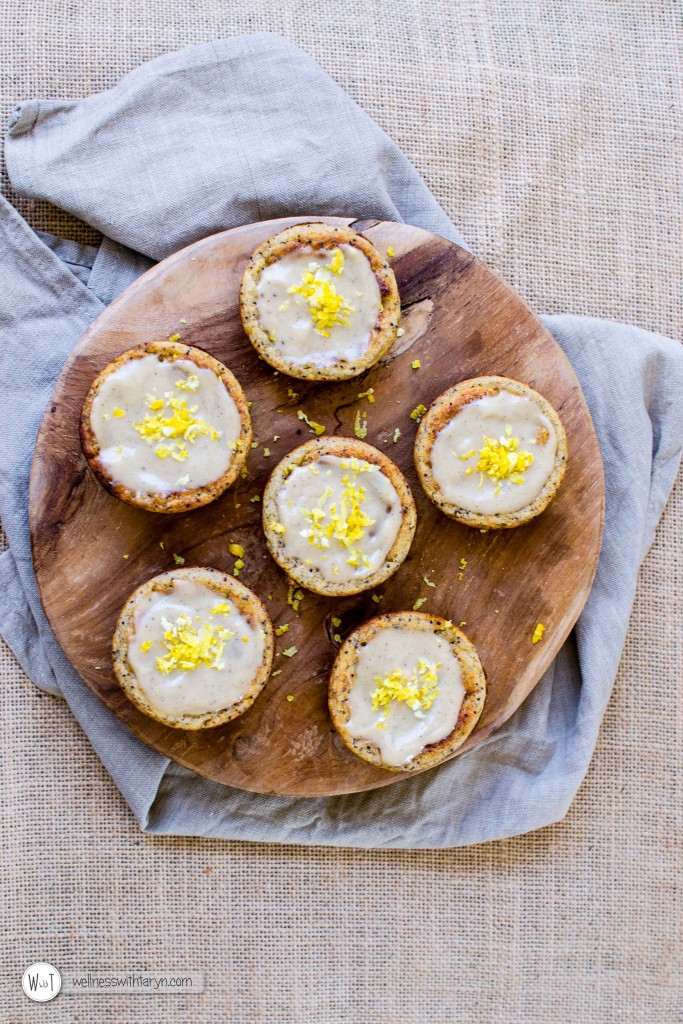 Lemon Poppy Seed Muffins
2016-09-16 01:51:39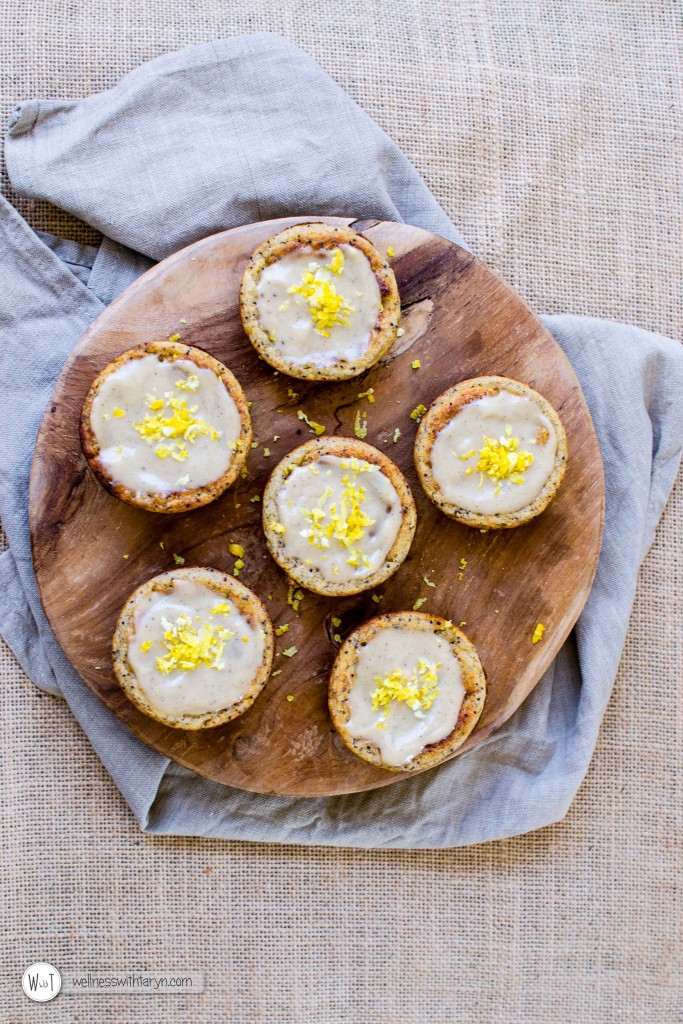 A zesty Lemon Poppy Seed Muffin recipe with a decadent Cashew Vanilla glaze. These muffins are so good, fulling and healthy! Refined sugar free, dairy and gluten free - a must try for a rainy days baking!
Ingredients
MUFFIN BATTER
1 Cup Organic Apple Puree
1/3 Cup Lemon Juice (or Juice of 4 lemons that have been zested)
3 Tsp Lemon Zest
4 TBS Rice Malt Syrup
1 Tsp Baking Powder
12 Tsp Baking Soda/Bicarbonate of Soda
1 Tsp Ground Himalayan Sea Salt
1 TBS Ground Flax ( Left aside to swell in 3 TBS water)
1 Cup Self Raising Gluten Free Flour Blend
1/2 Cup Almond Meal
1 1/2 Tsp Poppy Seeds
3 TBS Cold Pressed Organic Coconut Oil (Melted)
1/2 Tsp Vanilla Extract
CASHEW VANILLA FROSTING
1/2 Cup Soaked Cashews
2 TBS Rice Malt Syrup
2 TBS Cold Pressed Organic Coconut Oil (Melted)
1/2 Tsp Ground Vanilla Paste
10 Tsp Almond Milk - Added bit by bit while blending
Pinch of Pink Himalayan Rock Salt
Instructions
In a small bowl add the ground flax and water and set aside to swell.
Prepare the lemon juice and zest.
Pre heat the oven to 170C
Add the following into a big mixing bowl and whisk together - apple puree, lemon juice, lemon zest, rice malt syrup, baking powder, bicarbonate of soda, salt and ground flax mixture.
Once this mixture is smooth, add the gluten free flour, almond meal, poppy seeds, melted coconut oil and vanilla extract and mix thoroughly.
If you're batter is a little dry add extra apple puree - or a dash of almond milk
In a greased (with coconut oil) miffin tray, evenly divide the batter into the muffin cups.
Place into a 170C fan forced oven for 25-30 mins or until golden brown and cooked through.
While they are baking, make the cashew vanilla frosting.
Blend all the cashew vanilla ingredients together, adding the almond milk bit by bit to reach a smooth consistency. You may need to blend and stop to scrape down the sides and repeat.
Let this mixture chill in the freezer for 10-15 mins. I scooped it all into a plastic zip lock bag and then placed it in the freezer.
Once the muffins have baked and cooled for 15 mins, using a piping bag method, squeeze the cashew vanilla frosting over the top of each muffin, using a knife to spread it evenly.
Store in an air tight container for up to 4 days.
Notes
Use organic where possible
These muffins are quite dense, but full of flavor and the cashew vanilla frosting adds such a great element.
Wellness with Taryn http://wellnesswithtaryn.com/