Whether it's an accompanied dish to a dinner party, or a light veggie lunch, this Grilled Aubergine recipe with Lemon Basil drizzle will impress and satisfy. Sometimes we don't feel like a whole lot of food, yet still need some sort of nourishment, and when I'm feeling that way, this is a great option to go for.
It's light and doesn't have any dense carbohydrates, so although it won't pack a massive amount of energy, it will nourish and help one from skipping a meal when one is not feeling too hungry. The flavors are scrumptious, and the vibrant Lemon Basil drizzle really compliments the charred aubergine well.
You can pretty much choose what kind of accompanying salad you'd like, but I opted for a raw carrot and beet salad topped with homemade mung bean sprouts (which are so easy) and delicious little cherry tomatoes that were also homegrown and given to me by a friend.
I love the effect the cast iron griddle pan has on the aubergine. It definitely is a necessity for this recipe, unless you have a barbecue handy. I've wanted one for ages! and being the bargain hunter I am, I found this one for ONLY $5 at Farmers! Can you believe it?!? Neither could I!!!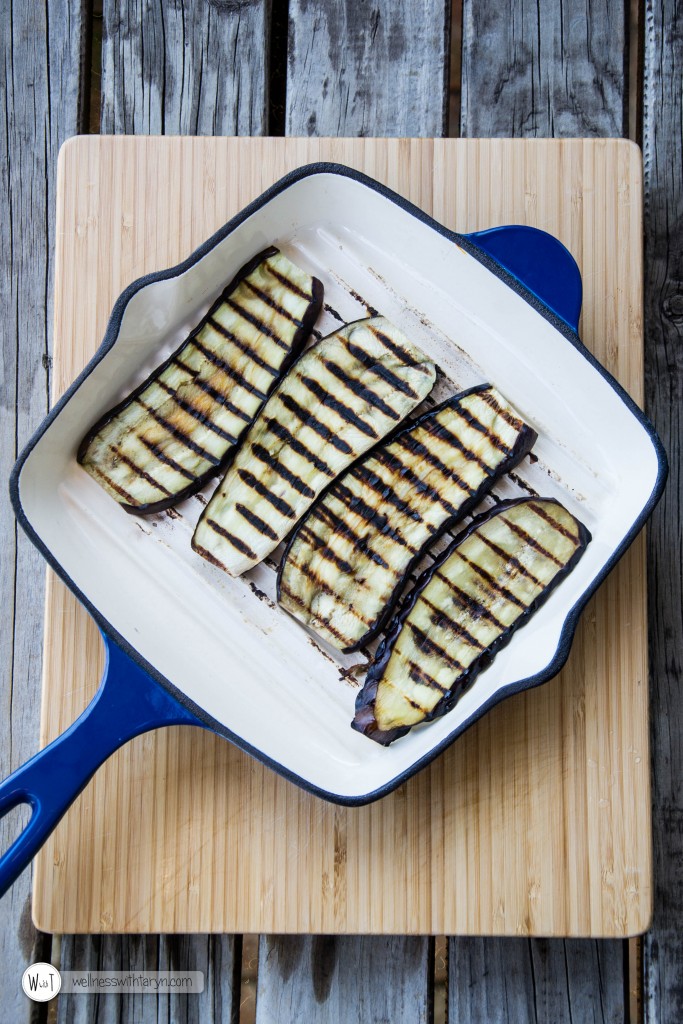 If you're stressed about scrubbing the pan afterwards like I was, bicarbonate of soda works a dream to get the stuck remains of the aubergine off the ridges of the pan. Just sprinkle some over where your're scrubbing and watch as it magically removes any remains. Such brilliant stuff! I use it for nearly everything! Always remember to lightly coat your cast iron pan with a little olive oil after cleaning.
Now aubergines are know to be sponge like, and suck up any moisture around them. That being said they'll suck up any oil the touch, so I'm always mindful of how much oil I use to brush them. I cannot stand limp soggy oil drenched aubergine. Eeeww!!! I like mine still to be firm with a bit of texture. They're also great to roll up when cooked this way. *Party snack idea* Grilled Aubergine stuffed with > Insert your favorite filling here <
Health Benefits of Aubergine
Along with tomatoes, potatoes and bell peppers, the aubergine belongs to the nightshade plant family. In fact, aubergines grow in a manner much like tomatoes, hanging from the vines of a plant that grows several feet in height. They have a deep purple, glossy skin encasing cream coloured, sponge-like flesh dotted with small, edible seeds. In addition to the classic purple variety, aubergines are available in other colours including lavender, jade green, orange and yellow and in a range of shapes and sizes. The most popular variety of aubergine looks like a large, pear-shaped egg, hence the American name 'eggplant.'
Aubergines are an excellent source of

dietary fibre

. They are also a good

source of vitamins B1 and B6

and

potassium.

In addition it is

high in the minerals copper, magnesium and manganese.

Aubergines are

rich in antioxidants,

specifically nasunin found in aubergine skin – which gives it its purple colour. A potent antioxidant and free radical scavenger, nasunin has been found to protect the lipids (fats) in brain cell membranes.
Aubergines are high in fibre and

low in fat

and therefore recommended for those managing type 2 diabetes or managing weight concerns.
Aubergines may also

help to lower LDL

(bad) cholesterol levels. These positive effects are likely to be down to nasunin and other phytochemicals in aubergines. Source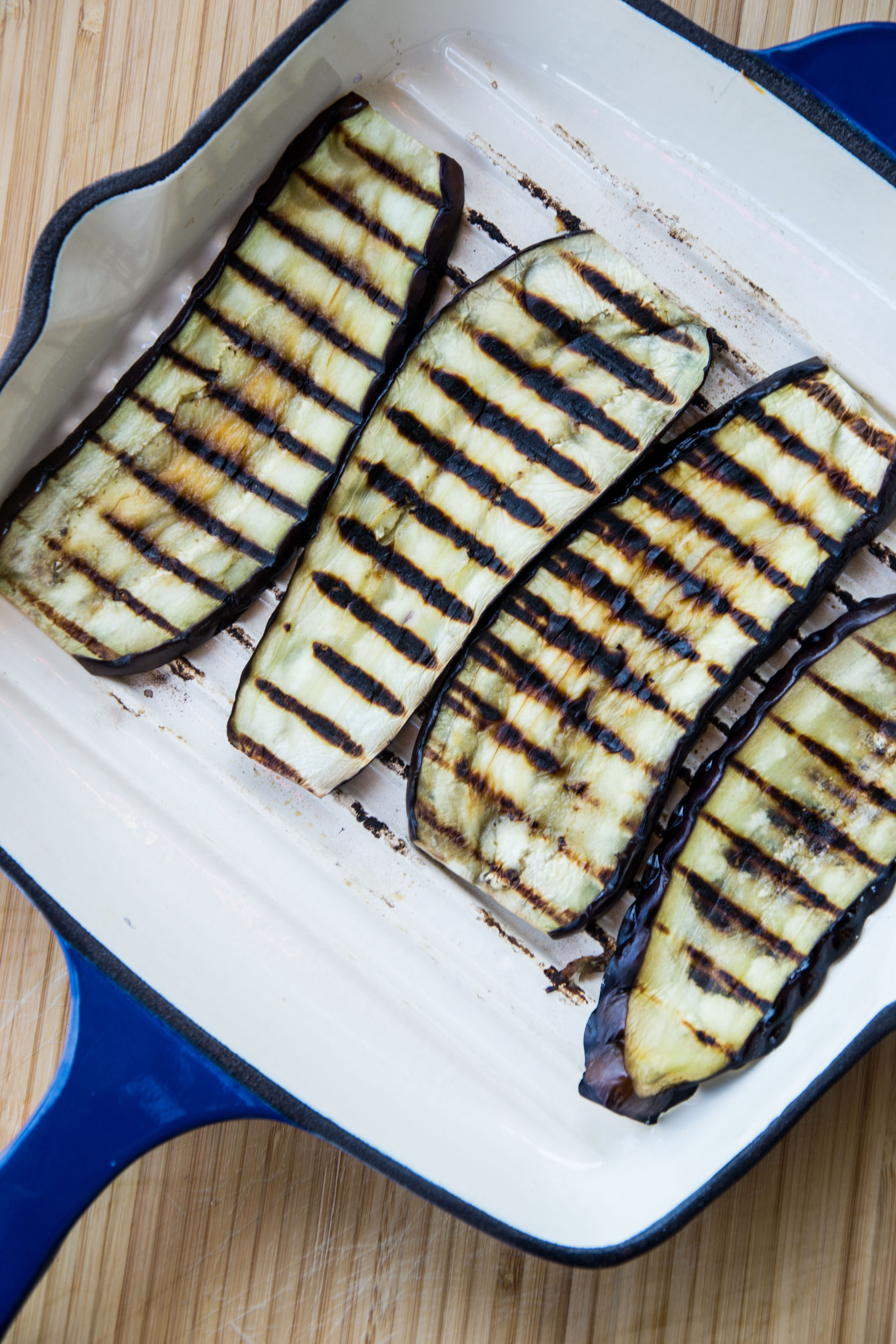 Grilled Aubergine with Lemon Basil Drizzle
2016-04-26 05:56:19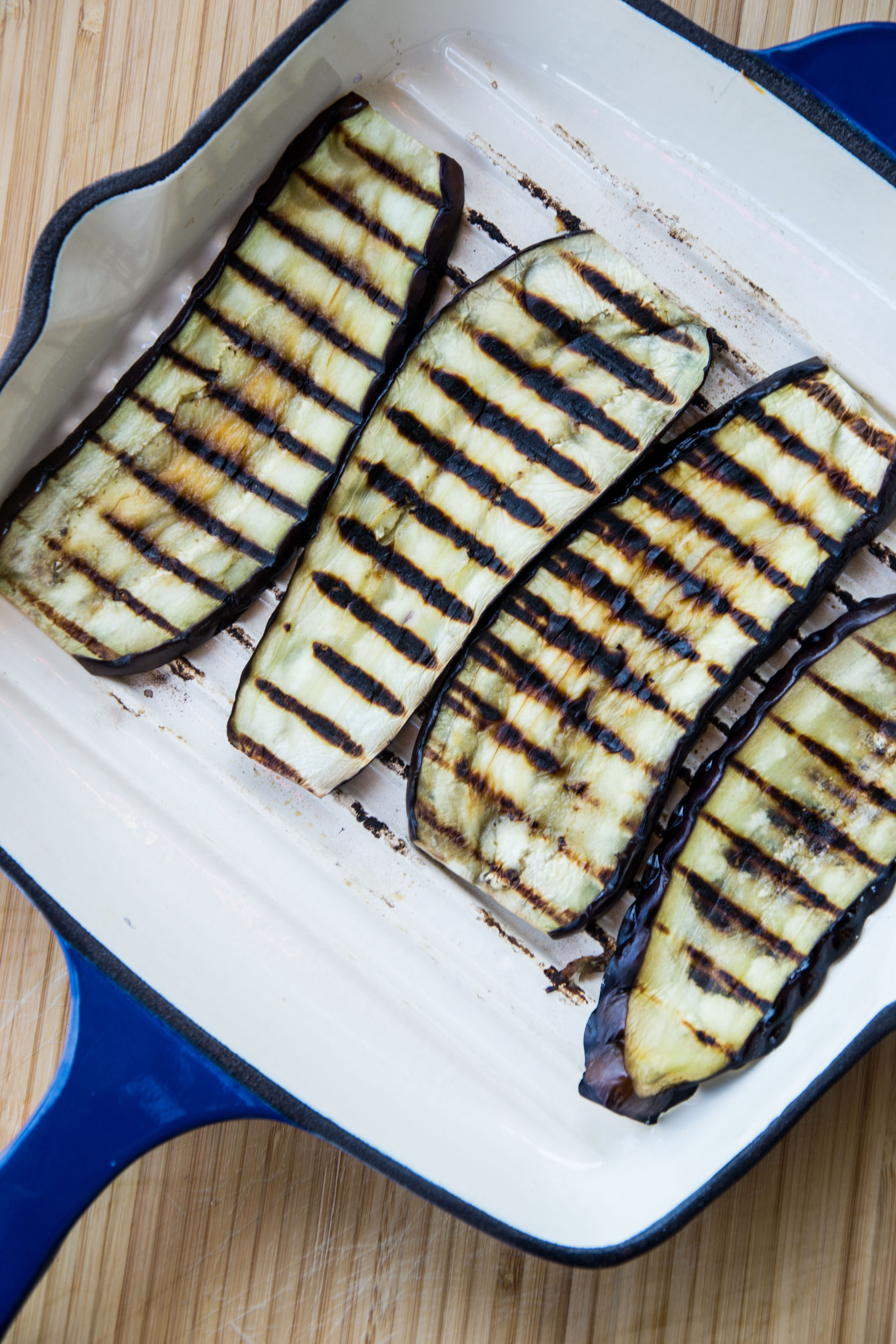 Serves 1
A delicious light option either for lunch or as a side dish. The flavors compliment each other superbly. Open to other possibilities such as being wrapped up and stuffed with your favorite fillings.
Ingredients
AUBERGINE
1 Large Aubergine (Rinsed and sliced thinly, about 1cm thick)
Extra Virgin Olive Oil (Brushed over the strips of aubergine)
Himalayan Rock Salt
LEMON BASIL DRIZZLE
Juice of 1/2 Lemon
10 Leaves of Fresh Basil
1 Tsp Apple Cider Vinegar
4 TBS Extra Virgin Olive Oil
1-2 Tsp Rice Malt Syrup
Salt and Pepper
SIDE SALAD
1 Carrot (Peeled and diced)
1-2 Fresh Beetroot (Peeled and thinly sliced)
Handful of Cherry Tomatoes
Mungbean Sprouts
Instructions
Lightly brush your griddle pan with alittle olive oil and pre-heat.
Wash and slice the aubergine. Lay out on a baking tray lined with baking paper.
Sprinkle salt over each slice, and leave for a couple of minutes. This will draw out any moisture in the aubergine. Wipe away any moisture with paper towel. Repeat on the other side of each slice.
Brush each slice of aubergine (front and back) with a little olive oil.
Grill for approx 5-8 mins on each side on a medium heat, until a char begins to form and has cooked through. Take note of the charred grill lines, I prefer mine horizontal but you can char them whichever way you choose.
Remove and keep warm.
Place all drizzle ingredients into a blender or Nutribullet and blitz until all combined.
Assemble the side salad, serve the aubergine strips and pour over the Lemon Basil drizzle.
Notes
Double up recipe if making for more than 1 person
Fell free to add what ever you like to the side salad
A great idea is to stuff the aubergine strips with your favorite stuffings and nip them closed with a toothpick.
Wellness with Taryn http://wellnesswithtaryn.com/