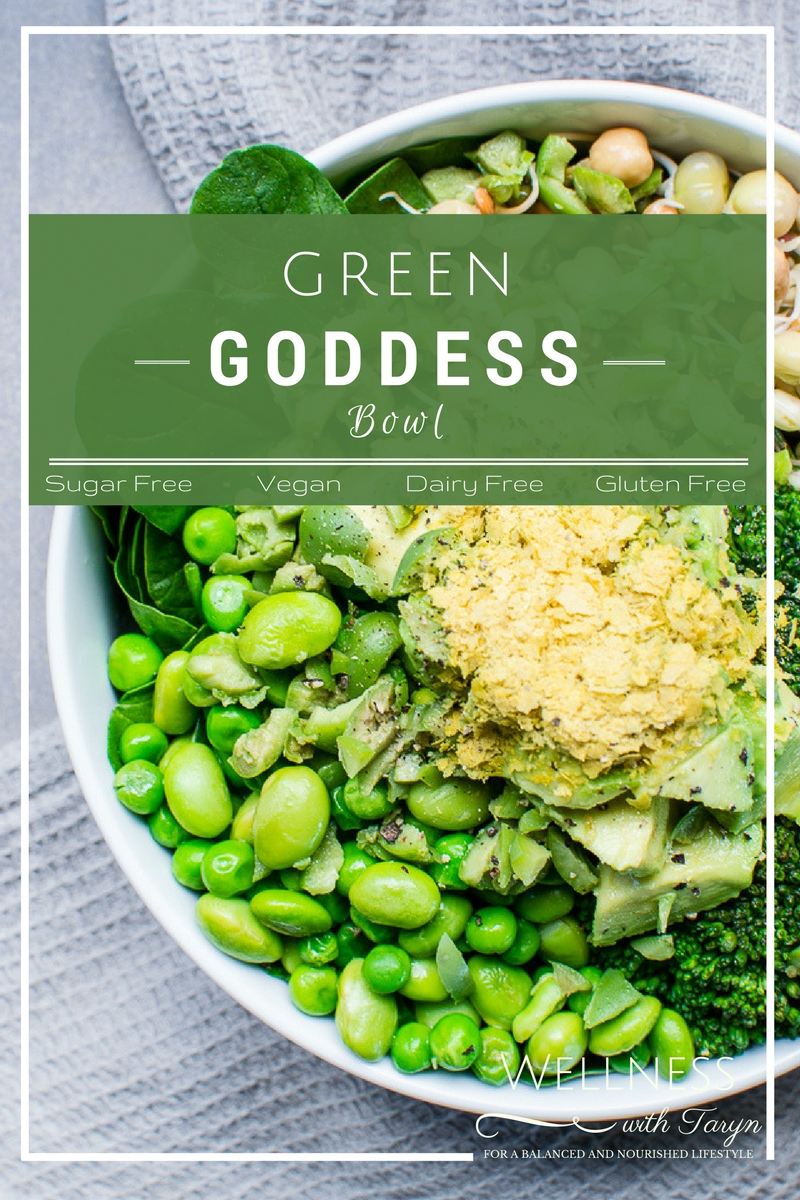 I am a woman. I am empowered and proud of who I am. Integrity, values and ambition. A Goddess. Goddess. That word alone gives me butterflies in my tummy, and adds to my feelings of empowerment.
I believe it is so important to be in touch with your true self, be you a man or a woman. It's important for us to connect to our divinity and exude our souls. And what better way to portray our sanctity than with food.
Wholesome, nourishing, beautiful and empowering food. Food that lights up each of our cells and makes us beam from within. Food that makes us feel amazing and godlike. Full of energy and vibrancy.
We are women. We deserve to radiate our purity in all means possible. So I decided to portray mine through this delicious and luscious Green Goddess Bowl. But don't worry, guys can totally enjoy this dish too!
Green. Alkalinity. Flooding the body with pH balancing goodness. Enticing each of our cells into action, allowing them to do their best work possible, in turn allowing us to be the best versions of ourselves. Food is powerful. It has the ability to bring your from sickness to health and so much more. It truly is amazing and I have deep respect for it. In all forms, shapes and colors. It's my passion. A passion that I am proud of.
How to honor your Inner Goddess
Set Time aside for You

– Set time aside each day to reconnect with your inner self. Whether it be a yoga flow, meditation, journaling, or even watching the sunset. Allow this time to come back to yourself, in calmness.

Love your Body

– Learn to love every bit of your body, including those bit's you're not so happy with. Embrace them and flood your body with love. It is yours. And it deserves all the love and respect you can give.

Connect with Mother Nature

– I find being immersed in nature so incredibly healing. I make it a habit to get into nature at least once a week. Get grounded and release all your worries. Always know the earth will always hold you.

Live from your Heart

– Kindness, gratitude and awareness are all practices closely connected to your heart. Be sure to include them into your busy days. Being surrounded with love leaves little room for negativity, and in turn creates more magic than you could ever imagine.

Rituals

– Goddess traditions include those of ritualistic practices because they bring deeper meaning and sacredness to any act. Be it meditation, or sitting quitely in front of a lit candle. Add a daily spiritual practice to your life to create deeper meaning and awareness.
Nutritional Benefits of this Bowl
Edamame Beans – Edamame are immature, green soybeans still in the pod. Edamame beans contain energy, protein, fiber, carbohydrate, various amino acids and low levels of fat and sugar. They are a good source of various minerals such as calcium, iron, magnesium, phosphorus, potassium, sodium, zinc, copper, and manganese. Vitamin C, riboflavin, thiamin, niacin, pantothenic acid, vitamin B6, folate, vitamin E, and tocopherol are some of the vitamins that are present in edamame beans. Source
Nutritional Yeast – Nutritional yeast is a complete protein, meaning that among the 18 amino acids it contains, nine are essential ones that your body cannot produce. You get a significant dose of the minerals iron, selenium and zinc when you consume nutritional yeast as well and one serving of nutritional yeast provides about four grams of fiber. Nutritional yeast is a source of B vitamins, including thiamine, folate, B-6 and niacin. Just a half tablespoon of some brands will provide you with a day's worth of B vitamins, while other brands offer between 30 and 100 percent of B vitamins. These vitamins help you extract the energy from food and produce red blood cells. Many types of nutritional yeast are also fortified with vitamin B-12, making it perfect for plant based vegan diets. Source
Avocado – Avocados are rich in various nutrients, vitamins and minerals. Avocados are also a good source of monounsaturated fatty acids, and they have a low sugar content. They are a good source of energy and contain a number of essential vitamins and minerals. Avocados contain calcium, iron, magnesium, potassium, copper, manganese, phosphorus and zinc. They also contain minerals such as vitamin C, B6, B-12, A, D, K, E, thiamin, riboflavin, and niacin. Furthermore, they are a great source of dietary fiber, and a single serving can provide more than 40% of the daily requirement! Source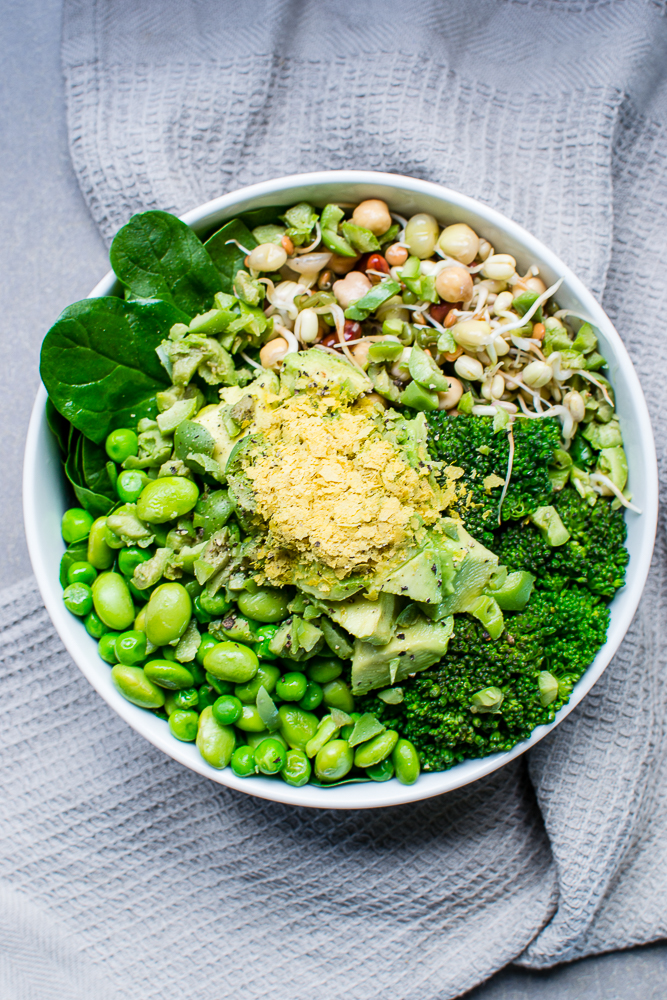 Green Goddess Bowl (Vegan)
2016-12-11 00:59:52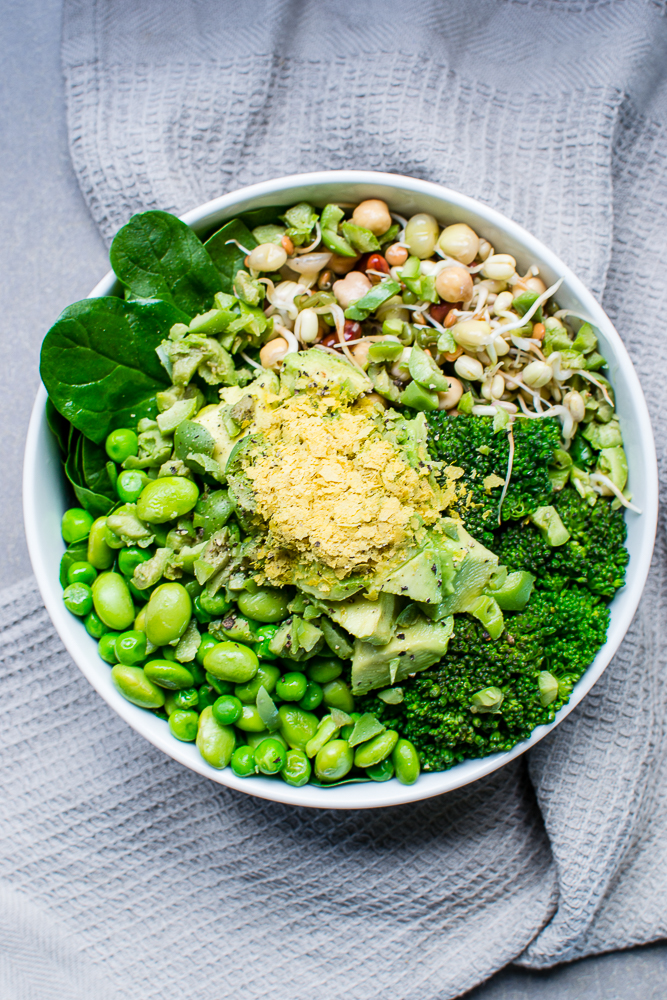 Serves 1
This delicious Goddess bowl is full of plant based goodness. Loaded with an array of nutrients, this bowl is perfect for breakfast, lunch or dinner.
Ingredients
1/2 Cup Edamame Beans (Frozen)
1/2 Cup Peas (Frozen)
1/2 Tsp Organic Cold Pressed Coconut Oil
Handful Baby Spinach
1 Cup Broccoli (Steamed)
1/2 Avocado (Cubed)
8 Pitted Green Olives (Chopped)
1/2 Lemon (Drizzled on the baby spinach)
1/2 Cup Sprouts (I sprouted my own)
1-2 TBS Nutritional Yeast
Pinch of Flaked Sea Salt
Grind of Black Pepper
Instructions
Saute the edamame beans and peas in the coconut oil until cooked through.
Rinse and steam the broccoli.
Add the baby spinach to your bowl.
Arrange the rest of the ingredients, topping off the bowl with the chopped avocado, nutritional yeast, salt and pepper.
Serve and enjoy!
Notes
Use Organic wherever possible
You can add brown rice, or carbohydrate of choice to increase the nutritional profile
Wellness with Taryn http://wellnesswithtaryn.com/
So as you can see, this bowl is not only delicious but includes a tonne of nutrients that work together in
nourishing your body
. There is also the option of adding your choice of carbohydrate, such as brown rice or quinoa, to furthermore enhance the nutritional profile, allowing maximum absorption of nutrients.
I do hope you enjoy this recipe, and remember to tag your recreations #wellnesswithtaryn so that I can see. Also remember to share with all your foodie friends and follow me on my other social platforms for more inspiration.
Much love
Xxx