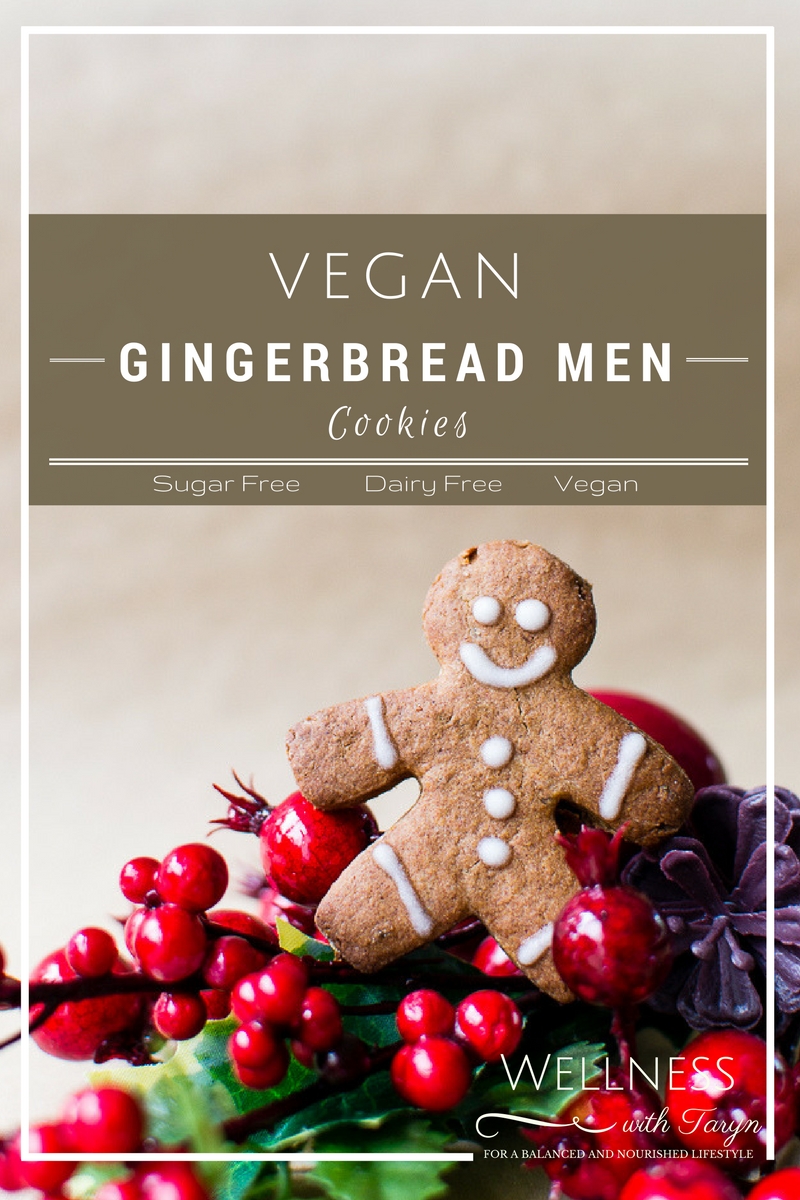 I love this time of year! Holidays, summer sunshine and lots of creative juices flowing in the kitchen. There's always so many awesome Christmas recipes flying around the net this time of year, and I could just burst with all the inspiration everywhere.
This year, my Christmas recipe is for these delicious Gingerbread Men Cookies, which just so happens to be refined sugar free and 100% vegan!
Not that that dampens any of the delicious flavor these cookies have. The texture! It's that perfect crunchy and incredibly addictive texture that keeps us coming back for "just one more".
The dough can be a bit tricky to work with once removed the fridge, but I find if you use the heat from your hands to flatten it down, along with a roller and enough flour on your base and roller, it eventually behaves itself. The addition of the vegan butter I found really allows you to get that cookie dough that you'd get by using traditional ingredients.
Along with the caramel like taste from the delicious coconut sugar, and the added dark richness from the molasses, these cookies really turned out better than I could have imagined! The wholemeal spelt flour works so well to get that delicious crunch. And although it's not gluten free, I do find it much easier to digest.
Use Local Ingredients
An array of spices shine through so brightly in these cookies. I love the addition of this delicious organic cinnamon along with all spice, which I haven't played with before. I found the whole 'all spice' seeds at our local organic shop, and ground them up in the mortar and pestle. So good! And when they're baking in the oven, expect those enticing aromatic warming smells to drift throughout your home, adding to the holiday/Christmas/festive feels.
Another star ingredient was the Vigour & Vitality Coconut Butter I used to make the icing. This amazing butter was given to me, and oh my goodness, it is so so so delicious!
" Vigour and Vitality was created with a purpose: to introduce holistic food products to New Zealand. We offer a selection of RAW, stone-ground nut & seed butters, which includes an ACTIVATED range — now available in markets across New Zealand.
Too often, other nut butter companies warp their raw product, turning it from something with high nutritional value into a downgraded version with unnecessary sugar and preservatives. Here at v&v, our mission is to "fuel your inner warrior" with the highest quality products for you to enjoy in your baking, smoothies, salads, and so much more!" Source
I love supporting local producers and creators, and I urge you to too! Knowing that your hard earned $'s are supporting someone who has equally worked so hard to produce amazing products is such a relief, and can really make a big difference in your community. Always remember, you vote with your $'s, so be wise with your 'moola' and help your community flourish!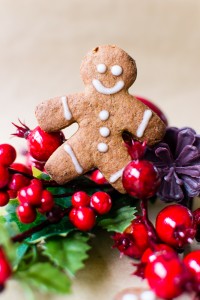 Vegan Gingerbread Men Cookies
2016-12-17 23:04:37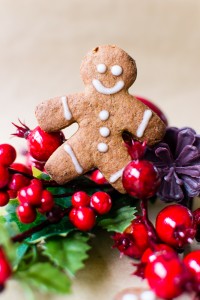 This vegan gingerbread men cookie recipe has quickly become one of my favorites. Free from refined sugar, dairy, as well as using wholesome ingredients, it's the perfect healthy recipe option for the end of year festivities.
Ingredients
DRY INGREDIENTS
1.5 Cups Wholemeal Spelt Flour
1/2 Cup Gluten Free Flour Blend
1/4 Tsp Baking Powder
1/3 Tsp Baking Soda
1/4 Tsp Flaked Sea Salt
2 Tsp Organic Cinnamon
2 Tsp Ground Ginger
1/2 Tsp Ground All Spice
WET INGREDIENTS
2/3 Cup Organic Coconut Sugar
2/3 Cup Vegan Butter (I used Nuttelex)
1 TBS Organic Cold Pressed Coconut Oil
1 TBS Blackstrap Molasses
1 Chia Egg - 1 Tsp Chia seeds left to swell in 4 tsp hot water
ICING
3-4 TBS Coconut Butter
2 TBS Hot water
1 TBS Organic Rice Malt Syrup
Instructions
Mix all dry ingredients together in a large mixing bowl.
In a small bowl, add the chia seeds and water and leave to swell.
In a small saucepot on a medium heat on the stove, melt the vegan butter, coconut sugar, molasses and coconut oil.
Pour the melted mixture into the dry ingredient mixture and mix well, until all combined.
Divide the dough into two, mold into a ball and wrap in plastic clingwrap. Allow to set in the fridge overnight, or for at least 2hrs.
Pre-heat the oven to 180C and line a baking tray with baking paper.
Remove the two dough balls from the fridge, and on a floured surface, begin to flatten the balls using your hands. I find the warmth of your hands really helps to warm the dough, making it easier to work with and less crumbly.
Eventually you'll be able to use a rolling pin to flatten the dough, using lots of flour to avoid it crumbling and breaking up.
Use your gingerbread men cookie cutter to cut out your cookies, and lay them evenly spaced on the baking tray.
Bake for 9-10 mins at 180C (fan-forced), until golden brown. Remove from oven and allow to cool on a cooling rack.
Repeat this process with the second dough ball.
For the icing, place the icing ingredients into a small food processor, and blend until smooth. If you need to add more coconut butter or water, do, until you've reached a thick creamy icing consistency.
Use a piping bag (or plastic bag) to pipe and decorate your cookies - ONLY once they're fully cooled. You can pop the piping bag and the icing in the freezer/fridge to firm up if it's too runny.
Allow to dry and enjoy!
Store in an airtight container (and in the fridge if you want the icing to remain hard) for up to 4 days - that's if they'll last that long.
Notes
Use Organic where possible.
Allow the dough to set in the fridge overnight for best results
Use the heat of your hands to work with the cookie dough.
Wellness with Taryn http://wellnesswithtaryn.com/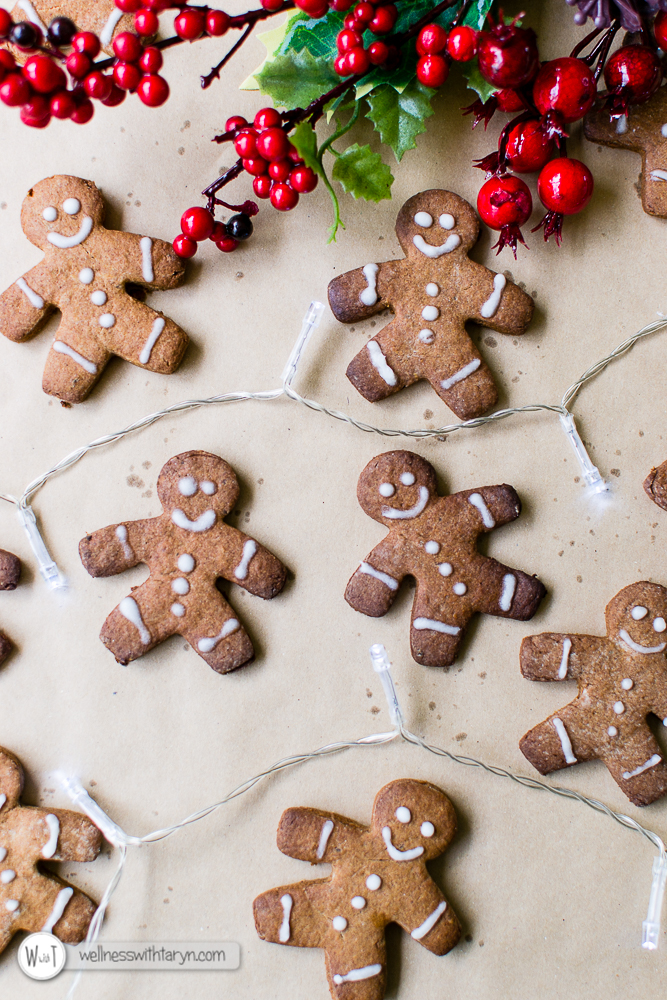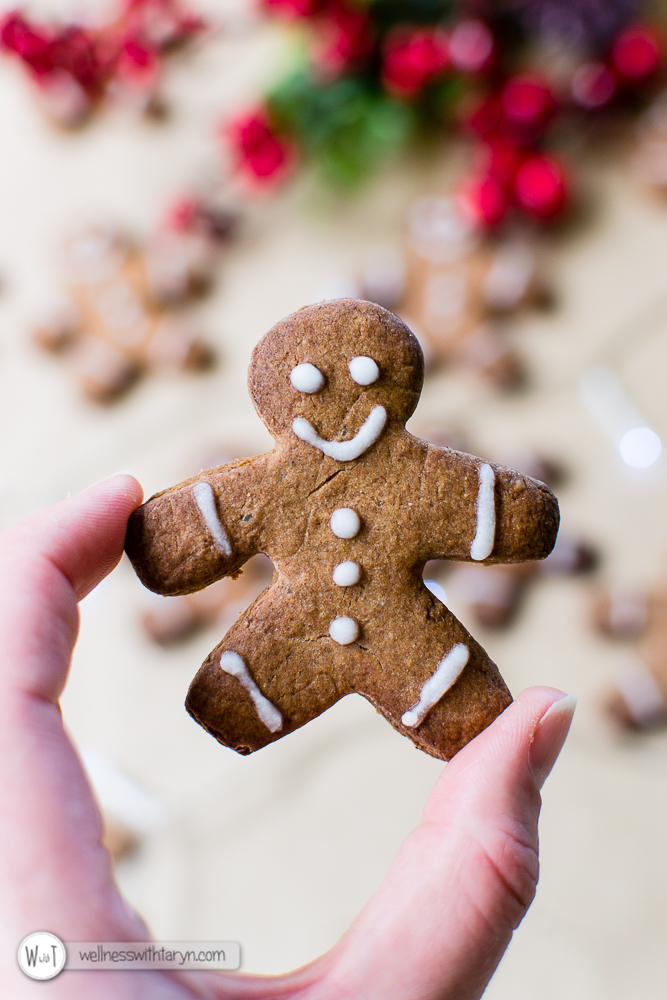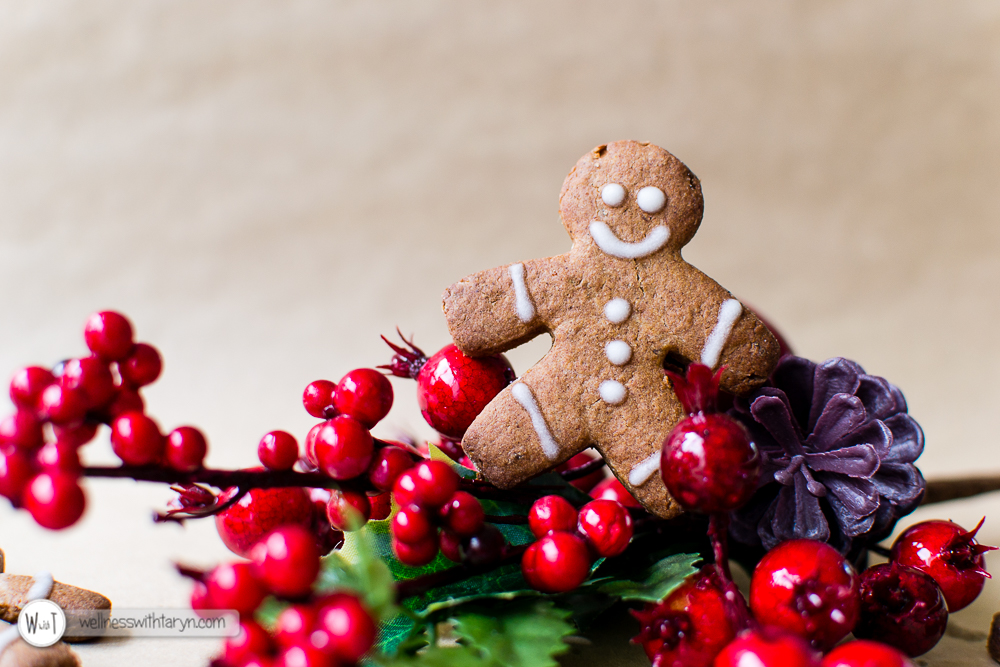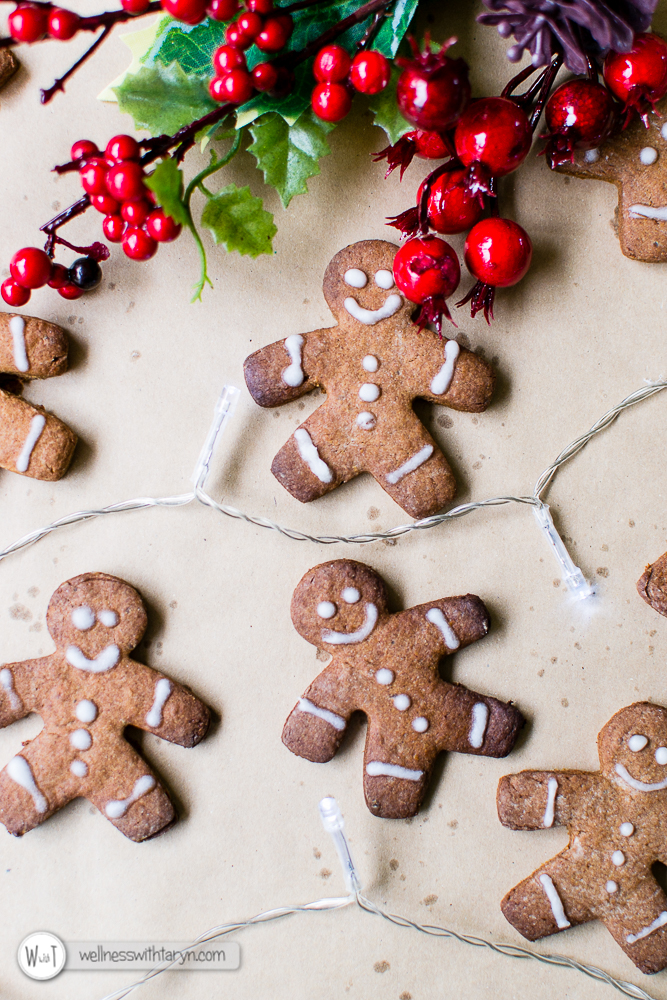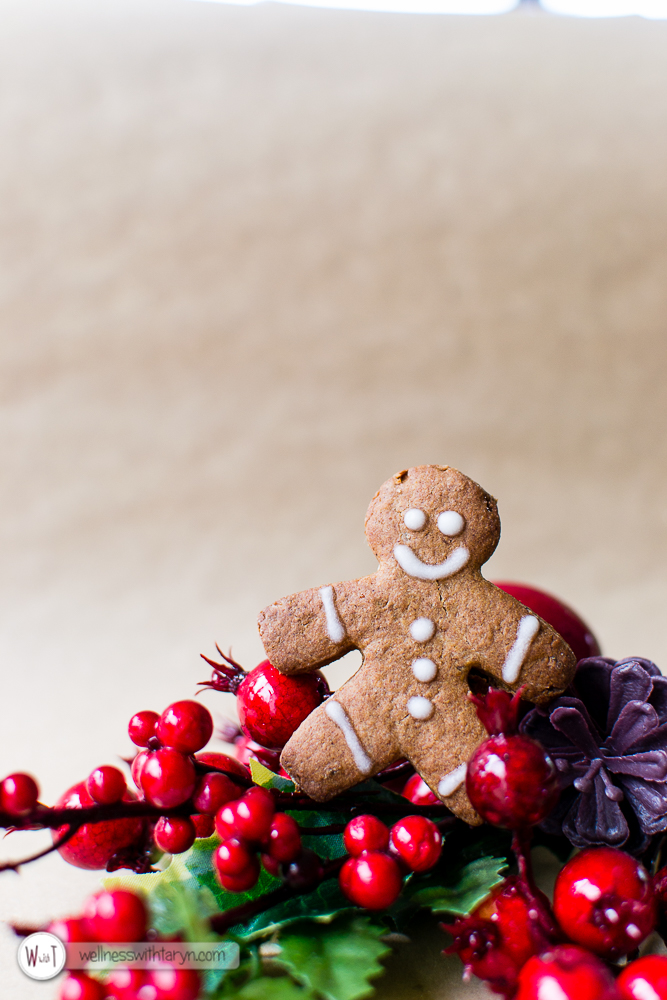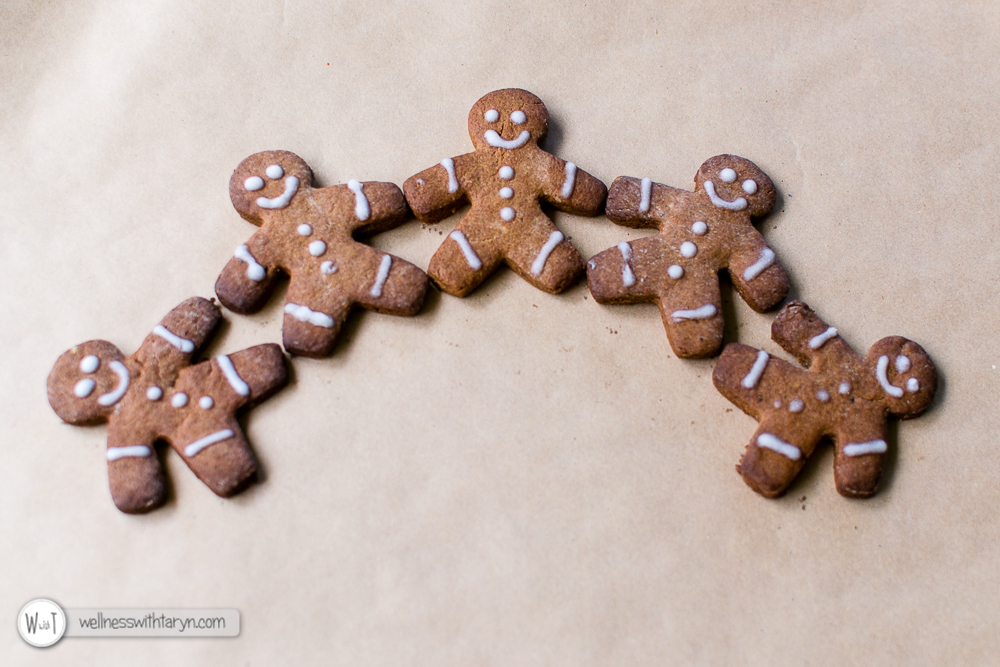 I hope you enjoyed this recipe, as I loved it! So much so I've already made two batches! So great for this time of year! Remember to share with all your foodies friends, and follow me on my other social media platforms for more inspiration!
Much love Xxx