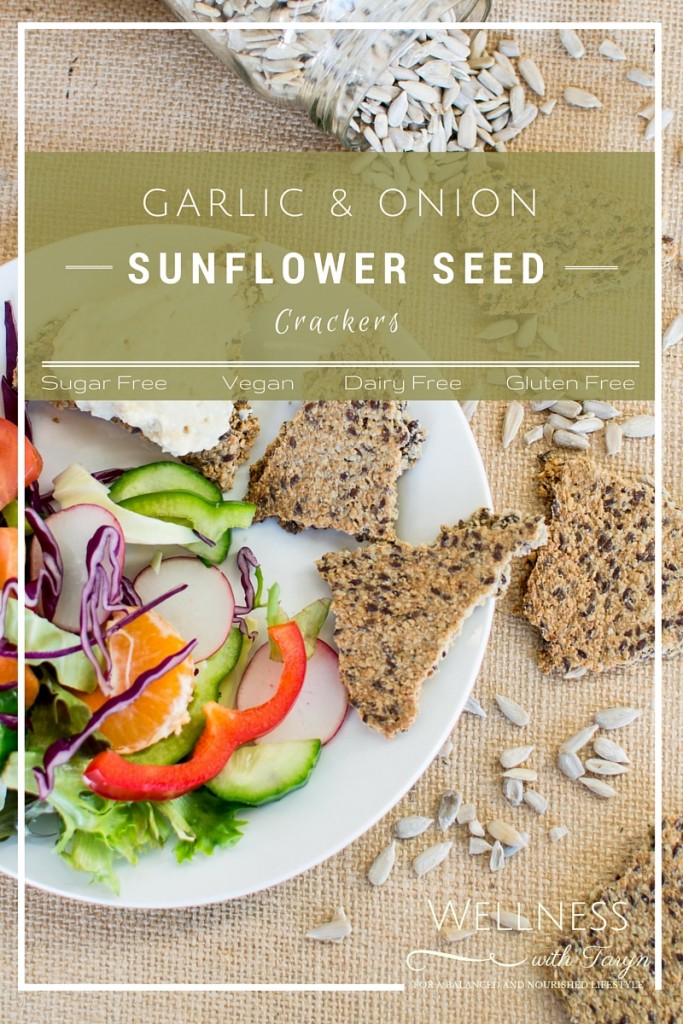 There's nothing quite like the crunch of a freshly homemade seed cracker. That first initial bite, has to be one of my favorite things when making a homemade batch. Seed crackers are so great and are a diabetic's BEST friend. Being predominately seeds, that generally have little carbs, they won't spike your blood sugars which is fantastic!
It' can be quite difficult to find 'me-friendly' snacks when perusing the isles. Steering clear of high GI ingredients, sugars, animal products, … the list goes on! So that's why I find it so comforting to know I can whip up a batch of these delicious crackers, enjoy them with either savory (hummus) or sweet (nut butter), and rest assured my blood sugars are in good control!
For this delicious creation, I chose to use the versatile sunflower seed. It's delightful to know that this little silky seed is so versatile and has so many uses. From garnishes, granola, to seed butter and to a base in these super tasty Garlic and Onion Sunflower Seed crackers, the options are endless! They create such a divine texture when blended down, and the flavor of garlic and onion really compliments the subtle flavor of the sunflower seeds.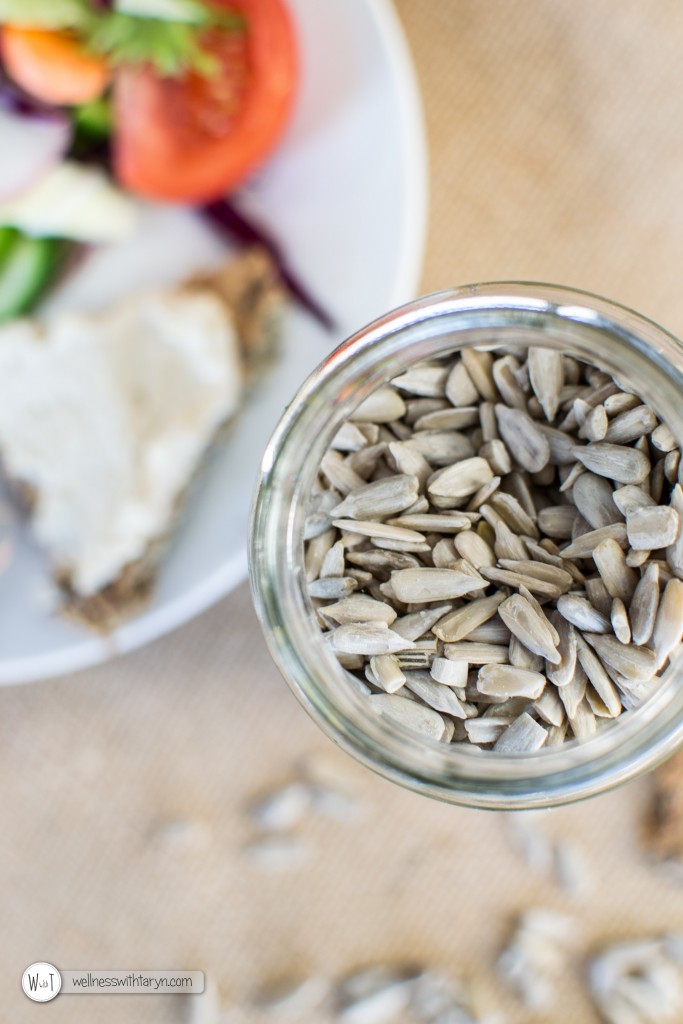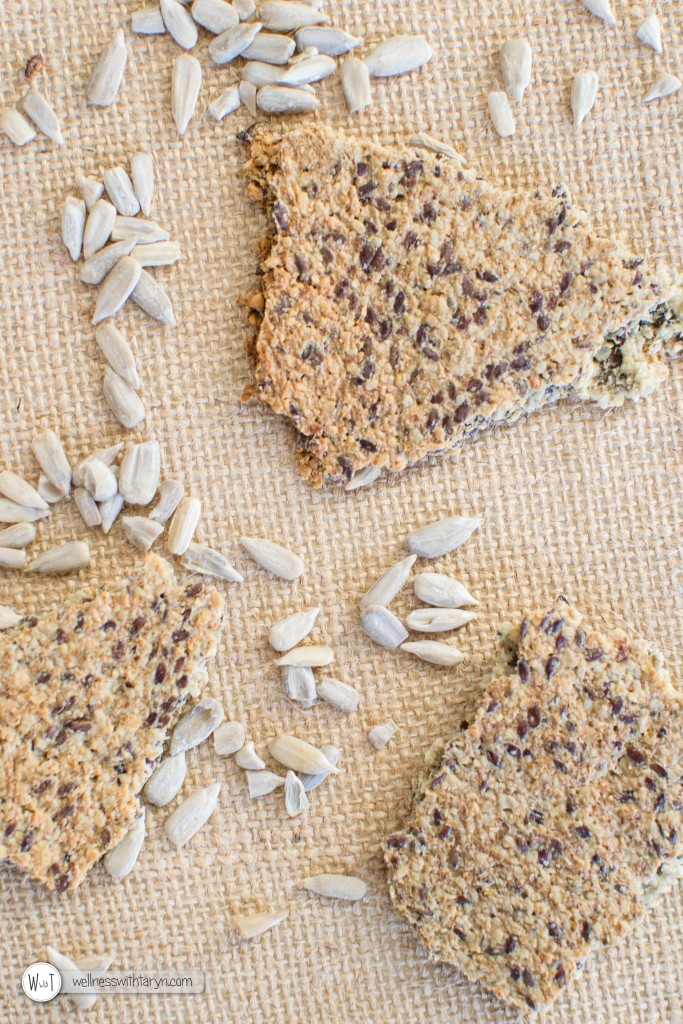 This recipe allows you to be quite adventurous, by adding herbs, chilli flakes for a bit of heat, and really creating flavors that you personally tickle your fancy. It's so versatile, meaning you can leave out the garlic and onion flavor and add your own. Freshly ground herbs would be a wonderful addition to this recipe. Think rosemary and sea salt. Yum!!! My tummy is rumbling just thinking about it! The options are vast!
Now, the sunflower seed is rather special. It packs a whole lot of punch into it's little package!
Health Benefits of Sunflower Seeds
Sunflower seeds contain selenium, an essential nutrient & great for thyroid health
Sunflower seeds contain two nutrients that promote cardiovascular health — vitamin E and folate.
Sunflower seeds contain a high level of phytosterols which promote healthy cholesterol
Potent Source of Magnesium which is beneficial in supporting healthy moods
What else can you use sunflower seeds for? They are great just as a snack, accompanied with some raw nuts and raisins/goji berries. They're a perfect topping for porridge or smoothie bowls. They're delicious when roasted in a homemade granola. Lightly toasted and tossed over a salad. You could even blend a whole bunch and make delicious sunflower seed butter! Definitely able to get the bang for your buck with these scrumptious little seeds.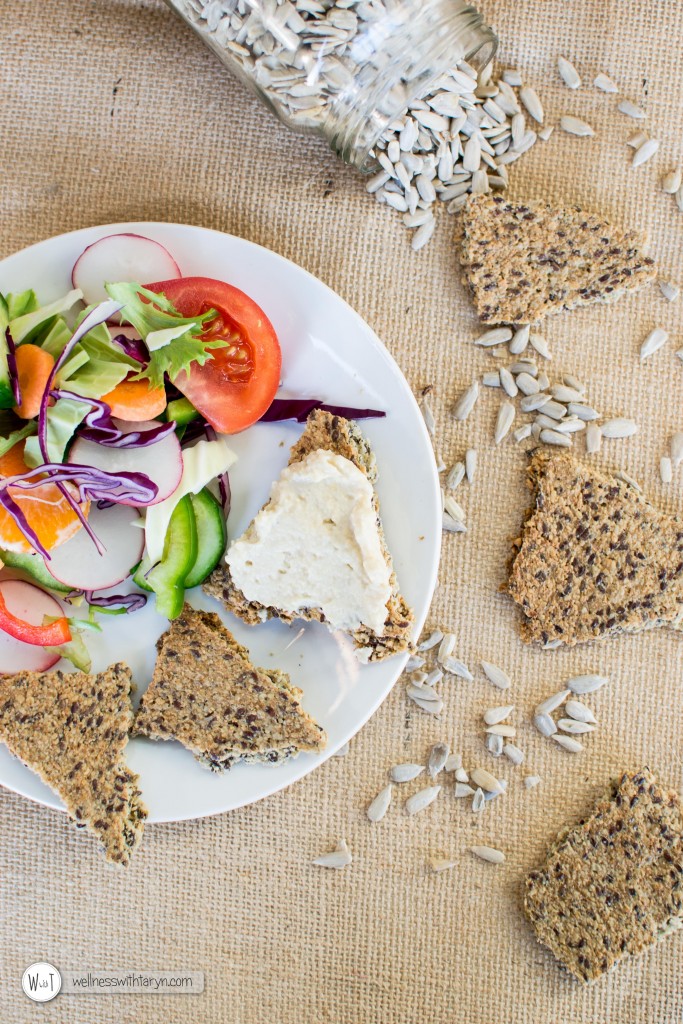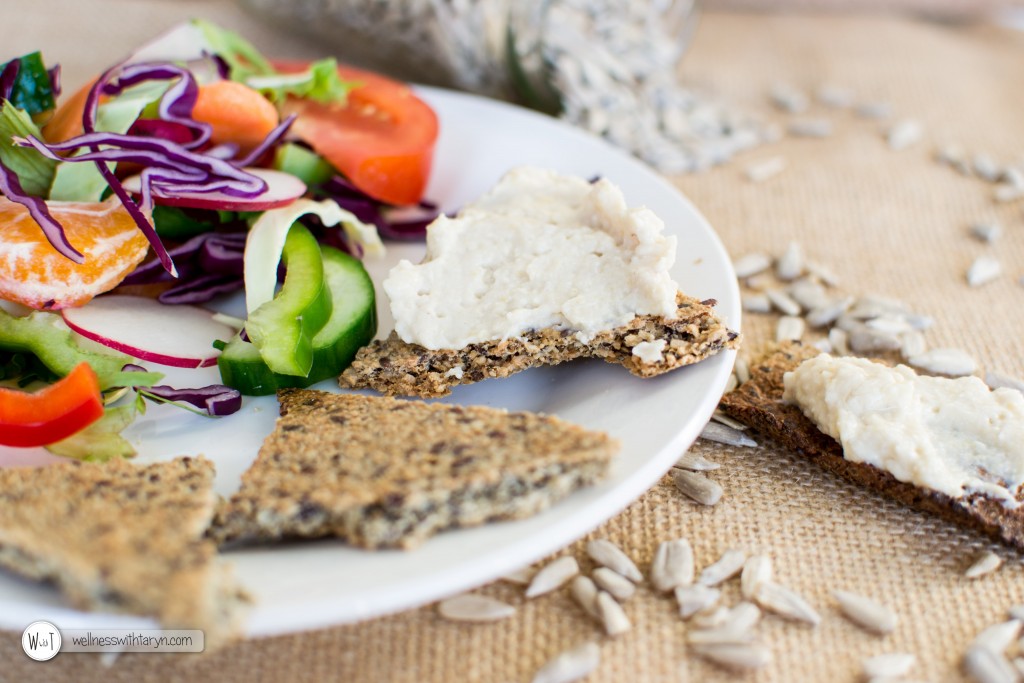 Now, these crackers are crunchy, slightly cheesy from the nutritional yeast and extremely 'moreish'. Once you start it's difficult to stop. They'll keep in a sealed container for up to 5 days, if you can get them to last that long! I love to bring some with to much on with my salads at lunch time, they're so easy and go with anything! I love seeing your re-creations so please let me know by tagging #wellnesswithtaryn or tag me on Instagram @wellnesswithtaryn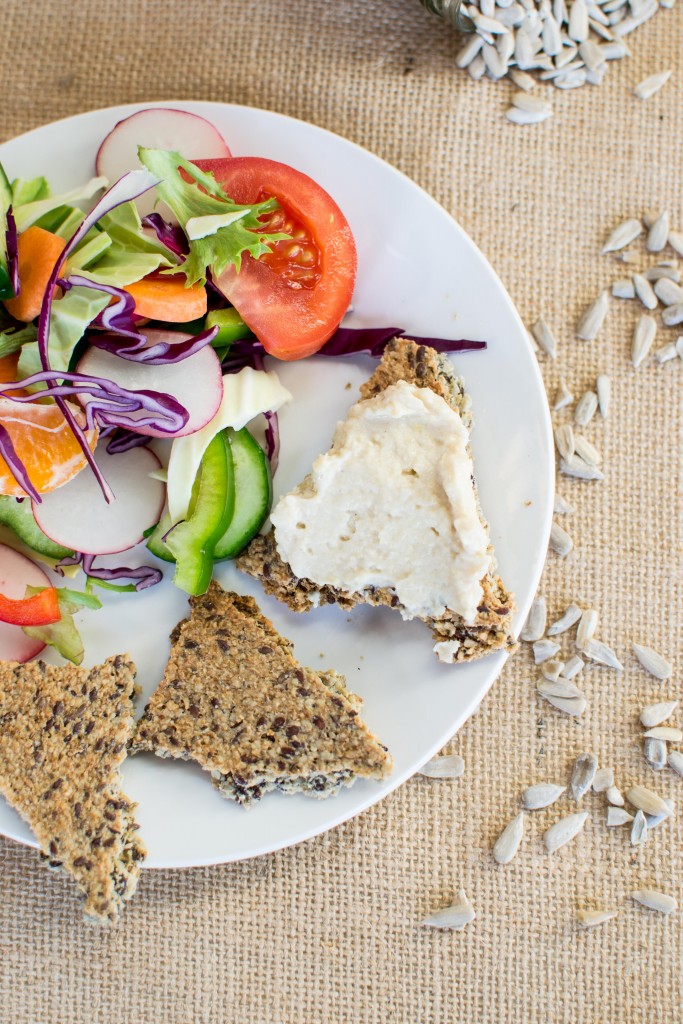 Garlic and Onion Sunflower Seed Crackers
2016-06-10 05:12:20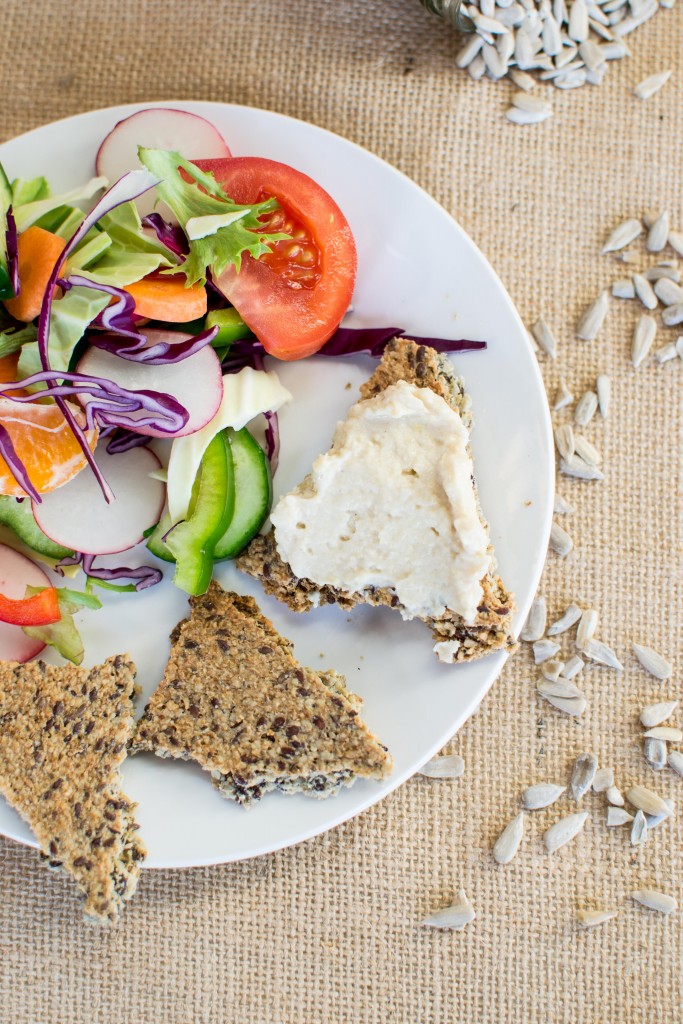 These Sunflower Seed crackers are so versatile and can be matched with so many other flavors. For savory spread some hummus and enjoy with a side salad. For sweet, spread some nut butter and enjoy with a warm cuppa. Perfectly healthy and delicious.
Ingredients
1 Cup Sunflower Seeds
1/4 Cup Flax Seeds
1 Tsp Chia Seeds
1 Tsp Phsylium Husks
1 Tsp Nutritional Yeast Flakes
1 Tsp Himalayan Rock Salt
1/2 Tsp Garlic Powder
1 Tsp Onion Powder
1/2 Cup Water
Instructions
Pre-heat oven to 180C - I used fan forced
Add all dry ingredients into a food processor and blend until broken down and combined.
Add the water and blend further to mix through
On a lined baking tray, spread out the mixture using a silicone spatula or back of a table spoon
Spread out evenly and thinly, around 4-5mm thick making one large cracker
Bake in the oven at 180C for 30 mins until golden brown
At 20 mins remove from oven and turn whole cracker over
Remove and allow to cool before breaking into desired shapes and sizes
Store in a glass jar for up to 5 days
Notes
Use organic where possible
Wellness with Taryn http://wellnesswithtaryn.com/