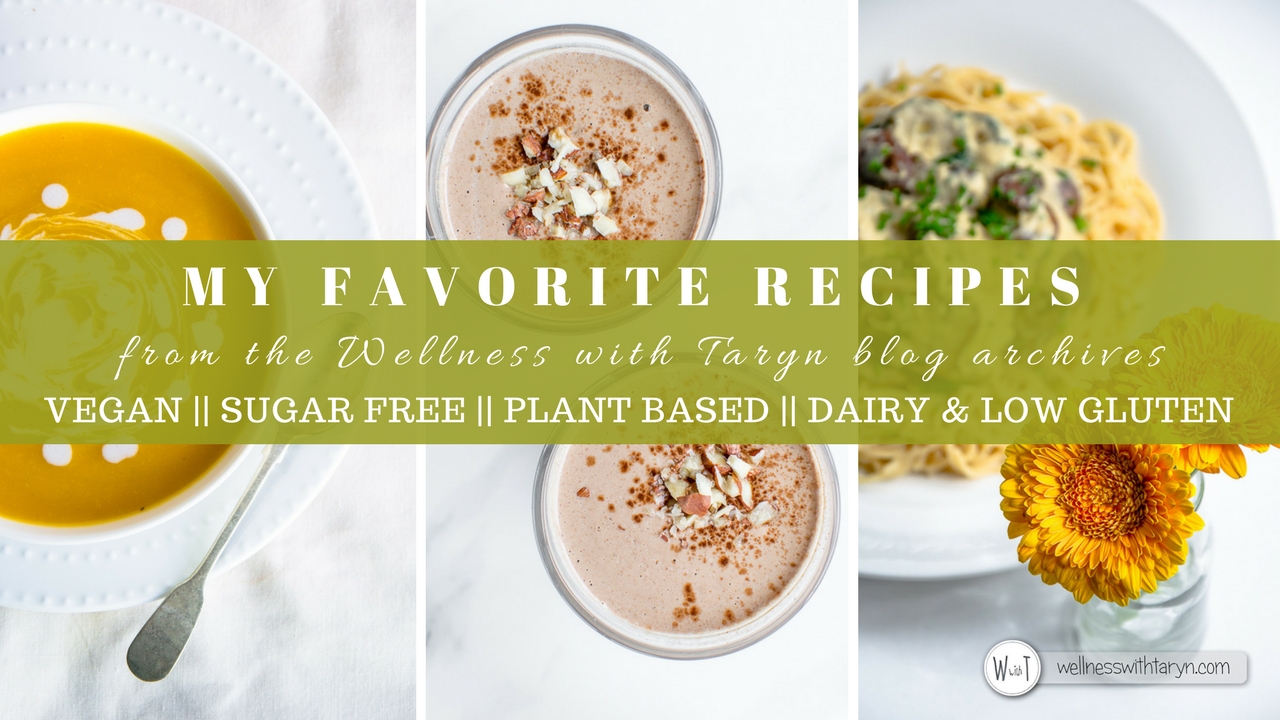 This week on the blog I thought I'd share a couple of my favorite recipes so far. Sifting through archives and reminiscing on past dishes has been quite wonderful, therapeutic in a way. A stroll down memory lane is always good. These recipes range from sweet to savory and are in no particular order.
One thing that gathering all these recipes has made me realize is how much time, effort and hard work I've poured into this blog. Not that it feels like work at all!
Creating delicious healthy recipes, photographing each creation, writing up each post – all these things I LOVE to do! And while it may keep me very busy, I feel such a reward when someone enjoys a recipe or leaves a lovely comment.
To know that my message is reaching someone else is such a rewarding feeling. While the internet can feel so impersonal at times, it's so great to know that there are people out there who have taken the time to read what I've written. So thank you!
I hope you enjoy these best of the best's below, and leave a comment if you wish to make my heart smile!

This recipe is one of the most popular recipe on the blog, and is most certainly one of my favorites. Flavorful and sophisticated – creamy and zesty. So good!

I love love love smoothie bowls, and while (unfortunately) they don't have the best effect on my sugar levels – I do treat myself to one every now and then. This recipe is so easy and delicious – and just so damn vibrant! #beautiful

A perfect low carb breakfast option – the vegan tofu scramble. So flavorful and packed with amazing nutrition. Certainly a great way to start your day!

These no-bake brownies are ADDICTIVE! I dare you to try make a batch last more than 2 days! They're gooey and full of chocolatey-coffee goodness! Mmmmmm……

A really great smoothie recipe, that'll leave bouncing full of energy! Don't let the green fool you because this bad boy tastes more like a 'tropical paradise cocktail' than a healthy smoothie!
Inspired by the gorgeous @deliciouslyella, these sunflower seed cookies are perfect – not only for Valentines Day, but for ANY damn day of the week! They're crumbly and crunchy and … just so so so good!

A bowl that will leave you feeling satisfied and radiant. Full of green goodness – alkalizing each and every one of your cells. Health will literally beam out of you like glorious rays of sunshine.

My gorgeous friend @kirstyloves shared how amazing millet was as a porridge – and I'm forever grateful as this dish literally got me through my first New Zealand winter! Thank you my lovely! It's still one of my favorite breakfasts when I'm feeling the need for some serious carbs!

An oldie – but such a goodie! One of my favorite winter warming soup recipes with some handy recipe creating tips from my Mother-in-Law. Like adding an apple to the mix – who would've known?? The perfect subtle sweetness to balance all the flavors!

Hazelnuts! One of my all time favorite nuts! A jar of hazelnut butter can literally vanish in seconds in my hands. This chocolate hazelnut smoothie combines the two most epic flavors together beautifully! A decadent healthy treat.

One of my favorite mid-week meals. It's quick enough to make when I get home from work and is so delicious! Decadent and creamy and so fueling. I make an extra big batch so that I have some for lunch the next day. #mealprep for the win!!! P.S Chickpea spaghetti is pretty life changing!

Oh my gosh! One of these Oat Crunchie Bars with a cup of warm Rooibos tea on a crisp Winter's day – can you imagine. My healthy take on an old South African favorite. All boxes ticked! Healthy, delicious, fueling, energizing, crunchy, naturally sweet oaty goodness! I need to make another batch of these like, NOW!

This is also an older recipe – but is such a great curry recipe. Versatile in that you can add any other veggies you like to the malasa base. It's really tasty and perfect comfort food.

This is a recent recipe (I know), but it really has been such a favorite of mine lately. It's so fueling and great for mental clarity. I feel like I get shit done so much more efficiently after having this bowl for breakfast. It's also really quick and easy, which is always great in the mornings.

This is such a gorgeous dinner-party dessert recipe. It's warming and full of beautiful flavors and aromas. Served with creamy coconut yogurt, it'd sure please any guest!

Who doesn't love a good fritter – and when it's packed full of goodness, even better! These fritters a delightfully scrumptious – served with a tangy coconut yogurt tzatziki, the two combine beautifully together.

Now, I probably could go on all day sharing my favorite yummy recipes – because they're all so good! But what would a healthy recipe inspiring post be without a crispy crunchy kale chip recipe. The perfect snack for all – and bursting with amazing nutritional benefits. These are cheesy and so incredibly more-ish! I dare you to stop at one handful 😉
My lovelies, I do hope you enjoyed this post, and remember to leave a comment below if you'd like to connect.