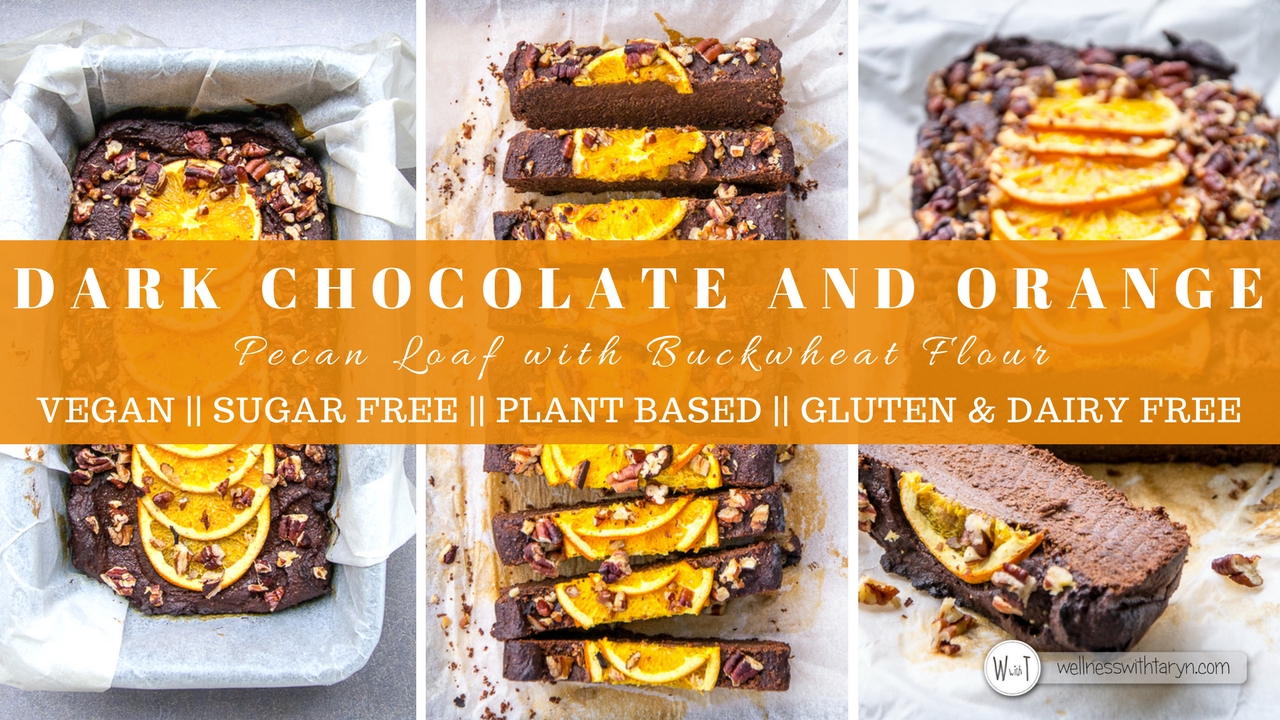 This is such an exciting post because this recipe was made with my new kitchen gadget/birthday present and it's one I've been lusting over for ages!!!! Yes, I've stepped up a level to foodie heaven with my new Breville Kitchen Wizz!
So this delicious Dark Chocolate and Orange Pecan Loaf recipe with buckwheat flour is made using a food processor which is so easy, because you just throw the ingredients in, whizz it up, pour into the loaf tin and pop it in the oven. So great!
This food processor is amazing to say the least, and it's sheer power is enough to give me goosebumps. I can sense a nut butter addiction becoming a BIG problem, now that I'll be able to make my own!
I think it's been the missing link in my kitchen for a while now, and already I feel a whole new wave of inspiration and creative ideas that I can't wait to get stuck into. So grateful and incredibly excited.
So this recipe was the first (of many to come) made in my new gadget, and goodness was it yum! It's loaf shaped, as I used a loaf tin, but it actually has more of a dense brownie texture. Dense but not heavy. The buckwheat flour worked really really well, and I'm thoroughly stoked at how it turned out.
The pairing of dark chocolate (raw cacao) and orange is delicious and the pecan adds that nutty flavor which all work so beautifully together. I've never really been one for orange flavored chocolate, but goodness, I instantly have become one! So delicious!
I used dates to sweeten this loaf, as well as add that fudgy texture/flavor. By all means, add more sweetener (maple syrup, agave, honey, etc) if you have a sweet tooth, but I found the dates to be quite sweet enough.
So, Why Use Buckwheat Flour as an Alternative?
I used an Organic NZ made Buckwheat flour from the Organic Shop in Nelson. NZ buckwheat flour is renowned for having quite a stronger flavor, compared to the buckwheat flour from China, but that didn't bother me as I'd much rather use ingredients sourced locally, and definitely try not to use ones from China!
It's strong flavor was completely masked in this recipe, which is great, and it created a beautiful texture which I'm so happy with.
Buckwheat contains high-quality plant proteins
Food scientists have discovered that buckwheat is a rich source of what is called "biologically available protein." This means that buckwheat has a well-balanced assortment of essential and non-essential amino acids, the building blocks of protein. It is considered a superior source of protein when compared to wheat, rice, and even millet.
Buckwheat is a rich source of antioxidants
Like citrus fruits, buckwheat is a rich source of rutin, a powerful flavonoid antioxidant. It's also is a good source of Vitamin E, another powerful antioxidant. Antioxidants prevent cell damage and support good health. A gluten-free flour that's high in antioxidants is a real bonus!
Buckwheat is an excellent source of minerals
A comparison of the mineral content of buckwheat flour and rice flour shows that buckwheat flour has:
4 times more iron
3 times more calcium
Over 9 times more magnesium
Almost 6 times more potassium
About twice as much zinc, copper, and manganese
By replacing a portion of rice flour in gluten-free recipes with buckwheat flour, gluten-free recipes become a better source of essential minerals.
So this magical little triangular-cube-shaped seed has quite an array of nutrients and healthful properties, that I'm more than happy to include into my diet. It's versatile and affordable and delicious!
I love the crunch it gives to raw treats and granola, and it really works well as a gluten free flour alternative. The only thing I'm not such a fan of is cooked buckwheat – similar to how you'd cook quinoa – unfortunately I'm just not a fan. Other than that, I love it!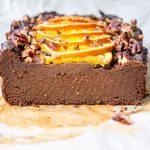 Dark Chocolate and Orange Pecan Loaf
A delicious loaf that is full of chocolate orange goodness. Free from refined sugar, gluten and dairy, and full of nutritional goodness. Fudgy brownie texture, and just so incredibly delicious.

Course:
Breakfast, Dessert, Side Dish, Snack
Cuisine:
Dairy Free, Gluten Free, Refined Sugar Free, Sugar Free, Vegan, Vegetarian
Ingredients
2

Tsp

Chia Seeds

- left aside to soak in 2 TBS boiling water

1

Cup

Dates (Pitted)

- left to soak in 1/2 cup boiling water

1

Cup

Pecan Nuts

1

Cup

Buckwheat Flour

1/2

Cup

Organic Raw Cacao

2

Tsp

Baking Powder

3

Tsp

Psyllium Husks

1

Tsp

Sea Salt

1

Cup

Fresh 100% Orange Juice

Pecan Nuts (Chopped)

- to garnish

Sliced Orange

- to garnish
Instructions
Preheat the oven to 160C fan forced


Add the chia seeds and boiling water to a small bowl, and set aside to swell.


Place the dates into a bowl, add the boiling water and set aside to soak.


Add the pecan nuts to the food processor, and process until fine.


Add the buckwheat flour, raw cacao, baking powder, psyllium husks and salt and process until all combined.


Drain the dates from the water, and add to the food processor along with the orange juice and chia seeds. Process until all mixed through.


Line a loaf tin with baking paper, and pour the mixture into the tin. Spread evenly.


Garnish with the sliced orange and chopped pecan nuts, and place in to the oven at 160C fan forced for 30 mins.


Remove at the 30 min mark, rotate and bake for a further 15mins at 120C fan forced.


Remove from oven and allow to cool for about 10 mins.


Slice into slices with a sharp bread knife, and store in an airtight container for up to 4 days.


Best served with a cup of your favorite tea and great conversation.

Recipe Notes
Use Organic where possible - Use local buckwheat flour