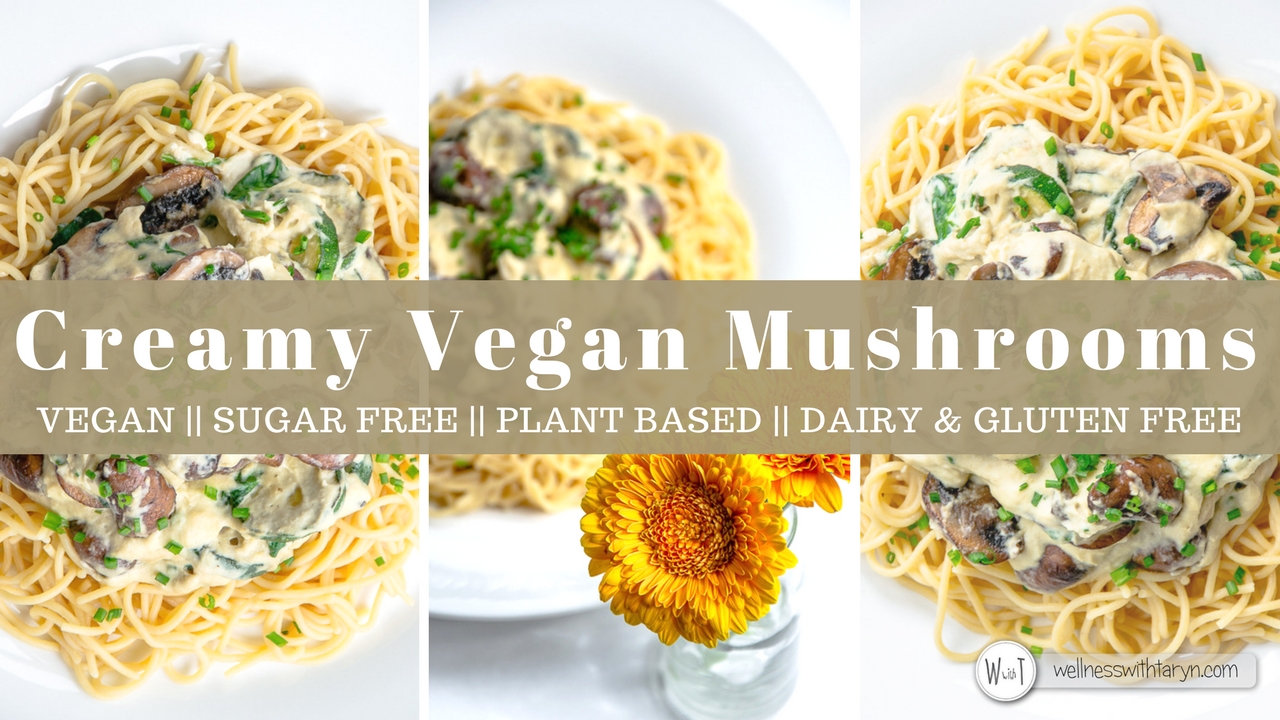 A couple of days ago I shared this post on Instagram and Facebook and asked if you'd guys would like the recipe. I got such a great response, so this week I tweaked and created this delicious Creamy Vegan Mushroom recipe that I paired with some delicious Chickpea Spaghetti. Nick and I rarely eat out, which means that we make 99% of our meals at home. This is usually (depending on how I'm feeling) where my creativity tends shines through.
I always strive to create something delicious, nutritious and relatively easy. The problem is that lighting at this time of day is not at it's peak, so unfortunately the majority of these meals are not 'Blog worthy'. Although a fair few sneak into my Instagram feed, like this one that I'm sharing today.
It's meals like this one that come in so handy, when you get home from a busy day and you feel like something indulgent, yet healthy for dinner. Something that's not going to take too long in the kitchen and something that's not going to leave a trail of dirty dishes to clean up. Most importantly something that is so tasty, and something that is going to satisfy fully!
What's on the Plate

A creamy and flavorful dish that is nutritionally balanced, and also so fulling. The mushrooms add such a lovely texture, and the sauce is so flavorful! Paired with spaghetti or any pasta of your choice (zucchini noodles would also be so great), this dish will surely be loved by all.
The zucchini and baby spinach add some green goodness, while the hint of freshly chopped chives finishes off this perfectly balanced dish beautifully. I've served it with this amazing chickpea spaghetti I recently found and have fallen in love with. It is so good!
So the next time your scrounging around, wondering what to make for dinner or for Meatless Monday's, be sure to give this recipe a try as I'm positive you'll agree it's one for the 'top-drawer'.
Below is a rough idea of the nutrients, vitamins and mineral content of this dish using Cronometer.
Creamy Vegan Mushrooms with Spaghetti
This is a delicious and indulgent healthy recipe full of flavor. It is free from dairy, gluten and refined sugar and 100% earth friendly and vegan. It's relatively easy to make and only uses a few ingredients. Perfect for 'Meatless Mondays' #meatlessmondays
Course:
Dinner, Main Course, Pasta
Ingredients
1

Large

Red Onion

(150g) Peeled and diced

1

Medium

Leek

(130g) Peeled, cleaned and diced

1

Tsp

Organic Cold Pressed Coconut Oil

To saute the leek and red onion in

1

Cup

Raw Cashews

Soaked in boiling water for at least 20mins

1/2

Medium

Lemon

(Juice of)

1/2

Vegetable Stock Cube

Diluted in 1/4 cup boiling water

1

Tsp

Onion Powder

2

Tsp

Nutritional Yeast

200

grams

Brown Mushrooms

Cleaned and Sliced

1

TBS

Organic Extra Virgin Olive Oil

2

Medium

Zucchini's

Cleaned and Sliced

2

Tsp

Arrowroot Powder

In a little water to mix into a runny paste/no lumps

2

Tsp

Fresh Chives

Finely Diced

1-2

Cups

Baby Spinach

Rinsed

1/2

Cup

Hot water
Instructions
Boil the kettle and place your cashew nuts in a bowl. Cover with boiling water and allow to soak while you carry on with the recipe.

Next you want to peel, clean and chop the red onion and leek. Heat up the coconut oil in a frying pan and add the chopped onion and leek when the pan has reached a med/high temperature. Allow to saute until soft and golden brown.

In another small bowl, add the 1/2 vegetable stock cube and add some boiling water and allow to dissolve.

Once the onion and leeks are done, add to a blender/nutribullet, along with the soaked and rinsed cashew nuts, vegetable stock liquid, lemon juice, onion powder, nutritional yeast and 1/2 cup warm water. Blend until smooth.

Next you want to clean, chop and saute the mushrooms in the olive oil. Once they're soft (yet still firm) and golden brown remove and place onto a plate.

Add the sliced zucchini to the same pan and saute until golden brown on each side.

While the zucchini is cooking, bring a big pot of water to the boil. Once boiling add your spaghetti or choice of pasta. Cook until soft. Remove from heat, drain and rinse with cold water. Place the colander back over the pot with a little water, over the warm stove pan with a lid on to keep warm until ready to serve.

Place the sauce from the blender to a small pot and bring up to a medium heat. In a separate small bowl add the arrowroot powder and a little water to create a runny paste that has no lumps. Add this paste to the sauce and stir on a med/low heat for 2-3 mins.

The sauce will begin to thicken and the texture will become more 'sauce-like'. At this stage add the finely diced chives, leaving a few to sprinkle when serving. Stir thoroughly.

Back to the zucchini, once soft and golden brown, add the mushrooms back to the pan along with the baby spinach. Once the spinach has wilted down a bit, add the sauce from the pot and stir gently.

Once the mixture is heated through, either add the spaghetti to the pan or serve separately. Sprinkle with diced chives and enjoy.
Recipe Notes
Use Organic wherever possible
If your sauce is a bit thick while blending, slowly add a little warm water until you're happy with the consistency. You don't want it too 'runny' though.
I hope you enjoyed this recipe, if you did leave a comment below. I'd love to hear from you.