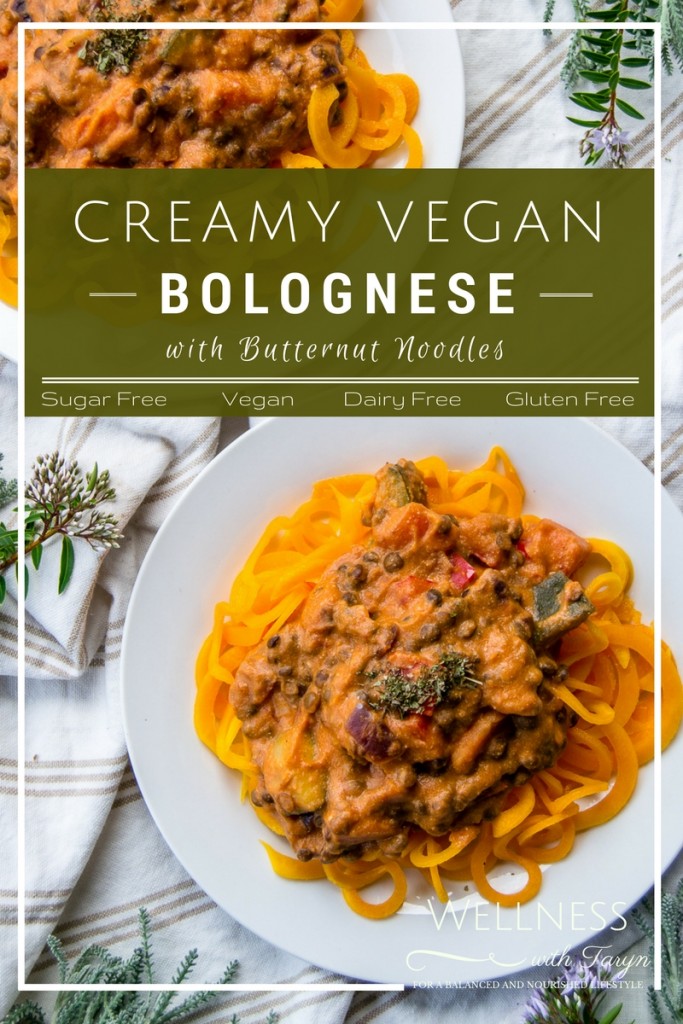 Slow cooked, aromatic bolognese is one of the ultimate comfort foods. When you're craving something dense and wholesome, this is a favorite for many! However, for some it can leave the digestive system feeling burdened rather than nourished.
So, I decided to put my own twist of this Italian classic, substituting ground beef for lentils, and dense pasta (which is iconic for a bolognese dish) for butternut squash noodles.
With the addition of a creamy vegan white sauce, the result was a deeply flavored dish with a creamy twist, all elements complimenting each other perfectly!
On this journey, I'm a huge advocate for one not feeling deprived at all whilst living a healthy lifestyle. That's where healthy substitution comes in so handy, because there are so many delicious healthy creations that mimic old school unhealthy original versions of foods.
Healthy Substitutions
There are so many alternative recipes out there, all it takes is a little effort (to google) and the personal choice to rather opt for a healthier kinder version, without feeling deprived because the healthier versions are sometimes even tastier (in my opinion 😉 )
Whether you choose a 60-40% or 80-20% approach, I urge you to follow what feels best for your body, without any deprivation. Allow yourself that treat you had your eye on and couldn't get out of your brain, without the guilt! I like to encourage everyone to have a healthy relation with food, as it is one of our life forces, and one shouldn't feel anxious or guilty around it.
Life is all about balance
If you keep that in mind, you'll be set on living a healthy lifestyle – free from guilt and depravity. Embracing all the goodness that comes with food, and all the energy that comes with this wonderful way of life!
I absolutely loved the combination of butternut with this vegan bolognese. The sweetness of this vibrant orange vegetable gelled so beautifully with the rich tartness of the tomato based sauce. The creamy cashew sauce just gave the dish that extra umph! of comfort, and added to the nutritional profile of the dish.
This is a hearty, comforting and nourishing dish that's family dinner worthy, as I'm sure kiddies will love it as much as I did! I especially loved it the next day for leftover lunch! Yum! Leftovers (in my book) are the shizz nizz! 😉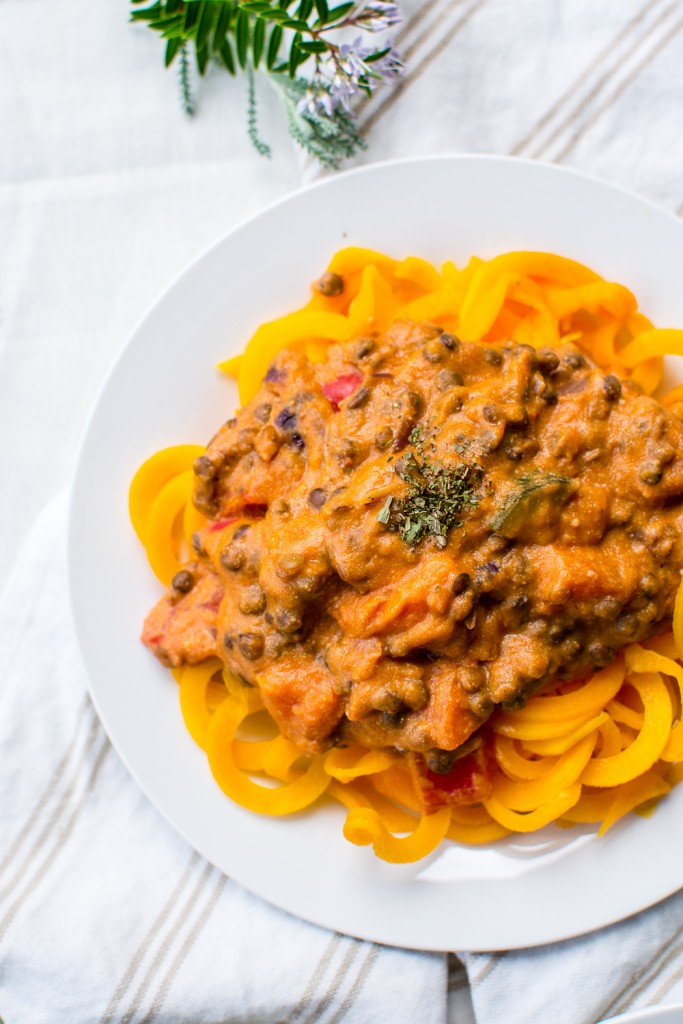 Creamy Vegan Bolognese
2016-10-14 03:06:45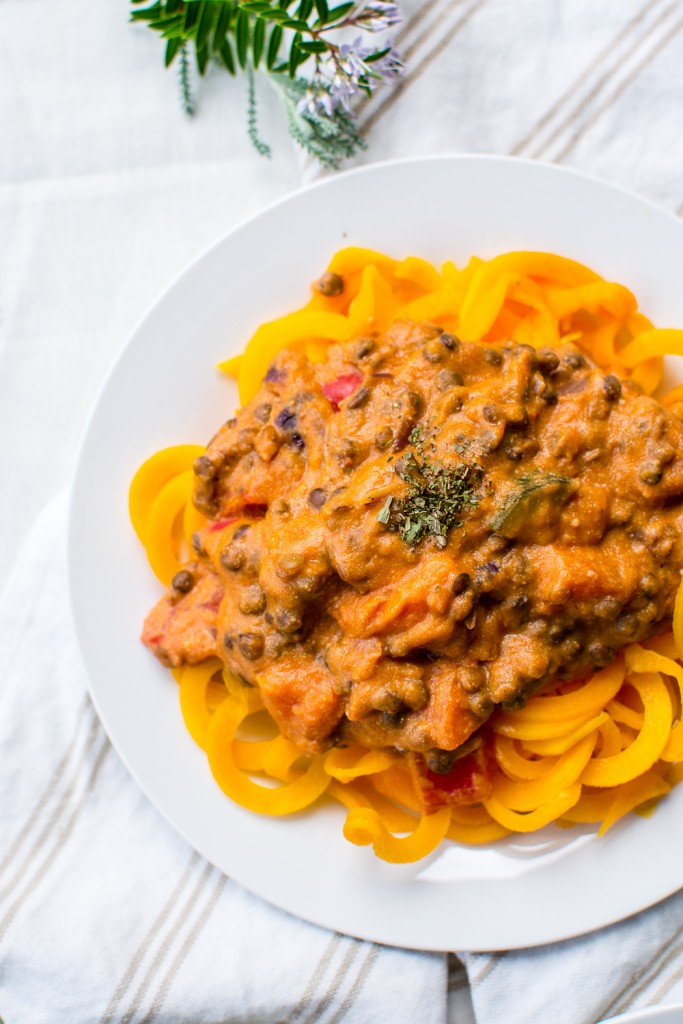 Serves 4
This nourishing vegan bolognese is a rendition of the Italian classic. Using lentils in place of beef and butternut for the noodles, this plant based bolognese is the ultimate comfort dish.
Ingredients
1/2 Butternut Stem (Peeled and Spiralized into noodles)
1 Large Sweet Potato (Peeled & cubed)
1 Large Carrot (Peeled and cubed)
1 Large Zucchini (Cubed)
1 Medium Red Onion (Diced)
1 Large Red Bell Pepper (Chopped)
1 400g Can Lentils (Organic)(BPA Free Can)(Rinsed and drained)
340g Your Favorite Tomato Pasta Sauce (Low sodium, organic, preferably refined sugar free)
70g (1/2 Cup) Cashew Nuts
3 Tsp Nutritional Yeast
1 Tsp Onion Powder
3/4 Cup Water
1/2 Tsp Salt
1 TBS Organic Cold Pressed Coconut Oil (for sauteing)
Instructions
Clean, rinse, peel and prep all your vegetables.
Sautee the onion, carrots and sweet potato in the coconut oil on a medium heat until soft. This is roughly 5-8 minutes.
Add the red bell pepper and corgette and sautee for a further 5-8 mins until soft.
Add the tomato pasta sauce to the pan, stirring occasionally to allow the sweet potato to reduce into the sauce.
In the blender, add the cashew nuts, nutritional yeast, onion powder, salt and 1/2 cup water and blend until smooth. Add more water if necessary to reach a creamy consistency.
Bring a pot of water the boil and add the butternut noodles. Cook until soft or 'aldente'. However you prefer.
Add the lentils and cashew sauce to the pan and allow to simmer for a few minutes while the noodles cook.
When the noodles are done, rinse and plate up.
Serve with a few sprinkles of dried mixed herbs and enjoy!
Notes
Always use Organic where possible
If you can, cook your own lentils from scratch beforehand
Wellness with Taryn http://wellnesswithtaryn.com/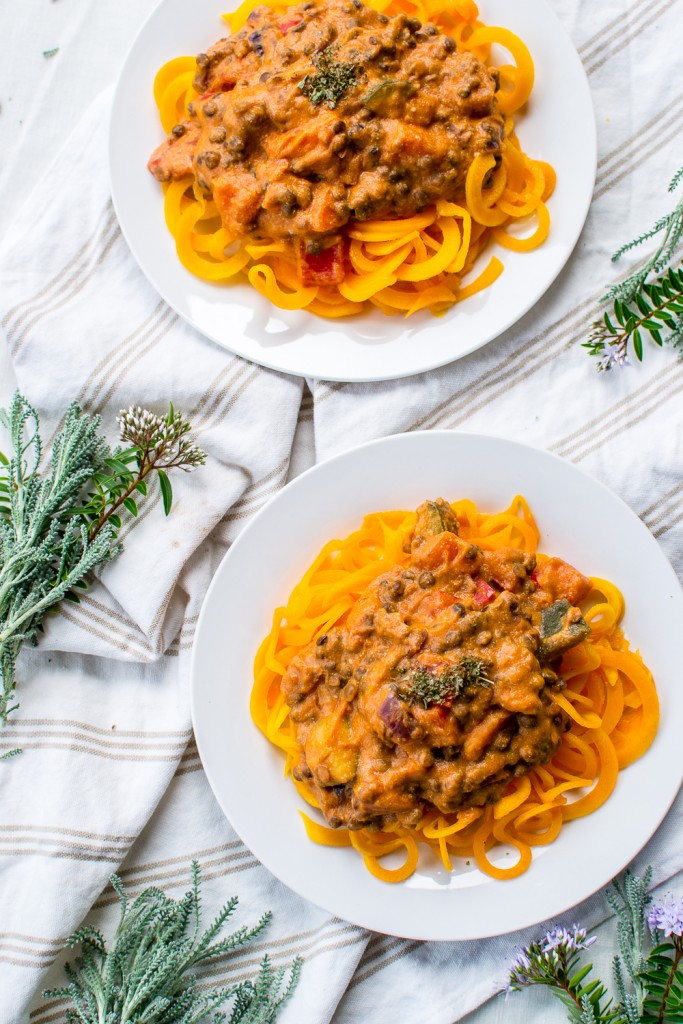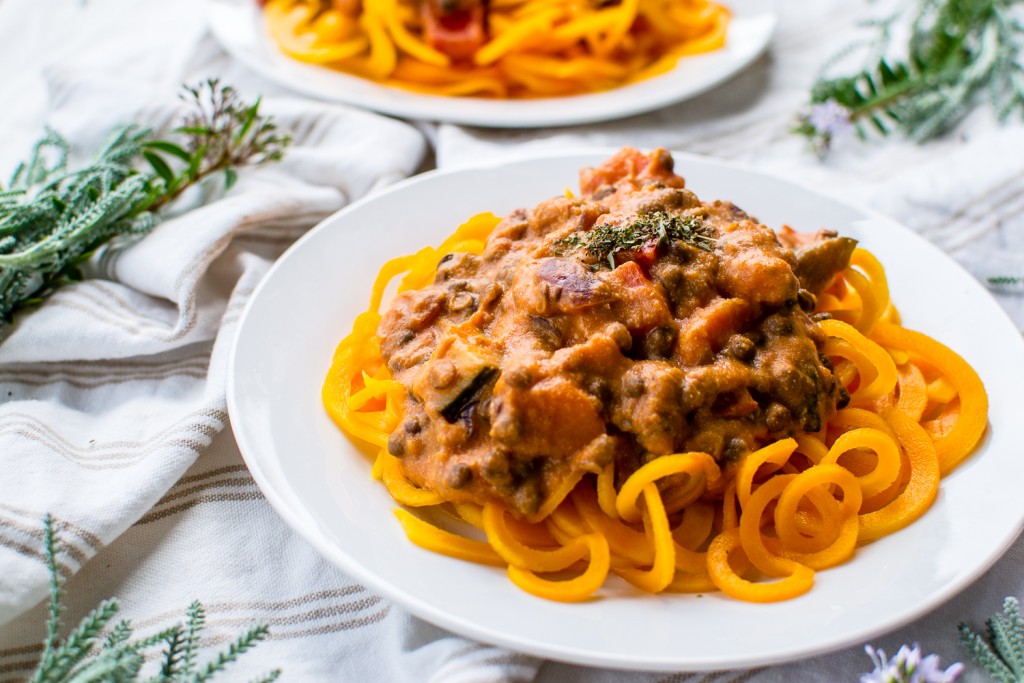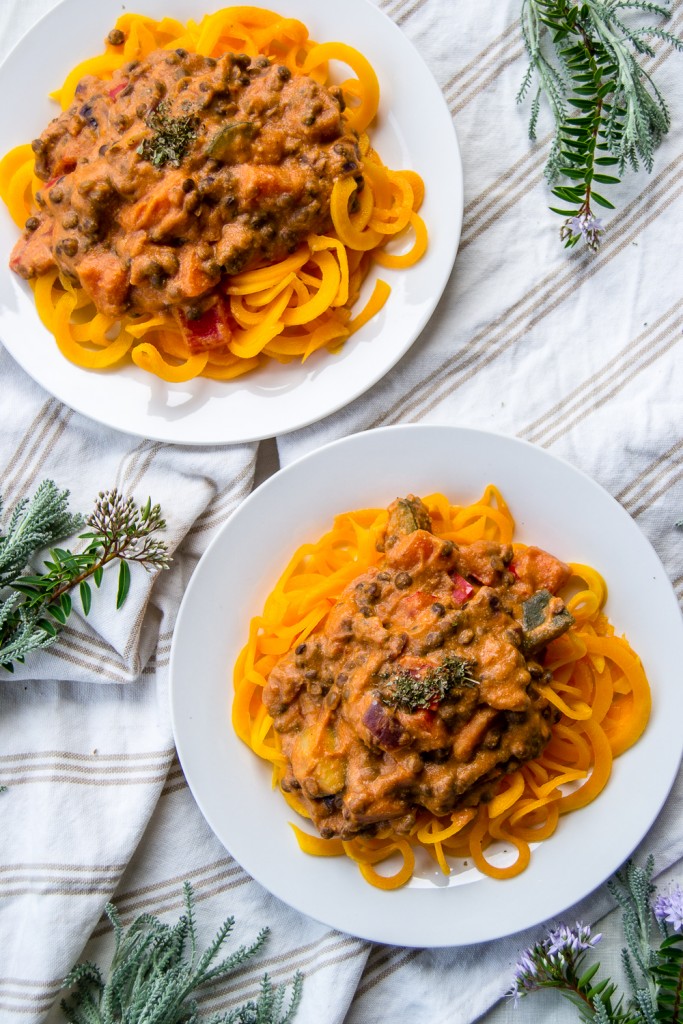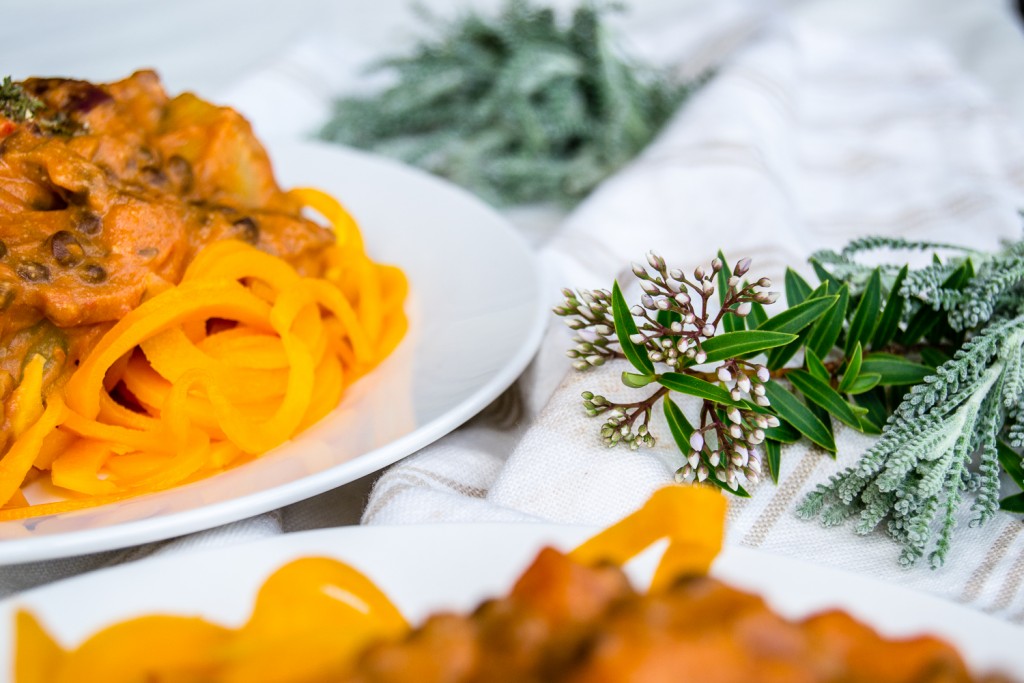 I do hope you enjoyed this recipe and remember to share, subscribe and follow me for more delicious plant based recipe creations!
Much love …