I was so 'over-the-moon happy' when I experimented with making this rice dish, as it turned out so damn tasty! If you're new to healthy eating, you'll agree that sometimes brown rice can taste a bit bland and husky. I decided to mix things up a bit and see if I could make brown rice more palatable to those who aren't used to it. I, myself, absolutely love the taste of brown rice, but I know for some it can be difficult to change and adapt to healthy eating, and so I'm here to make it that much easier for you 🙂
Okay, so the trick with this dish, as you may have already guessed, is the coconut rice. I achieved this by slowly cooking brown rice with half quantities of water and coconut cream. Granted I did use a rice cooker, but slow cooked on a stove top will also work fine. It's a good idea to let the rice soak a bit before, and make sure you thoroughly clean it prior to cooking. I clean mine by placing it in a bowl, submerging with water, stirring around with your hand and carefully draining the water. Do this until the water is clear, then you're all set to go.
The flavors in the bowl are quite complimenting. The coconut rice adds a substantiating coconut flavor, the roasted sweet potatoes add a delicious sweetness, the black beans add a smooth subtle flavor, and the celery adds a lovely crunch. The avocado a la creme dressing (you can find the recipe here) ties the dish up beautiful, complimenting the coconut rice, and the roasted pine nuts delicately finish the dish off.
Brown rice is such a staple in my pantry. You're always able to whip something up and accompany it with this nutritious starch. Brown rice is an unrefined and unpolished whole grain, and it's bran and germ layer are where all it's nutrients are densely packed. It has so many health benefits it's ridiculous. Brown rice is rich in essential minerals such as manganese, iron, zinc, phosphorous, calcium, selenium, magnesium and potassium. As well as minerals, it's packed with vitamins too, such as vitamin B1 (thiamine), vitamin B2 (riboflavin), vitamin B3 (niacin), vitamin B6, folate, vitamin E (alpha-tocopherol) and vitamin K. Brown rice is a source of protein so it's great for vegans and vegetarians, and adds good amount of fiber to any diet.
Health benefits of brown rice include improved functioning of the cardiovascular, digestive, brain and nervous system. It is loaded with powerful antioxidants which provide relief from a range of ailments such as hypertension, unhealthy levels of cholesterol, stress, mental depression and skin disorders. So much goodness in such a small little grain, mother nature never ceases to amaze me!
Coconut Brown Rice Bowl with Avocado a La Creme Dressing
2015-05-15 01:57:03
A wholesome dish loaded with nutrients and delicious flavor.
Ingredients
2 Cups Brown Rice (Organic)(soaked, rinsed and drained)
1.5 Cup Water
1.5 Cup Coconut Cream
1 Orange Sweet Potato (Cubed)
1/2 Cup Black Beans (Drained and rinsed)
1 Stalk Celery
1 TBS Pine Nuts (Roasted)
Coconut Oil for Roasting
Avocado a La Creme Dressing
1 Avocado
1/2 Lemon (Juiced)
2TBS Coconut Cream
2cm Thumb Ginger (Grated)
Dash of Good quality Olive Oil
Salt and Pepper to Taste
Paprika
Instructions
Place the cubed sweet potato into a small roasting dish, add some coconut oil and roast until soft.
Place the clean soaked brown rice into a medium pot. Add the water and coconut cream and bring to the boil.
Turn heat down and allow to simmer until cooked, ensuring it doesn't stick to the bottom. Eventually it will absorb all the water so no rinsing is necessary afterwards.
Alternatively cook in a rice cooker.
De-vein and chop your celery stick and lightly roast your pine nuts.
Follow the link above to the Avocado a La Creme recipe.
Once your rice and sweet potato are cooked, place rice into a bowl. Gently stir in the beans and the celery. Add a sprinkle of salt to season.
Add the roasted sweet potato, Avocado a La Creme dressing and top with the roasted pine nuts.
Wellness with Taryn http://wellnesswithtaryn.com/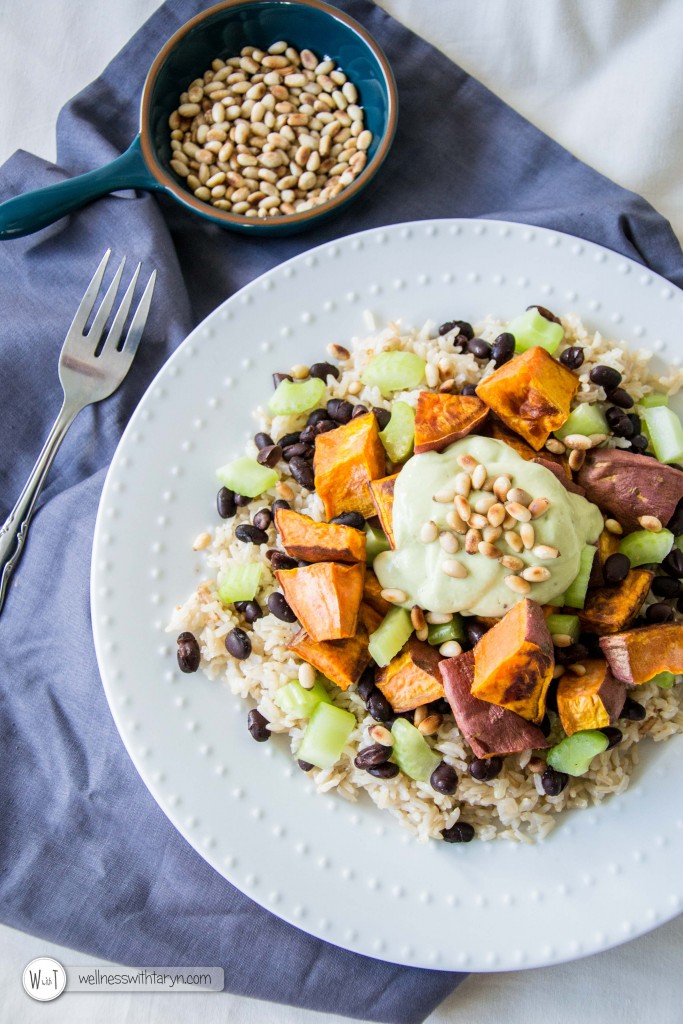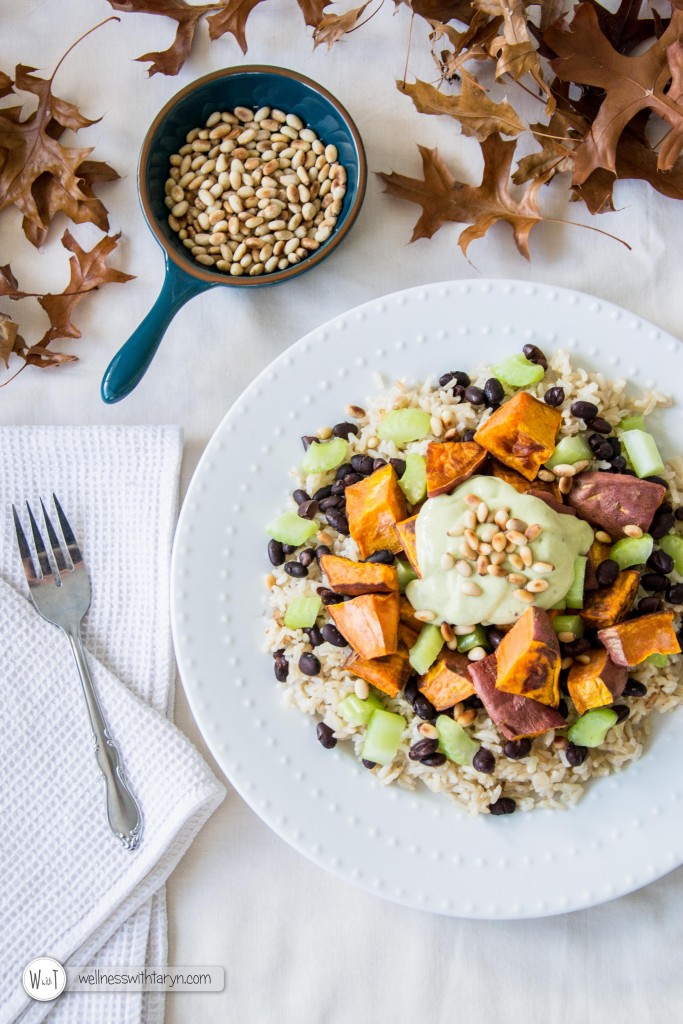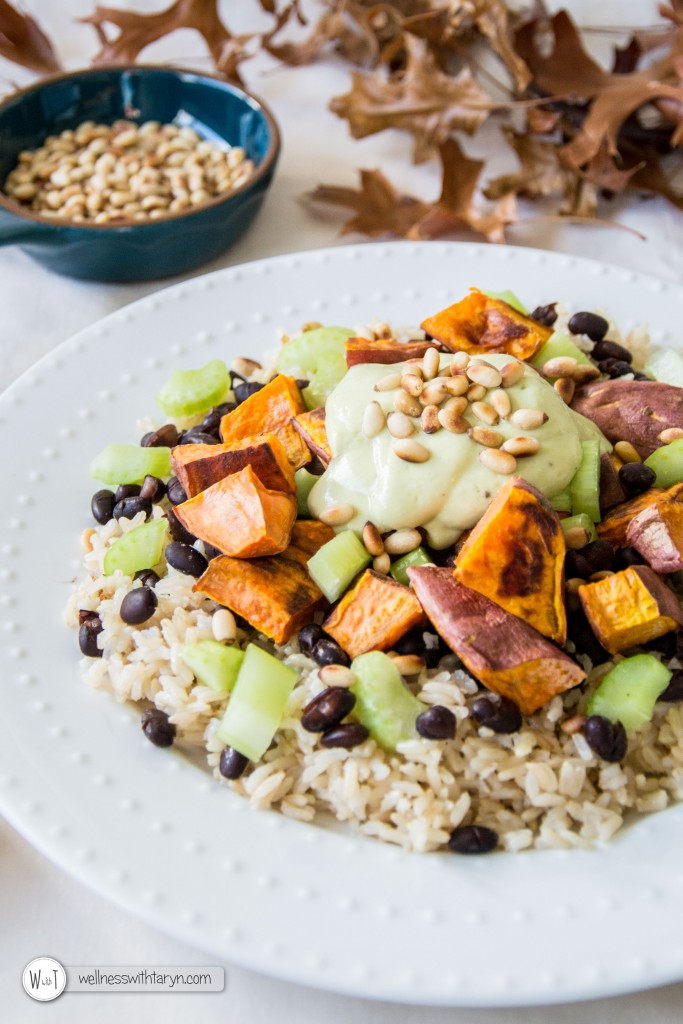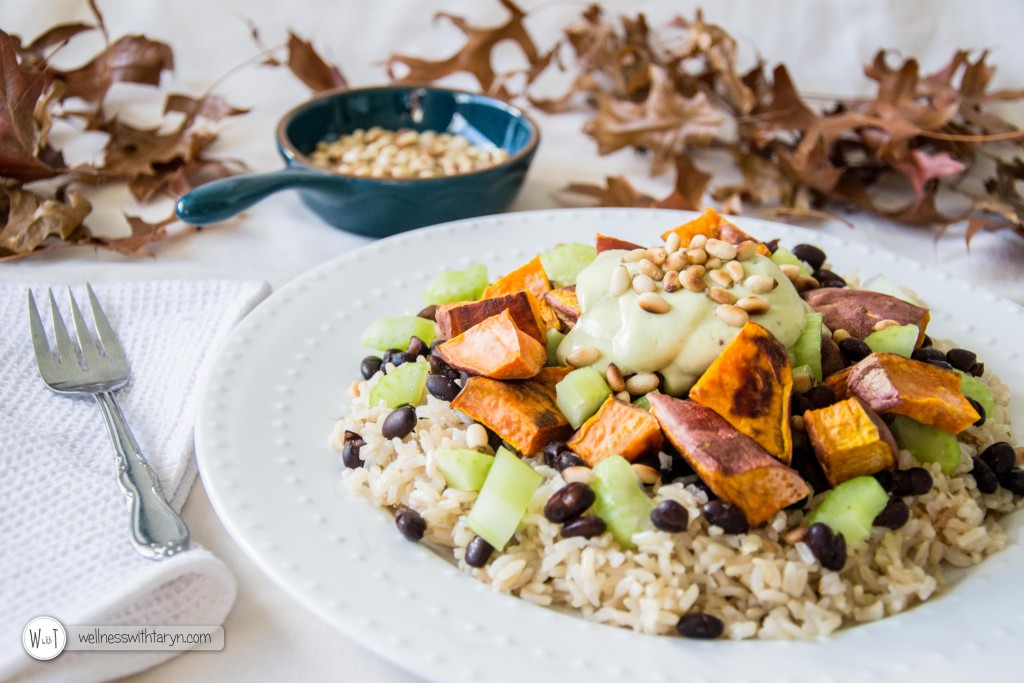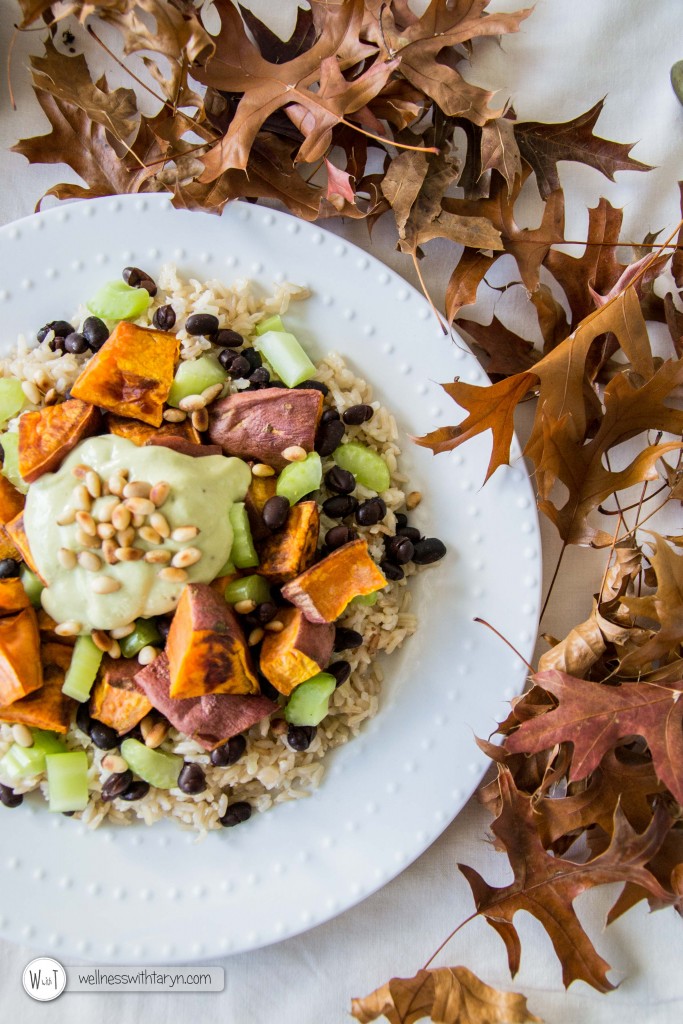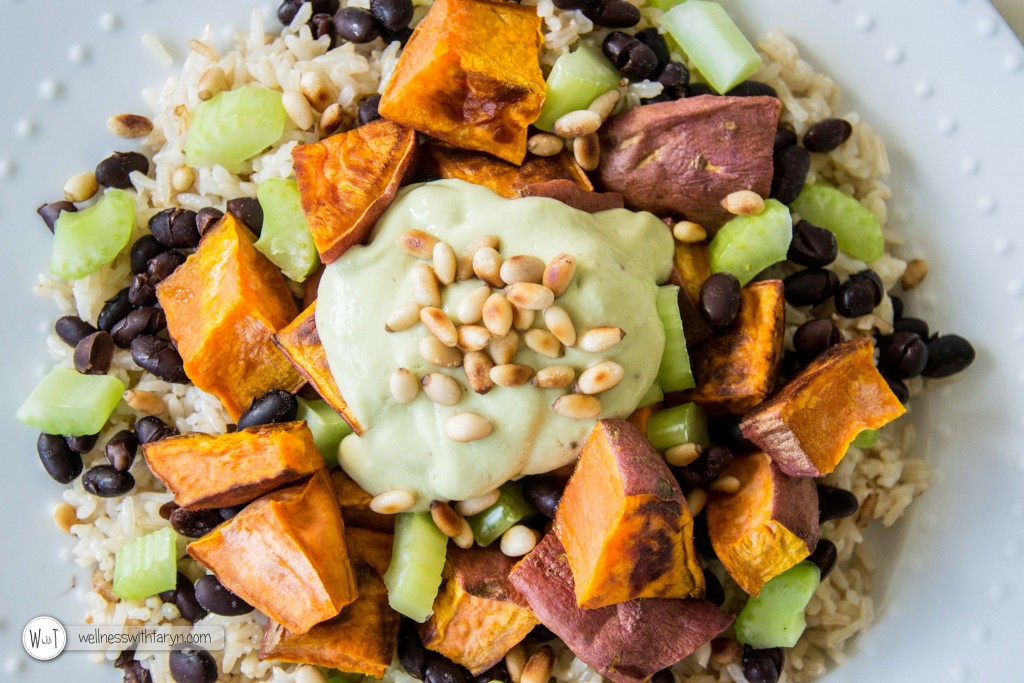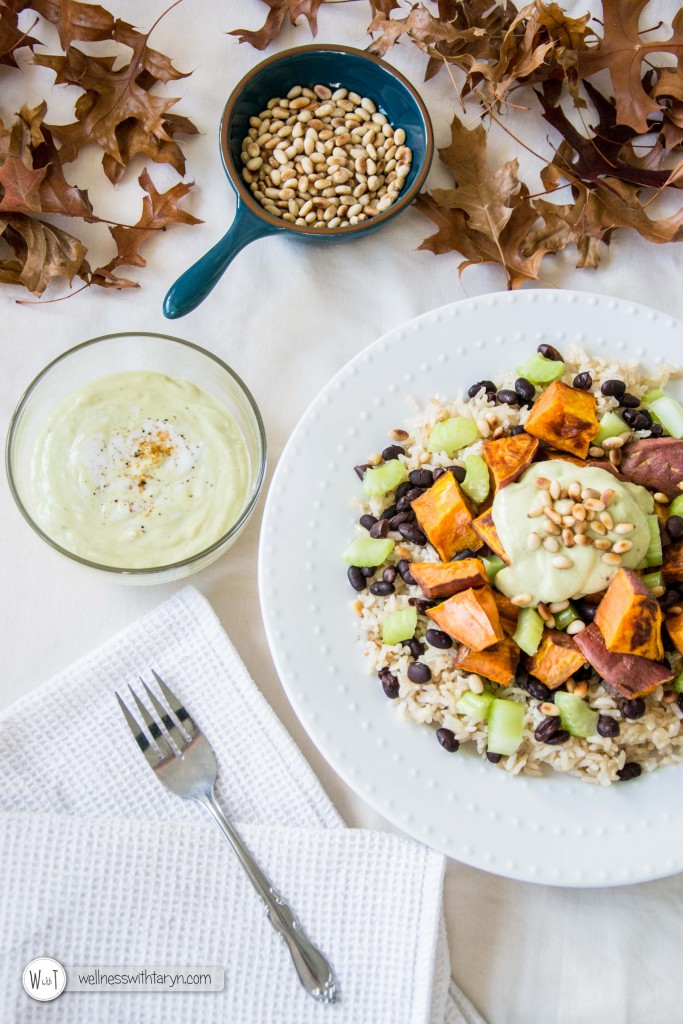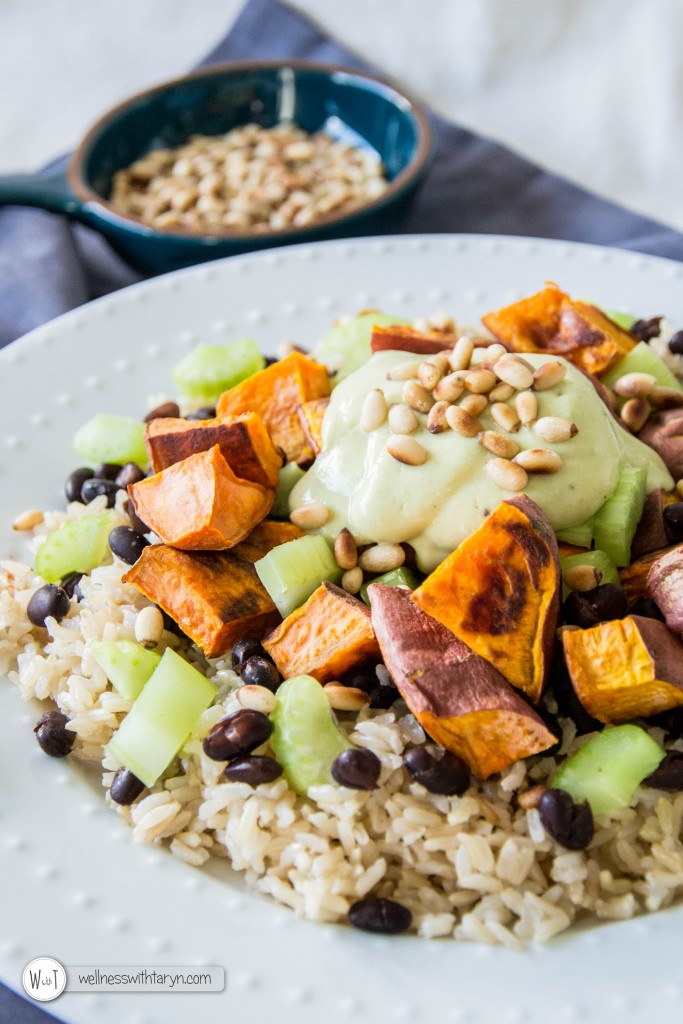 Enjoy my beautiful Wellness Tribe 🙂