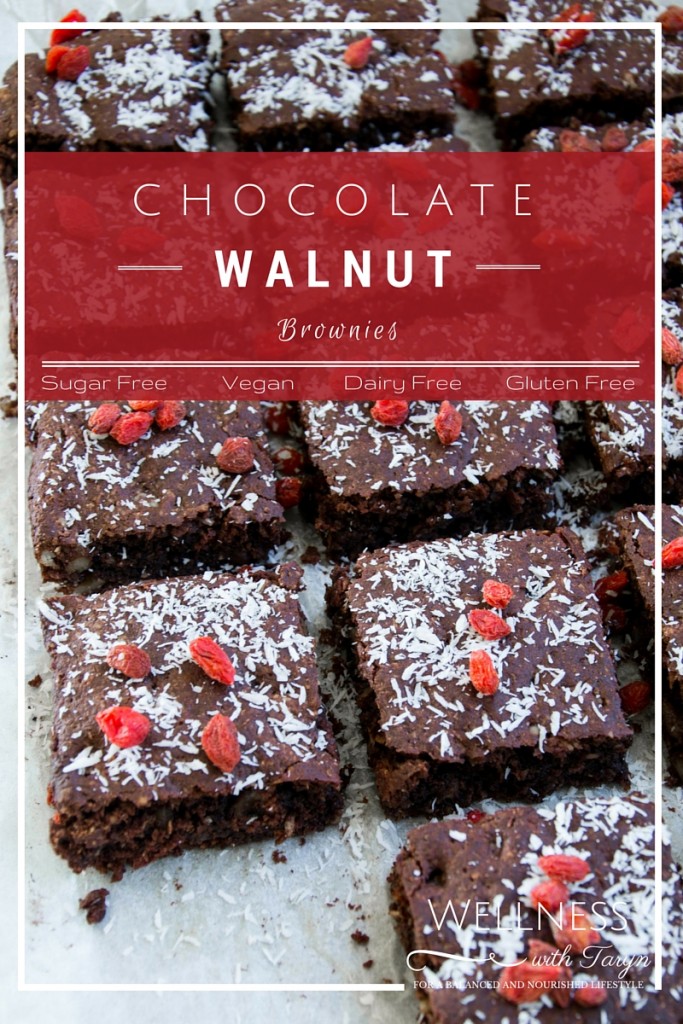 There's nothing quite like sinking your teeth into a moist, rich and decadent chocolate brownie! With the subtle texture of crushed walnuts to add the explosion of your senses, this recipe for Chocolate Walnut Brownies is sure to inspire you to pull up your sleeves, get busy in the kitchen and create these squares of complete awesomeness as soon as possible!
They're gluten free, so won't be upsetting any tummy's, and are loaded with nutritional goodness! And people say vegan/vegetarian food is boring/tasteless. Pft!?! They obviously haven't tried these brownies, and many of the amazing vegan recipes you can find today.
It's exciting to think though, that times are changing, and rather rapidly. Vegan fast food joints opening up in America (*Insert shocked face*), plant based foods becoming more readily available in supermarkets, more people are inclined to do their shopping at farmers markets, which means we're choosing to rather support local than big corporations.
Each day more and more people are becoming aware of the social and environmental impacts of their dietary choices and lifestyles. They are reflecting and realizing. This is all so incredibly exciting. Maybe, we can work together to change the world, make it a better place. Heal it's wounds, care deeply for it's animals, and thrive happily with sustainable lifestyles. Every single person makes an impact, whether it be negative or positive. Don't think that because you're in the minority and only one person, that there is no point? If we can continue to inspire ourselves and others, I'm sure it'll create a ripple effect and change will be inevitable. I find comfort in this and it makes me smile. Human beings have the capacity to be compassionate and amazing creatures, one just needs to realize their true full potential.
Just like the massive potential these brownies have! Crisp outer surroundings, with a squidgy yet crumbly center and the most satisfying texture with the walnuts shining through in every bite. They're not too sweet, so won't spike your blood sugar levels, and have loads of fiber to keep them stable. And did I mention that they are COMPLETELY healthy and 100% guilt free! Who would of though such a thing exists!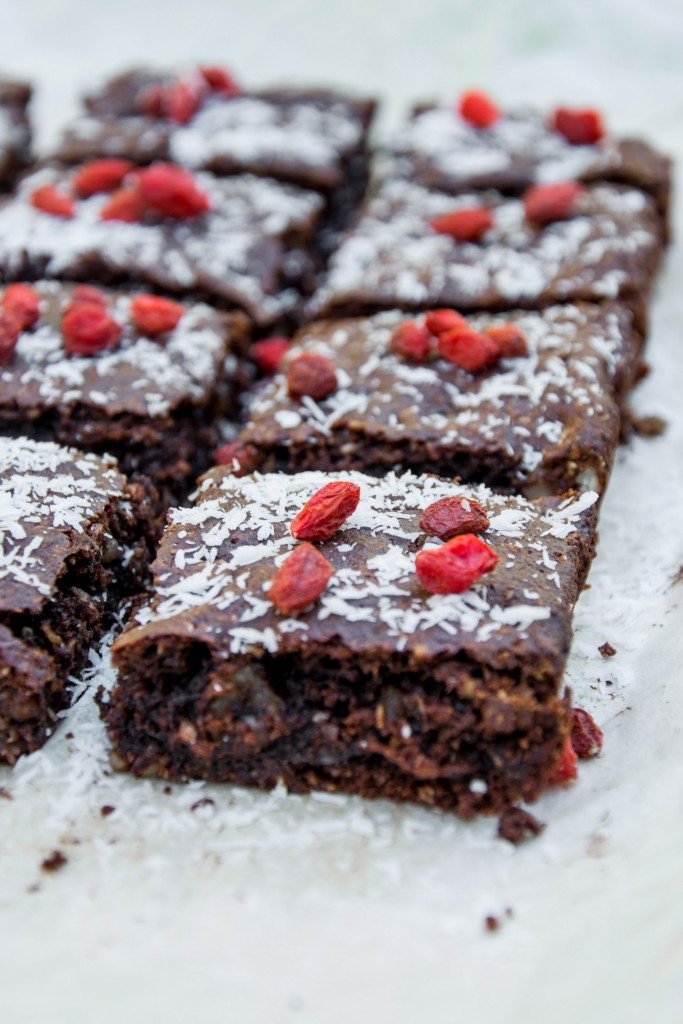 Chocolate Walnut Brownies
2016-05-12 01:22:53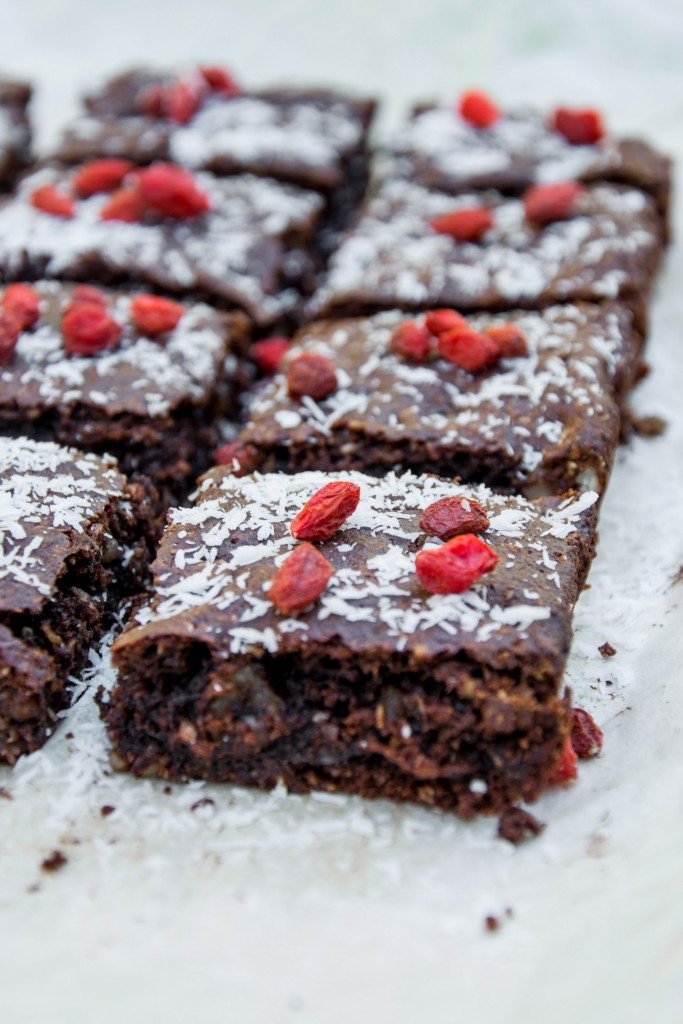 Deliciously decadent and healthy, these brownies are a must for either that mid afternoon snack, an after dinner treat or a healthy scrumptious addition to lunch boxes.
Ingredients
DRY INGREDIENTS
1 Cup Almond Meal
1/2 Cup Gluten Free Flour Blend
1/3 Cup Organic Dessicated Coconut
1/2 Cup Organic Raw Cacao
70g Raw Walnuts - Chopped or processed down
1 Tsp Baking Powder
1/2 Tsp Bicarb
Pinch of Salt
WET INGREDIENTS
2 Flax Eggs (2 TBS Organic Flax meal + 4 TBS Water)
3 TBS Organic Cold-Pressed Coconut Oil (Melted)
1/2 Cup Organic Rice Malt Syrup
1/3 Cup Nut Milk (I used almond)
1 Tsp Vanilla Extract
Goji Berries and Desiccated Coconut to decorate
Instructions
Begin by pre-heating your oven to 180C.
Next, you want to make your flax eggs so that they have time to swell. In a small bowl, add 2 TBS flax meal and 4 TBS water, mix and set aside.
Then, in a large mixing bowl, combine all the dry ingredients.
You can use a food processor to break down the walnuts, or crush them while they're still in the packet. You want small chunks around 1/2cm wide.
Next, you'll want to add all the wet ingredients to your bowl of dry ingredients. Begin with the melted coconut oil, then add the rice malt syrup to that same bowl afterwards. I find this helps the syrup to slide out of the bowl with ease, so you don't have to scrape down the sides, and get all sticky.
Once all the wet ingredients have been added, gently fold into the dry mixture, until slowly they begin to combine.
You'll end up with quite a thick batter. Yum!
Next, in a lined 11 x 7 x 1.5 inch (28 x 18 x 4 cm ) rectangular baking dish, pour the mixture, and using a spoon or baking spatula, spread the mixture evenly to all corners.
The pop into the 180C oven for 15-20mins, until cooked through.
Remove once cooked and allow to cool.
Sprinkle with dessicated coconut and goji berries. Enjoy every bite of this healthy indulgence.
Notes
Use organic where possible.
I used a 11 x 7 x 1.5 inch (28 x 18 x 4 cm ) rectangular baking dish
Wellness with Taryn http://wellnesswithtaryn.com/