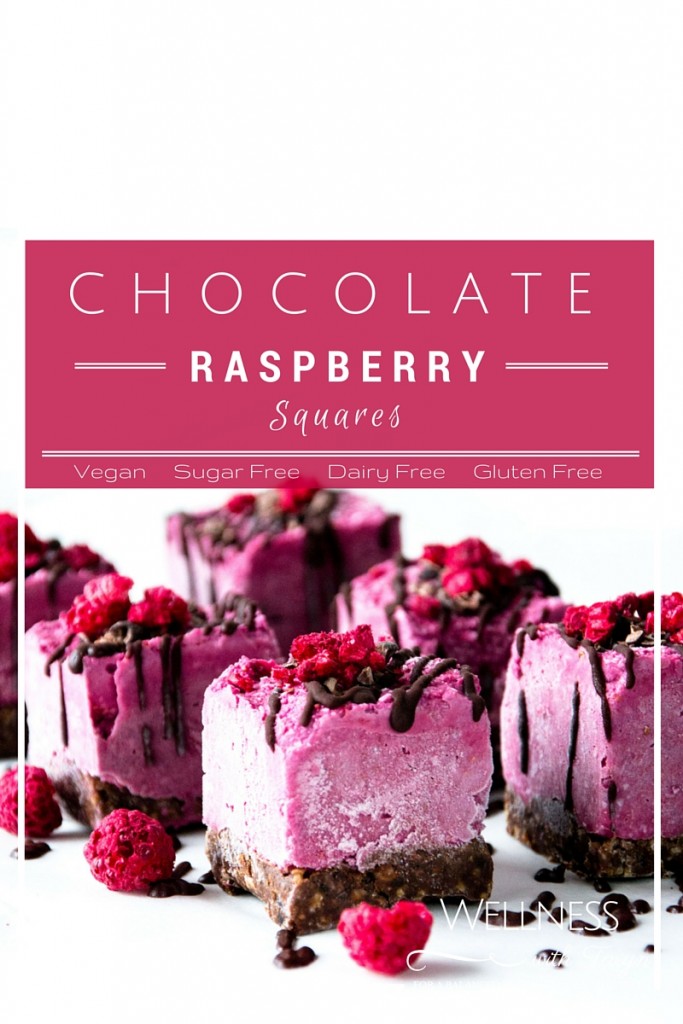 Chocolate Raspberry Squares … of H-E-A-V-E-N!!!!! Seriously! These little towers of 'healthy indulgence' are out-of-this-world delicious! Their fresh and vibrant flavor shines through with every bite!
The dark 'chocolatey' goodness compliments the natural sweetness of the raspberries so incredibly well 🙂 It's tough making these little treats last! Yup, they're just that good!
These tasty creations are free from refined sugar, gluten free, dairy free, raw, high in healthy fats and vegan!
We're very fortunate to live in an area that blossoms in the spring/summer with 'pick-your-own-berry' farms. I'm so incredibly excited to visit one this year, as (I'm not to sure why) last year I didn't get to go on a berry picking bonanza! I'll definitely make up for it this year!
Not only am I grateful for having these lush berry farms, but also the abundant vegetable and fruit farms all around us, that provide locally grown nutrient laden fresh produce, that keep our bodies healthy and happy. Living a plant based diet is easy when you've got such abundance all around! I urge you to take one step closer to a plant based lifestyle! You won't regret it. By starting simple and by starting at home, you and your family will reap the many benefits of an earth friendly diet!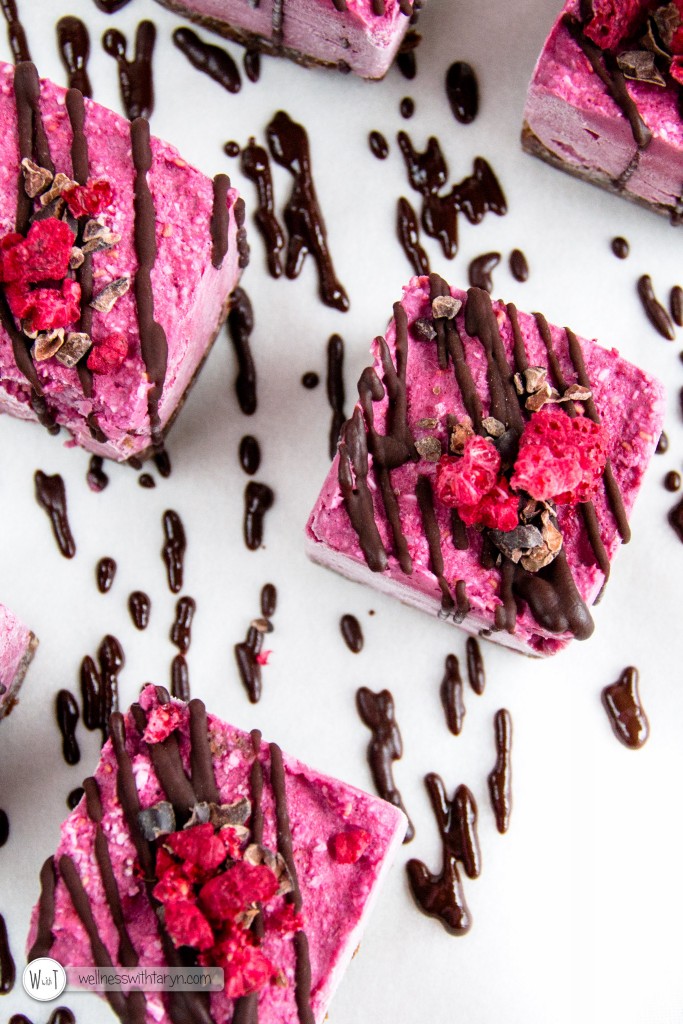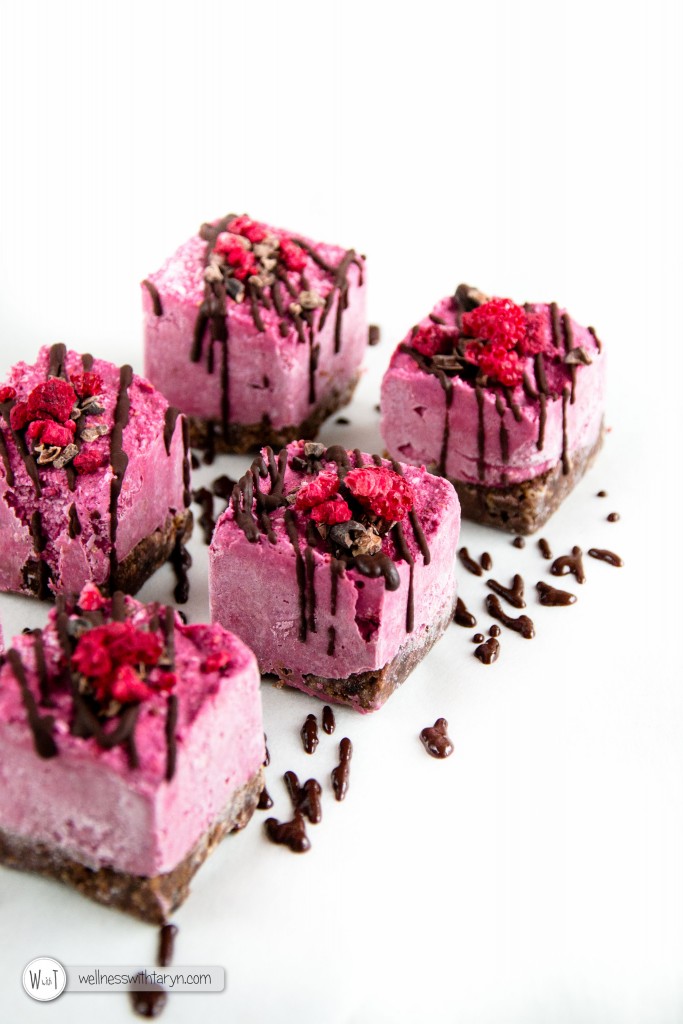 Now, back to business! Tasty business. When I think of raspberries, I instantly think dessert! So when I spied the frozen local raspberries in the freezer section of our local store, I devised a cunning plan to create these tasty morsels of delicious yummyness! Oooohh and did I succeed!
Health Benefits
Raspberries are rich sources of health promoting plant-derived antioxidants, minerals, and vitamins that are essential for optimum health.
High in polyphenolic compounds known for their anti-cancer properties.
Contain strong antioxidants such as Vitamin C, quercetin and gallic acid.
Eating whole berries has been shown in scientific studies to be more beneficial than taking the individual phytochemicals in the form of dietary supplements.
Red raspberry oil is creating interest in the cosmeceutical market (skin care products which provide health benefits). The oil from raspberry seeds is rich in Vitamin E, Omega-3 fatty acids and has a sun protection factor (SPF) of 25-50.
Red raspberry ketones are currently being used in Japan as a weight loss supplement in a pill form and as an external patch.
Interesting Fact
The rheosmin (red raspberry ketone) found in raspberries can increase metabolism in our fat cells by increasing enzyme activity, oxygen consumption, and heat production in certain types of fat cells. By boosting fat metabolism in this way, we may be less likely to deposit fat in our fat cells, and we may be able to use up some of the fat that is stored there. By improving our fat cell metabolism, we may also be able to reduce the number of pro-inflammatory messaging molecules that are produced by our fat cells. As a result, we may be less likely to experience some of the inflammation-based problems that typically accompany obesity.
In addition to these benefits, rheosmin found in raspberries can also decrease activity of a fat-digesting enzyme called pancreatic lipase that is produced by our pancreas. By decreasing the activity of this enzyme, we may digest and absorb less fat
Pretty damn amazing little powerful berry! One that definitely packs a punch, and shines through brightly in this recipe. I hope you enjoy 🙂
Chocolate Raspberry Squares
2015-11-25 07:47:35
Absolutely delectable dessert cubes of fresh and vibrant flavor! Full of good nutrition and flavor, with no guilt!
Ingredients
BASE
1 Cup Almonds
1 TBS Cacao Nibs
1/2 Tsp Salt
1 1/2 TBS Organic Raw Cacao
3/4 Cup Chopped Dates (Pitted)
4 TBS Cold Pressed Organic Coconut Oil (Melted)
RASPBERRY CASHEW CREAM
1 Cup Cashews - Soaked overnight
4-6 TBS Organic Rice Syrup
1/4 Lemon - Juice
1/3 Cup Dessicated Coconut
1/4 Vanilla Pod (Scraped)
3 TBS Organic Cold Pressed Coconut Oil (Melted)
2 Cups Frozen Raspberries
CHOCOLATE DRIZZLE
2 TBS Organic Raw Cacao
2 TBS Organic Cold Pressed Coconut Oil (Melted)
1 TBS Organic Rice Syrup
TOPPINGS
Freeze Dried Raspberries
Raw Cacao Nibs
ADDITIONAL NEEDS
Molds (Ice Cube Trays)
Instructions
Add the almonds into a food processor, and blitz for approx 10 seconds. Add the dates and blitz for a further 10 seconds.
Add the remaining base ingredients, and process until a big sticky ball forms. You may need to stop the food processor from time to time to scrape down the sides.
Once you're happy with your base, remove from the food processor and begin to pressing down the mixture into greased(with coconut oil) molds. Ice cube molds work great, but any you fancy will do, ensuring they're quite deep.
Ensure you press down well to create a firm base, I used the back of a teaspoon with a little bit of coconut oil on it to do this. Place into the freezer while you prepare the cashew cream.
Clean the food processor, and begin to make the raspberry cashew cream.
Add the cashews, rice syrup, lemon juice and coconut oil into the food processor and blitz. The mixture should start to combine creating a creamy texture. Add the desiccated coconut and frozen raspberries, and blend until a smooth creamy texture forms, stopping to scrape down the sides if necessary.
Pour into the molds, on top of the base, and put back into the freezer to set for approx 30 mins.
Once the mixture has set, you can make the chocolate drizzle. Do this by adding coconut oil to a small saucepan, and heating up on a gentle heat. Gradually add the raw cacao powder.
Remove from the heat and stir in the rice syrup. You should be left with a thick chocolate sauce.
Carefully spoon this into a small ziplock bag corner. Twist up the back, to create a make shift piping bag. Cut a tiny section off of the corner, and begin drizzling the chocolate sauce over the raspberry squares.
Decorate with freeze dried raspberries and raw cacao nibs and put back into the freezer.
Store in the freezer for up to 3 days, and remove 5mins prior eating to thaw.
Notes
* Note * You'll need to soak your cashew nuts overnight
Wellness with Taryn http://wellnesswithtaryn.com/