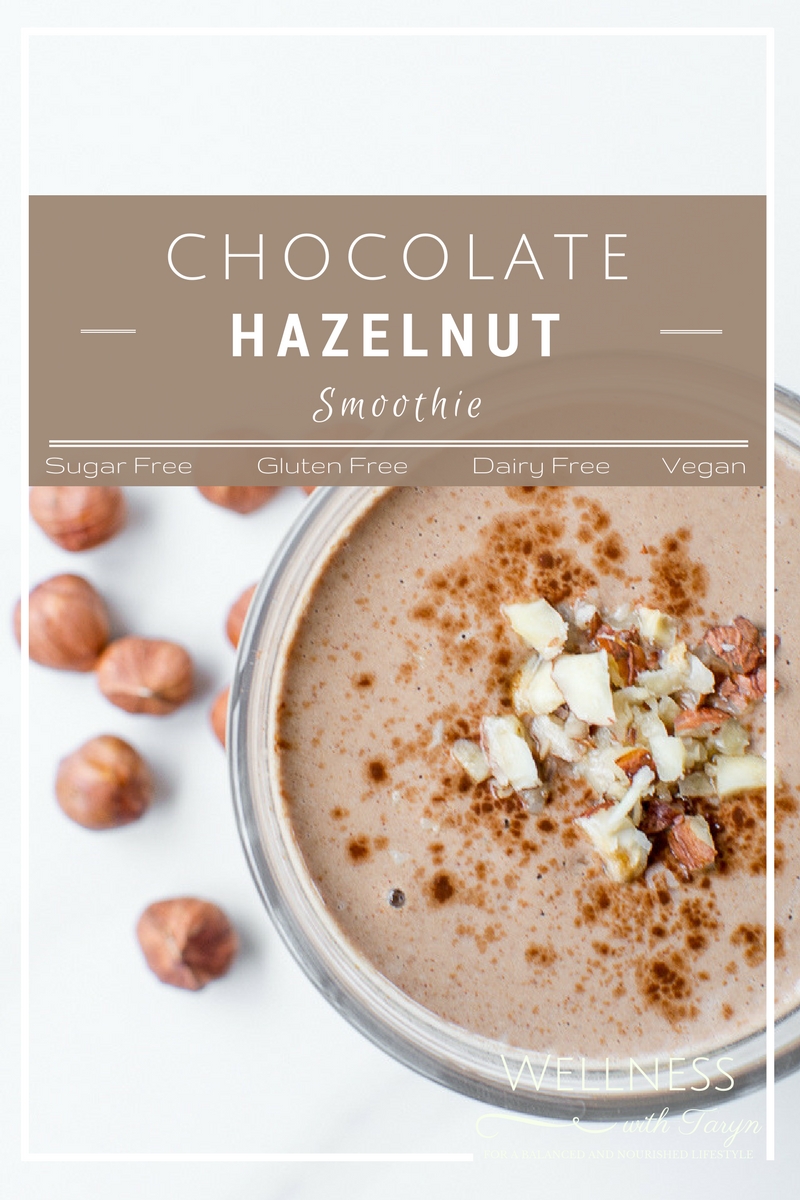 Hope you're all easing into the New Year well. It's been beautiful weather here in Nelson. The sun's been shining brightly these last couple days and the cool, refreshing breeze has been a breath of fresh air. I love this time of year, so much! I love getting out on the weekends, going on unknown adventures, and being immersed in nature. The sun kissed glow to the skin is always welcomed.
We met up with a gorgeous friend at the Nelson Saturday Market on the weekend (which was fab), and I stumbled across some deliciously fresh hazelnuts which I just had to have. Now, I must admit, I may have a mild obsession with this particular nut. From hazelnut butter to toasted hazelnuts, to hazelnuts staring in delicious recipes – like this Chocolate Hazelnut Smoothie, I love love love them!
And so, with these little balls of such divine flavor, I decided to make a smoothie. A bit of a treat smoothie albeit, that has all the deliciousness of a treat, with all the nutritional value too. Seriously, the best of both worlds here! And I love the simplicity of this recipe, not to mention how quick and easy it is. Easy.
adjective
achieved without great effort; presenting few difficulties.
That definitely sums up this recipe pretty well! The creaminess is enticing! And the hint of hazelnut flavor – combined with the chocolate is just too good. A mid morning or afternoon snack, or a sneaky healthy dessert, this smoothie will most certainly tick all the boxes.
What makes Hazelnuts so damn good for you?
Hazelnuts are very high in energy and loaded with numerous health-benefiting nutrients that are essential for optimum health. 100 g nuts carry 628 calories. They are rich in

mono-unsaturated fatty acids

like oleic as well as essential fatty acid, linoleic acid that helps lower LDL or bad cholesterol and rise HDL or good cholesterol.
The nuts are rich in dietary fiber, vitamins, and minerals and packed with numerous health promoting phyto-chemicals. Altogether, they help protect from diseases and cancers.
Hazels are exceptionally rich in folate, which is a unique feature for the nuts. 100 g fresh nuts carry 113 µg; that is, about 28% recommended daily intake of this vitamin. Folate is an important B-complex vitamin that helps prevent megaloblastic anemia, and most importantly, neural tube defects in the newborn. Good news for the expectant mothers!
Hazel nuts are an excellent source of vitamin E; contain about 15 g per 100 g (providing 100% of RDA). Vitamin E is a powerful lipid soluble antioxidant required for maintaining the integrity of cell membrane of mucusa and skin by protecting it from harmful oxygen-free radicals.
The nuts, like in almonds, are free from gluten, and therefore, safe alternative food sources that can be employed in the preparation of gluten-free food formulas for gluten-sensitive, wheat allergic, and celiac disease patients.
Besides being rich in folates, they are packed with many other important

B-complex groups of vitamins

such as riboflavin, niacin, thiamin, pantothenic acid, and pyridoxine (vitamin B-6).
They are rich source of minerals like manganese, potassium, calcium, copper, iron, magnesium, zinc, and selenium. Copper and manganese are essential co-factors for anti-oxidant enzyme, superoxide dismutase. Iron helps prevent microcytic-anemia. Magnesium and phosphorus are important components of bone metabolism.
Hazelnut oil has nutty aroma and has excellent astringent properties. It helps keep skin well protected from dryness. The oil has also been used in cooking, and as "carrier or base oil" in traditional medicines in massage therapy, aromatherapy, in pharmaceutical and cosmetic industry. Source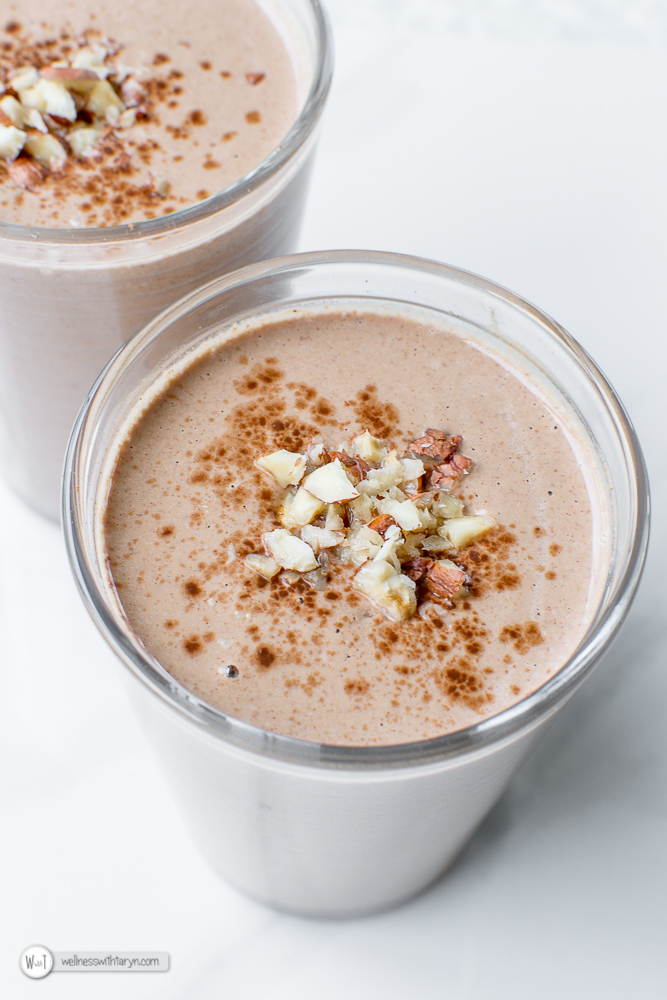 Chocolate Hazelnut Smoothie
2017-01-13 03:39:42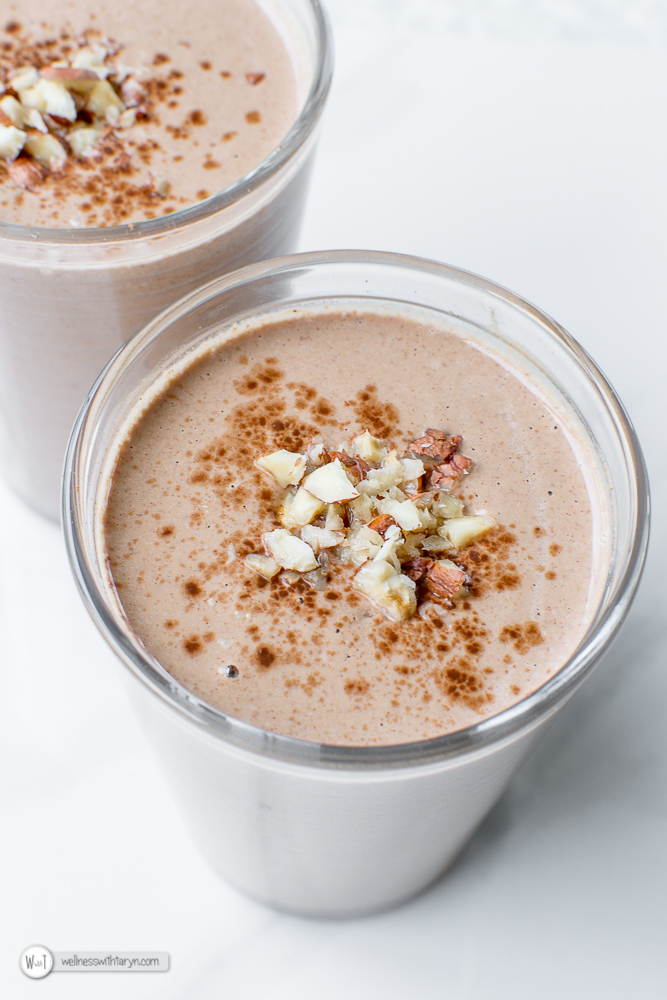 Serves 2
A simple and delicious smoothie recipe that is loaded not only with indulgence, but healthy nutrition too! Be it an afternoon snack or night time treat, this smoothie will definitely fill the gap in no less than 5 mins!
Ingredients
1/4 Cup Raw Cashews (Soaked overnight or for at least 2 hours)
1/4 Cup Raw Hazelnuts (Soaked overnight or for at least 2 hours)
1 TBS Organic Raw Cacao
1 TBS Organic Chia Seeds
Pinch of flaked sea salt
4-5 Dates or 2-3 Medjool dates
1 1/2 Cups Filtered Water
4-6 Ice Blocks
Instructions
Put all ingredients into your Nutribullet or blender and blend until smooth and cream.
Serve and enjoy
Notes
The nuts need to be soaked overnight or for at least 2 hours
Use Organic wherever possible
Wellness with Taryn http://wellnesswithtaryn.com/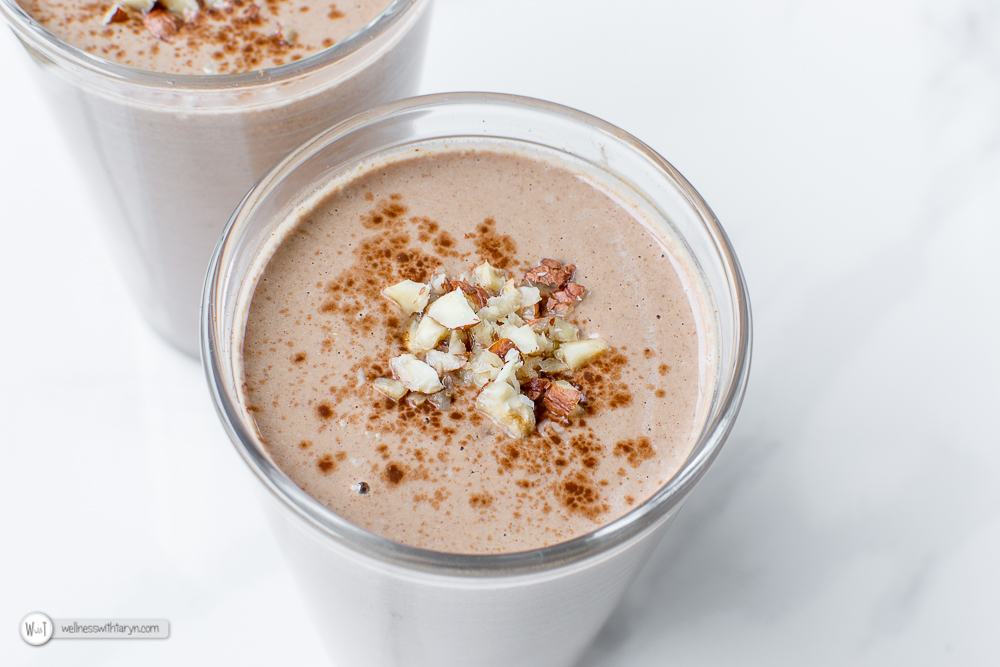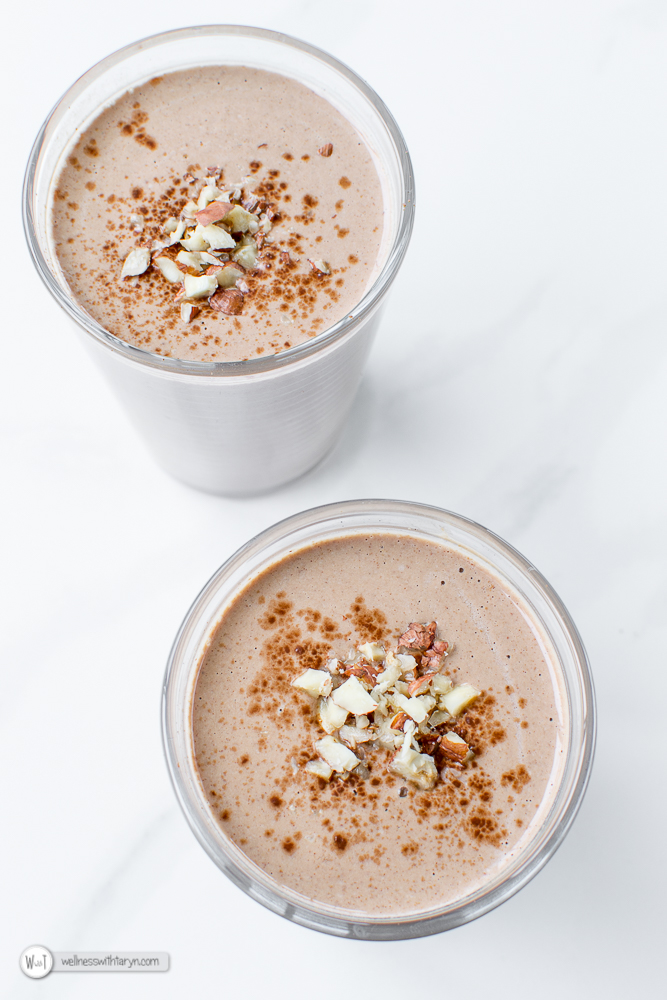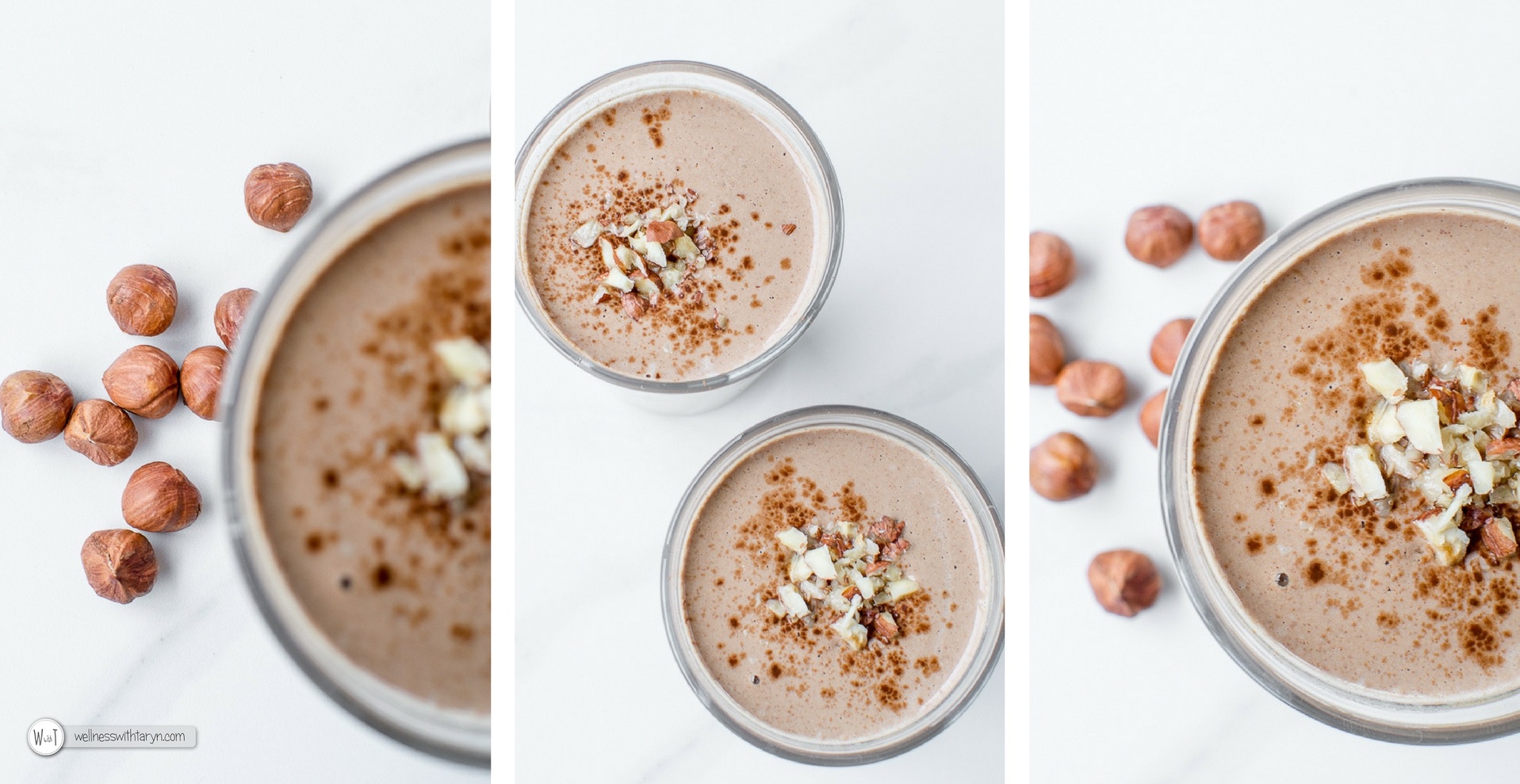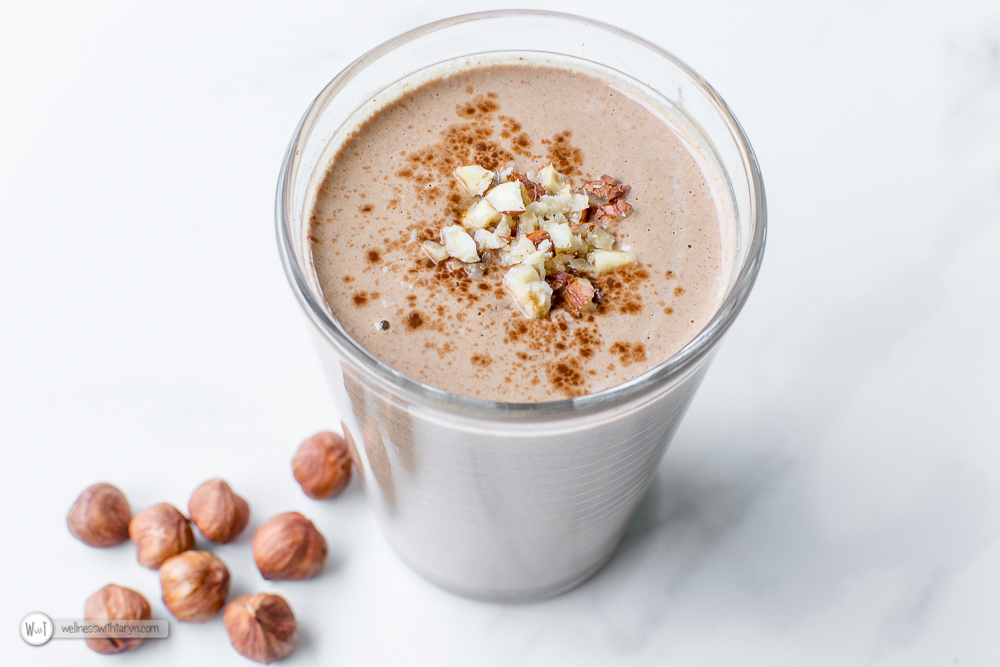 Hope you enjoyed this post! Remember to share, subscribe and stay tuned for more exciting posts coming soon 🙂