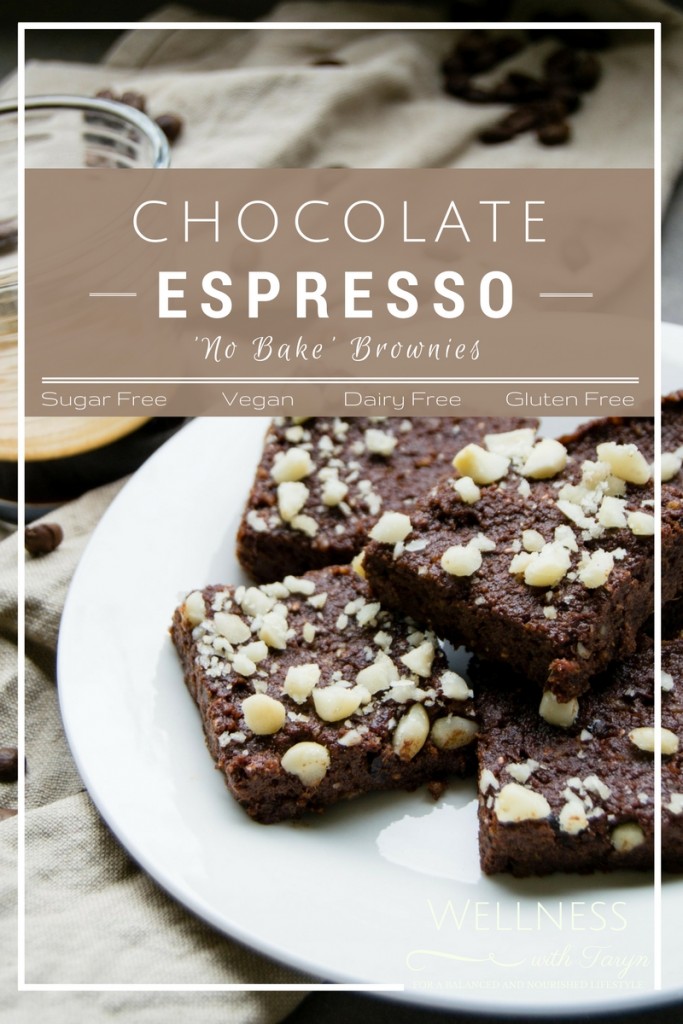 Coffee! One of the most popular drinks in the world. Most cannot start a day without it. When I'm out and about I tend to drink decaf, however a shot of caffeine every now and then is okay. I can definitely feel the effects of caffeine, maybe as I've become more sensitive to it.
To be honest, I never really feel that great after having a coffee – be it decaf or regular, yet in the moment it always seems like a good idea.
Recently I've been cutting out soy from my diet, so I've been having my decaf cappi's with almond milk, which is pretty tasty! Although I still feel rather flat after drinking one, so I don't have them too regularly.
But here, in this Chocolate Espresso No Bake Brownie recipe, I decided to use full caffeine coffee for the intense flavor. That, and the fact that Nick's coffee machine makes a pretty darn good espresso! 🙂
It's pretty cool how coffee has become an art form these days. From foam art to colored latte art, to the actual preparation of the beverage, it's really interesting! All the different ways in which it's brewed, and all the different types of beans. Coffee is really and industry in itself. It's always fun trying new coffee places, and New Zealand is pretty amazing when it comes to 'the brew'.
From quirky cafe's serving top notch coffee, to delicately roasted organic beans, ground into the most aromatic powders, New Zealand has opened my eyes, and I now see coffee in a whole different light. Gone are the days of instant 'Ricoffy' and 'Frisco' (South African brands of instant coffee), and instead an age of intricate and delicate brews, made in an array of forms to suit your palette.
Coffee, believe it or not, has some pretty cool health benefits. In moderation, of course, it can be rather beneficial to your health.
Coffee appears to offer a great variety of benefits including substantial protection against:
and a host of common cancers, including:
There also is a lower rate of suicide among coffee drinkers. Source
This recipe is absolutely freaking delicious! I could not stop eating these brownies, I don't know what it was. Maybe the evidence of a forgotten caffeine addiction (lol) or just their incredibly yummy flavor! Mmmm…… Just so good!!!!!
Now you could always substitute with decaf espresso if you're caffeine sensitive. Sweetened only with dates, and using raw cacao for the bold chocolate flavor, these brownies are seriously so easy! And the best part about them is that they're 'no-bake' so no oven required! Just a processor and freezer to set.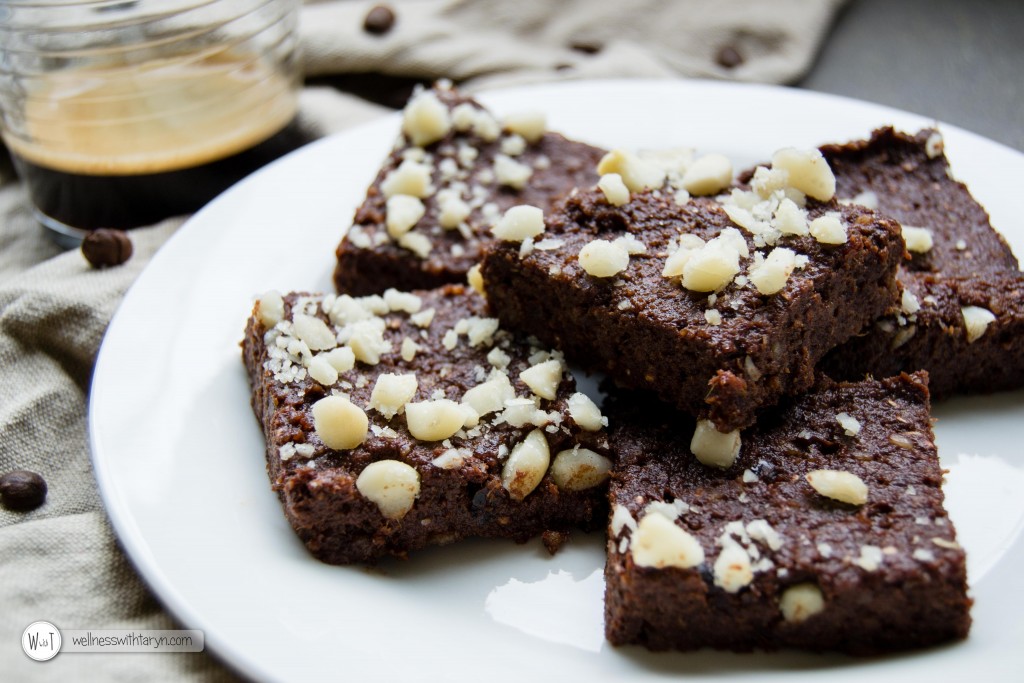 Chocolate Espresso No Bake Brownies
2016-10-07 05:32:41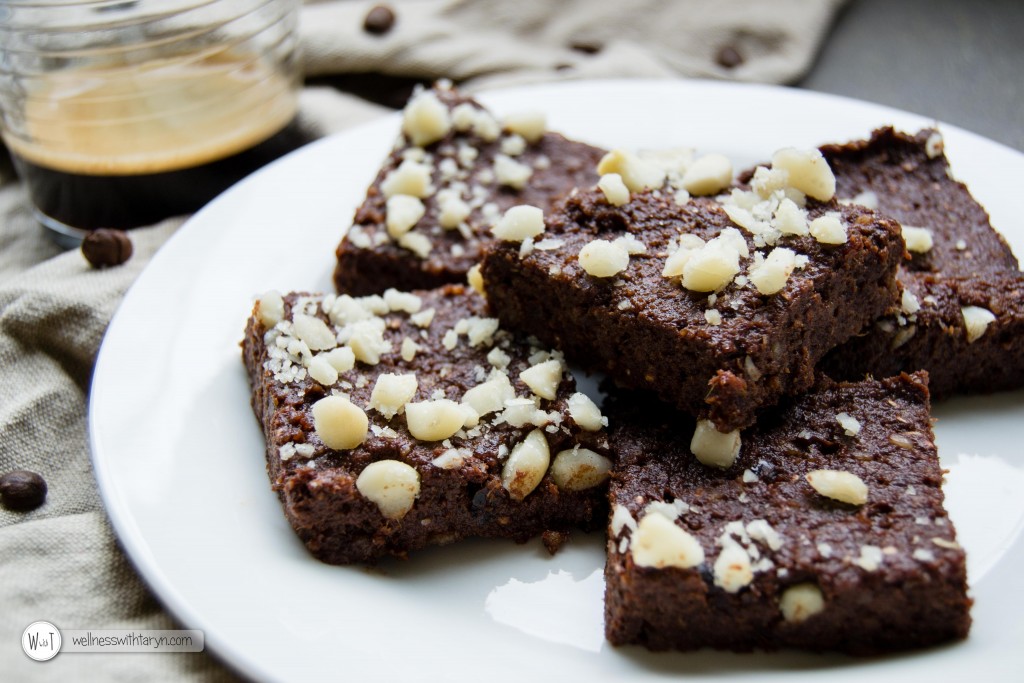 This recipe is so decadent and delicious and incredibly easy! The mixture of flavors is on point and the freshly made espresso heightens this treat to another level! Delicious!
Ingredients
1/2 Cup Walnuts
1/4 Cup Macadamia Nuts
1 Cup Dates (Soaked in hot water)
1/2 Cup boiling water
1/2 Cup Almond Meal
1/4 Cup Organic Raw Cacao
Pinch of Himalayan Rock Salt
1 Tsp Chia Seeds
30ml Freshly made Organic Espresso
15g Organic Cold Pressed Coconut Oil (Melted)
Crushed Macadamia nuts for decoration
Instructions
Boil the kettle and add 1/2 cup boiling water to the dates in a small bowl. Allow to soak. Add the chia seeds to the dates to allow for them to swell.
In a food processor, blitz the walnuts and macadamia nuts for a few seconds.
Place the blitzed nuts into a mixing bowl, and add the almond meal, raw cacao and salt. Mix thoroughly.
Once the dates have softened, blitz them in the food processor until a smooth paste is formed.
Add this paste to the nut and cacao bowl, and mix.
Add the espresso and melted coconut oil, and mix thoroughly. Get your hands dirty if you have to.
Lay out evenly in a lined deep dish, pressing down with the back of a tablespoon.
Sprinkle over the crushed macadamia nuts, and place into the freezer to set overnight.
Cut into even squares and keep in a sealed container in the freezer for up to 4 days, if they can last that long.
Notes
Use Organic where possible
Wellness with Taryn http://wellnesswithtaryn.com/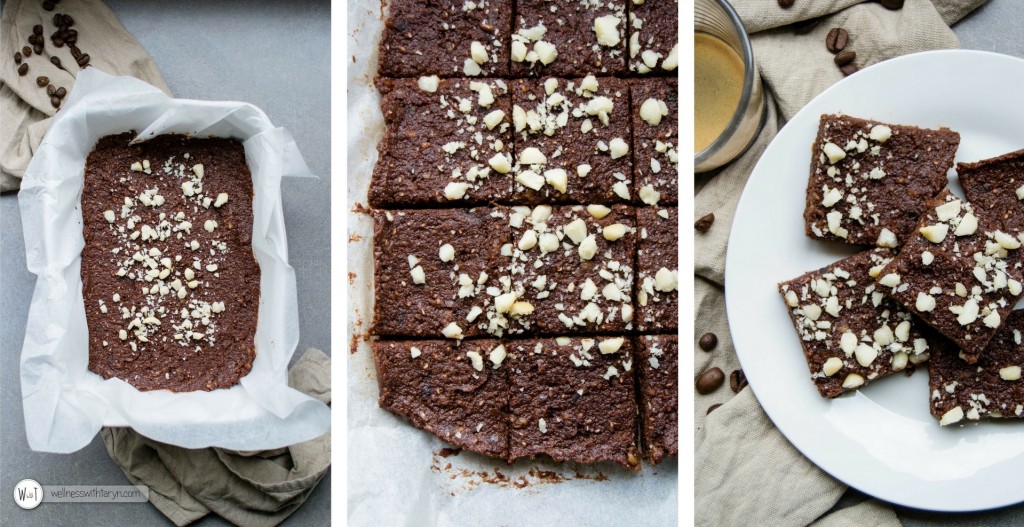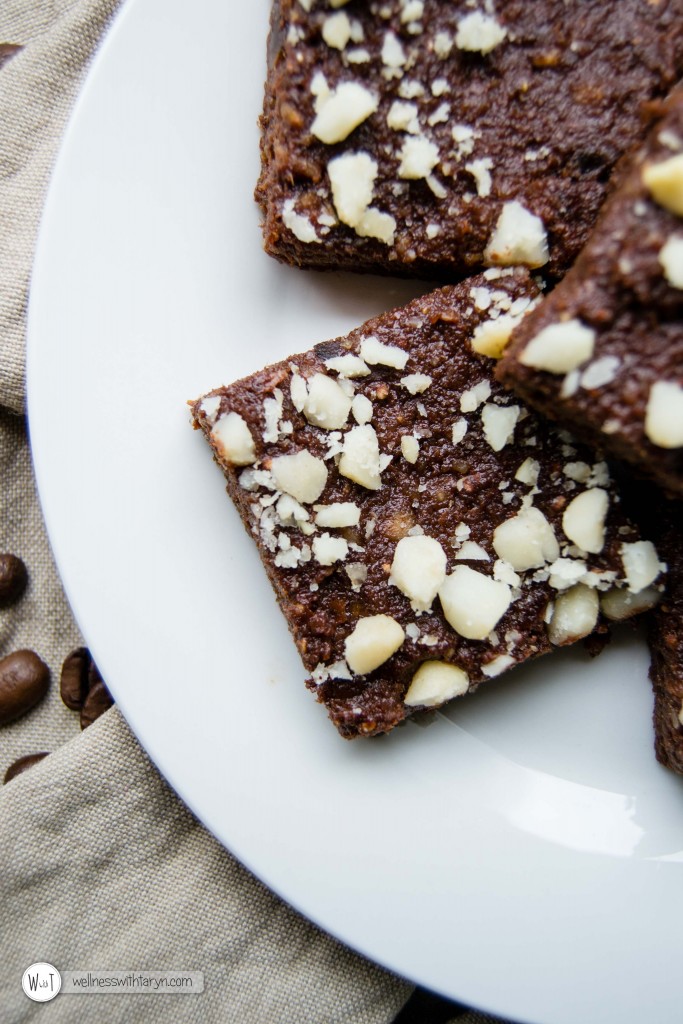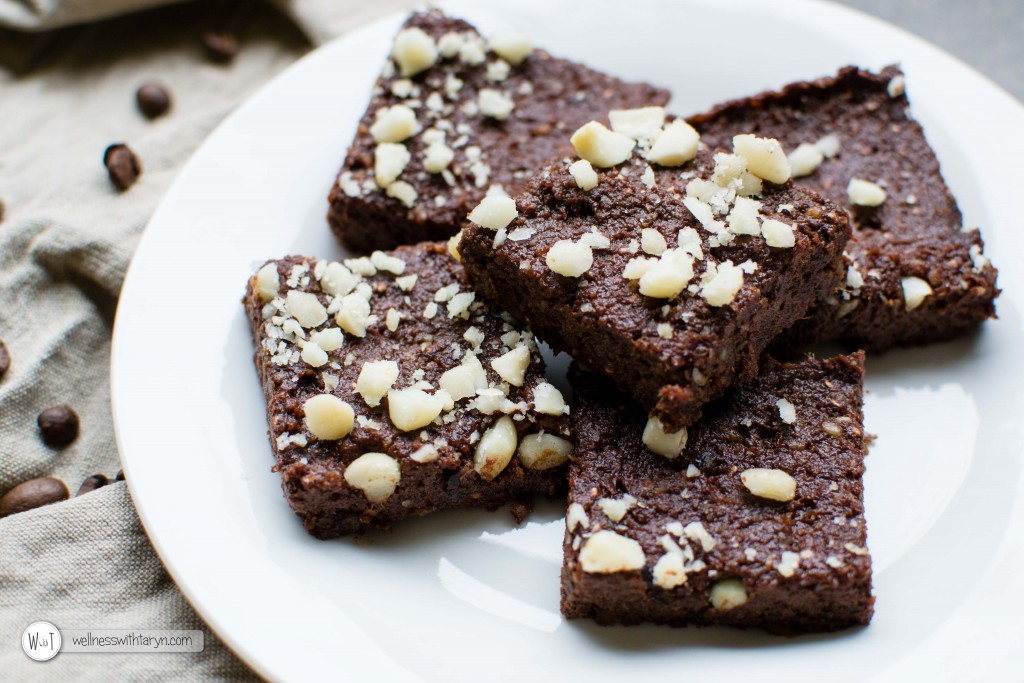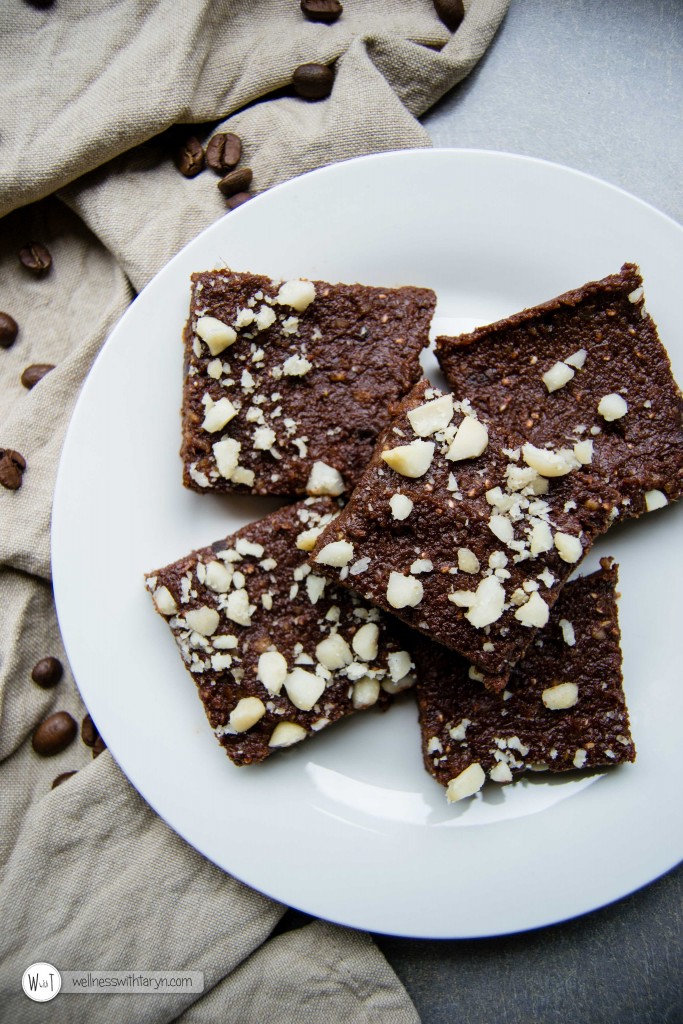 I do hope you enjoyed this post and, as always, if you decide to try out the recipe, please #wellnesswithtaryn so that I can see all you're yummy creations! Follow me on Instagram for a closer look at what inspires me and what else I get up to 🙂 And remember to subscribe to stay notified of any new posts and recipes.
Much love …