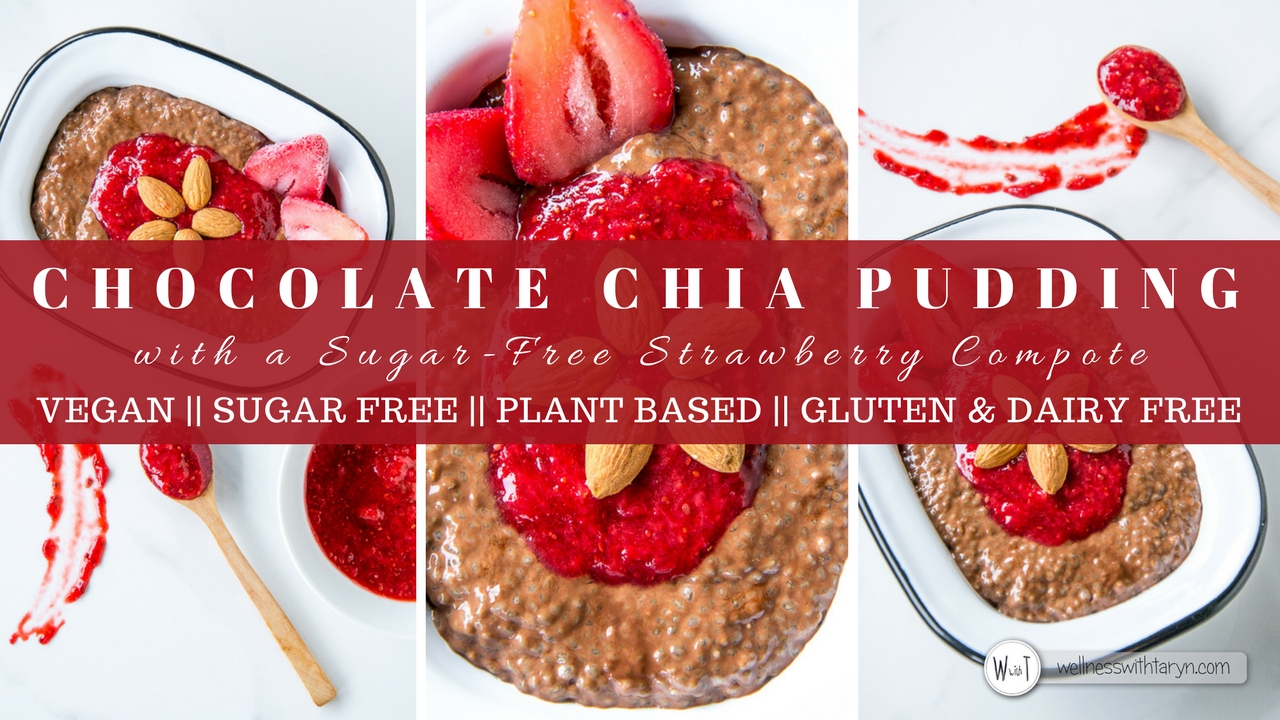 This recipe was inspired by my love for chia seeds. Chia seeds are such an amazing addition to any healthy diet, and can make breakfast such a breeze – not to mention so delicious. Full of superfood goodness, this Chocolate Chia Pudding with a sugar-free Strawberry Compote is the perfect way to start the day.
Full of healthy fats and omegas, topped with the incredibly delicious sugar free strawberry compote – the flavor combinations are on point!
The thing I love about this recipe, is that it's easily prepared the night before, left in the fridge to swell and set overnight, and in the morning all you need to do is make the super simple compote – and you're good to go!
Decadently dreamy and so incredibly healthy, this is a recipe that I'm sure will become a familiar favorite – well in my house it most certainly will. My favorite brand of chia seeds are the black or white Chia Seeds from CHIA New Zealand – they're the best!
Nutritional Benefits of Chia Seeds
Chia seeds are a quick and easy-to-use source of protein, healthy fats, dietary fiber, minerals, vitamins, and antioxidants, all rolled into one neat package. Although they have similar health benefits to flax seeds, chia seeds may soon edge these out because they don't have to be ground prior to consumption, and they don't go rancid as quickly either.
In fact, chia seeds are said to last up to two years with no refrigeration, courtesy of the high levels of antioxidants they contain. Their high concentration of the plant-based omega-3 fat alpha-linolenic acid (ALA) is one of their major claims to fame.
Chia seeds contain up to 40 percent oil, with 60 percent comprised of omega-3. ALA is considered essential because your body can't make it, so you need it in your diet—or its long-chain animal-based derivatives (like the omega-3 found in seafood and krill oil).
Protection against arthritis, autoimmune disease and cancer
Anti-diabetic action
Liver-protective properties
Anti-inflammatory activity
Lowering blood pressure and heart disease
Lowering triglycerides and supporting healthy cholesterol levels
It's thought that the combination of fiber and protein in chia seeds, along with the gel-like texture it takes on when combined with liquid, contributes to feelings of fullness and satiety.
In a recent study ,among people with type 2 diabetes, supplementing with chia seeds for 12 weeks resulted in reduced systolic blood pressure and significant decreases in A1C, a measure of a person's average levels of blood glucose.
Chia seeds contain about 10 grams of fiber in just two tablespoons. Most people need upwards of 50 grams of fiber per 1,000 calories consumed, but most people get nowhere near this amount. Just two tablespoons of chia seeds provide 18 percent of the daily recommended value for calcium, 35 percent for phosphorus, 24 percent of magnesium, and about 50 percent for manganese. These minerals are important for bone health and as reported by SF Gate:
"These nutrients help you prevent hypertension and maintain a healthy weight, and are important for energy metabolism and a part of DNA synthesis."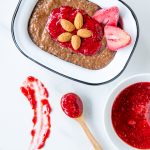 Chocolate Chia Pudding with a Strawberry Compote
A delicious breakfast option that is loaded with healthy fats, fiber and antioxidants. It is fulling and decadently delicious and so easy to make.

Course:
Breakfast, Dessert, Snack
Cuisine:
Dairy Free, Gluten Free, Healthy Fats, Refined Sugar Free, Vegan, Vegetarian
Ingredients
Chocolate Chia Pudding
4

TBS

Chia Seeds

- Black or White

1

Cup

Organic Almond Milk

2

TBS

Organic Raw Cacao Powder

1-2

TBS

Sweetener of choice

- liquid stevia, agave, rice malt syrup, maple syrup

Pinch of Himalayan Pink Salt
Strawberry Compote
1

Cup

Frozen Strawberries

2

TBS

Boiling water

2

Tsp

Fresh Lemon Juice

2

Tsp

Stevia

- or sweetener of choice

1

Tsp

Chia seeds

- white or black
Instructions
Chocolate Chia Pudding
In a bowl, add 4 TBS chia seeds, 1 cup Almond milk, 2 TBS raw cacao powder, 1-2 TBS sweetener of choice and a pinch of salt.

Use a fork or mini whisk to whisk the ingredients until all combined and the raw cacao powder has mixed with the almond milk.

Place in the fridge to swell and set overnight.
Strawberry Compote
In a small sauce pot, add the frozen strawberries and 2 TBS boiling water. On a medium heat, place the lid of the pot on and allow to heat up.

Once the strawberries have thawed and softened, remove the lid and use a potato masher, to mash the soft strawberries over a medium heat.

Add the lemon juice and sweetener and allow to reduce further and thicken up, stirring continuously.

Once reduced for a few minutes, turn off the heat, add the chia seeds and stir well. Leave thew pot on the warm stove and allow the chia seeds to swell. for about 3-5 minutes.
Assemble
While the compote is thickening, take the overnight chia pudding out of the fridge and give it a good stir.

Divide into two bowls, and spoon over the thick strawberry compote.

Garnish with whole almonds, or what ever you please.


Serve and enjoy
Recipe Notes
Use Organic wherever possible - This recipe requires overnight setting in the fridge